Driving a speed boat will allow you to explore our beautiful UK coastline like never before, as Jessica Reid discovers after taking the Powerboat Level 2 course
Words: Jessica Reid Photographs: Jessica Reid and Drone Overview
Racing across the open sea, bounding over waves and embracing the seawater spray at the helm of a powerboat has to be one of the most exhilarating experiences I have had. Learning to drive one of these motorised watercraft has given me the freedom to discover so much more of our beautiful British coastline – whether that is cruising up a river, visiting a harbour or exploring island shores – and it's easier than you may think to pick up these skills.
Last summer British Marine launched its #SummerOnTheWater campaign, to prove it's possible for anyone to learn a new water sport and encourage more people to get afloat. The key thing, the organisation says, is to get the proper training before you do. The most popular choice for boating beginners is the Powerboat Level 2 course – a two-day curriculum that covers all the basics, from theory to practical boat handling – and what better place to learn the ropes then at one of the UK's leading Royal Yachting Association's sail and power schools? Urban Truant is based at Swanwick Marina on the River Hamble, located within easy reach of the Solent strait: the perfect playground for all kinds of watercraft.
TUESDAY 9AM – SAFETY FIRST
After rising early and having a delicious breakfast with a view at Southampton Harbour Hotel, I travel down to Swanwick Marina and meet my fellow learners and crew members. We're all gathered together in a classroom to have an introductory and safety talk, which consists of a quick brief on how to look after the boat, ourselves and each other. With the help of our instructors we create a team mind-map covering everything we need to know from lifejackets to kill cords (the emergency stop button for a boat) but it doesn't take long before we're kitted out and ready to get on the water. Our mode of transport for the week is a dark grey, six-metre, Highfield Rigid Inflatable Boat (RIB), complete with a slick interior and powered by a Honda BF100 engine. The James Bond jokes begin…
TUESDAY 10AM – WORKING WITH THE ELEMENTS
Our instructor is Paul Bennett, and although he assured us this course was designed for beginners, I feel a little daunted as he starts speaking in boating jargon, which feels almost like a different language. He drives us out to one of the quieter passages in the marina, where we learn some close-quarters boat handling (manoeuvring in small spaces), including learning how to stop. You wouldn't think that one of the most difficult parts of driving a speed boat is actually keeping it stationary. 'It's like patting your head and rubbing your stomach', Paul says, as I attempt to keep the RIB as still as possible, steering the wheel back and forth frantically, kicking the gears, trying to prevent our boat from bumping into the others moored up around us. After a few failed attempts by each of us providing a good giggle, it all starts to click into place as we understand how much the natural elements make an impact – we have to work with the wind and the water.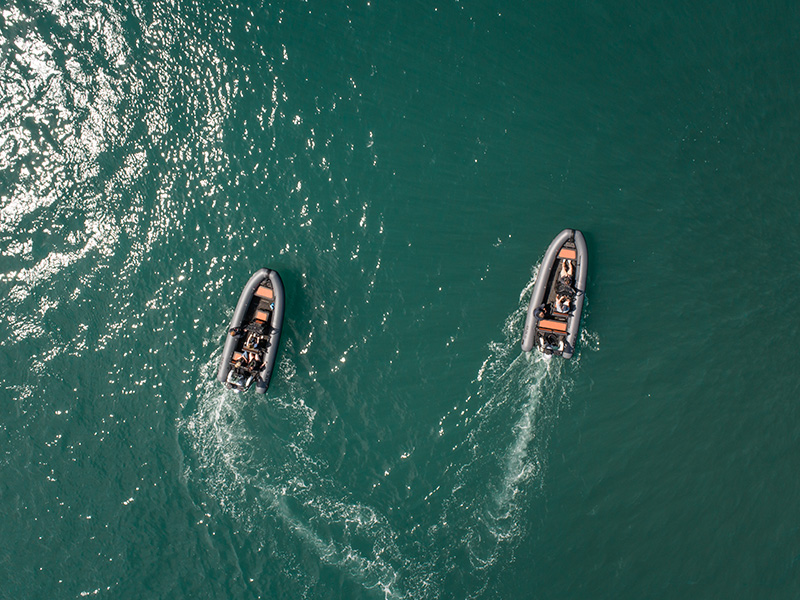 TUESDAY 1PM – SLOW AND STEADY
After stopping off for some scrumptious fishfinger sandwiches for lunch, the afternoon is dedicated to perfecting our slow-speed manoeuvres, such as making U-turns in confined spaces and learning the different ways to approach a pontoon to moor up. Paul also dedicates some time to showing us how to chuck a line and the different rope knots to use when tying our boat securely to a cleat. As we finish our day and trundle back up the river at a leisurely five knots, I try to soak in all the new knowledge we've learnt on day one, repeating phrases like 'steer before gear' over and over in my head.
WEDNESDAY 10AM – POWER UP
Waterproofs and life jackets on, we board our RIB again and perform initial safety checks, before making our way up the river and out into the open Solent water for the first time. The speed limit is lifted, and we finally get to experience what this powerboat can really do. The water is choppy due to the blustery conditions, but as soon as I get behind the wheel, I shout 'POWER UP' to warn my crew and shift the gear forward with some force. The bow tilts up as we take off, and in a matter of seconds we're flying across the water, a huge rush of adrenaline travels through my body as we bounce across the waves. But the real fun is performing high-speed manoeuvres. I announce as loudly as I can over the roaring engine 'TURNING STARBOARD' and steer sharply to the right, seawater splashes overboard and drenches my crew sitting behind me. We're all screaming and laughing, elated by the rapid movements and the spray. Paul says: 'This is what it's all about!'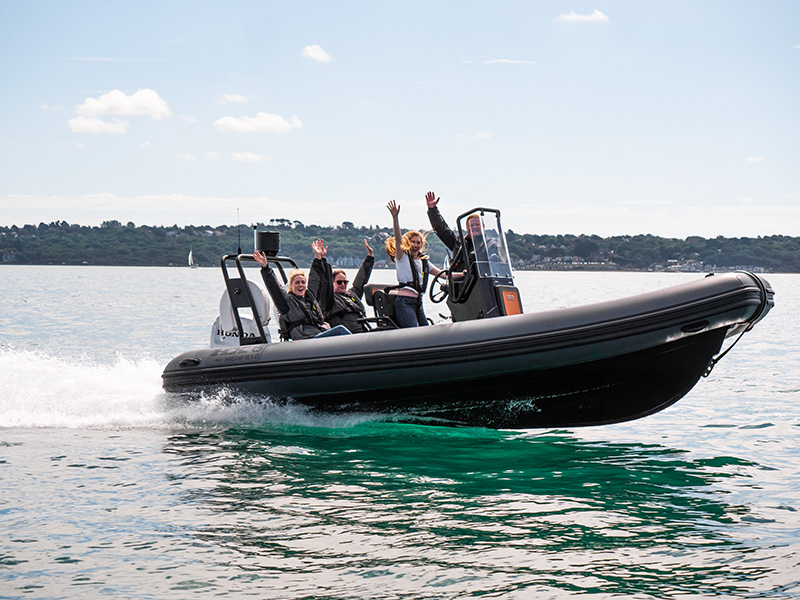 WEDNESDAY 1PM – LUNCH IN COWES
Now we've become experts of high-speed driving, we make our way to Cowes on the Isle of Wight, whizzing past sail boats and jumping over large wakes of ferries as we go. Once there, we moor up for a boat picnic. Snacking on sandwiches, observing boats bobbing around us in this beautiful harbour, we chat about how exciting it would to take friends over to the island via boat for a fish and chip day trip. Our instructor tells us that is just one of the many adventures we'll easily be able to do once we finish this course, and we'd have the freedom to explore so much more.
WEDNESDAY 2PM – LEARNING TO NAVIGATE
For the remainder of our afternoon, we learn how to perform the man overboard manoeuvre, and also put our navigation skills to the test. Earlier this morning we were taught how to read a nautical chart, and, using plotters and dividers, were then able to plan routes to follow. So with our hand-drawn maps, which include buoys and landmarks to look out for on the way, we take it in turns to direct each other, and are all pleased as we make it successfully from A to B. Paul emphasises how important it is to have a plan before going out by ourselves to ensure we are safe, as navigation apps will sometimes fail to work.
Back at Swanwick Marina, we have officially completed our course. We wash off the boats, fill up with petrol and go to collect our new 'licences' – this is way cooler than getting my driving licence. Now we're equipped with all the skills we need to be responsible out on the water, tomorrow we're offered the opportunity to take out the boats for a spin without the instructors – a day of fun!
THURSDAY – FREEDOM ON THE WATER
With one hand gripped tightly on the wheel and the other on the gear stick, I'm flying across the water with the glorious 28˚ sun shining on my beaming face. We have just come from Beaulieu in the New Forest, where we moored up for a bite of lunch at a secluded pub along the riverside, surrounded by gorgeous greenery: pure bliss. Unlike yesterday's conditions, the sea is completely flat, meaning we are gliding across the water even faster, offering a completely new experience compared to driving on rougher seas. My confidence in skippering a speed boat has gone from zero to 10 in just a couple of days, which one of my crew member notices and says, 'you're a menace on the water', which I decided to take as a compliment. The summer tunes are playing out of the speakers, and it really feels like I'm on holiday in the Mediterranean, rather than the south coast of the UK. I'm completely in awe of how magnificent and diverse our shoreline is around the Solent and realise how special it is to experience it in this way. There is no doubt that I'll be hiring a speedboat on every trip to the coast from now on.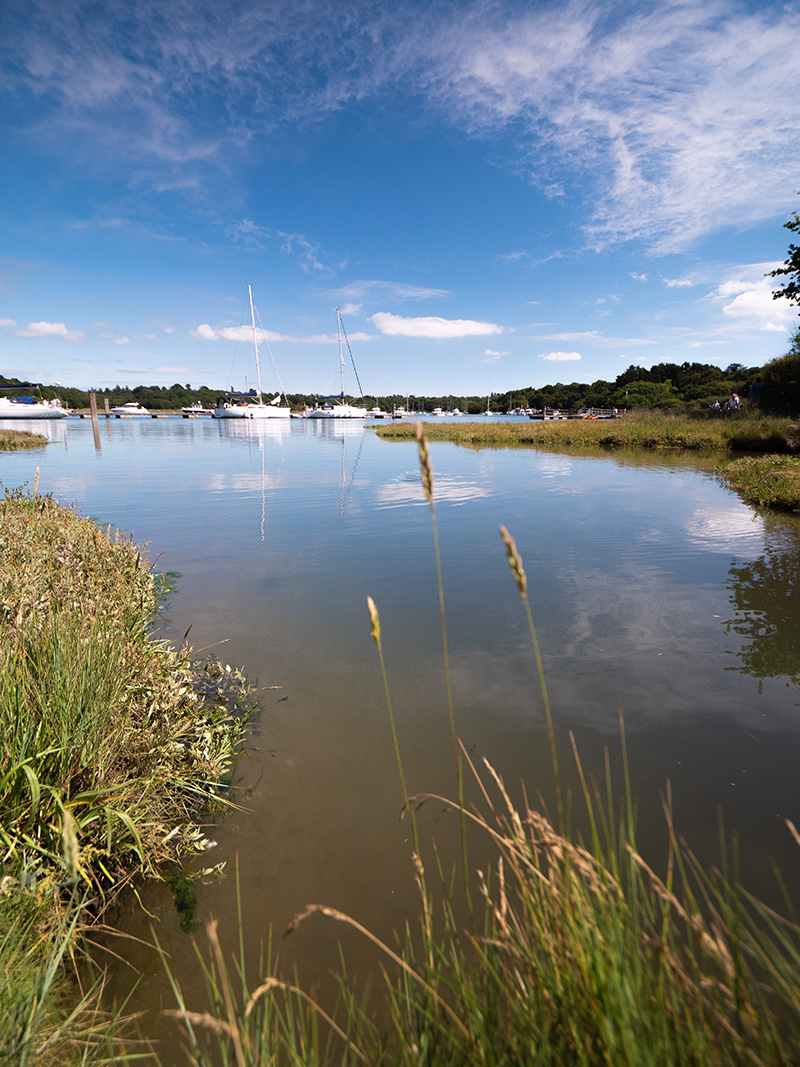 For more 'Try it Now' features, head to our Coastal Activities section or pick up a copy of Coast!
NEED TO KNOW
TAKE THE COURSE
The RYA PB2 course run by Urban Truant costs £220, with an optional radio short course for an extra £110. Similar courses run nationally by RYA-approved schools are priced in the region of £200. Once completed, you can rent out a powerboat for the day for around £150, but you will need to join a RIB club first, at a cost of around £175 for the year. Find out more at urbantruant.com or call 01489 250040.
HOW MUCH IS A SPEED BOAT?
Honda Marine has teamed up with three industry-leading boat manufacturers (including Highfield) to provide a range of turn-key boat partner packages, making boat-buying simple and cost-effective. Starting prices for its water-ready boats range from around £10,000 to £25,000, depending on the model. Customers who purchase a Honda engine are also eligible for a free RYA Powerboat Level 2 course. To find out more, visit honda.co.uk/marine.
WHERE TO STAY
Southampton Harbour Hotel has a five-star rating and includes an award-winning restaurant, spa facilities and stunning harbour views. Room prices for two people start from £120. Book online at harbourhotels.co.uk.