When lockdown struck, the acclaimed Isle of Wight chef, Robert Thompson, launched a menu delivery service to send his mouthwatering food direct to customers. He shares his story with coast – along with some divine recipes for you to make at home
Words Caroline Wheater Photographs David Griffen
Top chef Robert Thompson wanted to be a cook from the tender age of 10, and was washing up dishes in his brother's restaurant aged 13. Just a decade later, in 2006, he won his first Michelin star at Winteringham Fields restaurant in Lincolnshire, the youngest British chef ever to receive this supreme foodie accolade. He was tipped for stardom by influential restaurant critic Jay Rayner and didn't disappoint, winning a second Michelin Star at The Hambrough hotel in Ventnor in 2008, where he had gone to be head chef.
Since those heady days, Robert has made the Isle of Wight his home. 'I love the sea and now couldn't imagine not being near it and living here. I find it relaxing and also thought-provoking', he remarks. In 2015, he opened his first solo venture, Thompson's, in Newport. The kitchen is on open view to guests who flock to experience Robert's legendary light but inventive touch with seasonal, often locally sourced ingredients.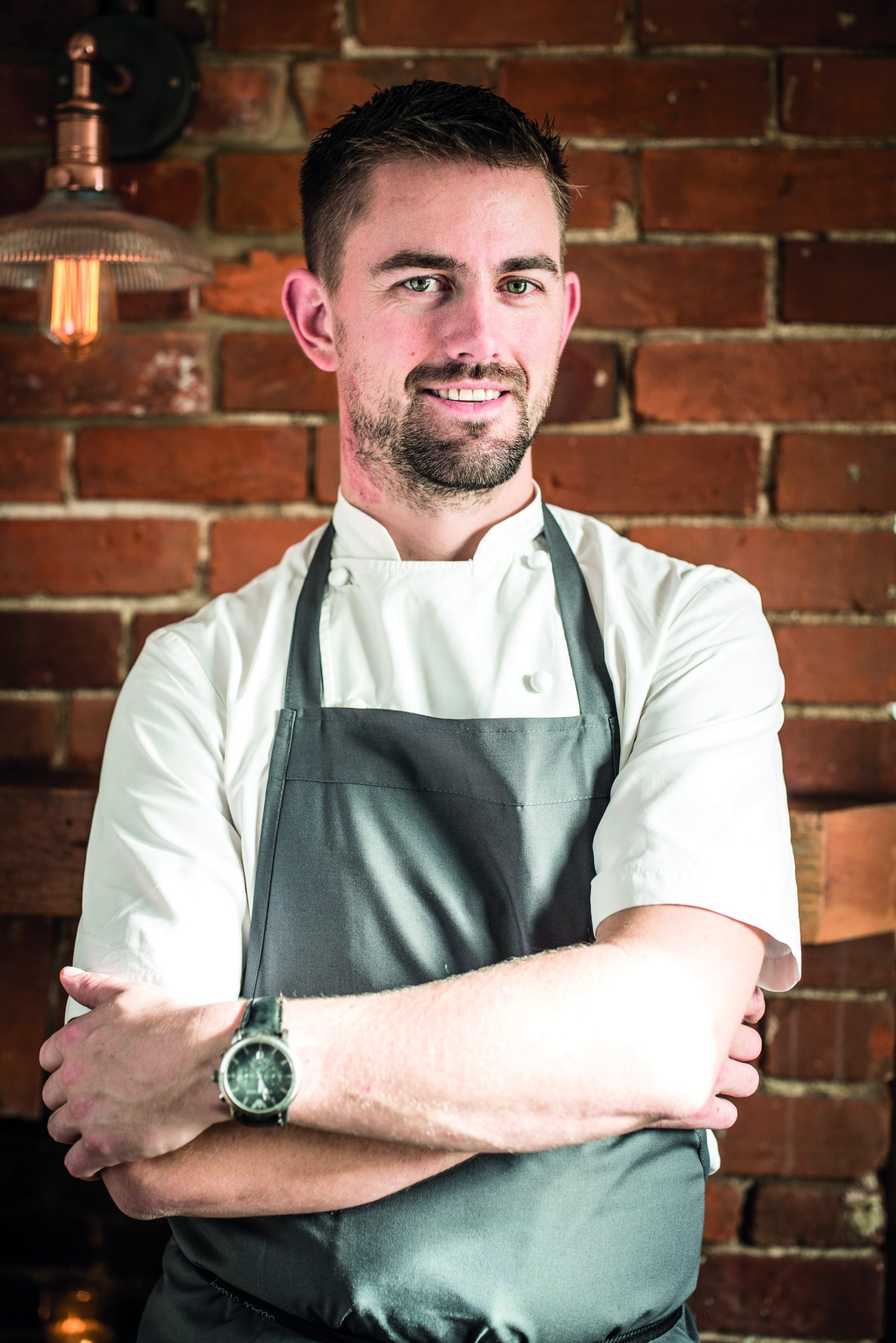 'I love the spring when the wild garlic starts to shoot up,' says Robert. 'It marks the beginning of the growing year which continues with mushrooms, sea herbs and then cherry tomatoes from The Tomato Stall. Ben Brown in the Arreton Valley supplies our strawberries and asparagus, moving on to squashes in autumn. Paul, our game dealer, sources local partridge, mallard and hare for us, and we get our goat's cheese from Green Barn Farm.'
During the pandemic, Robert has had to become even more ingenious as Thompson's temporarily shut its doors to customers. Instead, he launched UBChef, a food delivery service offering premium two- or three-course menu boxes, with prep and most of the cooking already done. 'At the start of lockdown, for the restaurant to survive, I needed to develop another way of guests dining with us so the 'you be chef' concept was born and proved hugely popular. People really enjoyed the experience of producing restaurant food without starting from scratch.'
The delicious news is that UBChef is now available countrywide, so, if you've always wanted to channel your inner chef and impress your guests, what are you waiting for? To whet your appetite, here are some of Robert's recipes.
Ceviche of Cornish mackerel, horseradish cream, cucumber & crispy skin
Ingredients
2 large mackerel filleted & pin-boned
1 small tub crème fraîche
1 leaf bronze gelatine – soak in cold water
30g grated fresh horseradish or 1 tsp horseradish sauce
1 lemon
1 bunch pink radishes
1 lime
½ cucumber – skin, deseed & cut into thin batons. Freeze until solid then defrost in fridge
Method (serves 4 as a starter)
1. Carefully skin the mackerel and lay each piece of skin on a lightly oiled baking mat. Place a mat on top as well as a heavy tray and bake at 170C for 20 minutes or until golden and crispy. Allow to cool.
2. Warm one spoon of the crème fraîche in a pan with the gelatine, allow to melt fully while stirring.
3. Whisk the remaining crème fraîche, lemon zest, juice and horseradish together adding the gelatine mixture and seasoning to taste. Allow to firm in the fridge.
4. Slice the radishes very thinly into a bowl. Lightly oil four 10cm circles of silicone paper before laying the radishes on top, work from the outside to the centre. Top with another piece of paper, then chill until needed.
5. Beat the crème fraîche lightly and transfer to a piping bag. Carefully dice the mackerel, tossing with a little rapeseed or olive oil, seasoning, lime juice and zest.
6. Pipe a 10cm circle of crème fraîche on four plates, divide the dressed mackerel between each plate and top with a radish fan. Finish by arranging the crispy skin and cucumber batons on top.
Thai mussels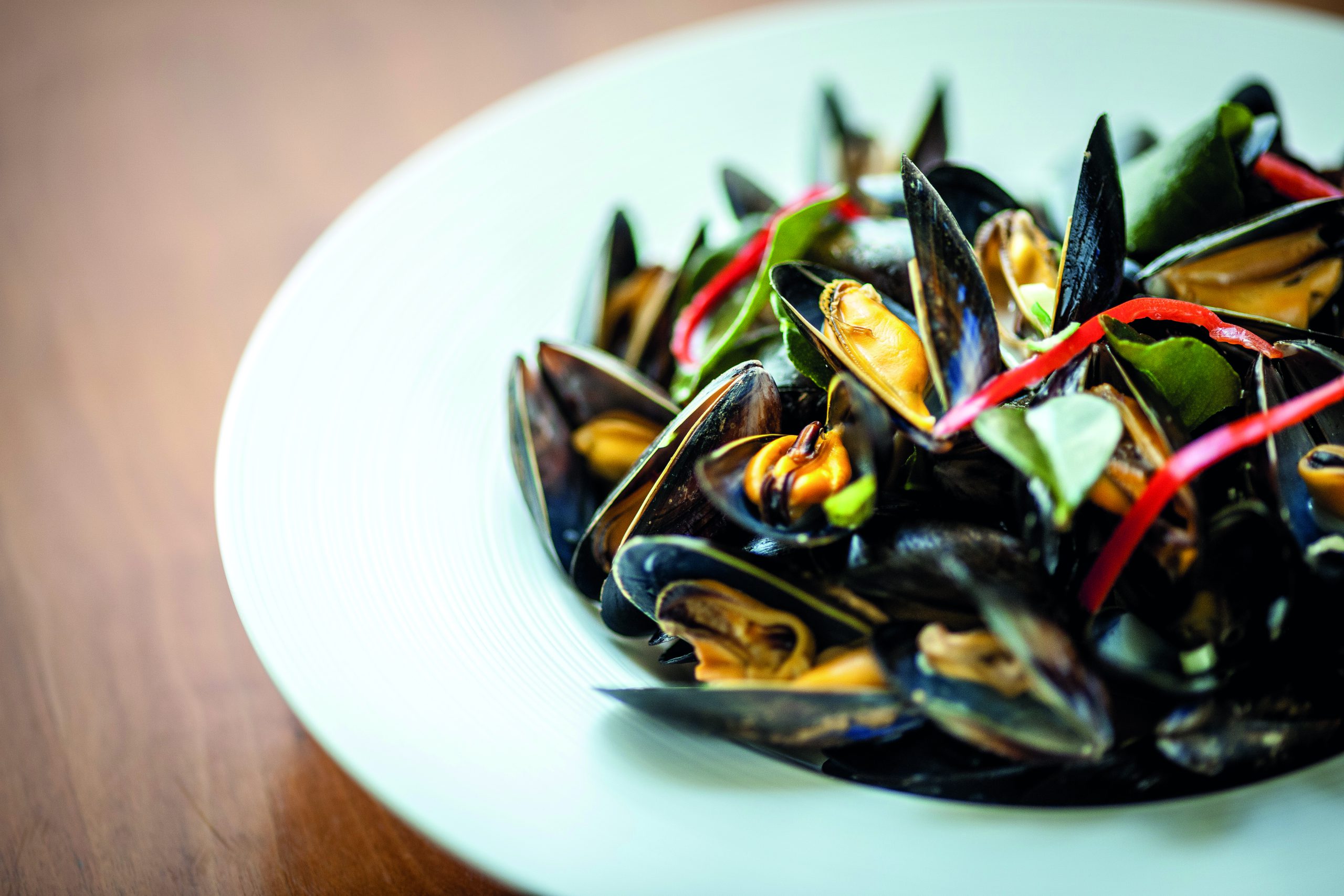 Ingredients
1 tin of coconut milk (full fat)
2 red chillies, de-seeded and sliced
1 small piece of ginger, finely shredded
6 Kaffir lime leaves
2 cloves garlic, crushed
1 small bunch coriander, coarsely chopped
50ml soy sauce
2 sticks lemongrass, sliced thinly
1 lime
1 lemon
1kg mussels – de-bearded & rinsed
150ml white wine
Seasoning
Method (serves 4)
1. Mix the coconut milk with the chillies, ginger, lime leaves, garlic, coriander, soy sauce and lemongrass. Add the zest of the lemon and lime as well as the juice. Season well.
2. Heat a medium-sized pan and add the mussels together with the white wine. Cover and cook until the mussels have just opened, pour in the coconut milk. Continue to cook until the coconut milk is hot.
3. Arrange in a bowl, pouring the infused sauce over.
Char-grilled leg of lamb with salsa verde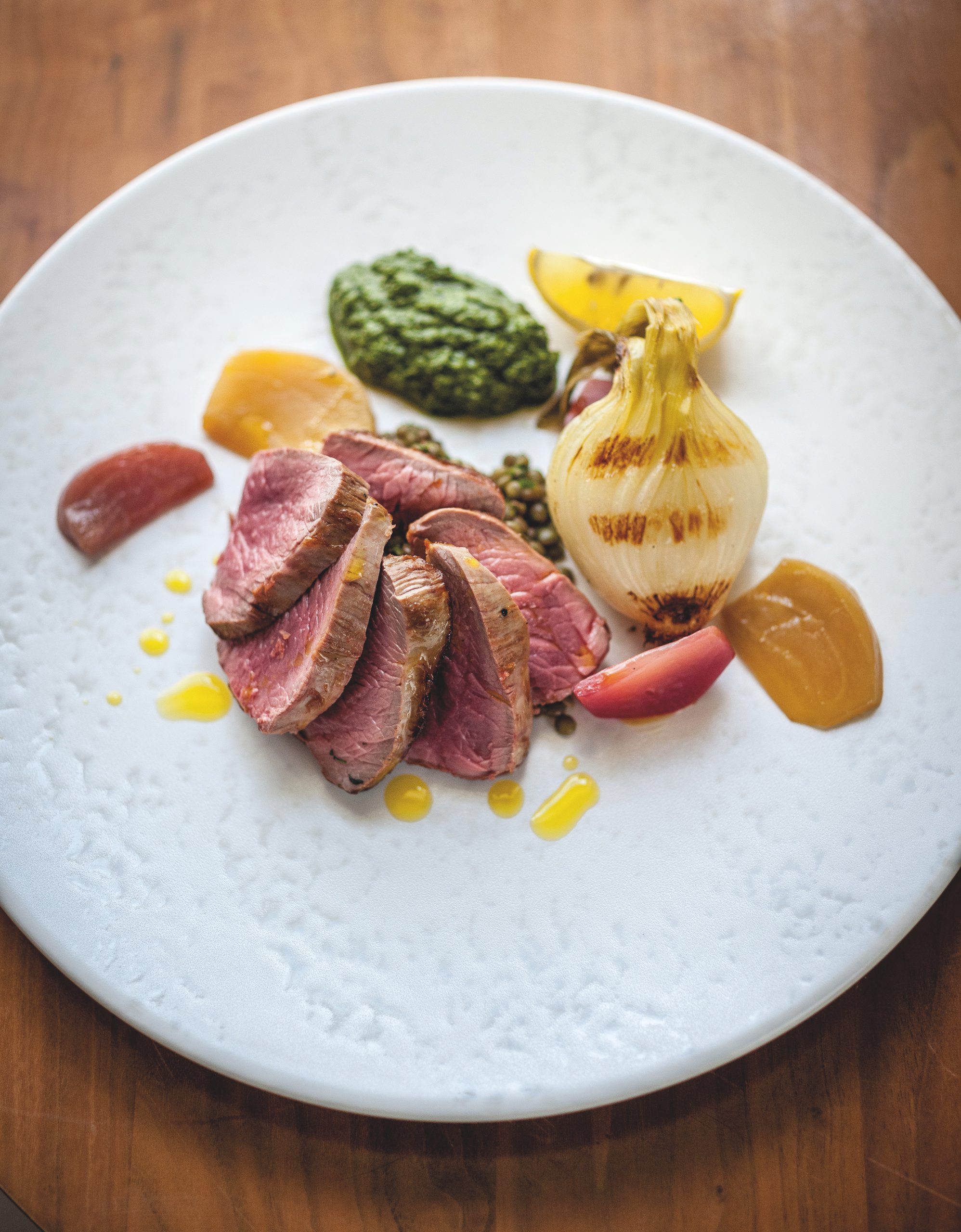 Ingredients
1 leg of lamb, de-boned by butcher
1 lemon, juice & zest
Rapeseed oil
For the salsa verde
1 bunch mint, leaves picked off
1 large bunch of parsley
1 tsp Dijon mustard
2 tsp red wine vinegar
50ml rapeseed oil
Method (serves 6 as a main course)
1. Slice the lamb (with the grain) into 2cm thick slices. Place in a non-aluminium dish and add the lemon zest, juice and a little rapeseed oil. Cover and leave to marinate for at least 2 hours.
2. Blend all of the salsa verde ingredients together until you have a smooth paste. Slowly add the rapeseed oil until incorporated.
3. Heat a large char-grill pan and then add the lamb slices without overcrowding the pan.
4. Cook for 2 minutes approximately on each side, depending on how you like your lamb.
5. Rest the meat before slicing, and serve with the salsa verde.
Gypsy tart
Ingredients
500g plain flour
250g soft butter
175g icing sugar
2 whole eggs
2 egg yolks
1 tin evaporated milk
340g dark muscovado sugar
Method
1. Using a mixer or a food processor, combine the flour, butter, icing sugar, eggs and yolks until the mixture just comes together. Remove from the machine and very lightly knead to make sure that the pastry is evenly mixed. Chill for an hour to rest.
2. Roll out the pastry and line your greased and floured tart ring, ensuring that all sides are even with no gaps, before blind baking at 185C until the pastry is crisp.
3. Using the whisk attachment, whip the evaporated milk and sugar together for 15 minutes at high speed – the mixture will be thick when it's ready.
4. Pour into the pastry case and return to the oven at 120C for 10 minutes or until just set. Allow to cool slightly before cutting. Serve with fig or raspberry sorbet or crème fraîche.
Tips
• Use cling film to line the pastry case as baking paper will tear the pastry when you take it out of the oven – and no, it won't melt at this temperature!
• The pastry recipe will make enough for more than one tart. Flatten the rest into discs and freeze – they'll take no time at all to defrost if they're not rolled into balls.
• For a chocolate pastry variation, swap 50g of flour for 50g of cocoa powder.
• Use a silicone mat on a baking tray and a tart ring – this makes it far easier to remove the pastry case.
• Feed the pastry into the entire pastry ring and make sure the pastry is higher than the edge of the ring as it will shrink back when cooked.
• Instead of using baking beans to bake blind, line the case with cling film and use a mixture of split peas and rice to fill the case right to the top – you can put them into a jar and save to use again.
• The filling, like a meringue, will 'weep' sugar if left for too long so make on the day you plan to eat the tart.
UBChef menus change every week and are available to order up to a month in advance at ubchef.com. Thompson's is at 11 Town Lane, Newport, Isle of Wight PO30 1JU (01983 526118; robertthompson.co.uk).
Feeling peckish? Head to our Food & Drink or Recipes section to find more superb make-at-home meals, top coastal restaurants and brilliant food businesses
Feeling peckish? Head to our Food & Drink or Recipes section to find more superb make-at-home meals, top coastal restaurants and brilliant food businesses