Renowned chef Paul Ainsworth takes time out from his TV appearances as a judge on Great British Menu and his restaurant business in Cornwall to share his top tips and summer recipes for enjoying the best food the season offers
As a child, summer was all about that wonderfully long six-week holiday. I always think about sun-baked grass, strawberries, barbecues, motoring festivals and hot weather. Some of my fondest memories were Sunday drives to the strawberry field to go picking for a few hours with my family. I would eat the strawberries as I picked them and, by the end, always have an empty punnet. You really can't beat ripe British strawberries!
Cornish strawberries are best to buy until mid-September. For a quick and easy summer salad all you need is a few juicy tomatoes, a handful of strawberries, fresh burrata – slice and drizzle with olive oil and a pinch of sea salt, pepper, and some basil leaves. I love the salty/sweet combination, it really enhances the flavour. My tip for picking strawberries is always make sure they are fragrant – if you can't smell a perfume coming off them there isn't going to be much flavour. At The Mariners in Rock we are currently serving a Strawberry 'Roly poly' – steamed brown butter pudding, it's one of our bestsellers. We put the brown butter in the sponge and poach the strawberries to turn them into jam. Another favourite dessert using strawberries has to be trifle – whipped Cornish cream, homemade custard, sponge fingers soaked in sherry and of course, a poached strawberry compote. For a little extra flavour, roast a handful of hazelnuts in the oven, let them cool down, chop them up and sprinkle over your trifle. It is definitely a crowd pleaser!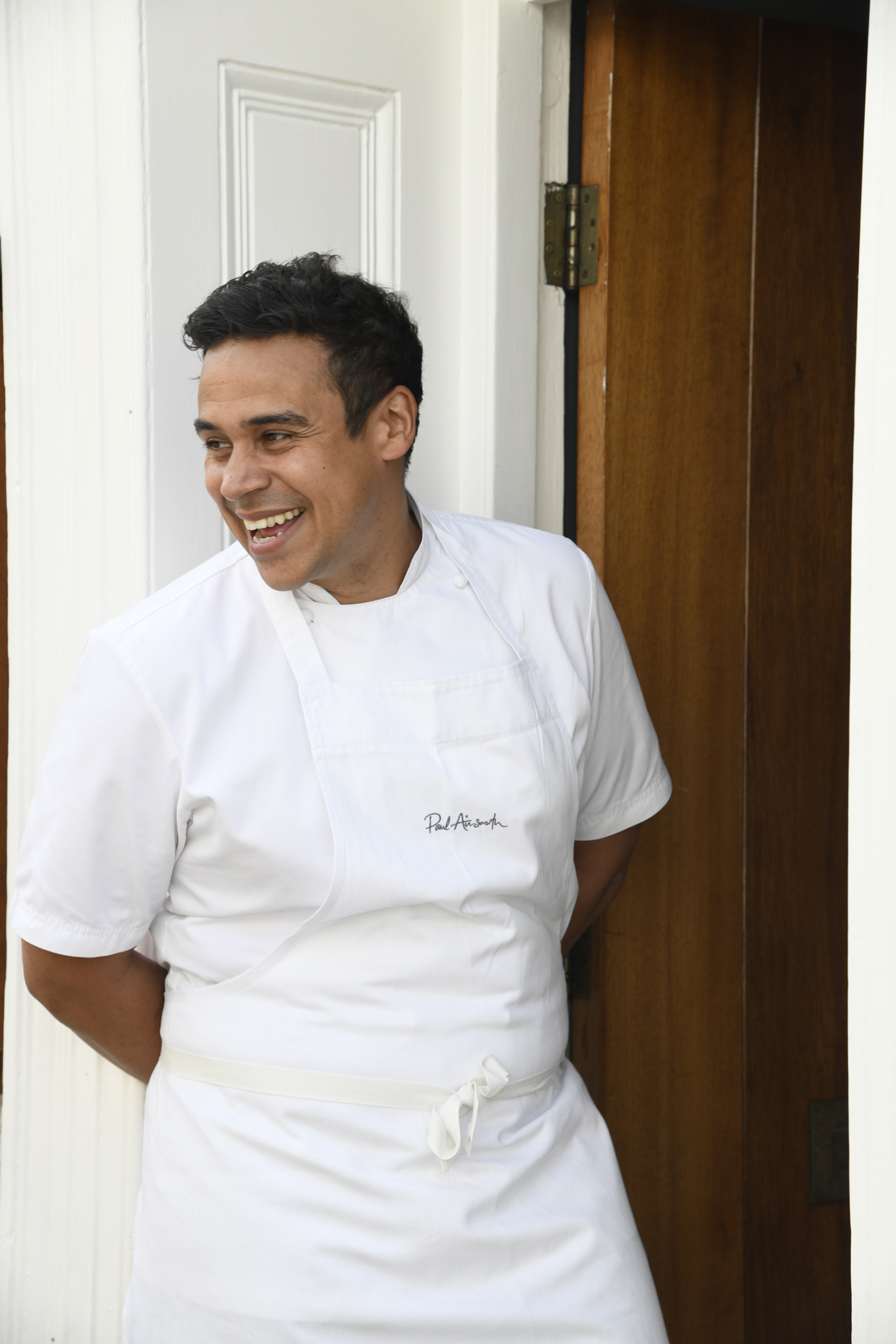 BARBECUE DELIGHTS
One of the first signs of summer I always remember is Dad at the grill cooking sausages and burgers and holding a cold pint of lager whilst my sister and I played in the garden. A barbecue favourite for me is mackerel on toast. Grill the mackerel fillets then slice your favourite loaf of bread, drizzle with olive oil, rub with garlic and add to the grill. Chop spring onions, red onion, green and red chilli, coriander and a few ripe English tomatoes and leave to marinate. At Caffè Rojano we serve a delicious dish on our Small Plates menu – line-caught BBQ mackerel with chargrilled sourdough, chilli and pickled onion salsa. I also love cooking jacket potatoes on the BBQ. To get great results prick the potato all over, rub in really rich extra virgin olive oil and season well with Cornish sea salt. Wrap them in tin foil, pierce the foil to allow the heat, and some of the smoke, in from the embers, and cook over a medium heat with the BBQ lid on. A hit with kids as well as adults…
Want more BBQ inspiration? Read our 7 Recipes for a Beach BBQ
Summer recipes by Paul Ainsworth
BBQ Mackerel Bruschetta Caffè Rojano by Paul Ainsworth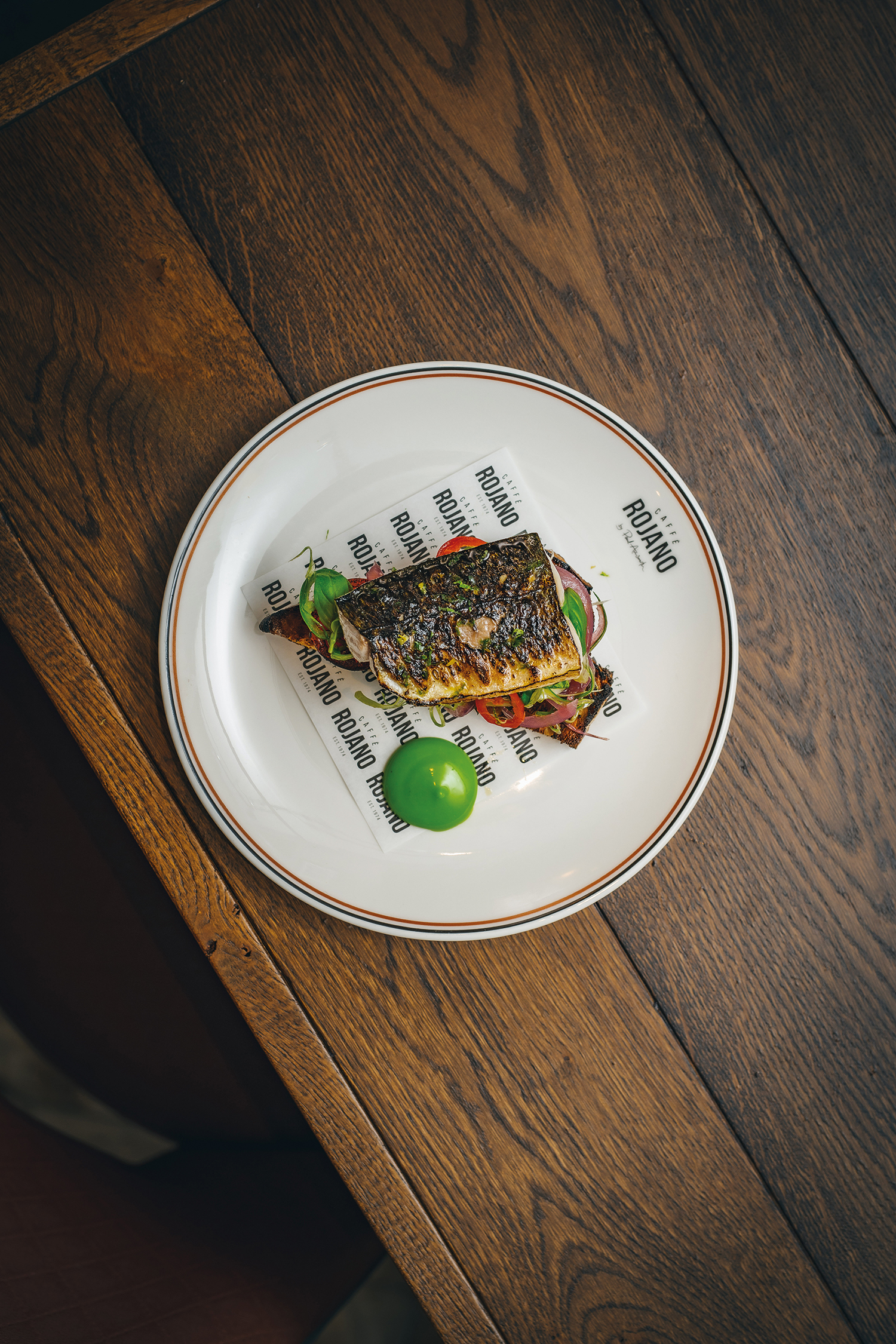 Ingredients
4 large mackerel fillets (pin-boned)
4 slices sourdough bread
Olive oil for drizzling
Salsa
2 spring onions, sliced thin
½ red chilli, de-seeded and chopped fine
½ green chilli, de-seeded and chopped fine
10g coriander, chopped
6 basil leaves, torn or chopped into strips
20 cherry tomatoes, cut into halves
½ red onion, sliced thin
Sea salt and pepper
Ceviche pickle
500ml pomace/olive oil
100ml white wine vinegar
100ml rice wine vinegar
1tbsp sesame oil
Method
1. Combine all the ceviche pickle ingredients together and whisk well, then set aside.
2. Season the mackerel fillets with salt and pepper and spoon over the pickle and set aside for 5 minutes before barbecuing.
3. Combine all the salsa ingredients in a bowl and season with salt and pepper, add a drizzle of the ceviche pickle and mix well.
4. Drizzle some olive oil over the bread and add a pinch of sea salt, then place your sourdough onto the barbecue and cook on both sides until evenly charred and crispy.
5. While cooking the sourdough, place the mackerel fillets skin side down and cook for about 2-3 minutes, then turn and finish the cooking on the flesh side for no more than 10 seconds!
6. Place your salsa on top of you charred sourdough, and then finish with your barbecued mackerel fillets.
Burrata and Salami Milano Bruschetta


Ingredients
1 ball of burrata
1 slice sourdough bread
1 sprig thyme, leaves picked
1 clove garlic
2 sprigs basil
4 slices salami Milano
1 lemon for zesting
Sea salt and pepper
50ml extra virgin olive oil for drizzling
Method
1. First split the burrata into two halves and lightly drizzle with olive oil, season with sea salt and pepper, and lightly grate the zest of half the lemon and leave this to the side.
2. Drizzle olive oil over the bread on both sides and season both sides with sea salt, add to a hot char-grill pan to colour both sides, then add to an oven set at 180˚C for two minutes to finish the toast.
3. Remove the toast from the oven, and lightly rub both sides with garlic and place the picked thyme all over. Cut the slice in half and place onto your plate.
4. Place ½ the burrata onto each slice and then top with the salami. Finish the dish with a sprig of basil and a good drizzle of olive oil.
Strawberry Trifle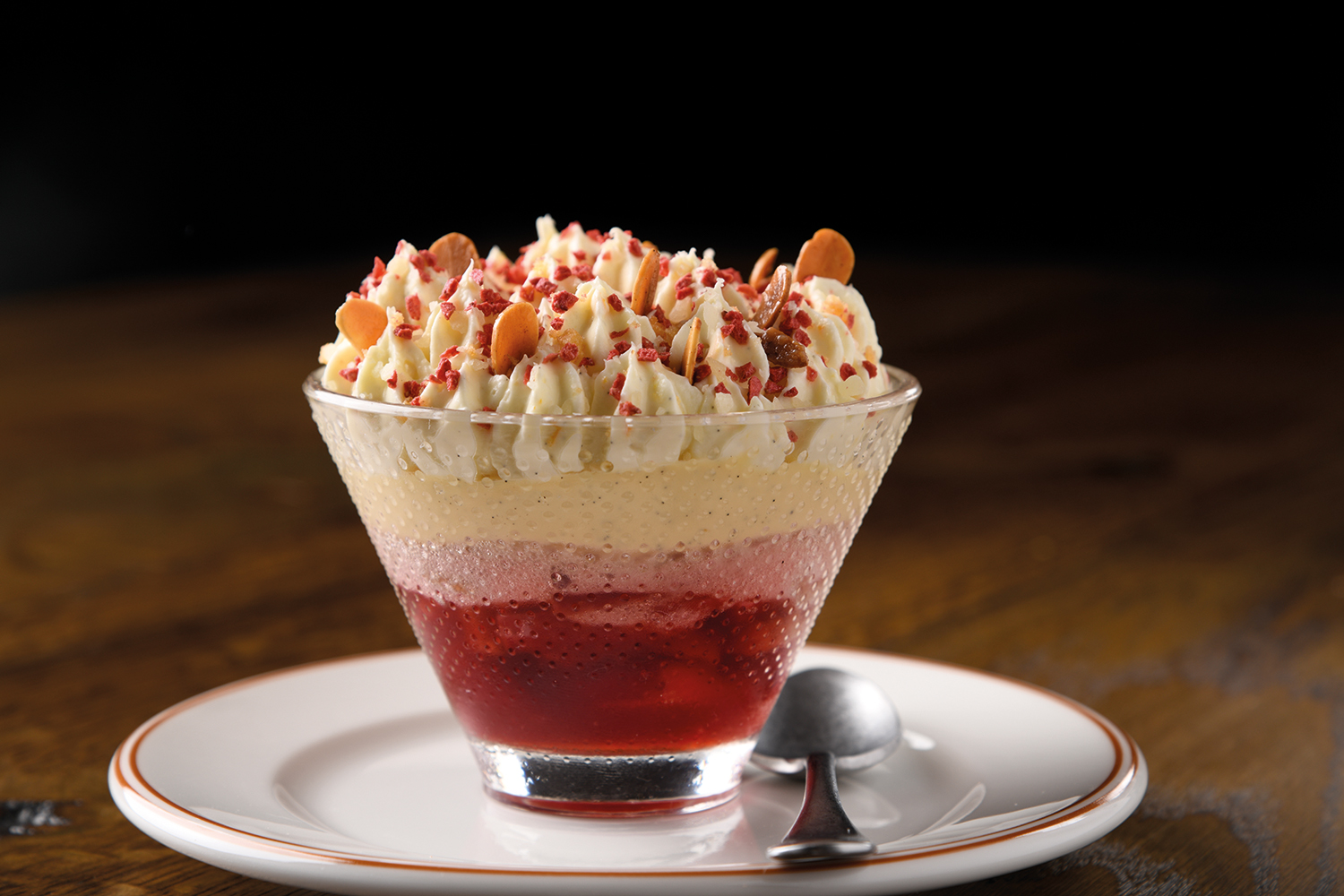 Ingredients (cream cheese topping)
250g crème fraiche
700g Philadelphia
250g icing sugar
500g double cream
1g vanilla seeds
Method
1. In a bowl, whip the double cream until you reach soft peak.
2. In a separate bowl, combine the rest of the ingredients and mix well to incorporate together.
3. Fold through the soft peak double cream in three stages and once all is added, you can whip until nice and thick.
4. Place the mixture into a piping bag and chill, ready to finish your trifle.
Ingredients (Strawberry Jelly)
1kg frozen or over ripe/soft strawberries
300g caster sugar
2 litres white wine
5g hibiscus
¼ bunch of thyme
4 sheets of gelatine
Method
1. Place all of the ingredients into a pan except the gelatine, and then bring to a gentle boil.
2. Remove the pan from the heat and cover with a lid or cling film, and leave to infuse for at least 5 hours.
3. Pass the infused strawberry stock through a fine sieve and keep in the fridge until you make the jelly.
4. To make the jelly, take 500g of strawberry stock and bring to the simmer, while this is happening soak four sheets of gelatine in cold water and, once soft, squeeze off the water and add to your warm strawberry stock to dissolve.
5. Leave this to cool slightly before making your trifle.
Ingredients (Set Custard)
100ml double cream
700ml whole milk
4 rich egg yolks
100g caster sugar
35g Bird's custard powder
2g vanilla seeds
2 sheets gelatine
Method
1. Mix the milk and cream together in a saucepan.
2. Whisk together the sugar, egg yolk and Bird's custard until light and fluffy.
3. Pour over half the cold cream and milk mixture over the egg mix to make a paste.
4. Heat the rest of the milk and cream with vanilla in a saucepan.
5. Pour heated cream and milk over the egg paste mixture.
6. Return all the mix to pan.
7. Cook on low-medium heat until it starts thickening.
8. To set the custard for the trifle, take 1 litre of finished custard and heat gently to about 70/80C and, while this is happening, soak two sheets of gelatine in cold water and squeeze any water off once soft, then add to the warm custard to dissolve.
9. Let the custard cool to room temperature before adding to the trifle.
Ingredients (to finish and to build the trifle)
200g fresh ripe strawberries cut into wedges
10 sponge fingers
100s & 1,000s sprinkles to finish
1 lemon for zesting
Method
1. To build the trifle, add some chopped strawberries to your dish first, and then cover generously with the strawberry jelly liquid.
2. Chop the sponge fingers into 1cm pieces and add a layer on to the jelly – the liquid jelly should soak into the sponge. Place the dishes into the fridge to set completely.
3. Once the jelly is set, add a good layer
of room temperature custard on top about 1cm deep or more if you like, then place into the fridge again to set firm.
4. Add topping and sprinkles
For more food inspiration, head to our Recipes section or pick up a copy of Coast