ALF ALDERSON jumps onto an e-mountain bike for a ride with history beneath the pedals along the welsh coast.
"We're located in a special place, with the Irish Sea on one side and the Preseli Hills on the other," Ed Sykes told me when I went e-mountain biking with his guiding company Hidden Routes.
"This means our routes take in a huge variety of scenery, from beaches and coastline to wild moorland and hidden valleys, forests and woodlands. Relatively few people visit this part of Pembrokeshire, and even at the height of summer the trails we ride are virtually deserted compared to the local beaches and coast paths; what's more, the area is steeped in ancient history and you can virtually ride back into the past".
Hidden Routes operates from Ed's award-winning hotel Llys Meddyg in Newport. Clients are provided with high-end Orange e-mountain bikes (plus cycle helmets) along with accommodation at the hotel, a Georgian town house which specialises in offering locally sourced menus, bright, airy rooms and a very laid back atmosphere.
Hidden Routes' guides are all local mountain bikers with decades of experience and know where all the best trails are to be found, whatever the season and whatever the weather.
My day out with Ed began with a longish climb from Newport on bridleways and country lanes that took us high into the Preseli Hills (easy on an e-bike!), from where we enjoyed views that encompassed the whole of Cardigan Bay, from St David's Head in the south to the hills of Snowdonia in the north; and Ed assured me that had it been a little clearer we would have been able to see Ireland's Wicklow Hills on the other side of the Irish Sea.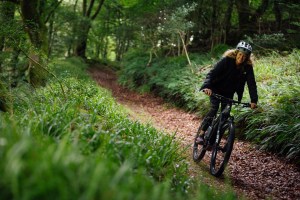 We then hurtled down a leafy bridleway into the bucolic Gwaun Valley, where dense woodlands of beech, hazel, ash and oak provide a home for pied flycatchers, wood warblers, redstarts, marsh tits, nuthatch and treecreepers, stopping briefly at the venerable Dyffryn Arms, aka 'Bessie's' after it's characterful, no-nonsense landlady. The tiny pub – essentially just one small snug – has remained unchanged over the decades, with beer served in jugs straight from the barrel through a serving hatch.
A stiff climb (steep enough to raise a sweat even when riding an e-bike) took us back up into the Preselis, which at their highest point reach almost 2000-feet, and briefly along the 5,000-year-old Golden Road, a trail that may have been used by the builders of Stonehenge to transport the Pembrokeshire bluestones that make up inner ring of the iconic prehistoric monument. Further along the Golden Road you can find Neolithic stone circles and the remains of Iron Age hill forts.
After a short, bouncy ride across a mix of dirt track and moorland we veered off into Pantmaenog Forest, where the open fire roads allowed us to zoom around at full speed with much of Pembrokeshire spread out below, before an exhilarating descent to Rosebush village where lunch beckoned at the quirky Tafarn Sinc, a Victorian inn constructed from sheets of corrugated iron.
Above the sawdust-strewn floor, huge flitches of ham hung from the rafters and ancient agricultural implements and old black and white photographs adorned the walls, the mobile signal was dodgy at best and whilst the 21st century didn't seem as distant as when we were riding the Golden Road it still felt a fair way off.
"Whenever we can, we stop off for lunch at pubs and cafes who focus on locally sourced produce," says Ed, who is a self-confessed foodie. "Tafarn Sinc is no exception, as well as happening to be my local!" (Ed lives in Rosebush).
Our après-lunch ride back to Newport began with a flowing climb back up through Pantmaenog Forest, which on an e-bike is almost as much fun as the downhill, from where we rode out across open moorland then down into the ancient woodlands of Tycanol Nature Reserve, passing within sight of the 5,500-year-old Pentre Ifan dolmen before a lovely high-speed meander along the banks of the River Nevern, from whence on to the huge golden sweep of Newport Bay.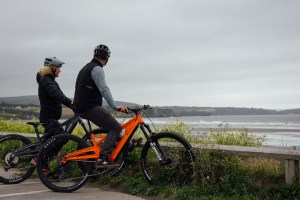 From here it was a five-minute scoot back to Llys Meddyg, where a hot shower and a tasty dinner awaited – which, even though I'd had the help of a motor on my ride, I felt was well deserved.
Hidden Routes offer two-day's guided riding with bike hire (including cycling helmet) and two-night's accommodation (including breakfast and dinner) at Llys Meddyg for £349 per person based on two sharing. Half-day guided rides are also available for £75 including bike and helmet hire. hiddenroutes.co.uk
HISTORY ALL AROUND
Pembrokeshire is littered with reminders of its distant past, many of which can be reached by bike. These include Pentre Ifan dolmen (see feature), the mysterious row of Neolithic standing stones known as Parc y Meirw above the Gwaun Valley, the remains of a spectacularly located Iron Age hill fort on the summit of Garn Fawr on the coast near Fishguard and the impressive Carreg Samson dolmen, above the pretty coastal village of Abercastle.
DIFFERING DATE…
The residents of the small villages and hamlets that dot the Gwaun Valley celebrate New Year on January 13, following the Julian calendar, which was abolished in the rest of Britain in 1752. The celebration is known as 'Hen Galan', or 'old New Year'.
Feeling inspired to travel to Wales? Check out 10 of their best secret beaches here.