In the 10 best secret beaches in Wales you find rocky coves, tiny sandy beaches and turquoise blue waters of your dreams. Hidden places that are hard to access or little known, strung all along the glorious Welsh coastline.
Words JADE BRAHAM
Wales has what no other country can claim – 870 miles of uninterrupted coastal path along its entire coastline, from Chepstow to a couple of miles outside Chester. Tucked within this expanse are around 150 beaches, many of which remain a well-guarded secret and require some perseverance to get to. But all have something worth discovering, from dramatic sea views and cliffside walks to sun-trap coves ideal for basking on in balmy weather, at others you'll find formidable waves and stretches of velvety sand that disappear at high tide. Some glorify remnants of bygone industries and encourage elusive wildlife. These are the unfiltered, rarely seen beaches of Wales.
1 WILDLIFE HOTSPOT
Cwmtydu Beach, near New Quay, Ceredigion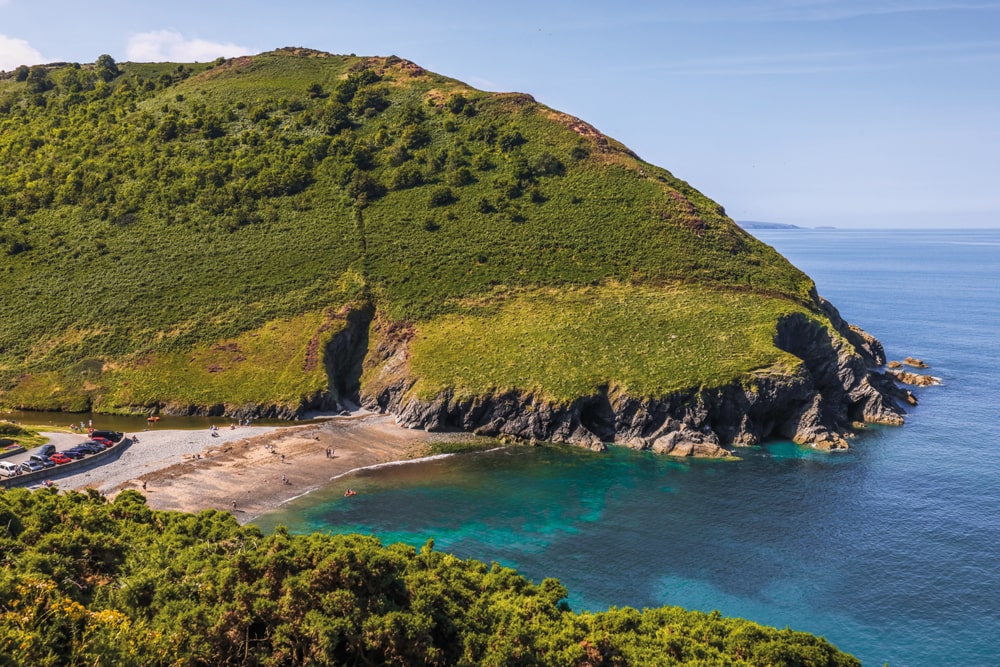 Cwmtydu's surroundings – cliffs, caves, and lime kiln remains – hint at its smuggling background and to a time when cargo ships unloaded heavy goods here. Today, it's a nucleus for migrating birds, Atlantic grey seals, pearl-bordered fritillary butterflies, red kites, ponies, and glow worms that, at night, make the grass glimmer with green lights. Kayakers, paddle-boarders and anglers will likewise notice the active marine life, while sun worshippers can dart between the shingle beach and its facilities.
Top tip: Bring binoculars to spot seals and dolphins.
Where to stay: Llainfran Fach (or farm) offers four B&B rooms (from £230 for a two night stay), sea-view cottages (from £393 for a three night stay), and space for five touring caravans to park up. Book at llainfran.co.uk.
2 UNDERNEATH THE ARCHES
Church Doors Cove, Manorbier, Pembrokeshire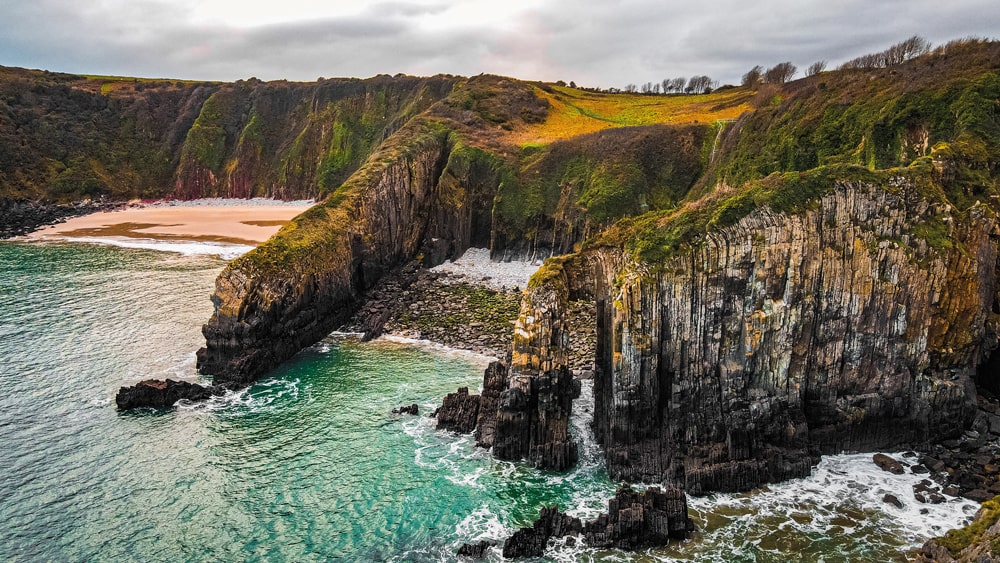 Shaped by the sea, two majestic archways dominate the landscape at Church Doors Cove. Its sheltered shingle and sand beach takes second place to its steep, stratified cliffs and surrounding caves. Descend the metal steps at low tide and scramble through the smaller cave to its neighbouring beach, Skrinkle Haven. Inaccessible except at low tide or by kayak, the latter is an expanse of pristine golden sand and gentle waters.
Top tip: Park up at the Cliffside car park, past YHA Manorbier.
Where to stay: Get totally spoilt at Manorbier Castle, which has three self-catering options within the castle's stone walls, fresh flowers and cakes on arrival are a special touch, the 12-bedroom main house costs from £750 a day. Book at manorbiercastle.co.uk.
3 SECLUSION GUARANTEED
Porth Iago, Llyn Peninsula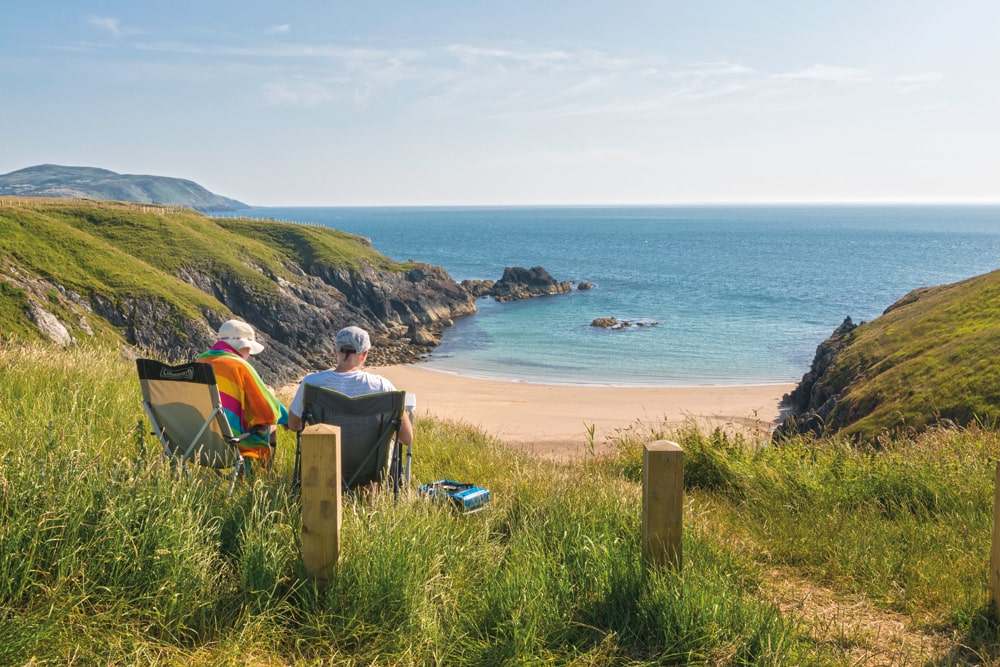 On the Llyn Peninsula – an Area of Outstanding Natural Beauty – is the easily accessible and dog-friendly Porth Iago beach. Facing west and flanked by Dinas and Graig Ddu headlands, it's ideal for enjoying the sun. The silky sand and turquoise water add a Mediterranean feel to watersports and fishing, but the vibe is wild and there are no toilets, lifeguard or shop. Above the beach is a pay-and-display car park – excellent for wild camping – while nearby Porth Oer has a shop where you can stock up for picnics.
Top tip: Pack plenty of fluids and snacks before you go.
Where to stay: Book a classy pod for two at glampsite, Glampio Coed, prices from £95. Find out more at glampiocoed.com.
4 SANDCASTLES AND SUNBATHING
Scott's Bay, Carmarthen, Carmarthenshire


Concealed behind Llansteffan Beach's headland is the barely visited Scott's Bay. Cut off from Llansteffan at high tide, the Wales Coastal Path leads from the Llansteffan car park, with its facilities and eateries, through woodland enveloped in wildflowers. On the beach, the River Taf trickles out to sea – excellent for paddling. Its miles of sand also boast sandcastle building, sunbathing, and cockle-picking opportunities.
Top tip: Check tide times before visiting to make the best of free seafood.
Where to stay: Mansion House in Llansteffan is set in five acres of garden and overlooks Carmarthen Bay. Kick back in the two AA Rosette restaurant and just soak up the views. Rooms start from £175 per night, mansionhousellansteffan.co.uk.
5 RUGGED CLIMB
Castell Bach, near Aberaeron, Ceredigion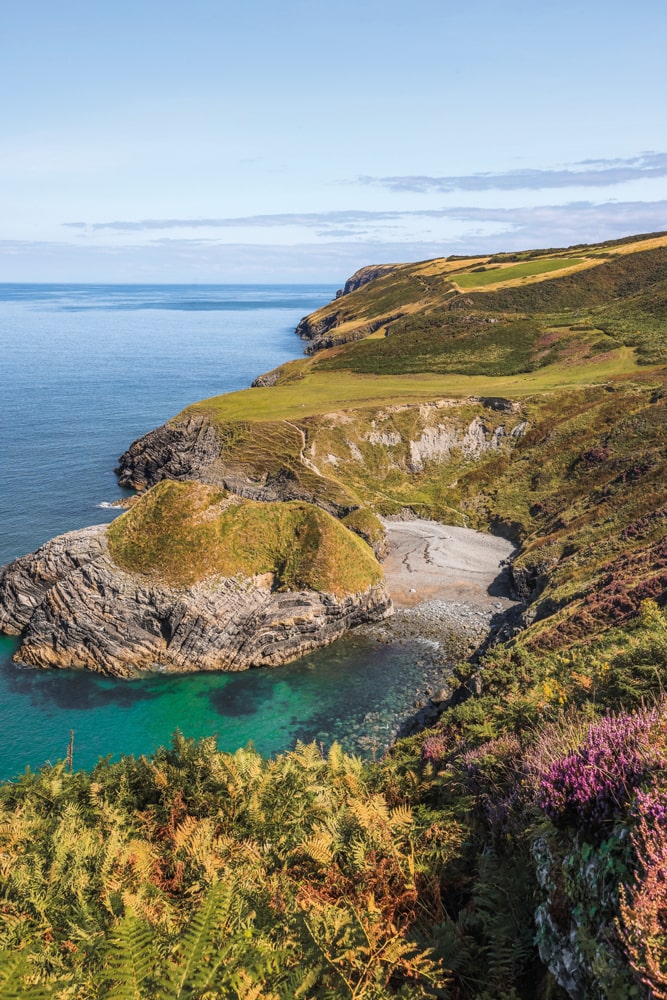 Castell Bach's shingle beach and dramatic cliffs are only surpassed in magnificence by its two striated islands. Meaning 'little castle', the beach takes its name from the original Celtic Iron Age hillfort, the remains of which lie above the cove. The climb from Cwmtydu Beach (nearest parking and facilities) is not for the faint-hearted, but having such a beach all to yourself is worth the effort!
Top tip: Perfect for secluded, soulful photography.
Where to stay: A 25-minute drive from Cwmtydu is the quaint fishing village of Aberaeron and the Harbourmaster Hotel, situated in listed buildings on the quayside, B&B rooms from £190. Book at harbour-master.com.
Read next… 10 BEST SEASIDE CAFES AND BEACH SHACKS IN THE UK
6 PADDLE AND SNORKEL
Ceibwr Beach, near Cardigan, Pembrokeshire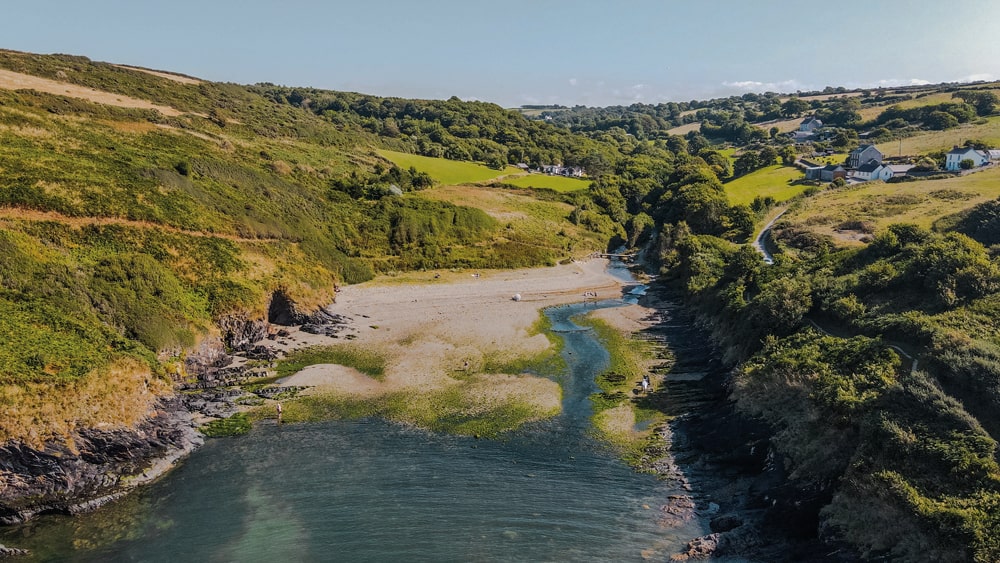 Ceibwr is a narrow inlet enclosed by Ordovician rock formations and caves historically used for smuggling. On a windy day, this wild pebble beach is unsuitable for swimming but ideal for seeing seals, porpoises, dolphins and sea otters. When sunny, it's perfect for kayaking, scuba diving and snorkelling. In summer, thrift and heather carpet the 35-minute cliffside walk to the Witches' Cauldron, a collapsed cave filled with glinting green-blue water.
Top tip: Parking's limited – come early.
Where to stay: Georgian townhouse Llys Meddyg Hotel in nearby Newport offers eight luxury rooms and dog-friendly accommodation. Check out special seasonal offers at llysmeddyg.com.
7 SUPER ROCKPOOLING
Caerfai Beach, St Davids, Pembrokeshire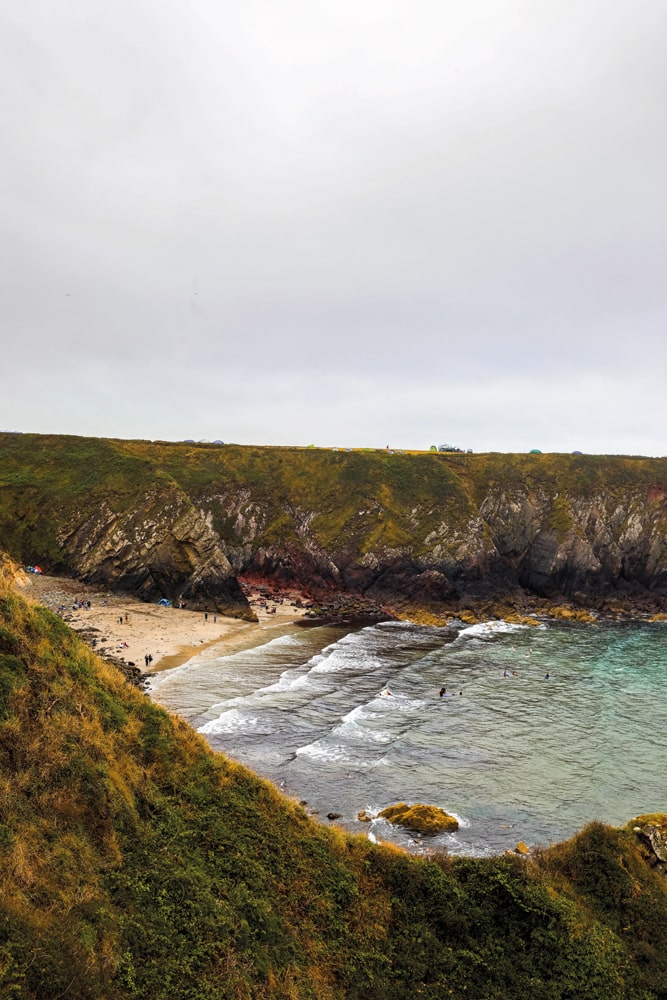 South-facing and positioned between multicoloured cliffs, Caerfai Beach is a suntrap excellent for swimming, sunbathing or exploring rock pools. Kayakers and canoeists can glide to its many caves or Penpleidiau island. Surfing, angling, wildlife spotting, or walking Wales' Heritage Coast is a must on stormier days. There are 50 car spaces, a nearby shop, a visitor centre, and St Davids city close by, but limited disabled access.
Top tip: Beware of strong tides if you go out into the water.
Where to stay: Twr Y Felin Hotel is a former windmill and has more than 100 pieces of contemporary art lining its walls, rooms priced from £250 per night. Check the hotel's website for special seasonal offers, twryfelinhotel.com.
8 PREPARE TO SCRAMBLE
Porthlysgi Bay, St Davids, Pembrokeshire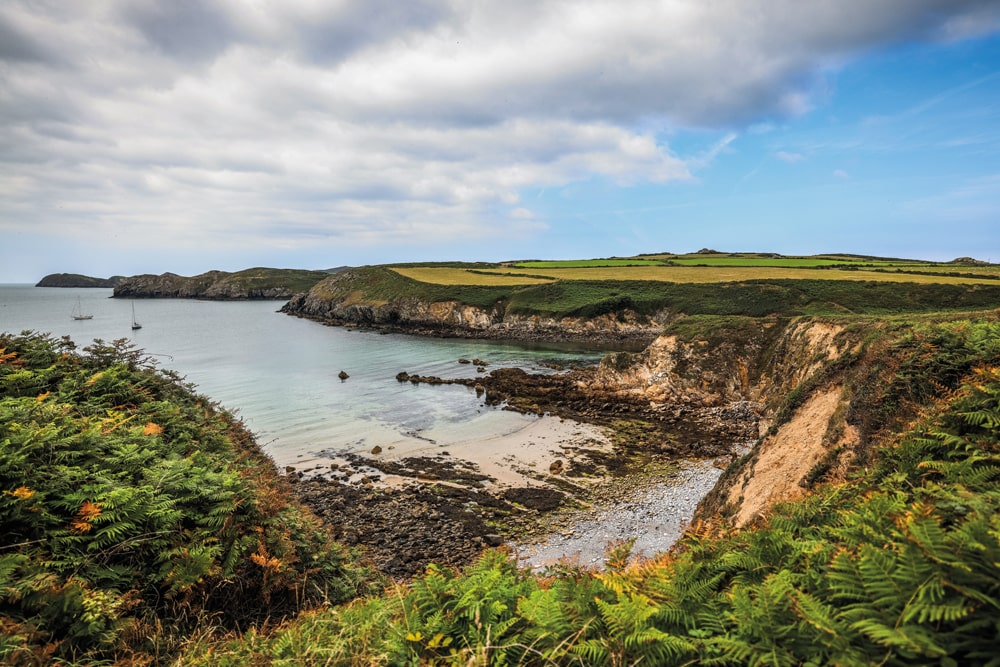 Porthlysgi Bay is the definition of a secret haven, with silky-smooth waters, docked sailing boats, layers of underwater rocks and rolling fields. It's a 30-minute walk from Porth Clais Harbour (nearest parking and facilities) and has wild ponies, purple heather, staggering views of unusual rock formations and Carreg yr Esgob island. To get between the bay's dual shingle-sand beaches requires swimming, kayaking, or scrambling over rocks at low tide.
Top tip: Wear walking boots as the terrain is seriously rugged.
Where to stay: A 12-minute drive from Porth Clais Harbour is luxurious Penrhiw Hotel, a former priory and sister hotel to Twr Y Felin. Book in for a holistic massage to relax right down. Rooms from £210 per night, penrhiwhotel.com.
9 TIME TRAVEL
Porth Wen Beach, Anglesey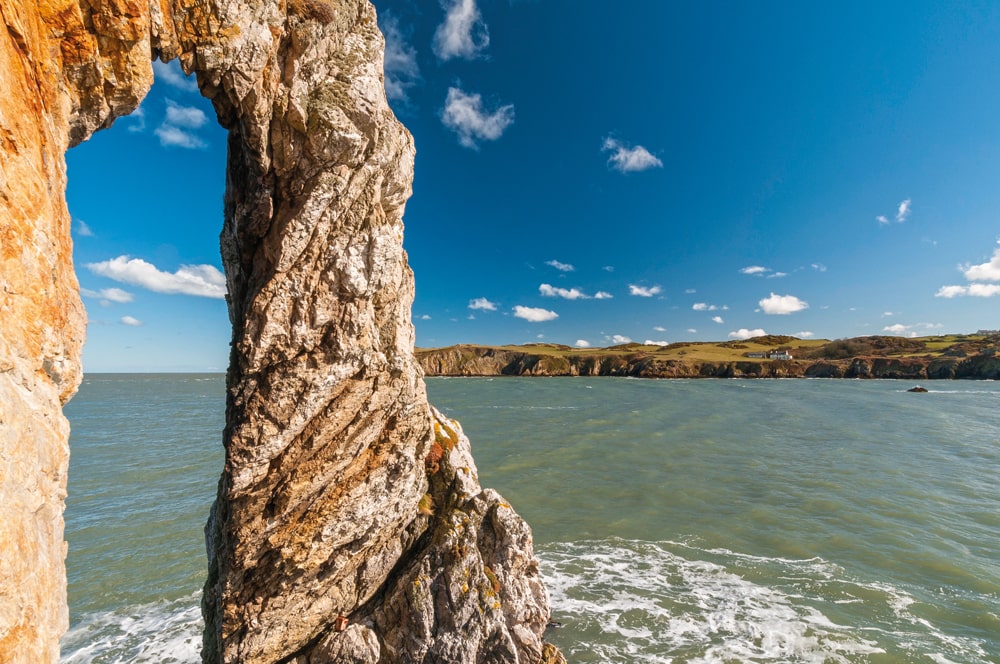 A shingle beach bordered by vivid green vegetation, teal-coloured ocean and ruins of an old brickworks give Porth Wen a distinctly Cornish, Poldark-style appearance. Cliffside walks lead to Llanlleiana Porcelain Works, and at low tide you can explore the beehive kilns, snorkel under the rock arch, or discover the old harbour. However, the beach's remote location and lack of facilities makes the descent from Llanbadrig Church challenging.
Top tip: Pack your snorkel for underwater discovery.
Where to stay: Roughly 19 minutes from Llanbadrig Church and five from the sea is Tyn Llain B&B with three luxury bedrooms, from £100 per room per night. Book at tynllainbandb.com.
10 SAND AND PEBBLES
Brandy Cove, Swansea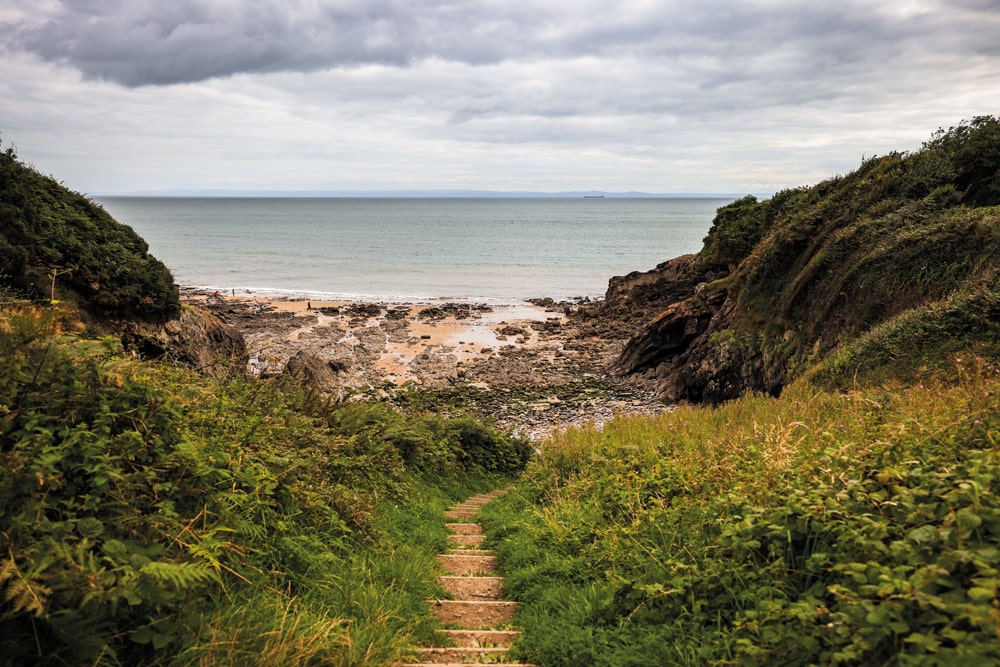 This dramatic beach is shrouded in history concerning witches and smuggling contraband, hence its name. Its remote and rugged topography sustains its mysterious inheritance and it can only be accessed by the coastal path from Caswell Bay (nearest facilities) or walking the valley from Bishopston. Low tide reveals intermittent gold sand, while the shingle beach at high tide is superb
for watching the sunset.
Top tip: There's free parking in Bishopston.
Where to stay: An eight-minute drive from Bishopston is the family-run boutique B&B, Langland Cove Guesthouse in Mumbles, which offers four airy rooms from £85 per night. Book at langlandcove.co.uk.
For more beach inspiration discover the 10 best child friendly beaches, the 10 best sporty beaches in the british isles or pick up the latest copy of coast magazine for more vitamin sea.