coast editor-in-chief Alex Fisher explores an idyllic sandy cove on the coast of North Cornwall
The tide is out and a light breeze ripples across the sand dunes, patterning the pools left by the retreating sea. Acres of golden sand framed by dramatic rocky outcrops are dotted with movement. A golden retriever bounds enthusiastically across a wide, salty puddle, water spraying around him. A toddler, bucket and spade in hand, busily gathers sand for her castle, and surfers carry their boards through the sunny haze, heading for the rolling waves. In the shelter of the cove, families eat their sandwiches and then flop back down in the sunshine. Despite its popularity, the beach here at Mawgan Porth is too big to ever get really crowded, and on days like this there's no better place to be in the world.
The area once known as Porthglyvyan – meaning 'the cove of the little wooded valley river' – is now a tourist destination, but it has not lost its charm. Excavations in the 1950s found a burial ground dating back to the 10th century, but the minimal development in the area means that the stunning views out to sea are probably similar to those seen by the people who lived around here a thousand years ago. Today, the hamlet of Mawgan Porth offers a pub, a café, a restaurant, and a smattering of art galleries. There are also some handy shops selling local produce, and beach and surf gear. All you need for a sublime holiday by the sea.
FRIDAY PM
2pm – A CORNISH WELCOME
The sun is shining when we arrive in Mawgan Porth and we stop at the shops opposite the beach to pick up supplies before heading to our holiday home. Tired from our long journey we find a table outside Cornish Fresh, a small supermarket and café specialising in local produce, and order some coffee and homemade pizza. Moments later friendly staff bring a delicious lunch to our table. Our energy restored, we pick up the groceries we need before heading a couple of minutes up the hill to Dragon House. Open seven days a week, Cornish Fresh is a real asset to this little, coastal village (01637 860850, cornishfresh.com).
New to the holiday let market and recently redecorated, Dragon House sits just a few hundred yards from the sandy beach, offering the ideal location for a seaside holiday. The long balcony and floor-to-ceiling windows have spectacular views across the green, wooded valley that sits behind the beach, and the garden is ideal for big family barbeques (01637 861005, beachretreats.com/dragonhouse).
4pm DEEP RELAXATION
To ensure the weekend is a truly relaxing one, I've booked a spa treatment at the Bedruthan Steps Hotel Spa, which is just a short walk from Dragon House. Keeping to the Cornish theme, I'm having what's described as a Luscious Laminaria Seaweed Wrap, which uses hand-harvested Cornish seaweed. This 90-minute treatment includes a body mud mask and an invigorating salt scrub, followed by a massage with mineral-rich seaweed oil. By the time the treatment is over I feel like I have left my busy work life behind and am ready for my holiday (01637 861219, bedruthan.com).
7pm A FISH SUPPER
Friends who live in nearby Newquay have insisted we try their favourite fish restaurant. Situated on Fistral Beach just a few miles' drive away, The Fish House Fistral is a small, intimate, family-run restaurant
that offers the best local fish and shellfish. We start our meal with
a sumptuous Seafood Sharing Board (£15.95), which includes crab cakes, squid with aioli and piquillo peppers stuffed with salt cod. Despite fighting over the last crab cake, we decide to continue with the sharing theme and order Roasted Hotshell, a selection of shellfish, mussels, crab claws, scallops and tiger prawns with chilli, garlic and olive oil (£23.50 for a main portion we found big enough to share between two). Proper messy eating ensues as we mop up the sauce with freshly made focaccia, and this classic, unfussy dish is a winner with everyone. The teenagers round off their meal with Knickerbocker Glories while I go out to admire the view. Lights from the surrounding restaurants and hotels are reflected in the water and I listen to the waves gently rolling across the sand as I finish my glass of wine. Absolute heaven (01637 872085, thefishhousefistral.com).
SATURDAY AM
10am SURF'S UP
Mawgan Porth is a great beach for surfing and we walk to The Surf Club to get kitted up with wetsuits and surfboards for a lesson. Having assessed the group's very varied abilities, our teacher gives us top tips on the sand before we enter the water, and with his expert guidance I feel confident I can pop up this time. While I practise in the shallows, my teenage son heads out back and the instructor follows. Under the instructor's guidance, my son catches the best waves of the day and glides onto the beach like a professional. Small group lessons cost £30pp (07889 972236, thesurfclubcornwall.co.uk).
SATURDAY PM
1pm OFF THE BEATEN TRACK
I love exploring new places to eat, and the all locals are talking about a new independent café tucked away down a country lane less than a mile from Mawgan Porth beach. Off The Path Coffee Co is the perfect antidote to those generic coffee shops you find in every high street, you know the ones I mean… Turn right after Sun Haven Valley and you'll see a unique open-air café set in the rolling green hills. There's shelter if it rains, and a field replete with a friendly horse. I order a Spicy Ranch Breakfast and a cappuccino. The good-value menu includes homemade chili and burgers, along with local crab sandwiches and chewy, gooey homemade chocolate brownies (facebook.com/Off-The-Path-Coffee-Co).
3pm A ZEN EXPERIENCE
From the café we take the 20-minute walk down the public footpath to pretty St Mawgan. Here, we find an unexpected treat. Hidden away in this traditional Cornish village there's a tranquil Japanese garden. Packed with stunning Japanese maples, cherry blossom and camellias, I feel as though I have entered another world. Supremely peaceful, the waterfalls, lake, Zen garden and bamboo grove offer a quiet place for reflection and contemplation. Open from 1 March to 31 October, 10am to 6pm, seven days a week. £5 for adults, £2.50 for children, with good wheelchair access and on-site parking (01637 860116, japanesegarden.co.uk).
7pm THE PERFECT PUB
Last night we headed south towards Newquay for supper, tonight we're heading a few miles north between Mawgan Porth and nearby Padstow, to The Cornish Arms in St Merryn. Owned by Rick Stein this popular pub serves classic, simple food based on Rick's recipes alongside great St Austell beers. After watching the sunset in the huge beer garden, we take our seats inside and order half a pint of prawns, Moules marinière and fish and chips. With starters from £5.95 and mains from £9.95, the excellent service and delicious food makes for a great evening out (01841 532700, rickstein.com/eat-with-us/the-cornish-arms).
SUNDAY AM
9am RISE AND SHINE
As far as I am concerned, one of the best ways to start the day is with a yoga session. It's another sunny day and Amy Williams from Next Wave Yoga is knocking on the door ready to run a one-to-one yoga session, tailored to my own personal needs. What a treat! First we discuss what I would like to work on, and as relaxation is the focus on my weekend, we run through a series of slow and gentle yin stretches that both de-stress and invigorate. Afterwards I feel like I am floating on a cloud. In good weather Amy can be found running yoga classes on the beach (07718 788893, nextwaveyoga.co.uk).
11am ART ATTACK
Considering its diminutive size, the small hamlet at Mawgan Porth has a lot to offer. In the green opposite the shops and cafés, there's a brilliant little art studio called KaraNDave. The shop is awash with inventive and unique toys, decorations and ornaments, all carved from wood, and therefore perfect for eco-friendly gifts to take home. Kara and Dave, the creative couple who run the studio, are also supporters of Free Art Friday Newquay and often decorate the beach with free artworks for people to take home (01637 860938, karandave.co.uk).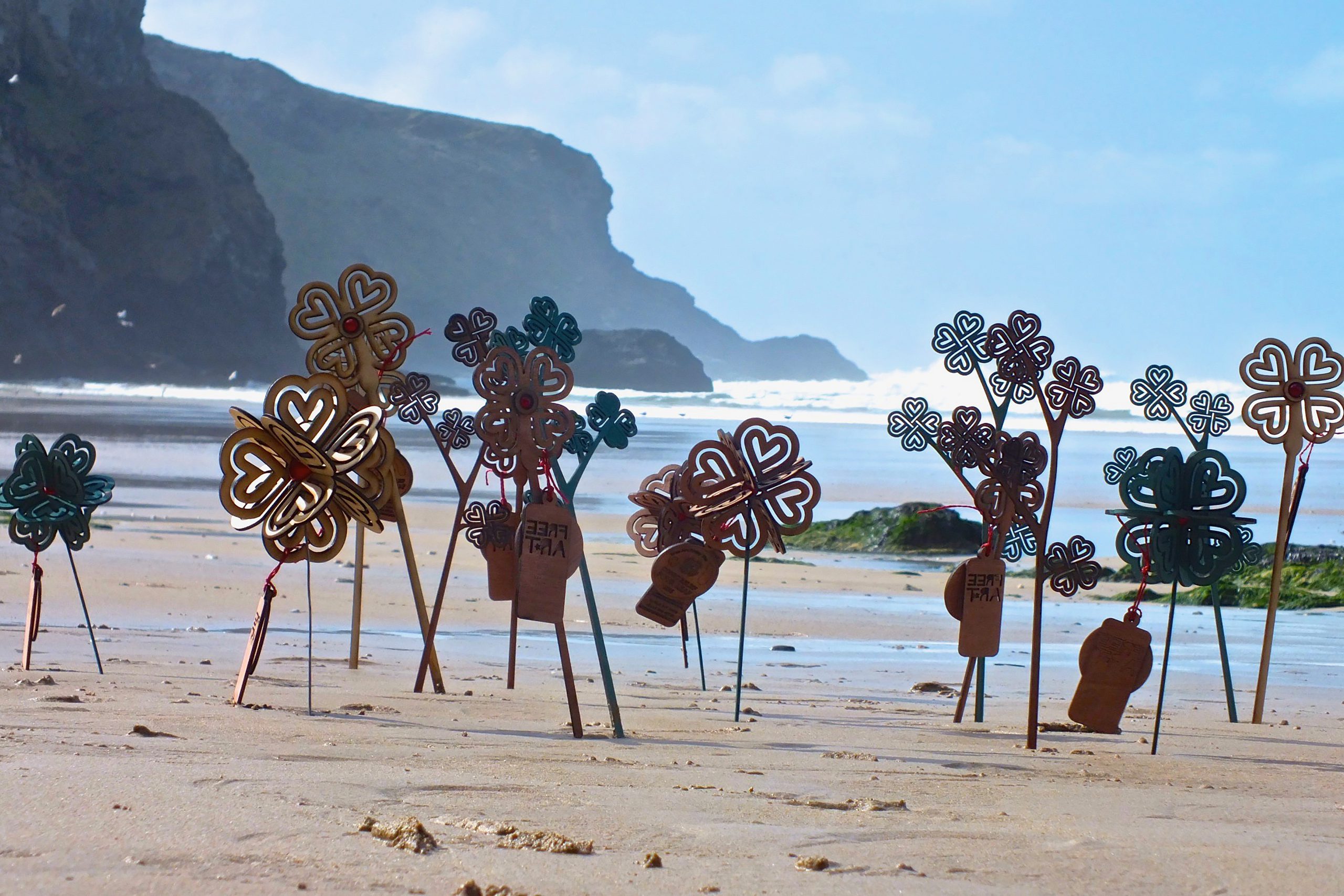 SUNDAY PM
12pm SUNDAY LUNCH
You don't have to be staying at The Bedruthan Steps Hotel to enjoy lunch at its great restaurant, The Wild Café. This family-friendly eatery has unbeatable sea views and cooks a stunning Sunday roast. Along with the usual chicken and beef, there's also an excellent vegetarian option, with all the trimmings. However, food here is served on sharing platters rather than individual plates, so it really feels like a home from home (but without the washing up!). Priced at £18.50 for two courses for adults and £9.50 for two courses for kids, it's an affordable weekend treat (01637 861200, bedruthan.com/food-drink/wild-cafe).
2pm A WALK ON THE WILD SIDE
The weather has held out and we decide to take a walk along the coast path, stopping to admire the Bedruthan Steps rocks, which have been a tourist attraction since the Victorian times. After a good few hours of rambling up and down the stunning coastline, we find ourselves at the Carnewas Tea Rooms, nestled inside a National Trust building that was once a stable which housed pit ponies for the mining industry. We stop for a brew with a view, and share some delicious, warm homemade scones and crab sandwiches packed full of meat; the perfect ending to a very indulgent weekend (01637 860701, carnewas-tea-rooms.co.uk).
Stay at…
coast stayed at Dragon House, a four-bedroom property in Mawgan Porth. The house has a large dining room with countryside views, a comfy living room, a garden with barbecue and surf board storage. It is available for rent via Beach Retreats Prices for a week start at £1,190 in the low season, rising to £3,285 in peak season (01637 861005, beachretreats.co.uk).
How to get there
If driving, head for the A30 in Cornwall, then take the A39 to Newquay. At the A3059 head for St Mawgan and the airport, then follow signs to Mawgan Porth. Alternatively, fly to nearby Newquay Airport (cornwallairportnewquay.com) and take a short taxi ride to Mawgan Porth.