WORDS & PHOTOGRAPHS HENLEY SPIERS
The Farne Islands are home to the UK's largest grey seal breeding colony, and seeing these cheeky, agile, young pups off the Northumberland coast makes for a thrilling wildlife encounter.
We hear the seals before we see them, their soulful cries calling out from the islands, like a cross between an owl and a melancholic dog. Approaching the craggy shoreline, lumpy grey bodies come into sight, huddled together and howling, their patchy grey coats blending perfectly with the landscape. Moving awkwardly on land, they transform into agile swimmers as soon as they drop into the cool waters of the North Sea. A pair of the more enterprising seals swim out to meet our boat, examining us with large curious eyes and twitching a bewhiskered snout. We excitedly gear up, ready to join them.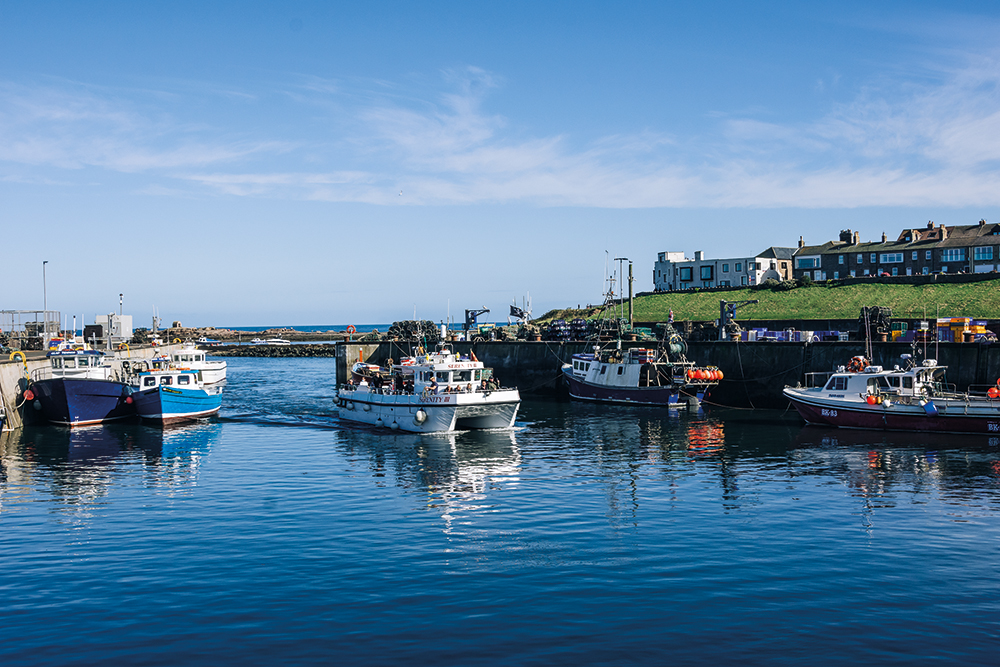 I'm in Northumberland, visiting the Farne Islands in search of encounters with one of Britain's most charismatic coastal animals: the grey seal. It may come as a surprise, but the UK counts as one of best places to encounter grey seals, and is home to 40% of the global population. The Farne Islands boasts the largest breeding population in England, with around 1,000 pups joining the colony every year. Although thought to have numbered just 500 in 1900, grey seal numbers rebounded impressively after the implementation of protective laws in 1970, and a population of 120,000 is now at home on our coast.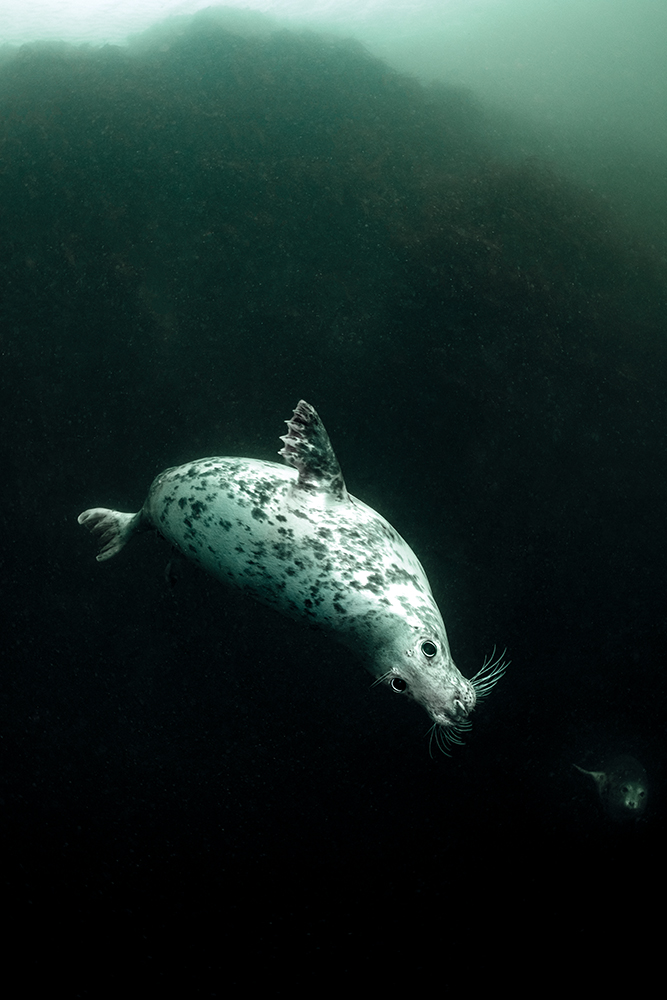 ANCIENT SANCTUARY
We base ourselves in the scenic coastal town of Seahouses, munching on delicious, deep-fried doughnuts as we gaze across at the nearby Farne Islands. Numbering 15 to 20 scattered isles, depending on the tide, it takes us just 20 minutes by boat to reach the nature sanctuary. Although today the archipelago is owned and maintained by the National Trust, monks were the first to inhabit these isolated islands back in the 7th century, hunting seals, which were prized for their flesh and oil. The monks were far-sighted in the conservation of other wildlife, however, and St Cuthbert's special law of 676 protecting seabirds is thought to be the first of its kind anywhere in the world. Fast forward to present day, and summertime visitors can witness 150,000 breeding pairs of seabirds enjoying the sanctuary of the
Farne Islands. This avian wonderland is reason enough to visit, however those who do not also peer beneath the surface will only experience part of an area Sir David Attenborough described as his favourite place in the UK to see nature at its best.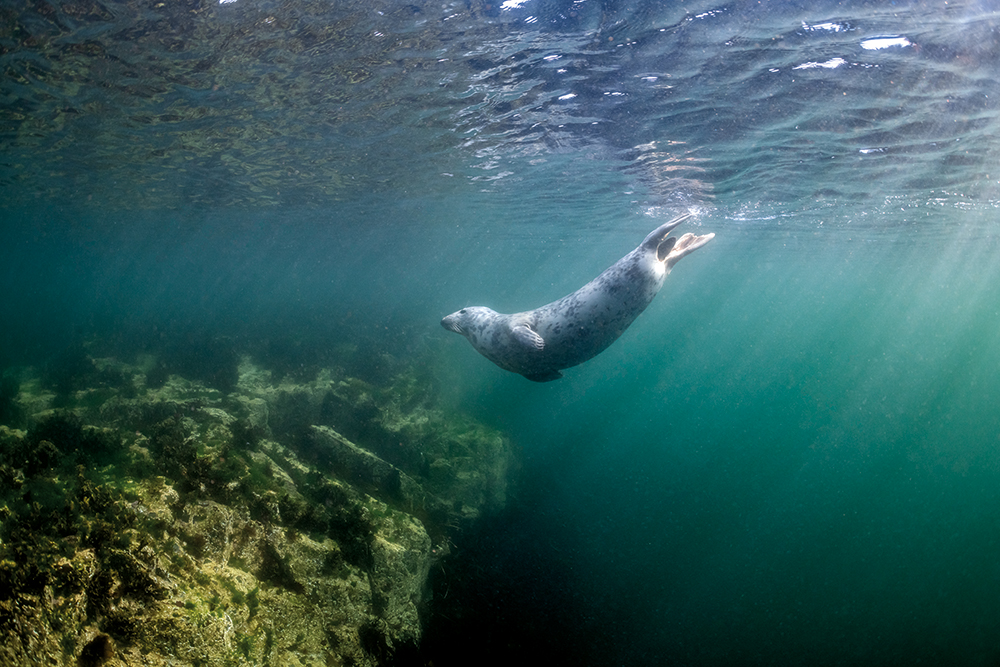 PLAYFUL PUPS
Jumping into the water, I'm almost immediately buzzed by a grey seal, appearing suddenly and waving its flippers, before disappearing again. The alignment of good weather and seal interactiveness comes in late summer and early autumn. At this time, the sea conditions are at their most reliable and the seal pups are old enough to venture away from their parents. A young seal is similar to a canine pup in many ways, exhibiting an enthusiastic zest for fun and play, the difference being that a grey seal pup is a large, wild animal, weighing over 100kg by the time you meet it. A seal pup's weight gain from birth is an astounding feat of nature. Coming into the world as a fluffy, white furball of 14kg, a newborn will put on about 2kg per day for nearly a month, briskly turning into a cartoonishly rotund, blubbery torpedo.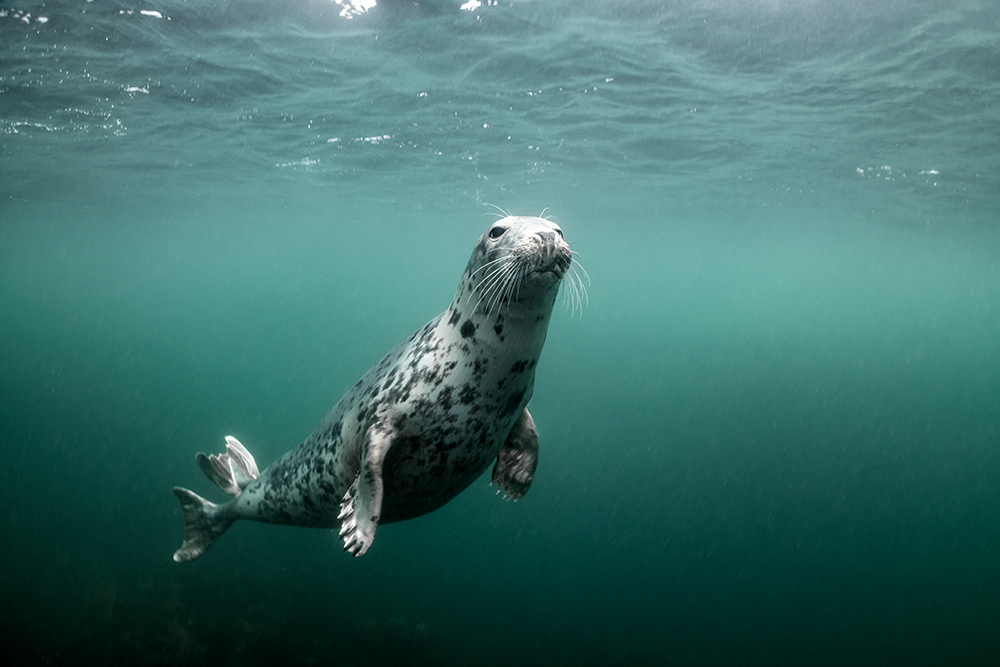 The pups we encounter are further along in their development, venturing out in the water in small groups, equipped with a heady mix of confidence, curiosity, and playfulness. These grey seals take particular delight in our fins, biting them gently the moment we
have our backs turned. It's a game of underwater hide-and-seek, with the seals vanishing into the green water when you actively look for them, then reappearing swiftly with a tug on your fin once you turn your attention elsewhere. They are incredibly flexible, able to contort their bodies with an enviable elasticity, while somehow managing to always maintain their gaze towards you. It is an incredible thrill and privilege to share the water with these wild animals, and to feel that – in some way – the thrill is not one-sided.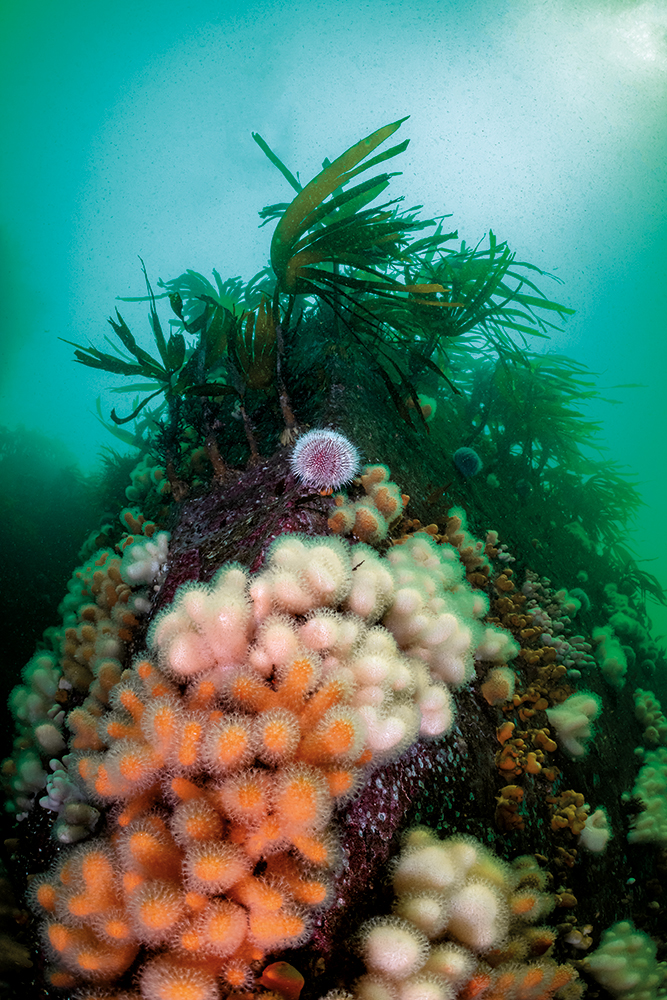 The underwater scenery around their home waters also merits attention. I crane my neck upwards to take in a spectacular reef wall, dropping down 25m underwater. It is festooned with life, and dead man's fingers – a type of soft coral – cascades down the sheer rockface. The orange and white bodies reach out, polyps raking in nutrition from the water column. Edible sea urchins dot the sea bottom, coming in a pleasing palette of whites and pinks. The urchins feed on the kelp forest that sways elegantly close to the surface. The kelp will grow and fade seasonally, and is the vital component in the vertical food chain upon which this ecosystem relies. As the protective sheen on the bronze kelp fronds wears away, small animals will come to nibble at it. My personal favourite are the blue-rayed limpets, clustered into small colonies, with each not more than a fingernail in size. They will carve out a small pit in the kelp where they hold fast, and the iridescent blue lines running down their shell makes them visually unforgettable.
I'm startled out of my reflections by a nibble on the fin, and spin around to be greeted by familiar sets of whiskers and expressive, cheeky eyes. These two pups are clearly wondering why I am not trying to play with them still, however I barely have time to bring my camera up before they dart away again, arrow quick. I follow their tracks through the gully, gently ascending close to the surface. A seal jumps acrobatically out of the water, while hundreds of birds pass overhead, framed by perfect blue skies. I smile in peaceful satisfaction and make a silent vow to return to the Farne Islands next year.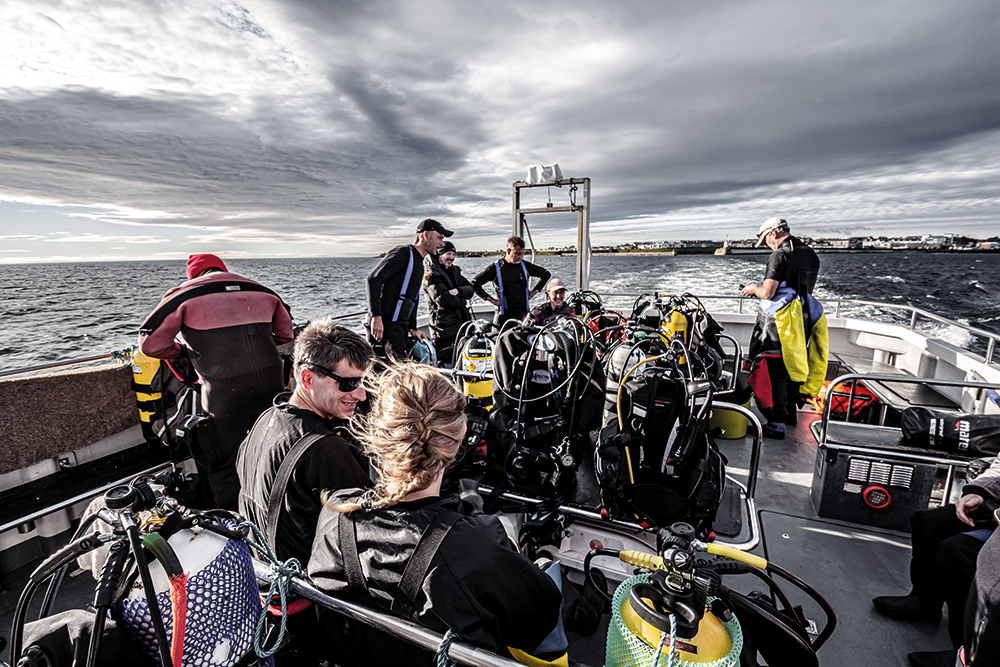 How to experience grey seals in Northerumberland:
Henley dived with Serenity Boat Tours (farneislandstours.co.uk), and stayed at the Olde School House in Seahouses (theoldeschoolhouse.co.uk), priced from £80 per night B&B, for a double or twin room.
Feeling adventurous? You might like to find out more about swimming with sharks in Cornwall or staying on land, discover the best places to spot puffins and sea birds.