Discover the 10 best places to spot sea birds in the UK – from comical puffins and sleek gannets to leggy waders and dabbling sea ducks, our shorelines teem with fabulous birdlife.
WORDS JENNY OLDAKER
Discover the 10 best places to spot sea birds in the UK – from comical puffins and sleek gannets to leggy waders and dabbling sea ducks, our shorelines teem with fabulous birdlife.
The chip-guzzling gulls of seaside resorts are just a small part of the UK's seabird story. While they're certainly the most regularly visible species, the British Isles enjoys a diverse army of coastal sea birds, playing host to several globally important breeding colonies – around eight million seabirds from 25 species nest here each year, while many more waders, divers and sea ducks winter in coastal estuaries, and rare migrants pause en route to warmer climes. Today, overfishing, pollution and climate change are among the threats facing seabird populations, but campaigns from wildlife charities and the implementation of Marine Protected Areas in our waters are helping lead the fightback. We can all do our bit to help, and observing birds in their coastal habitats is a thrilling and accessible first step.
10 best places to spot sea birds in the UK
Skomer Island, Pembrokeshire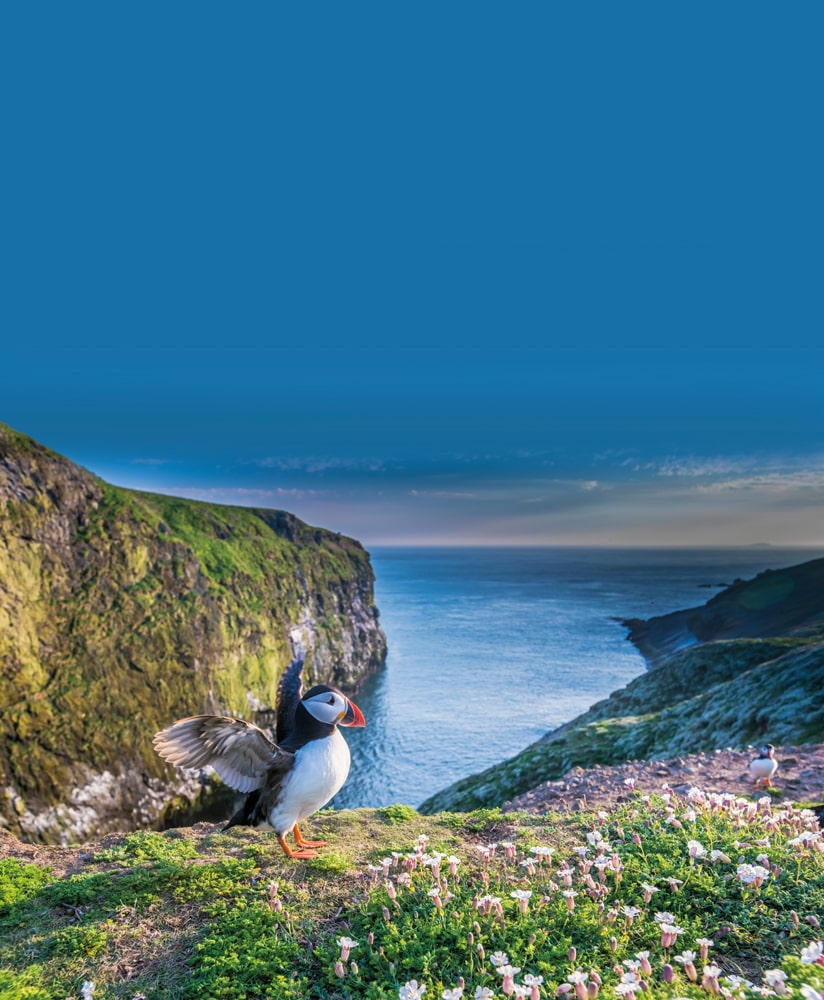 If you want to see puffins, beautiful Skomer off the coast of West Wales is the place to get up close and personal with these iconic seabirds. Arriving at their underground burrows on the island in April and remaining here until August, peak season (late-May to July) offers the rare opportunity to see hordes of scurrying puffins – sometimes right around your feet! Skomer is also home to the world's largest colony of Manx shearwaters, with around 350,000 breeding pairs on the island. However, only overnight guests are likely to spot them, as Manx shearwaters spend their days at sea, returning to their nests at night. Skomer is open from April to September with a strict daily limit on visitor numbers. Find out more at welshwildlife.org.
Poole Harbour, Dorset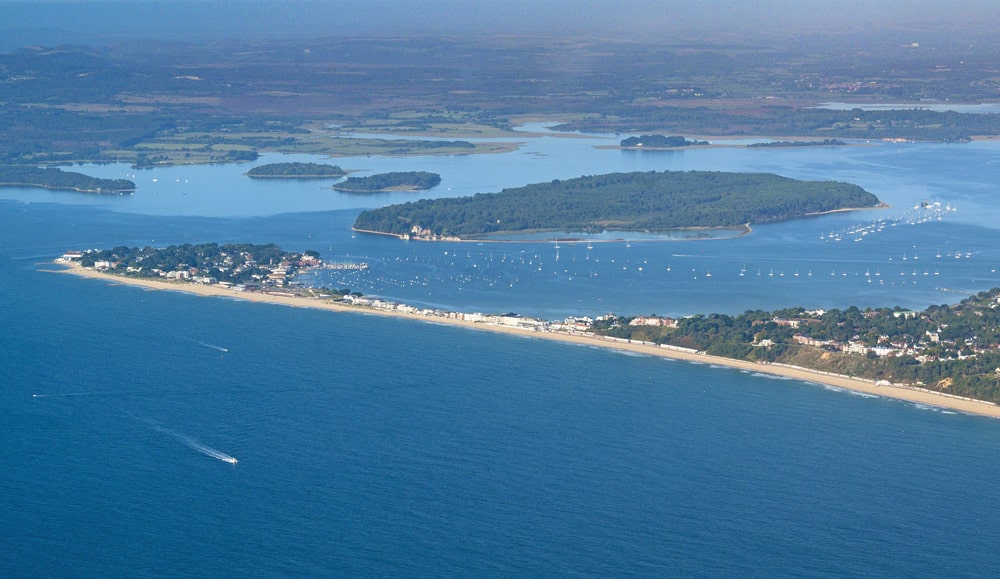 Europe's largest natural harbour is an important destination for birds of all kinds, but one of its most exciting is the osprey. The Poole Harbour Osprey Translocation Project aims to restore a breeding population of these impressive birds of prey to the south coast, and seeing one soaring above the coastline is always a thrill. Look out for the exotic-looking spoonbill too: this popular resident is often seen frequenting Brownsea Lagoon. The area also boasts an impressive count of waders and wildfowl, especially in winter – though the unique geography here provides myriad different habitats, so there's a vibrant variety of birdlife to enjoy throughout the year. Find out more at birdsofpooleharbour.co.uk and dorsetwildlifetrust.org.uk.
South Walney, Cumbria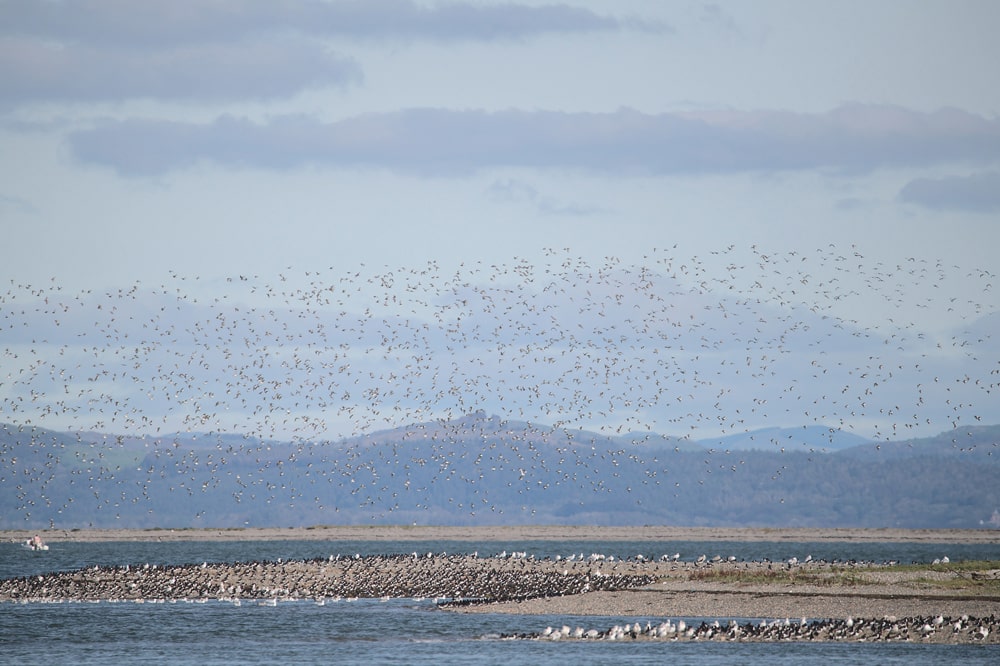 The windswept shingle of South Walney on the north-west coast of England is a haven for birdlife and is especially important for its gulls – it's home to
a third of the UK's declining lesser black-backed gull population. Sea ducks, such as the distinctive eider, are also worth looking out for (it's one of the southernmost places to see breeding eider ducks in Europe). While March to August is arguably the best time to visit South Walney, there are attractions all year round, with diverse migrants in autumn and a host of waders and wildfowl in winter, creating a bustling spectacle against the peaceful backdrop of Morecambe Bay. Find out more at cumbriawildlifetrust.org.uk.
Bempton Cliffs, East Yorkshire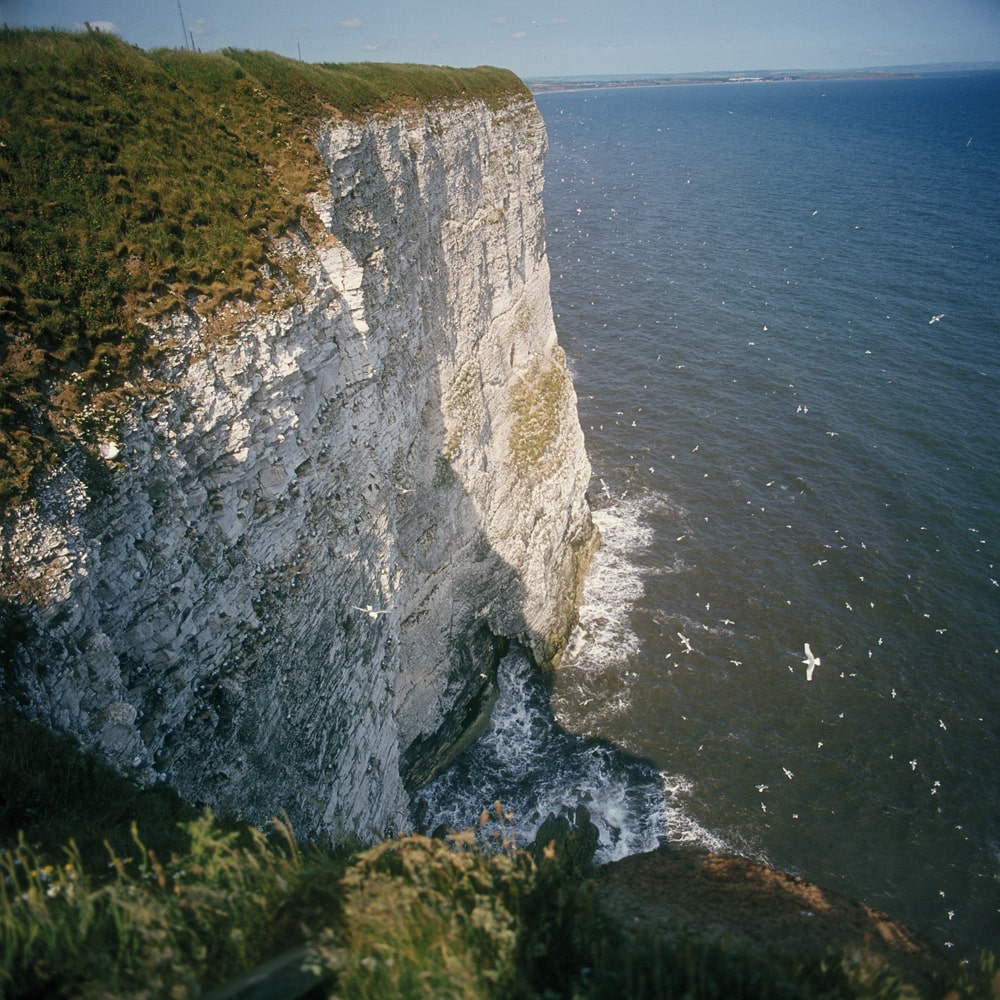 This RSPB-run reserve is the ultimate seabird city. Each spring and summer its vertiginous chalk cliffs are alive with the cacophony of almost half a million seabirds, whose precarious-looking nests cover every available inch of space. Razorbills, guillemots and kittiwakes are regular sights, arriving in springtime to breed. You may even spot a waddling puffin, fresh from a foray for sand eels. The gannets, however, make for the most compelling spectacle – majestic white giants, cruising the coastline and hurtling into the sea at up to 55 miles per hour in pursuit of fish. Even when the breeding colonies have left, the area remains home to tree sparrows and short-eared owls, giving year-round appeal to this dramatic location. Find out more at rspb.org.uk.
Cley and Salthouse Marshes, Norfolk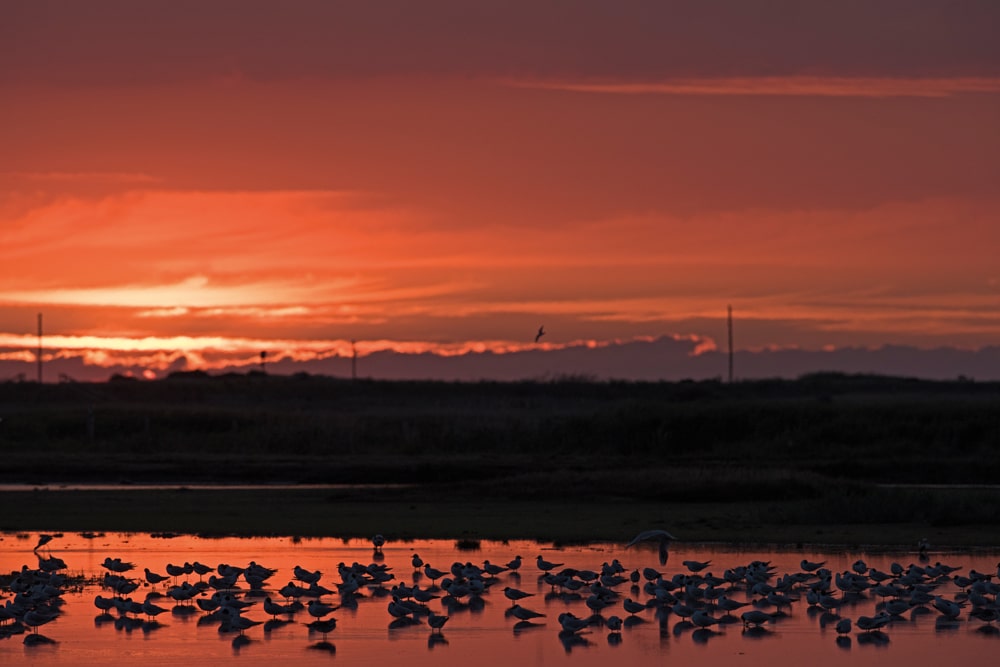 The wide-open skies and flat expanses of this East Anglian coastal reserve make it a peaceful, spirit-lifting place to visit at any time of year. And birds clearly agree, as they flock here enthusiastically. This Norfolk Wildlife Trust site encompasses a variety of habitats and its location, jutting into the North Sea, means it attracts rare migrants in autumn, blown off course from their usual migration routes (sightings last year included a dusky warbler, Pallas's warbler and lesser yellowlegs). Resident species include waders like redshank, wood sandpiper and avocet, while marsh harriers can also be spotted along the reed beds, seeking prey. For more information, go to norfolkwildlifetrust.org.uk.
South Stack Cliffs, Anglesey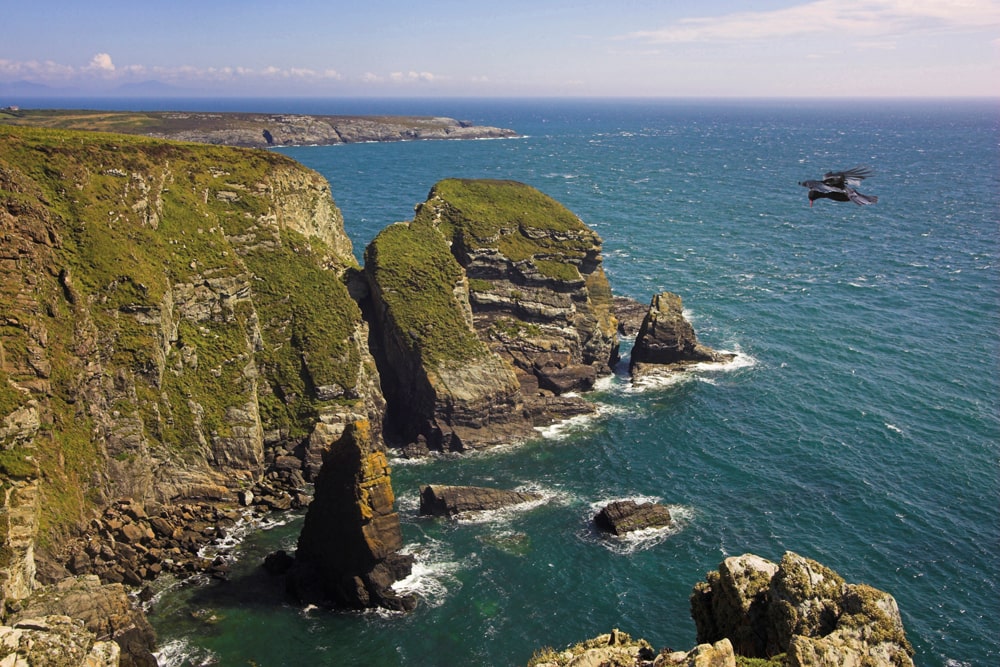 During breeding season you'll find all the usual suspects nestled on the craggy South Stack Cliffs, as razorbills, guillemots, puffins and gulls bring the rocks to life with their squawking, flapping antics. But this picture-perfect location has another ornithological attraction too. South Stack is one of the few places in Britain where you can see the rarest member of the crow family, the chough. This sleek, scarce resident, with its distinctive red beak and legs, can be seen all year round here, swooping around these Anglesey cliffs and heathland. The RSPB's information centre at Ellin's Tower is the perfect place to enjoy both the birdlife and magnificent views stretching across the Irish Sea. Find out more at rspb.org.uk.
Udale Bay, Highlands, Eastern Scotland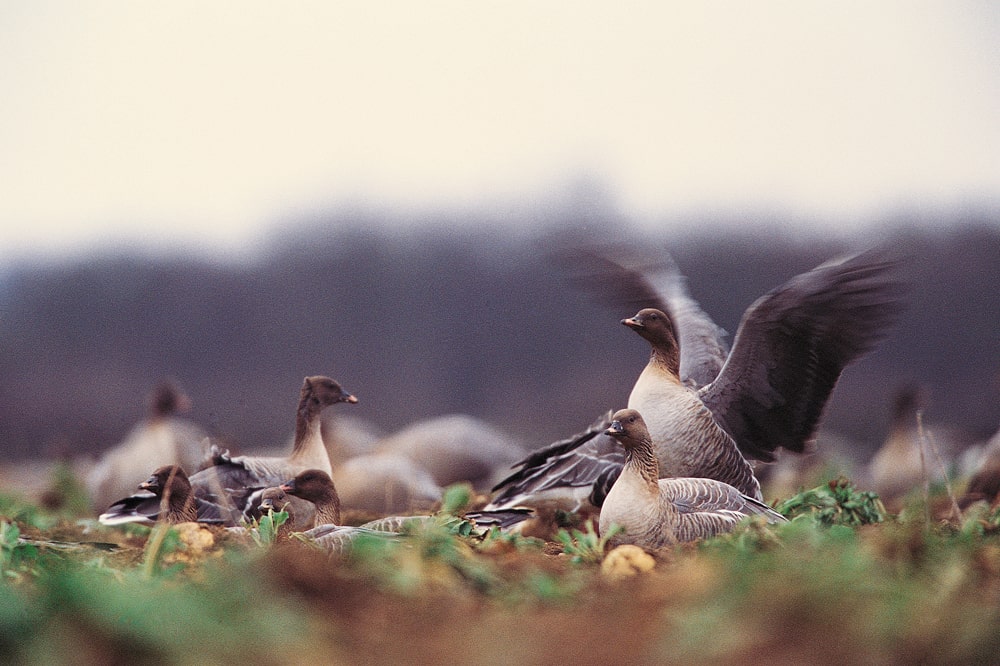 For an abundance of ducks and geese, Udale Bay on the Cromarty Firth's southern shore is the place to be. This tranquil spot comes into its own from September to April, when pink-footed geese arrive in their hundreds and sea ducks such as wigeon and scaup bob around in the bay. During winter months birdwatchers can expect to be rewarded by vast flocks of waders too, from bright-legged redshank to stocky oystercatchers. Winter may be the peak time to catch a diversity of species here, but there are attractions for summer visitors too, who may be lucky enough to catch sight of ospreys hunting in the bay. Find out more at rspb.org.uk.
Glenelg, Highlands, Western Scotland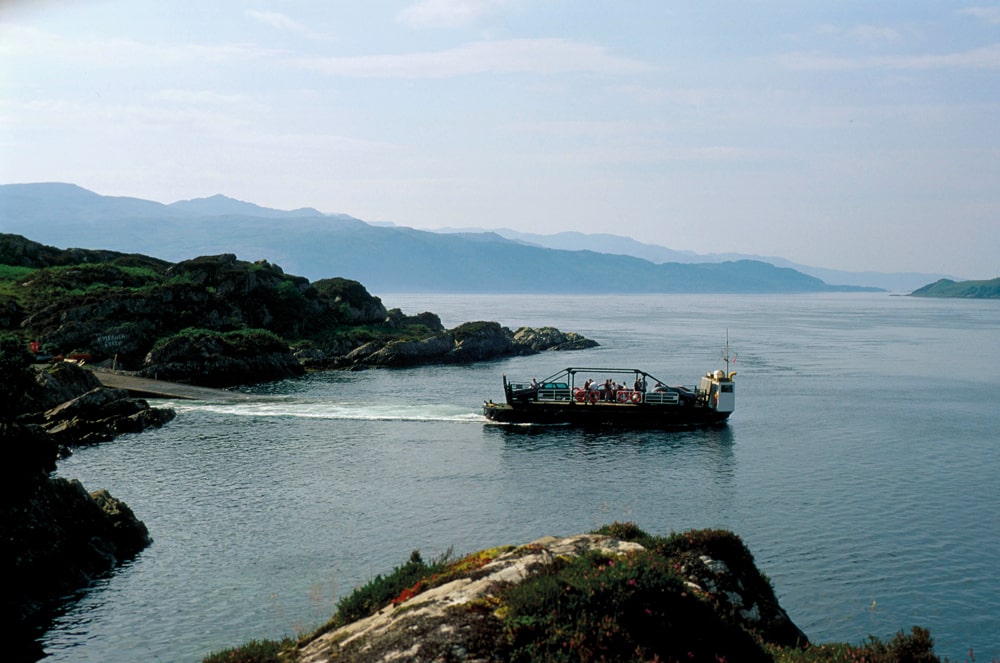 The UK's successful sea eagle reintroduction programme means that these enormous birds can now be glimpsed around the Isle of Wight and England's south coast. But it was in the west of Scotland that the initiative began, and it is still this part of the country that enjoys the most sightings of the UK's largest bird of prey. A good location for spotting sea eagles is serene Glenelg on the west coast: a breeding pair – nicknamed Victor and Orla – have made this area their home and can often be seen here in the summer, both from the shore and from the car ferry that crosses to Kylerhea on the Isle of Skye. Find out more at skyeferry.co.uk.
Dungeness, Kent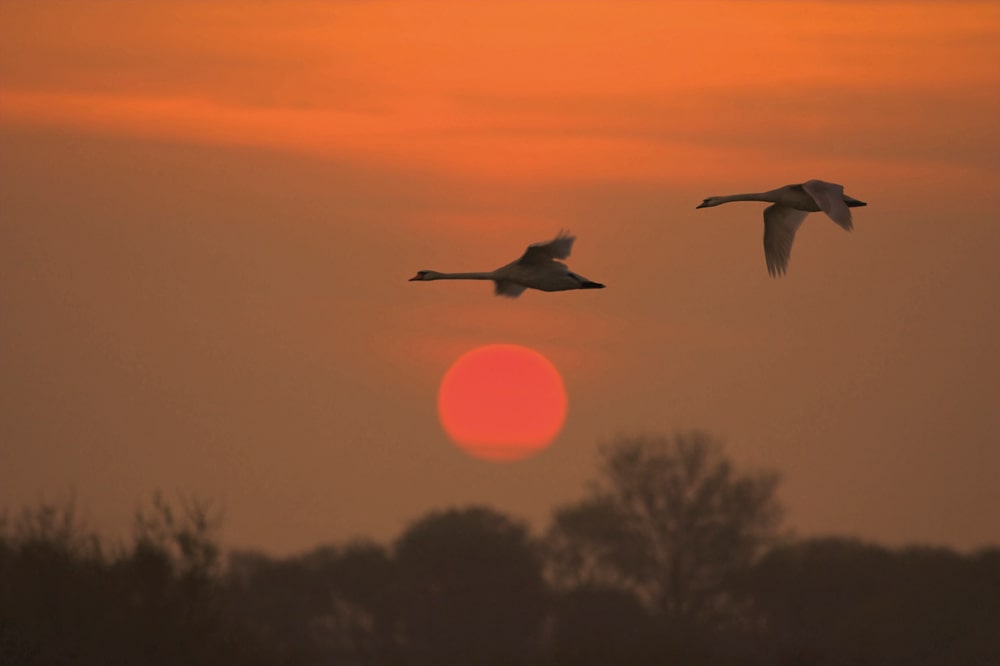 The broad expanse of Dungeness has a stark beauty, and is a magnet for wild birds. This unique place, the largest shingle promontory in the world, attracts birdwatchers year round – but spring and autumn are the best times to spot passing migrant species. Notable sightings in 2020 included black kites, a gull-billed tern, red-flanked bluetail and various warblers. In fact, there is so much variety that visitors can expect something new almost every day here. The Dungeness Bird Observatory is perfectly positioned to spot birds on the coast, while the RSPB Dungeness site, set just back from the sea, incorporates varied habitats, from open shingle to wildflower meadows. Find out more at rspb.org.uk and dungenessbirdobs.org.uk.
The Farne Islands, Northumberland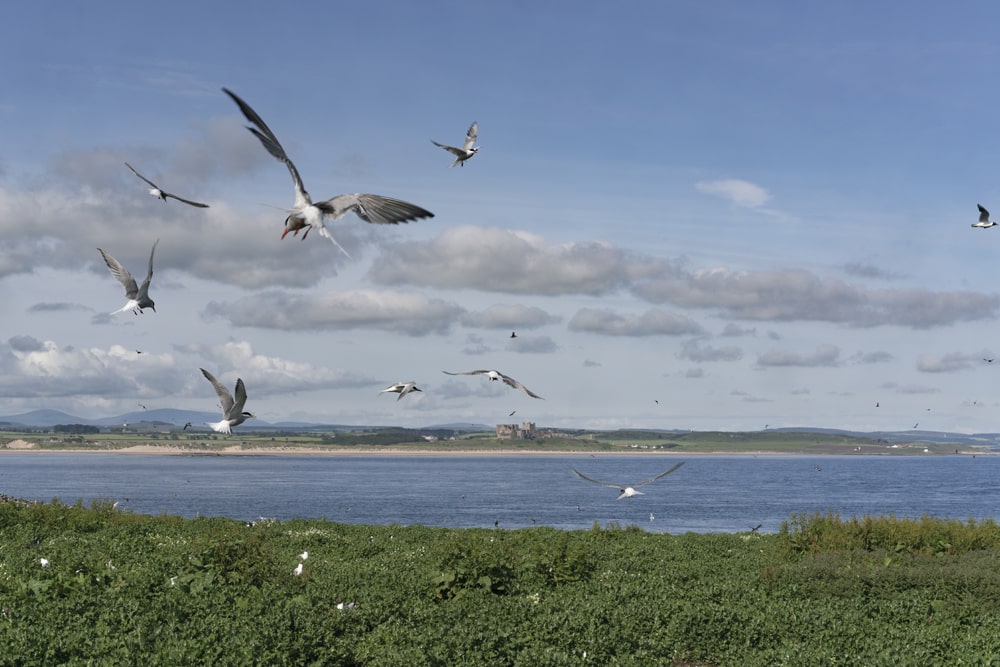 This archipelago is one of the UK's best wildlife destinations, and Inner Farne and Staple Island are the best islands for bird (and seal!) spotting. The National Trust owns them both and boat trips land here from spring to autumn. In spring, expect to be hit on arrival by a wall of sound from the multitude of nesting birds, and awed by the sight of fluttering forms in every direction. Puffins are arguably the stars of the show, and can be seen busying themselves across the islands from April to July. But it's the Arctic terns that are likely to get closest to you – these slender birds are notorious for defending their nests by dive-bombing passing visitors! For more information, see nationaltrust.org.uk.
Find out how rare sea birds have returned to the British Isles or get inspiration to explore more around the UK coast with our top recommended coastal walks