A charming and sophisticated town with marina, restaurants, cafes and pubs, Topsham boasts a strong maritime theme for property hunters looking for a charming estuary town.
Topsham was once a shipbuilding port, located on the east side of the River Exe. The history of this marine port is evident in the homes of the town which once were used for business and trading, but are now residential dwellings.
With a wonderful mix of coast, countryside, and city, Topsham is handily situated for the bright lights of the city, Exeter, the beach at Exmouth and the rolling hills of Dartmoor National Park.
For a gentle stroll, Topsham is famous for its Goat Walk. It is a small path which takes you on a scenic walk or cycle around the estuary and Bowling Green Marsh.  The story goes that during council meetings to name the walk, in which many names were suggested, one gentleman said: "It's nowt but a bloody goat walk" and so the quirky name stuck.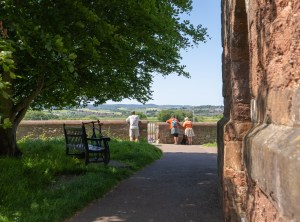 The word which embodies this pretty estuary town is 'community' – mentioned by many residents with a smile on their faces. People are proud of their town and the social aspect it provides for everyone who resides there. While the summer months are busy with visitors – there are some holiday homes – Topsham has a community all year round, with the majority of people living there permanent residents.
The Topsham lifestyle is celebrated with Charter Day every August bank holiday with stalls, processions, and live music and the Nello's Longest Table event is held every other June where thousands of residents sit at one long table to eat and drink, with a street party atmosphere, all in remembrance of a local Italian restaurateur, Nello Ghezzo, who died in 1999.
Community website Love Topsham (lovetopsham.co.uk) is a guidebook to the town, featuring things to do, places to stay, and how to get involved with many of the local clubs and job vacancies. Set up to create a central hub for the town, Love Topsham supports residents, visitors, and businesses.
Over 90 of Topsham's hanging baskets are commissioned by local nursery New Leaf and watered by volunteers who keep the flowers blooming. In fact, there is no town council and so it is managed by local people who volunteer their time, and while this is an affluent area, the gift of time is precious and one that residents give generously to maintain the town's community vibe.
WHERE TO BUY
The best location for Topsham is in heart of the town, the most popular being The Strand for the estuary views. The cobbled back streets from Fore Street hide impressive Georgian, Victorian, and Dutch inspired homes providing some privacy and pretty views. You will find cottages in pastel and white shades in Monmouth Street.
Ian Clark from Clark & Co Estates told me: "Many properties sell off market in Topsham; clients prefer to keep their sale discreet to retain their privacy and avoid a bidding war. Property is at a premium in the town, with celebrities choosing the area for its relaxed atmosphere."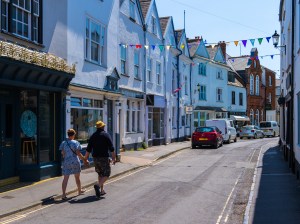 HOW MUCH?
The average price of property in Topsham over the last year to June 2023 was £479,691. Terraced properties sold for an average of £468,606, semi-detached for £396,145 and detached for £655,018. Sold prices in Topsham over the last year were 12 per cent up on the previous year and 16 per cent up on the 2020 peak of £414,462, according to Rightmove.
TRAVEL LINKS
Leave your car at home! You don't need to drive in or around Topsham. Walking or cycling is preferred by the residents. Travel by train from Topsham to the city of Exeter in 20 minutes; to the beach at Exmouth in ten minutes or to London Paddington on the fast train in under three hours.
There is a bus route to take you around the area, buses come every 15 minutes. Topsham's local ferry delivers people across the estuary, and there is a ferry which takes you between Topsham and Exmouth which runs every Wednesday.
SCHOOLS
You will find two pre-schools in Topsham, Little Ducklings Nursery and Montessori Nursery. The popular Topsham Primary School has a Good Ofsted rating, parents say that they like the school for both for the education of their children and social aspect with clubs and events. For secondary school children travel out of Topsham to one of Exeter's schools. For further education, Exmouth College and the University of Exeter are nearby.
REALITY CHECK
If you are buying property in Topsham, its popularity makes house prices expensive, however, this does ensure any investment locally is a good one.
Parking in Topsham can be challenging, but there is a residents' parking scheme, which helps local people.
If you are visiting Topsham during the summer months it is very busy, prebook your holiday accommodation and restaurant early to avoid disappointment.
TIME OUT
There is an array of lovely things to do in Topsham. For water lovers, the river is great for ferry trips, sailing, canoeing, and paddleboarding. There is an open-air swimming pool, which was set up by the community and is run by volunteers. Summer and winter mooring options are available if you would like to keep your boat at Topsham.
If you are a foodie, you are in for a treat with the choices available – there are a selection of pubs, both in the town and by the Quay, many quality cafes, and superb restaurants.
If you love fish, then you don't get any fresher than Topsham's restaurants. Award-winning restaurant The Salutation Inn has a beautiful orangery inspired restaurant owners Tom and Amelia call The GlassHouse, in which to enjoy lunch, afternoon tea or dinner. Or if you fancy a fish supper at home, visit The Salutation Inn wet fish Deli, Salt – where their passion for fish means they can support local fisherman. It is a true delight.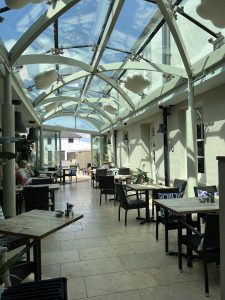 The Galley restaurant prides itself on supporting Devon businesses, with local produce being essential ingredients to the dishes. For a cosy evening of tapas and wine, Topsham Cellar, located in a vaulted warehouse, offers wine from their very own vineyard. Or grab a takeaway pizza!
Or try the Boathouse cafe, which brings a continental touch to Topsham. Sample local produce at Darts Farm, where you will find food, drink, gifts, clothes, homeware, and a cafe with indoor and outdoor seating – it is a meeting hub just outside Topsham.
There are venues in the town for events and activities for the whole community to get involved in. Matthews Hall holds live music events, a very popular Saturday market, providing local produce, gifts, arts and fashion and a cafe, managed by Topsham Community Association.
Nancy Potter House provides a library, and activities arranged by Estuary League of Friends. Topsham Museum holds regular exhibitions, collections, and events such as the Secret Gardens of Topsham, held every other June, in which residents open their gardens to visitors. An incredible 205 volunteers are involved with running the museum.
Independent shops are dotted around the town, which is lovely to see so many thriving; this is because of the supportive community and a popular tourist destination. Squid and the Kid, Charlotte Fleming Gallery, Nest home gift and lifestyle, Cooks Aweigh, Country Cheeses and Artenax are a few of the incredible business success stories of local people.
PAY A VISIT 
Route 2 Cafe and Apartments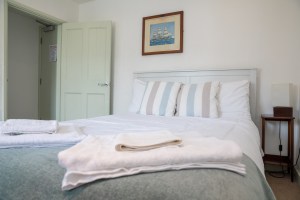 With river, Quay and town views, Route 2 Apartments are in the perfect spot in Topsham, close to the car park, shops, restaurants, and estuary walks. With four self-catering apartments sleeping between two and four people, Route 2 is pet-friendly and warmly welcomes everyone.
The name Route 2 comes from the cycle path created in 2011 which runs from Dover in Kent to St Austell in Cornwall, taking you through Topsham.
These family-run holiday apartments have everything you need for a comfortable self-catering break, and your hosts will certainly look after you. The homemade cakes in the Route 2 cafe downstairs come highly recommended.
Prices start from £90 per room per night, with a minimum two-night stay.
Joe and Kate Hodges (route2topsham.co.uk, 01392 875085)
WHAT YOU CAN GET FOR YOUR MONEY
Here are some of our favourite Topsham homes for sale:
WATER VIEW (GUIDE PRICE £1.1M)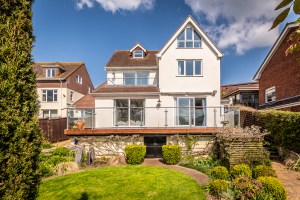 This detached riverside property has a beautiful mature south facing garden to enjoy the water view. Located a few minutes' walk from Topsham town centre, 4 Sir Alex Walk has three bedrooms, two bathrooms, off road parking and a garage. East of Exe, Topsham (01392 877240, eastofexe.co.uk/properties/sir-alex-walk-topsham/)
SUPERB LOCATION (OFFERS IN EXCESS OF £985,000)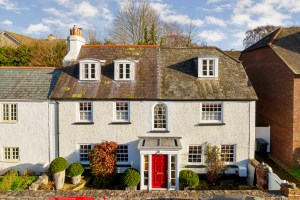 A beautifully presented 18th century double fronted semi-detached property with estuary view. Refurbished in recent years, 2-3 Ferry Road is in a superb town centre location, with four bedrooms, three bathrooms, a pretty garden and a garage. Wilkinson Grant, Topsham (01392 875000, wilkinsongrant.co.uk/for-sale/topshamdevon/ferry-road/4-bedroom-for-sale-in-ferry-road-topshamdevon/785692)
CONVERSION OPPORTUNITY (£1.1M)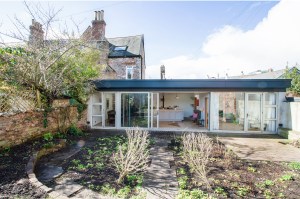 Located in the centre of Topsham with planning permission to covert the basement into a bedroom, ensuite and boot room, 1 Chapel Place, Fore Street, is a pretty home with four bedrooms, three bathrooms, featuring a luxurious kitchen diner and large walled garden. Clark and Co Estates, Topsham (01392 248363, clarkandcoestates.com/property/chapel-place-topsham/)
ESTUARY GLIMPSES (£1.1M)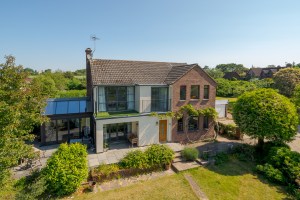 An impressive, detached home with glimpses of the estuary just outside Topsham, Medani, Green Lane, Exton, is set in two thirds of an acre and features a beautiful glass-fronted garden room with vaulted ceiling and bi-folding doors. Butt Estates, Topsham (01392 341685, buttestates.co.uk/property/5279/4-bed-detached-house-for-sale-medani-green-lane-exton-exeter/)