With an eye on jobs, property prices, transport links and the weather we explore living on an island. By Lesley Gillilan
From Shetland in the sub-Arctic north to the Isles of Scilly in the sub-tropical southwest, Britain's shores are scattered with thousands of islands. Most are tiny craggy humps of rock inhabited by seals and seabirds, but for those who dream of an off-shore life – a salty, boaty sort of life a world away from the rat race – there are around 150 inhabited islands to choose from.
They come in all shapes and sizes from tiny Scottish islands (the kind of places where knitting or weaving are still described as industries) to tax havens (the Isle of Man prefers the term 'low-tax jurisdiction') and tied islands like Portland in Dorset and Anglesey in North Wales (attached to the mainland by bridges or causeways). With holy islands (Lindisfarne in Northumberland), private islands and dozens of Highland islands, it's fair to say there is a corner of off-shore Britain to satisfy every longing. And has there ever been a better time to plan an escape?
ORKNEY LOVE AFFAIR
Rhonda Muir chose the Orkney Islands – or perhaps they chose her. Originally from upstate New York, Rhonda had already fallen in love with Tom Muir – the Orkney-born historian she 'met' over email while researching a fantasy novel – when she first visited the islands in 2014. Two years later she had moved from the US, married Tom and, she says, fallen in love with Orkney's 'astonishing beauty – the rolling green-ness of the landscapes, the amazing sheer-drop cliffs sculpted by the wind…'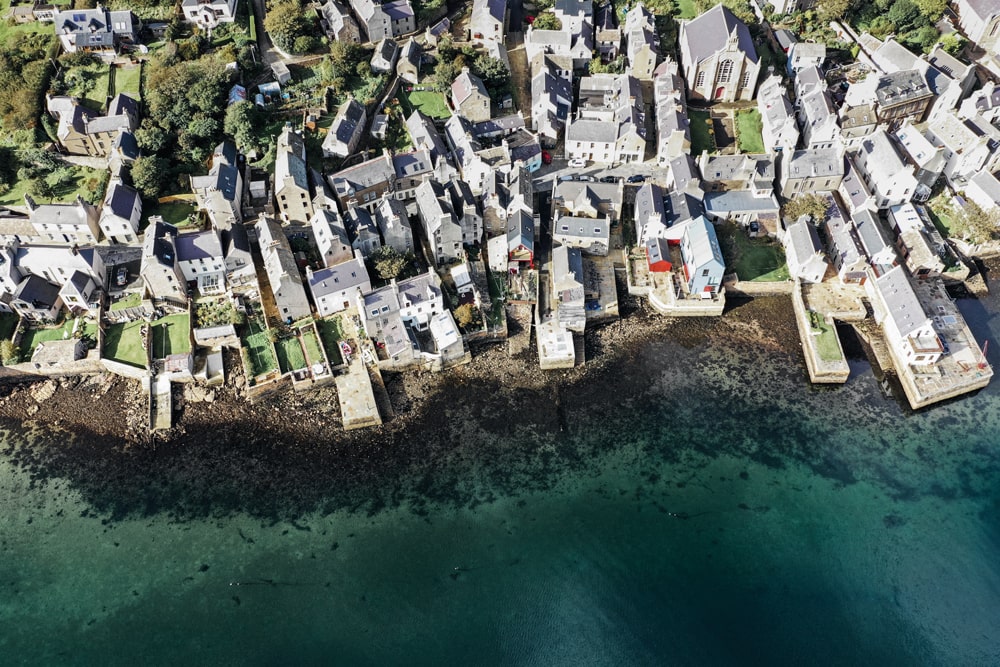 They live in Stromness on Orkney's Mainland (the largest of 20 inhabited islands). Tom is the exhibitions officer for Orkney Museum. Rhonda writes – including Orkneyology.com, a blog about life in her adopted home. Since moving to Orkney, she says, she has been 'ridiculously happy, learning the gracious rhythms of island time and putting down deep roots'.
Orkney, it seems, is a happy sort of place – in 2019, it came out top in a survey of the UK's best places to live – but what is it (apart from Tom) that has inspired Rhonda to move so far from home? The islands' history is one factor: from Neolithic standing stones and Viking carvings to World War Two coastal defences, the islands' past is 'in your face', says Rhonda. 'And because nothing happens very fast here, you are more in tune with the past.' The friendly, tight-knit island community also plays a part. 'Orkney is full of creative people – artists, writers, film-makers – they're everywhere. And there's loads going on. People think it must be a boring, dark place in the winter, but that's when the fun starts.'
SMALL ISLAND DREAM
At the other end of the country, island newbies Mark Bothwick and Aaron Haile are equally enthusiastic about life on Bryher – the smallest of the five inhabited Isles of Scilly. The couple's journey from southeast London to this Atlantic islet began in 2016 with a camping holiday and a daydream. 'We loved the place so much that we started to ask, how could we live here?'
A reality check reminded them that they would need jobs and somewhere to live – neither of which are plentiful: just one-and-a-half miles long, Bryher supports a population of only 84 people. 'We didn't think for one minute that we would actually make it happen,' says Aaron. But when an unusual opportunity came up, they grabbed it with both hands. Two years ago, they packed up their London lives to become the new live-in tenants of Bryher Shop, the island's only Post Office and general store.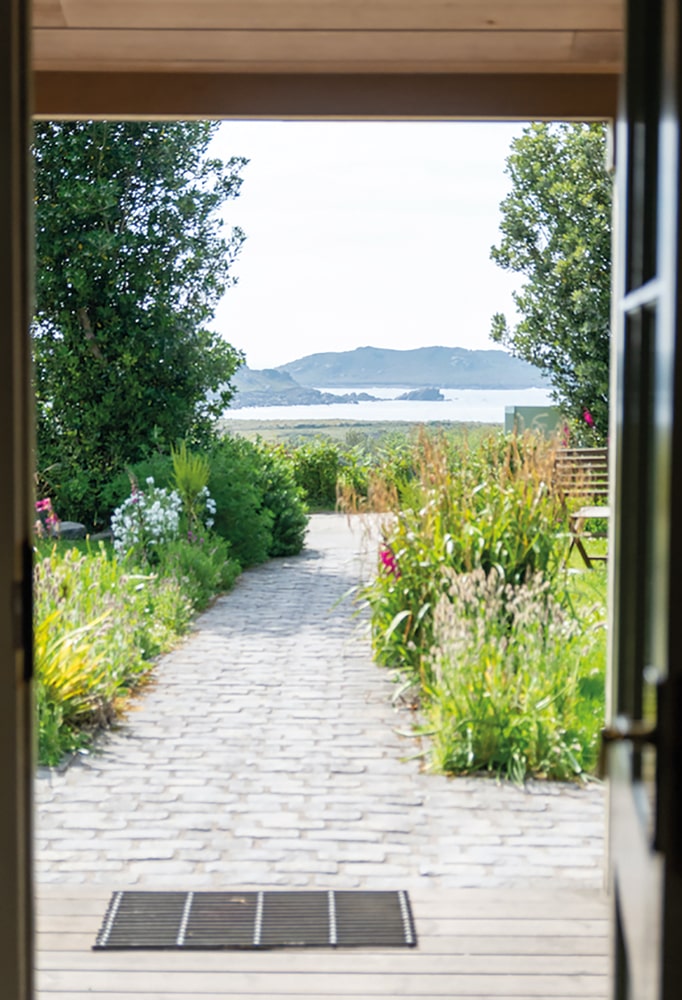 They had little experience of retailing (Mark was a sound engineer and Aaron worked in IT), but having survived their first busy summer season they haven't looked back. 'We are loving the peace and quiet,' say Aaron. 'Life operates at a completely different pace here. There are no cars, and when we open the door, we look right across the island to Hell Bay. We can hear the birds. People have more time to talk.'
The shop is hard work in the summer, but they have time for walks and sunsets. There are yoga classes and cinema nights. Mark and Aaron are now a key part of this small community, selling local produce like eggs and honey to visitors and essential supplies to their neighbours. They came with a cat (which has 'the best life any cat could have'), but having no children, they admit, made the decision to move a lot easier.
Sample island living with a weekend escape to Bryher, a tiny island just off Tresco in the Isles of Scilly
WORK-LIFE BALANCE
For Rebecca George, having children has been a major part of her journey from North London to the Isle of Man – although this Irish Sea outpost couldn't be more different than tiny Bryher. With a population of 84,000, it has towns, an airport, secondary schools, business support schemes and, says, Rebecca 'zero unemployment'.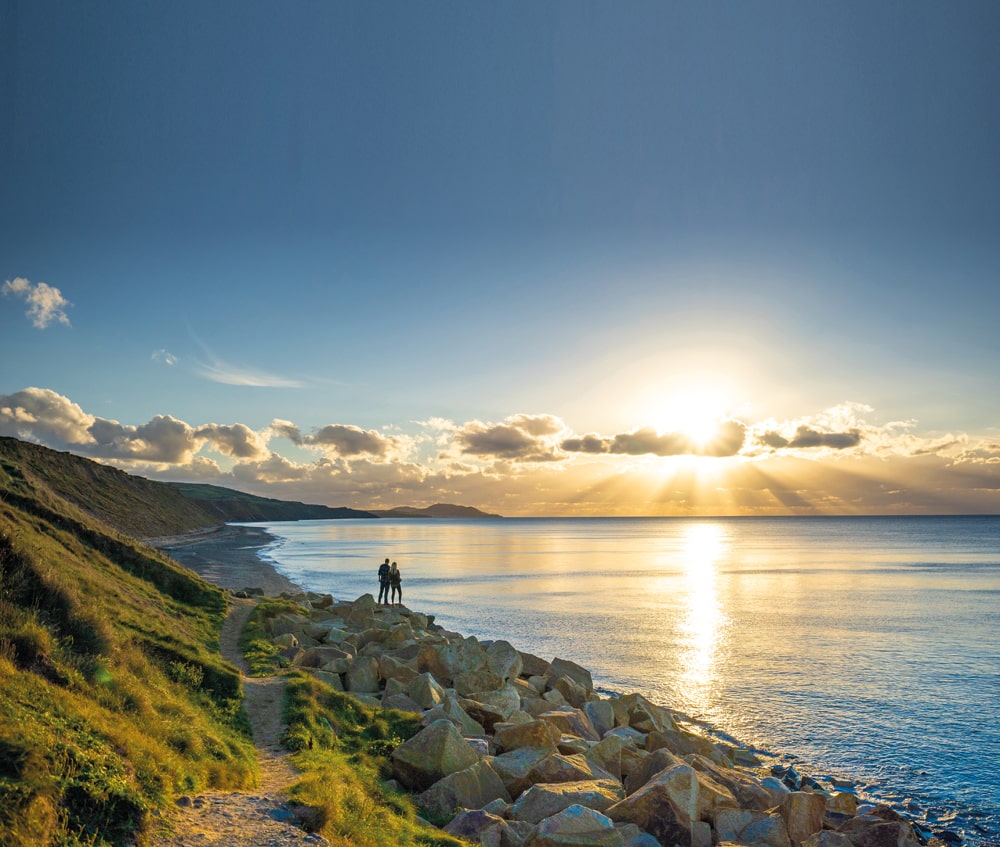 Rebecca had never heard of the island until she met her Manx husband Richard. At the time, they were working in London – she was an events organiser; Richard worked in IT recruitment. After spending a few weekends on the Isle of Man, they decided to spend six months there. 'That was 15 years ago,' says Rebecca. 'Since then, we got married, bought a house, had two children and have no intention of living anywhere else.' Richard now runs a shipping company, and Rebecca is the chief executive of the island's Chamber of Commerce. 'I don't think I would have got a position like this if I had stayed in London,' she says. 'Careers can really thrive here.'
There are other reasons for staying. The island is safe, crime-free, 'the views are phenomenal' and there's no traffic jams or long commutes. The children (Phoebe and Lily) walk to school. 'We can be on a beach in five minutes or back to the mainland in 40 minutes,' says Rebecca. 'We regularly pop on flights to Liverpool or Manchester – though I'm always relieved to get home.'
REALITY CHECK
If there is a downside to Isle of Man life, it's the cost of property, which is more expensive than many areas of the UK. And in that respect, this island is one of very few exceptions: British island properties are usually cheaper than mainland equivalents. On the Scottish islands, in particular, building plots are common and you can even find the odd croft tenancy. In general, however, the cost of island living tends to be higher. 'Travel is more complicated and more expensive,' explains Rhonda. And although living offshore has got easier thanks to broadband and online shopping, few of our islands are easy to reach and, in inclement weather, they can also be impossible to leave. On a small island like Bryher, the practicalities of everyday life are at the mercy of wind and tides. Most of Mark and Aaron's shop deliveries come by boat from Penzance three times a week – weather permitting. 'The lack of convenience is a beautiful thing,' says Aaron. 'You soon learn not to take things for granted. A lot goes into even simple things like buying a pint of milk.'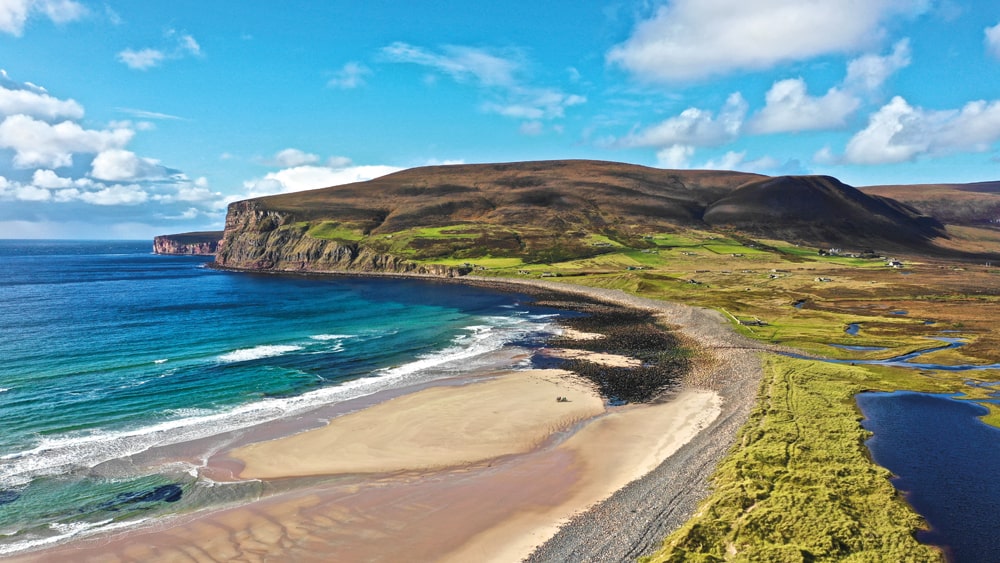 For Rhonda, learning to live on Orkney has been about settling into the natural rhythm of the seasons – both the winter dark and the 'endless light of summer'. Putting down roots has taken longer than she expected. 'But the unexpected challenge was to learn how to slow down,' she says.
Discover more British islands: Guernsey, Sark and Alderney or find out more about the 10 best islands to move to. Pick up the latest copy of coast magazine for more coastal living and property inspiration.