From basking in the incredible landscapes this country offers to the rush of discovering and exploring hidden gems on your doorstep, getting out walking in nature offers us all an opportunity to recharge, refresh and reflect. But walking is not just about the joy of adventure: it's also essential to our health and wellbeing. And you don't need to walk very far to feel the benefits.
Earlier this year, a new study from universities in the US and Poland found that walking just 4,000 steps a day can have a significant impact on your health and help to boost your stamina and fitness. And walking has also been found to help with specific conditions too: reducing the risks of heart disease, Type 2 diabetes, dementia, stokes and cancers. Best of all, it's an easy, accessible and social way of keeping fit and getting outdoors.
But as the days grow short and the cold sweeps in, it can be difficult to motivate yourself to get outside and enjoy what the outdoors has to offer. Those who do, however, are greatly rewarded.
As winter rolls in, familiar landscapes are transformed. From fields dusted in frost to the shine of bright winter berries, the scenery becomes both dramatic and beautiful. Winter also brings its own particular wildlife, from over-wintering birds that cannot be seen at any other time of the year to coastal seals whose breeding season makes the winter months the best time for a sighting.
And if you're looking for a wildlife-rich walk that's perfect for winter, look no further than our route around Horsey Mere and Horsey Gap.
Kicking off at the National Trust car park at Horsey Drainage Mill, you'll take a path to the north side of the staithe. The Mill, originally constructed in 1912, was restored in 2019, allowing its sails to turn for the first time since being struck by lightning in 1943.
The path turns sharply north before bending left along the reed beds on the north side of Horsey Mere. After another few bends, you'll join the east side of a dyke, Waxham New Cut, before walking north for around 800m to reach Brograve Drainage Mill.
Turn right with the field on your left and walk ahead until you reach a small wood with pine trees. At this point, turn left and cross a footbridge to reach houses at Horsey Corner. After going right at the lane and immediately left onto a path with hedges on either side, the path will bend around houses and cross a field. Turning left onto the lane, you'll take the track on your left and pass through scrub woodland to reach the high dunes at Horsey Gap and the beach.
Stretching away for miles, the beach is bordered by the largest dune system in East Anglia and is the perfect winter wildlife walk for one central reason: it's famous grey seal colony. Between November and January, hundreds of pregnant grey seals give birth to their pups – in 2019, over 2,000 pups were born here. The main seal colony is cordoned off during winter but you can admire all the new pups from dedicated viewing areas.
After taking in this winter wonder, return to the car park and take the kissing gate on the left leading to the Norfolk Coast Path. Follow this until you reach a path junction by a green shipping container where you'll turn right through the gate before following the path between fences to another gate. This marks the start of a permissive path with ditches on both sides.
Continuing on, you'll pass a barrier by a house and turn right on a lane. After a short hop, you'll turn left just before the Nelson Head pub. After a short stretch, you'll turn right over a stile and walk along a grass bank with a dyke on the right. With Horsey Mill appearing back into view, you'll continue over a stile, a footbridge and cross a lane to return to the start.
For full details of the route, check out our website: ramblers.org.uk/go-walking/routes/horsey-mere-horsey-gap-norfolk
THREE MORE TO TRY…
Looking for a winter walk closer to home? Check out these three alternative routes:
Wheal Coates Circular, Cornwall
Swells surge across the north Atlantic, breaking on the north coast of Cornwall in great white eruptions of spume. In winter, the weather is wildest and the drama so more powerful. This stunning route starts and ends in St Agnes, taking in Chapel Coombe, Banns Vale, Porthtowan and Chapel Porth. tinyurl.com/mry6wzu4
St Abbs, Berwickshire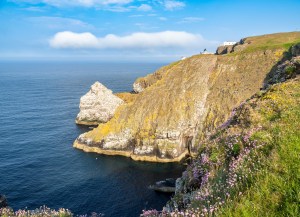 A wonderful linear walk along the Berwickshire Coastal Path from St Abbs to Burnmouth, taking in St Abbs Head and its lighthouse, which first entered service in 1872. tinyurl.com/49mx3hzu
Criccieth to Llanystumdwy circular
Alternating between quiet rural roads and the Wales Coast Path, this gentle ramble starts off in the shadow of Criccieth Castle, first built at the beginning of the 13th century before being captured and destroyed by Owain Glyn Drw two centuries later. tinyurl.com/4mkbkfdp
GIVE THE GIFT OF INSPIRING WALKS
Looking for a Christmas gift that lasts all year? Open the way to a year of inspiring walks by gifting a Ramblers membership this Christmas. Jam packed with benefits, discounts and access to all of our routes and walking groups, a Ramblers membership is the perfect way to make 2024 a year of adventure.
And that's not all – your gift will also support our work to make the outdoors open to all and protect the places we all love to walk, as well as the paths, tracks and trails that lead to them. Visit ramblers.org.uk/gift and use the code A23VQA to buy a gift membership today.