England's wine tourism is booming. A unique microclimate coupled with spectacular sea views give our coastal vineyards the edge. REBECCA PITCAIRN picks 12 that should be on your bucket list.
For centuries the English were more focused on drinking wine than producing it but since the dawn of the 21st century, that has changed. Historically England and Wales' climate was considered too cold to make good quality wine, however, climate change is having a huge impact on the quality and styles of wine that we can now produce.
Researchers have predicted that the exceptional vintage experienced in the UK in 2018 will soon be the norm with significant areas of the country projected to become a further 1.4°C warmer during the growing season by 2040.
According to Wine GB's latest industry report, there are now 897 vineyards in the UK (although that number is likely to have risen to over 900 since the report was published in September 2022) and plantings are up 70 per cent since 2017 – there is now four times as much land under vine than there was in 2000.
A key factor in the shape of the industry, says Wine GB CEO Simon Thorpe, is the "stratospheric rise in the importance of wine tourism' and with a recent VisitBritain survey suggesting 42 per cent of inbound tourists would enjoy a visit to a winery, the race is on to create the best visitor experience. With a unique microclimate and spectacular sea views, England's coastal vineyards already have an advantage.
Here's my delightful dozen of coastal vineyards for you to try:
1. Adgestone Vineyard, Isle of Wight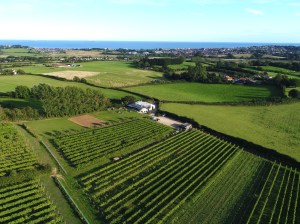 The turquoise waters surrounding the Isle of Wight were the inspiration for Adgestone Vineyard's remarkably unique selling point – a blue-coloured sparkling wine. But that's not the only quirky offering owners Russ and Philippa Broughton have created on their ten-acre vineyard on the east coast of the island – you'll find pigs and pygmy goats on site to keep the kiddies entertained and tours, starting at £10, include a visit to the subterranean cellar. Visit between June and September and you'll also get to experience live acoustic music as you tuck into a sharing platter and cool glass of English wine on the terrace while admiring uninterrupted sea views. adgestonevineyard.co.uk
Bottle to buy: It has to be Adgestone's signature Something Blue, the only blue-coloured wine made in the UK, £39.
Where to stay: Violet is the traditional style shepherd hut which sits at the top of the vineyard and is surrounded by nothing but vines and wildlife. From £250 for three-night minimum stay.
2. Cobble Hill Vineyard, Docking, Norfolk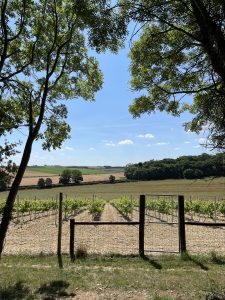 The Perowne family have successfully farmed the land in north Norfolk for many generations. Situated on the outskirts of Burnham Market, just three miles from Holkham, one of the most unspoilt stretches of sand in the country, their vineyard was planted in 2016 after Robert Perowne realised a south facing chalky soiled slope on the farm was perfect for growing Pinot Noir, Bacchus and Chardonnay vines.
Their delicious wines (they currently produce two still whites and a still and sparkling rose), can be enjoyed alongside grazing boards and picturesque views, while their tours, £20, are adapted to suit each visitor. cobblehillnorfolk.com
Bottle to buy: Their award-winning Sparkling Rosè 2019, £30, made from 100 per cent Pinot Noir grapes, has vibrant bubbles with robust red fruit flavours.
Where to stay: The Hoste Arms (thehostearms.com) in the Burnham Market's village centre is a great pub with rooms starting from £89 or the aptly named Vine House opposite is great for group stays (adults only).
3. Crouch Ridge Estate, Althorne, Essex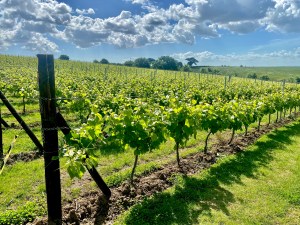 With Essex's coastline among some of the sunniest in England, it's no surprise the county's winemaking credentials have skyrocketed in recent years.
Fifth generation farmers Ross and Samantha Lonergan's love of wine and the beautiful Crouch Valley Region inspired them to plant a vineyard at their family farm in the scenic village of Althorne, near Chelmsford, in 2010
Crouch Ridge offers a variety of tours and tastings between May and October from self-guided tastings to tours led by head sommelier Laura-Jamie Morgan, with prices ranging from £25 to £45 per person. crouchridge.com
Bottle to buy: With temperatures hotter than elsewhere in the UK, if any county is going to make a decent red, it's Essex. Crouch Ridge's 2020 Pinot Noir, £27, conjures nostalgic memories of sour cherry sweets.
Where to stay: The old dairy has been transformed into six cottages that sleep four, you can self-cater or take a short stroll through the vines to the wine barn where you can enjoy brunch, freshly prepared lunch, daily specials, cake and afternoon tea paired with the estate wines. From £500 for two-night minimum stay.
4. Glyndwr Vineyard, Crowbridge, South Wales
The welsh coastline is a mere ten minutes' drive away from Glyndwr, the oldest vineyard in Wales. Established in 1979, it pioneered the revival of viticulture in Wales and has a strong focus on nature and organic treatment of its vines. Chickens, ducks and wild pheasants roam the vineyard and there are llamas in the adjoining field.
Tours, from £38, include a meet with the llamas, a two-course meal of local dishes, such as Welsh leek and Caerphilly cheese quiche coupled with a tasting of their still and sparkling wines. They also make an apple brandy and award-winning vermouth in conjunction with Gower Gin, based in Port Eynon. glyndwrvineyard.co.uk.co.uk
Bottle to buy: The Glyndwr Red, £18, produced from early ripening mature Rondo grapes was the first wine ever to win double gold at the South West Vineyards Association Awards.
Where to stay: The vineyard has two pretty self-catering cottages with a veranda overlooking a lawn and orchards. From £160 for a two-night minimum stay.
5. La Mare Wine Estate, St Mary's, Jersey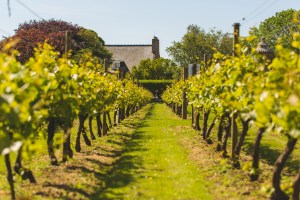 Less than 1km's walk from Jersey's stunning north coast and set adjacent to the island's National Park, La Mare is the only vineyard in Jersey, and produces 20,000 bottles of wine each year from the estate's nine acres of vines.
Thanks to its location, 14 miles off the coast of France, Jersey has a mild climate perfect for making wine but the estate also produces cider, an apple brandy and cream liquor from apples grown in its 11 acres of orchards, as well as a vodka using Jersey Royal potatoes.
Tours, from £15.95, take in the vineyards, which surround an 18th century granite farmhouse, winery and distillery and include tastings of the wines, spirits and liquor, as well as the fudge, chocolate and Jersey Black Butter, which is also made on site. lamarewineestate.com
Bottle to buy: With its ripe citrus nose and well-structured acidity, Sainte Marie, £15.19, 'displays the character of St. Mary's, as fresh as the north west winds that prevail'.
Where to stay: Hotel La Place (laplacejersey.com) a 15-minute drive from the vineyard and a short walk to the beautiful St. Aubin's Bay. It offers both hotel and self-catering accommodation with prices from £161 per for a classic room with breakfast.
6. Laurel, Aike, East Yorkshire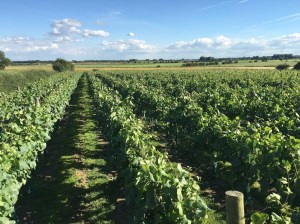 While it might seem absurd that wine can be grown in the north east of England, Yorkshire is in fact a premium wine producing region, with around 16 commercial vineyards producing in excess of 100,000 bottles of wine each year.
Last year the vineyard, which was planted in 2011, had a bumper harvest, beating its previous record by six tonnes.
It's one of eight vineyards that make up the Yorkshire Wine Trail and produces a variety of still white, red and rose wines from grapes such as Solaris, Phoenix, Madeline Angevine and Rondo.
Tours run from May to September and include a picnic for two and tasting for £40. laurel-vines.co.uk
Bottle to buy: The delicate Madeline Angevine, £11.40, would pair wonderfully with cod caught locally off Yorkshire's east coast.
Where to stay: Formerly a merchant's house and later a country club, the Elizabethan Highfield House, (thehighfieldhouse.com) in Driffield, has flamboyant, design-focused rooms from £145 per night with breakfast.
7. Little Waddon Vineyard, Waddon, West Dorset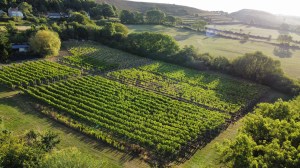 Nestled just inland of Chesil Beach on Dorset's iconic World Heritage Jurassic Coast, Little Waddon vineyard producing small batches of wild ferment, low intervention, wines.
Tour and tasting experiences, from £20, take place on Saturdays and include savoury or sweet tasting boards served in their newly re-furbished tasting room or on the terrace overlooking the vines. littlewaddonvineyard.co.uk
Bottle to buy: Their award-winning 'Col Fondo' (£22), a wild ferment wine, made in traditional way the Italians would make sparkling wine, with foot-crushed Pheonix grapes.
Where to stay: Located in a quiet corner of the vineyard, overlooking the vines, valley, and sea beyond, The Hide features a Shepherd's Hut and log cabin with fire pit and hot tub, perfect for a romantic break for two. From £126 per night.
8. Polgoon, Penzance, Cornwall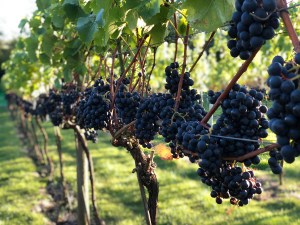 Set up by former fish merchants John and Kim Coulson, in 2006, Polgoon, was formerly an overgrown, run-down flower farm. Now, 14,000 vines spread across 14 acres of the site, which sits less than a mile away from the sea and is a ten-minute walk to Newlyn promenade.
"This unique position is reflected on the bottle label that depicts an abstract view of the vines and the sea," explains John. "The name Polgoon originates from the Cornish for 'Pond on the Downs', describing the original setting of Polgoon sitting on the sunny hills, overlooking the sparkling sea of Mounts Bay."
Tours run mainly in summer and feature a look around the vineyard and a tasting of five of their wines. If that works up an appetite then hand stretched pizzas are available from their Vine House Kitchen. polgoon.com
Bottle to buy: Polgoon is the only vineyard in Cornwall to produce a Sauvignon Blanc, and the 2022 vintage, £19.95, has notes of lime, passion fruit and pineapple and a Cornish minerality provided by the granite-based soils.
Where to stay: Named after the white grape 'Ortega' Polgoon's three-bedroom holiday cottage fits up to six people and has a hot tub so you can enjoy a glass of bubbles.
9. Rathfinny, Alfriston, East Sussex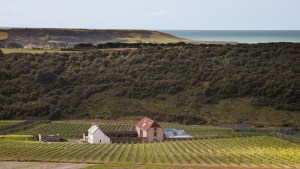 The owners of Rathfinny, Mark and Sarah Driver, are responsible for driving the bid for a PDO (Protected Designation of Origin) for Sussex Sparkling wine, which they achieved in June last year (2022).
Their vast 230-acre estate, three miles from the coast in the heart of the South Downs National Park, overlooks Seven Sisters and the English Channel. In the summer months you can sit on the hilltop and sip sundowners as you watch the sunset across the valley while listening to live music. They also host Dine in the Vines, a series of events where you can experience some of the best seasonal produce from the land, sea and garden of the British Isles, while sitting among the vines. rathfinnyestate.com
Bottle to buy: Rathfinny's 2018 Blanc de Noirs (£42) a blend of predominantly Pinot Noir with a small quantity of Pinot Meunier, is their signature wine and absolutely delicious.
Where to stay:  The Flint Barns is a collection of former farm buildings that have been restored into a ten- bedroom guest house, from £127 per night.
10. Sandridge Barton (formerly Sharpham), Stoke Gabriel, Devon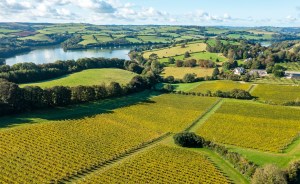 Wine and cheese go hand-in-hand and for Sharpham founder Maurice Ash the pairing really was a match made in heaven. After trekking his herd of Jersey dairy cows to Devon from Essex to graze near the River Dart and make brie in the 1970s, he soon realised the land was suitable for growing vines.
Last year, the estate rebranded as Sandridge Barton and moved further down the banks of the river so a new winery, bar, restaurant and accommodation could be created in former agricultural buildings, along with the planting of more vines.
And they must be doing something right – they secured three coveted trophies at the nationally recognised Wine GB Awards 2023 for Best Red Wine in the UK, Best Still Wine in the UK and Best Regional Wine.
Tastings, from £10, include self-guided options, walking trails and tutored tours. sandridgebarton.com
Bottle to take home: Their new Blanc de Noir (£45) the first to be released under the new premium Sandridge Barton signature range was awarded a Masters Medal at the 2023 Global Sparkling Masters Awards.
Where to stay: In the farmhouse, adjacent to the winery and close to the heart of the action, or right on the Dart in their converted boathouse. Four-night stays from £950.
11. St Martin's Vineyard, Scilly Isles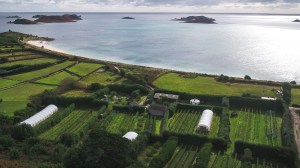 St Martin's Vineyard was established in 1996 by islanders Val and Graham Thomas, who for 20 years made wines traditionally from the Orion, Seyval blanc, Rondo, Regent, Siegerrebe, Madeleine Angevine, Triomphe d'Alsace, Pinot Noir and Pinot Meunier grapes they had planted.
It is now run by hypnotherapist Holly Robbins and ecologist James Faulconbridge, who bought the vineyard following a chance conversation with Val and Graham during a visit to the small island in 2018.
Sustainability is at the heart of what they do – everything that needs energy on the vineyard is powered by solar panels and they operate a strict no artificial fertiliser, pesticide or herbicide rule.
If you're a regular vineyard visitor, you'll notice the landscape is rather different to other vineyards thanks to the 4m-high evergreen hedgerows that were planted to protect the flowers that used to grow here. They continue to protect the vines from salt-laden spring storms and makes a walk around the vineyard a little like navigating a maze.
But don't worry, self-guide booklets make walking the wine trial a breeze and when you're done, you can enjoy a tasting flight of wines alongside the craft beers they also micro-batch on site. stmartinsvineyard.co.uk
Bottle to buy: Each of their four wines reflect the unique qualities of St Martin's – the fresh sea breeze, warm summer sunshine and soft sandy soils but the Reserve (£22.50), an off-dry blush-coloured wine with notes of apricot and lychee and passion-fruit flavours is something a bit different.
Where to stay: Holly and James have hand-built two shepherd huts in a meadow on the vineyard, where you can sit in bed and listen to the waves lap against the shore just 100m away.
12. Terlingham, Folkestone, Kent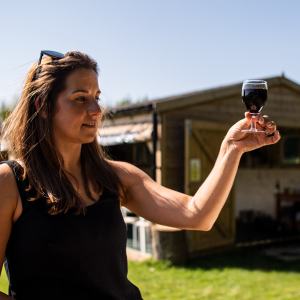 Another coastal vineyard ticking the sustainability box (with gusto) is Terlingham, which prides itself on being a carbon negative vineyard and a producer of award-winning wine and gin (made using some of their Bacchus wine). It's a family affair here with mum, Lorna, doing a lot of the farming, sisters Jackie, Caroline and Ashleigh involved in day-to-day operations and Dad Graham chief tractor driver!
"The whole family moved over from South Africa and took over the vineyard 12 years ago," explains Jackie. "My grandpa was from Ashford [15 miles inland] so it feels like we've come full circle."
Situated up on the hills of the North Downs, with a gorgeous view of the English Channel, Terlingham hosts regular wine tours, which cost £33 and include wine tasting, cheese boards and cake. terlingham.co.uk
Bottle to buy: The 2017 Blanc de Blancs (£35) won a Gold Award at this year's Wine GB Awards or go off-piste and take home a bottle of their Bacchus Gin (£38.50).
Where to stay: The two-bedroom self-catering cottage on site is a home from home.
£150 for a two-night minimum stay.
Feeling boozy? Read our article ranking 5 of the best English sparkling wines.