Meet some true coastal companions…Chrissy Harris finds out about the dogs that love to work, rest and play by the water.
Regular meals, plenty of walks, the occasional biscuit – and rescuing nine people from drowning. Yes, Whizz the Newfoundland led an extraordinary dog's life. The gentle giant was one of only a handful of dogs in the UK trained to help save people in difficulty in the water.
Owner David Pugh happily acknowledges that Whizz has been his greatest success story. He set up Newfound Friends in 1989 to showcase the work Newfoundlands can do through demonstrations of their skills in the water, all while raising money for charity.
So far, Whizz has been the only Newfound Friend to have carried out life-saving work outside of these display sessions.
The 12-stone gentle giant spent years patrolling the Bristol Channel and the river Severn with the Royal Navy Rescue, the Severn Area Rescue Association and Marine Volunteer Service.
In 2008, Whizz pulled two young girls to safety who had got into difficulty in their dinghy in the water off Oxwich beach, South Wales.
In 2011, he pulled a swimmer having an asthma attack to a waiting lifeboat.
Trained lifeguard David has recently written a book about his exceptional rescue dog, who passed away aged 12 in 2016 and was awarded a posthumous PDSA Order of Merit – known as the animals' OBE – for outstanding devotion to duty.
Today, Whizz's legacy lives on through David's other dogs and the charity work Newfound Friends continues to do to raise awareness of water safety.
"I love these dogs, they're my life," says David, who lives near Bristol but travels all over the country with his team, including Tizz and Ted. "If you train the dogs to rescue people, then you have to have an outlet for them," says David. "We do charity events where people can be sponsored to be rescued by the dogs. The other thing we do is maritime events. We show all the various ways of rescuing people."
David says he never puts his dogs in a situation he wouldn't be happy to be in himself and always makes sure he's confident his highly trained team can cope with the task in hand.
"People just love seeing these dogs in their natural environment," says David, who has led displays up and down the coast, including Swansea, Southampton and at Dartmouth Regatta in Devon. "I mean, if you know anything about Newfoundland dogs, you'll know that they love the water and it's where they want to be.
"People come up to me afterwards and they're amazed at the strength of the dogs and what they can do. A lot of is natural instinct.
"They are the dogs for the coast, they always have been."
Whizz: Zero to Hero is available on Amazon. See newfoundfriends.co.uk.
A BRUSH WITH SWEEP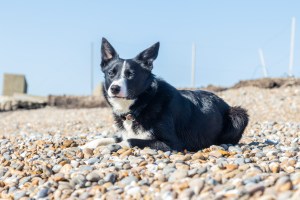 Sweep the three-year-old border collie has just about found his sea legs. The working sheepdog commutes by ferry to round up his flock on the remote Orford Ness nature reserve, off the coast of Suffolk.
When he first started the job back in 2021, Sweep was a slightly reluctant passenger. Now, the conscientious canine looks forward to catching the ferry Octavia because he knows a full day's work awaits.
"During his first month he had to be carried on and off the boat," says Sweep's colleague, National Trust shepherd Andrew Capell. "Now he jumps in and out pretty well."
Sweep is the only dog allowed on Orford Ness because of the fragility of the habitat. The ten-mile-long shingle spit – the longest of its kind in Europe – is home to a wide variety of plant life and wildlife, such as brown hare, Chinese water deer, and birds such as lapwings, marsh harriers and barn owls.
The Ness has flocks of rare breed sheep, including Whitefaced Woodland and the Manx Loaghtan, which help to maintain the unique landscape through grazing.
Sweep and Andrew work hard to care for these important residents.
"Sweep is still learning the ropes but he's getting there,' says Andrew, the shepherd at Orford Ness for 13 years. "He ignores the birds and other wildlife and when he's in the field, he's focussed on the sheep."
Sweep has big paw prints to fill. When his long-standing predecessor, Kite died at the end of 2020,  the pressure was on to find a suitable replacement.
Sweep arrived in 2021 from his first home and trainer in the Brecon Beacons. It took him a while to adapt to his new coastal surroundings – and English accents.
After three years in the job, however, Sweep is very much part of the team and popular with visitors during Orford Ness' open season between April and October. When he's not on duty, Sweep has his own quiet corner of the office to rest in while he waits for the ferry.
"Some days, he doesn't want to go home," adds Andrew. "He's a true working dog."
See nationaltrust.org.uk.
ALL EYES ON ALAN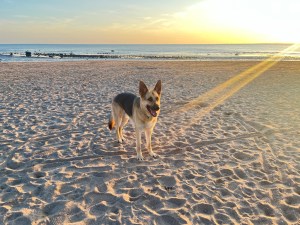 Strolling along Morecambe Promenade on a fresh autumn day certainly lifts the spirits.
This simple pleasure is something Kevin Crompton would have found challenging just a few months ago – before a large German Shepherd called Alan came into his life.
Kevin is visually impaired after developing a condition called retinitis pigmentosa when he was a teenager. The term refers to a group of rare eye diseases that affect the retina (the light-sensitive layer of tissue in the back of the eye).
The condition has left Kevin with 'tunnel vision'. Going out and about on his own is difficult and Kevin felt he was missing out on the things that make living in a seaside town special.
Then, last year, he got the called from the Guide Dogs for the Blind Association to say he'd been matched with a four-legged friend.
"They brought Alan out to meet me and carried out an assessment," says Kevin, adding that the process is about putting 'trust in the harness' and handing over control to the dog. "It's the hardest thing anybody will do," he says. "But they thought Alan and I were a good match."
Alan and Kevin are now a dream team and love going for long walks together along the coast.
The pair are regular fixtures in the Beach Café on Morecambe's seafront, where the staff and customers are always happy to see them.
"They all say 'oh, he's got such a kind face'," says Kevin, (assuming they're talking about Alan, of course). "He really loves seaside life," Kevin adds. "He loves the beach and playing with his toys. We try and give him as much downtime as possible so that he can enjoy himself. He's just got such a lovely temperament and wherever we go, people fall in love with him."
Having Alan by his side means that Kevin is confident about doing all the things most of us take for granted.
"Alan takes away so much stress and pressure," says Kevin. "Walking through crowds, I know that Alan has seen all of the people and is working out the best route.
"He allows me to go out and about and do things at a normal pace of life, just like everyone else."
See guidedogs.org.uk
GEM OF A MASCOT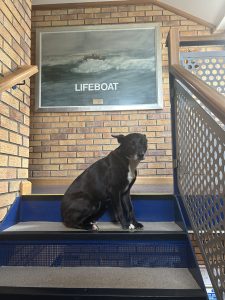 When the alarm signals a shout at the RNLI's Montrose Lifeboat Station in Angus, the crew leaps into action.
In the corner of the room, however, Gem barely stirs from her nap. The seven-year-old collie-Staffy-cross is well used to this routine, having been based here at one of the oldest stations in the British Isles since she was a puppy.
Gem's owner is full-time RNLI coxswain mechanic Scott Murray, who brings his faithful friend to work with him every day.
"She shadows me," says Scott. "Wherever I go, she's right there behind us."
It turns out that's not always the case. Despite being something of a RNLI mascot, Gem prefers more of a dry land role.
"She's very nervous of the sea and won't swim, even though I've tried to get her to go in plenty of times but she comes running back," says Scott, explaining that Gem isn't keen on boats, either. "If we get a shout, my mum lives right beside the station, so she'll come and pick her up and look after her until we get back."
Gem is always pleased to return to her post, standing at the station door and looking out at everyone going by.
She's has also established a reputation as the station vacuum cleaner, happily taking care of any biscuit crumbs that might be lying around. Most importantly, her fun-loving nature means Gem is a huge hit with local visitors – especially the younger ones.
"She loves it when kids visit," says Scott. "She just wants to be with them all the time.
"She's good as gold really."
Scott and five other members of the RNLI Montrose crew were recently awarded a Marine Meritorious Service Medal in recognition of their rapid response, professionalism and skill in saving lives during Storm Arwen in November 2021.
See rnli.org.
5 TOP COASTAL DOG WALKS
Treat your pet to a taste of life beside the seaside with one of these wonderful walkies:
Saunton Sands in Devon is a) dog-friendly all year round and b) beautiful. The three-mile stretch of golden sands is ideal for running around and chasing a ball (the dog can do that too).
The Balmacara Estate overlooks Skye on the western coast of Scotland and has a great reputation with dog owners. It was recently named most dog-friendly National Trust for Scotland property. There are miles of open countryside, coastline and woodland to explore, with paths leading from Kyle of Lochalsh and Loch Achaidh na h-Inich to Balmacara Square.
Pink Bay is one of the most westerly beaches in Porthcawl, Wales. It's named after its eye-catching pink stones and pebbles. The beach is a short walk from the car park at Rest Bay.
It's an exhilarating walk between Flamborough Head to North Landing in Yorkshire. The route takes you and your dog to the peaceful cove beach at North Landing, a great place for swimming.
Weybourne to Sheringham in Norfolk is a clifftop walk that can end with a pint in the dog-friendly Two Lifeboats pub, if you time it right.
LOOKING AFTER YOUR DOG BY THE COAST
How much is too much? Eating and swallowing sand can cause stomach problems for your dog because it can cause a blockage. Choose toys that pick up less sand – a Frisbee rather than a ball, for example.
Salty sea dogs: If your dog's been in for a dip, give them a rinse with fresh water when you get home to prevent them licking any salt from their fur.
Stay put: Don't go after your dog if they go into the water or get stuck in mud. Move to a place they can get to safely and call them – they'll probably get out by themselves. If you're worried about your dog, call 999 or 112 and ask for the Coastguard.
Looking for inspo to take your dog on a trip? Check out our 5 fab coastal spots for dog-friendly hiking trips.