Lured by the rugged beauty and abundant wildlife of Scotland's iconic North Coast 500 route, Sophie Pavelle and her father Tim take off in a campervan to share a road trip to remember
It's around 7am and we have made camp within view of the iconic Suilven mountain summit in remote Sutherland. I'm awoken by a strange noise coming from the sea loch below. Cocooned in my roof-top cabin in the campervan, I sit up
to hear barking followed by several loud splashes. My dad is making coffee below and I eagerly clamber down with a pair of binoculars to investigate what's going on. In the water, a group of 15 or so harbour seals are playing, fracturing the quiet with comical snorts and grunts. They are totally wild and oblivious to our presence, as it should be, and we sip coffee together in the stillness. I feel utterly content as I look at the empty road stretching out ahead, inviting us to continue our exploration of Scotland's magnificent north coast.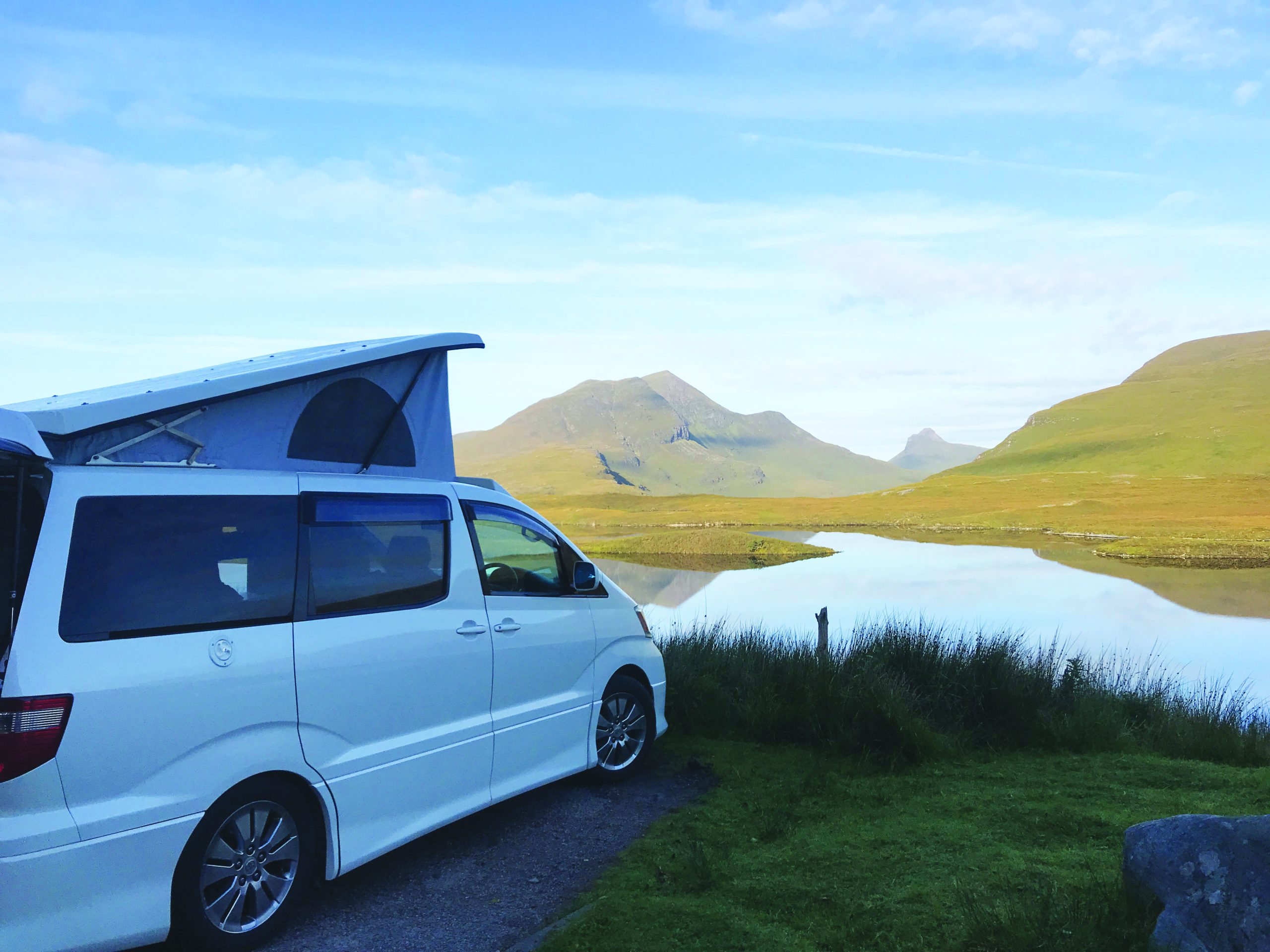 This part of Scotland has been on my radar for a while, but it wasn't until I encountered a map showing a circular route that tantalisingly hugs the coast – the North Coast 500 – that a thought struck me. I could take a road trip with Dad, just like the old days. I put it to him and Dad, who's ready for a holiday and who loves an adventure as much as I do, agrees. A couple of months later we're touching down in Inverness, canoe and rucksacks in tow, ready to pick up our hired campervan from Aviemore in the Cairngorms, eager for a hearty dose of 'the far North'. With only the start and end days fixed on our 10-day itinerary, we are dreaming of white sandy beaches, empty roads and compelling mountain landscapes as a father-daughter team.
ON THE ROAD
Voted in 2017 as the 'Most Beautiful Country in the World' by Rough Guides readers, Scotland's wilderness has long drawn landscape lovers. September is sublime – the summer swarms of midges have passed, and the gorse is popping yellow on the hillside, amidst purple swathes of heather and rust-coloured bracken. The North Coast 500 isn't a new road, but a 516-mile route rebranded in 2015 to encourage tourism in Scotland's wilder places. The campaign certainly seems to have done the trick and it's been hailed as one of the top five coastal routes in the world, attracting cyclists, hikers and petrol-heads alike.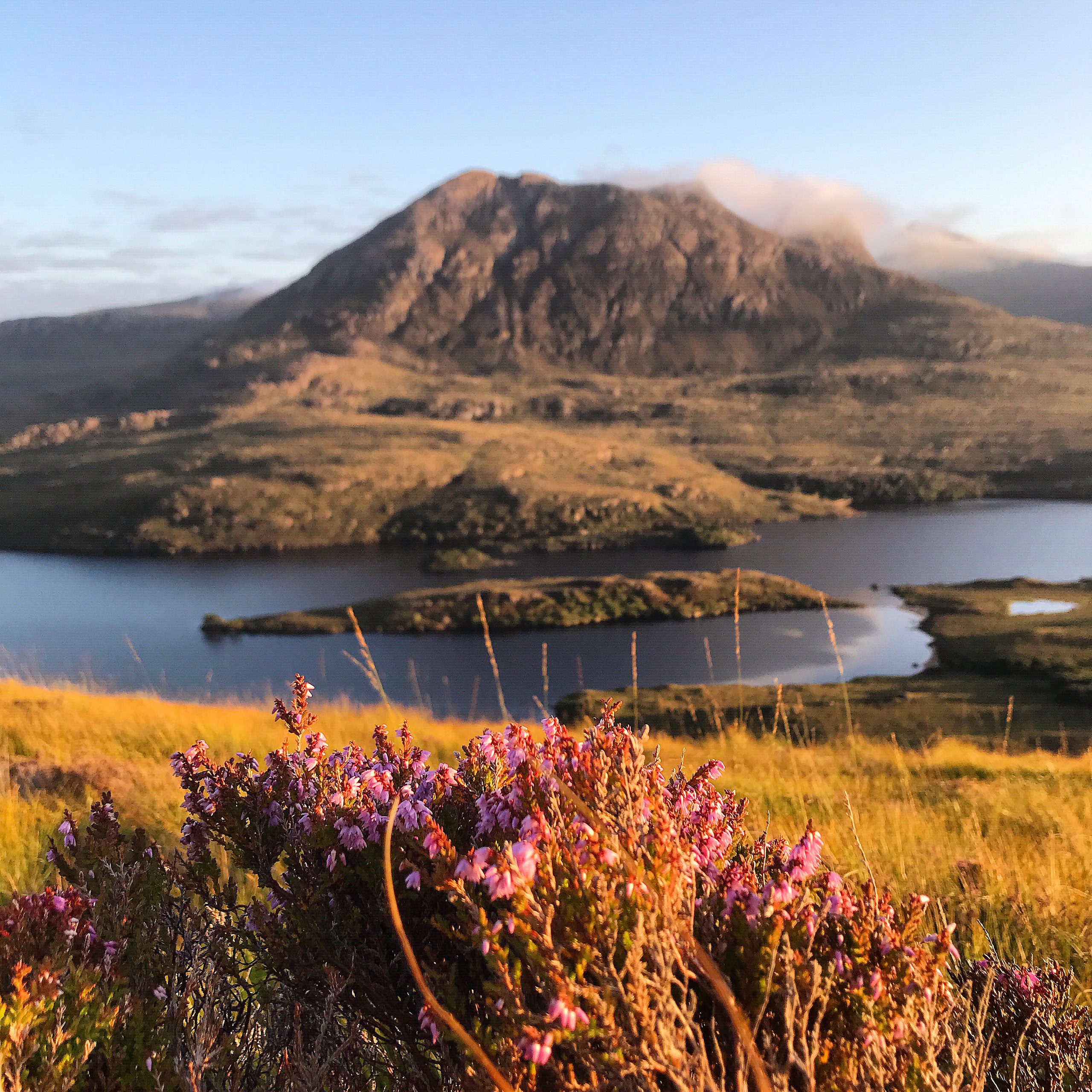 No strangers to camping but intrigued by 'the van life', we opt for total roaming freedom. We travel west from Aviemore after hiring our Toyota Alphard – a modern campervan, small enough to go where motorhomes can't but not lacking in comfort. We enjoy the gradual dilution of civilisation, widening vistas and narrowing roads. Choosing to take the route clockwise, our first taste of coast road is
a single-track winder through the Torridon Hills towards the picturesque lochside Shieldaig. Misty, heavy showers break into intense double rainbows, revealing views out to Loch Torridon and The Minch beyond – the wild body of water between the mainland and the Outer Hebrides. Following the novelty of our first tea break enjoyed in the van, we venture northwards to our first wild camping spot outside the tiny fishing village of Gairloch.
Already, the variation in landscape, the sense of space, and natural silence are astonishing. The road, with its plentiful passing places, hugs the coast so tightly that it reminds us of The South West Coast Path at home in Devon. Sudden scenic change arrests the senses as we venture even a few hundred metres inland. Lochside roads give way to rugged moorland, the ancient, iconic mountains of Stac Pollaidh and Ben Mor Coigach, north of Ullapool, and clusters of Scots pine framing a frenzy of river. Yet all the while, the braced stoop of these trees hint at our consistently coastal proximity.
Many Highlanders we encounter reiterate the principle of our 'right to roam' across Scotland's wilderness, as long as we leave no trace of our stay. The deliberate lack of planning and this liberating freedom to camp in an impossibly beautiful spot each night – from the golden, sweeping harbour of Tarbet to our chosen perch at the most northerly point, Dunnet Head Lighthouse – cultivates a sense of relaxation rarely felt on previous trips.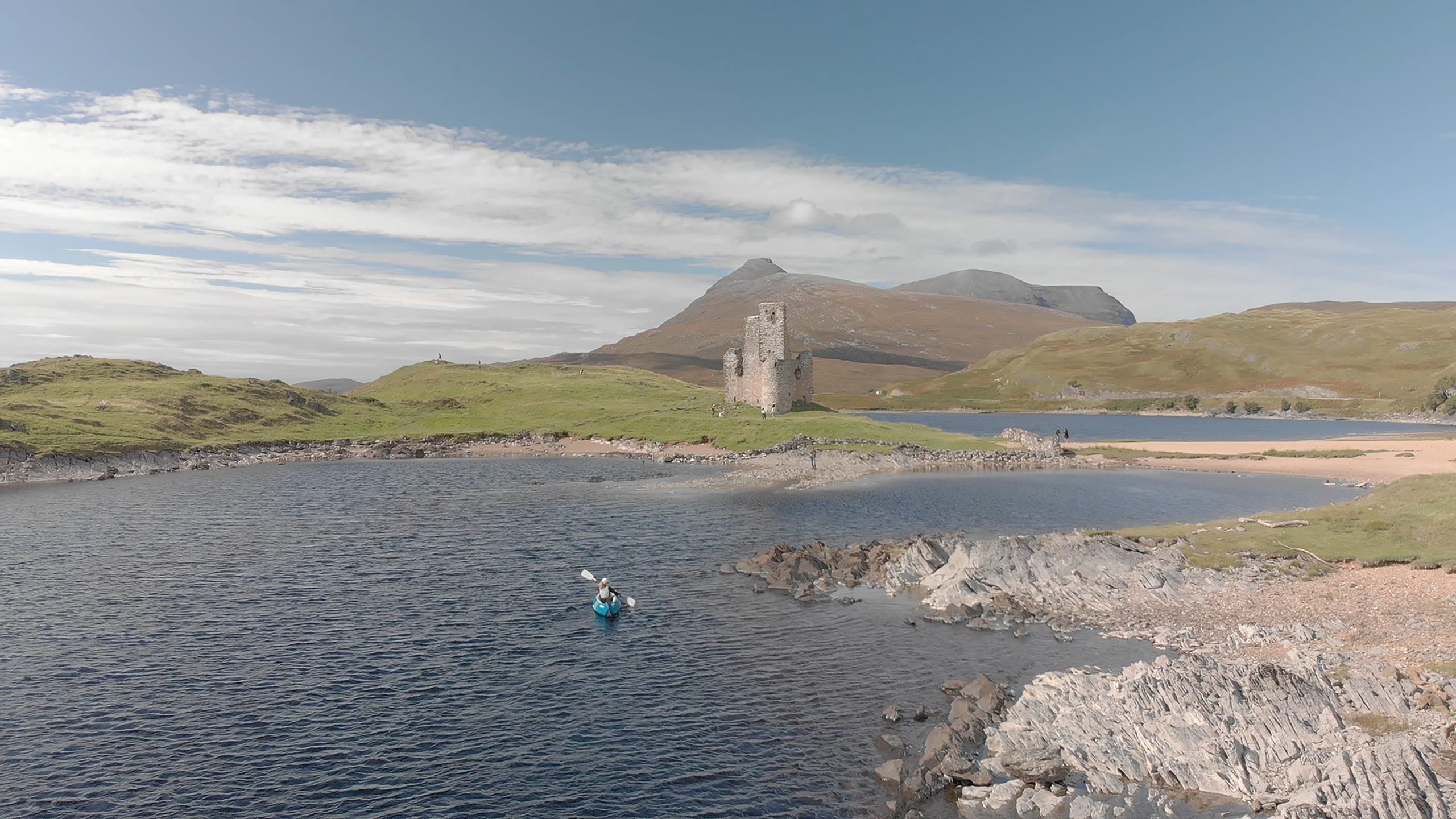 There are sections of the route so close to the sea that dolphin spotting is a real possibility. After a gannet and common dolphin-filled boat trip around the Summer Isles during our day in Ullapool, looking for wildlife becomes a joint passion. The distinct lack of mobile signal, radio or screens stimulates heightened observation, a complete immersion in the landscape and conversation that thrives on a shared fascination for the scenery.
FAMILY BONDING
We soon settle into a road-trip ritual, my role is navigator and provider of snacks, Dad's is designated driver. And at every turn of the road we both utter the obligatory, 'Oh, wow'. There are plenty more 'wow' moments. In Tarbet we dine at The Shorehouse – a family-run seafood restaurant overlooking tiny islets and the Scottish Wildlife Trust's Handa Island beyond. The fact that our table overlooks the shoreline where our dressed crab was caught earlier that day creates an authenticity that is hard to achieve in other restaurants.
I love the mornings. I cherish the privilege of wildlife-watching over coffee, bleary-eyed with nowhere to be – nothing calling on my time. We remark on the satisfaction of having 'everything we need' – every item in the van (now nicknamed 'Gannet') is necessary and serves a purpose. Even as a materialistic 23-year-old, I feel utterly contented with such simplicity. To cap the days off, evening entertainment ranges from shuffling bags and canoe around the van if the weather closes in, to much-missed reading, golden-hour photography and studying tomorrow's route. There's a wee tipple to enjoy then the 'wild-bathroom' regime before it's time to bundle me up into my roost.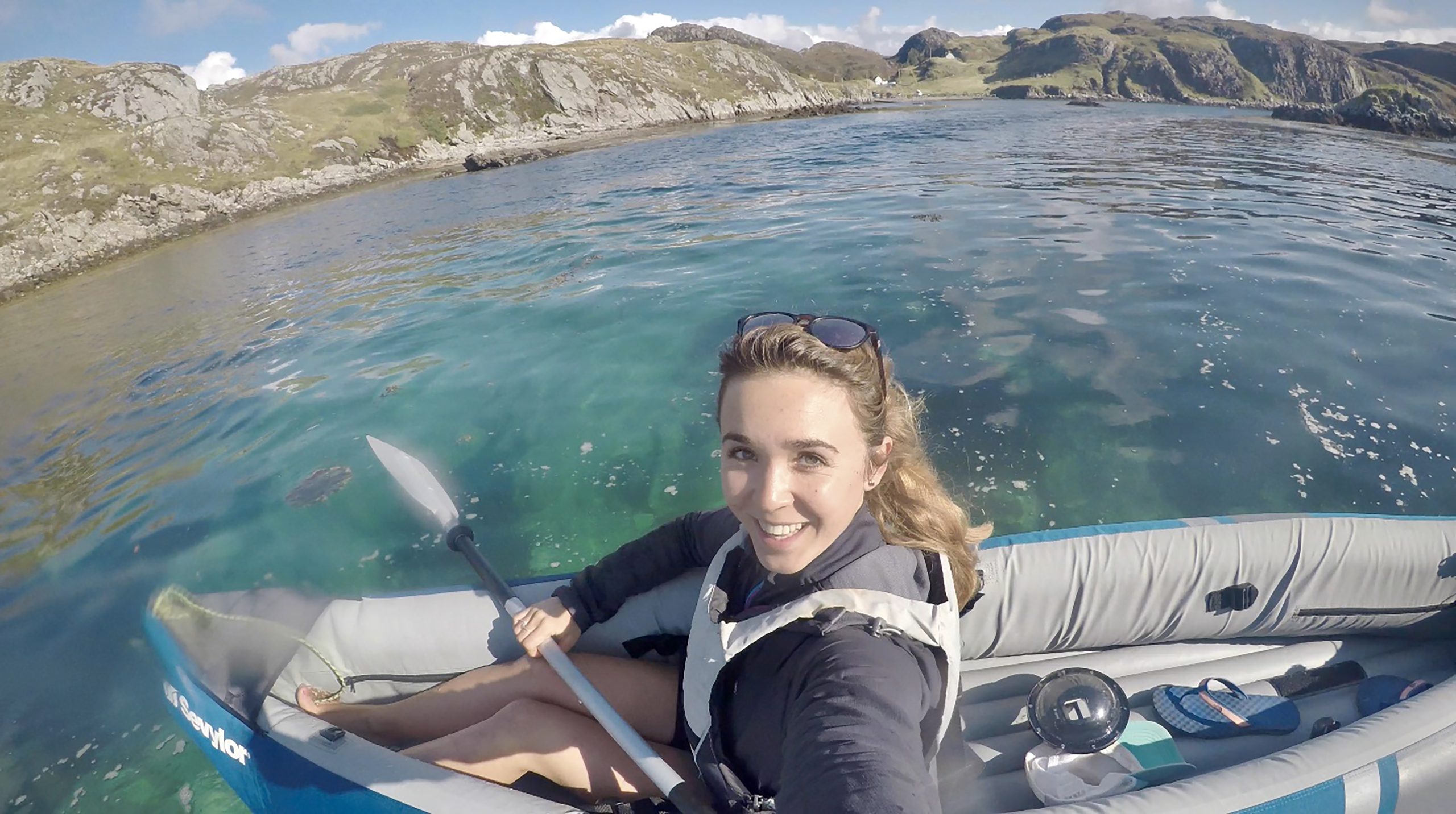 DAYS OF OUR LIVES
The memorable moments are many. Progressing clockwise along the route, the topography alters markedly. Scotland's complex geology skews the population density towards the more fertile Easter Ross and the Black Isle, while the Wester Ross and Sutherland's weathered inlets and high mountains attract crofting, fishing and tourism. 'The Lost Lands' approaching Durness, are a melding of Yorkshire, Cumbrian, Welsh and Scottish landscapes – all rolled into one delicious scenic package.
With just a day to spare, we venture across a turbulent Pentland Firth by ferry, to sample the so-called 'Egypt of the North' – the Orkney Islands. Densely shrouded in mist, it is impossible not to be bewitched by the Neolithic and Viking histories that scar this archipelago. Back on the route, we hike to view the famous Duncansby Stacks, rising spectacularly from the churning sea, then turn the corner and head south. The gentle east coast, with cosy fishing harbours like Latheronwheel, more frequent towns like Brora and numerous castle ruins such as Castle Sinclair at Girnigoe, make us nostalgic for the upland wilderness of the west but the contrast makes the journey even more enjoyable.
I savour the moments I will miss – the tranquillity, the birds and animals, the excitement of a unique 'bedroom' each night. I gain a renewed appreciation for wildlife that is truly wild. As they ride the updraughts with acrobatic ease, I realise that herring gulls are perfectly suited to this raw and challenging environment – a world away from their scavenging habits back home.
It's our final day, and we are searching for the resident bottlenose dolphins inthe Moray Firth outside Inverness, striking gold with a mother and her nine-day-old calf, followed by a hearty dinner at the Old Bridge Inn as we return Gannet to the Cairngorms – a wonderful finale to an unforgettable adventure.
With the entire North Coast 500 under our belts, we are feeling both relaxed and invigorated, with a renewed and shared zeal for the outdoors. I'm not sad to leave, because I'm certain of my return – I know I could never get bored of this coastal wilderness we have explored – landscapes that are so very 'Scotland'. On the road with Dad, I've loved every minute of our adventure together.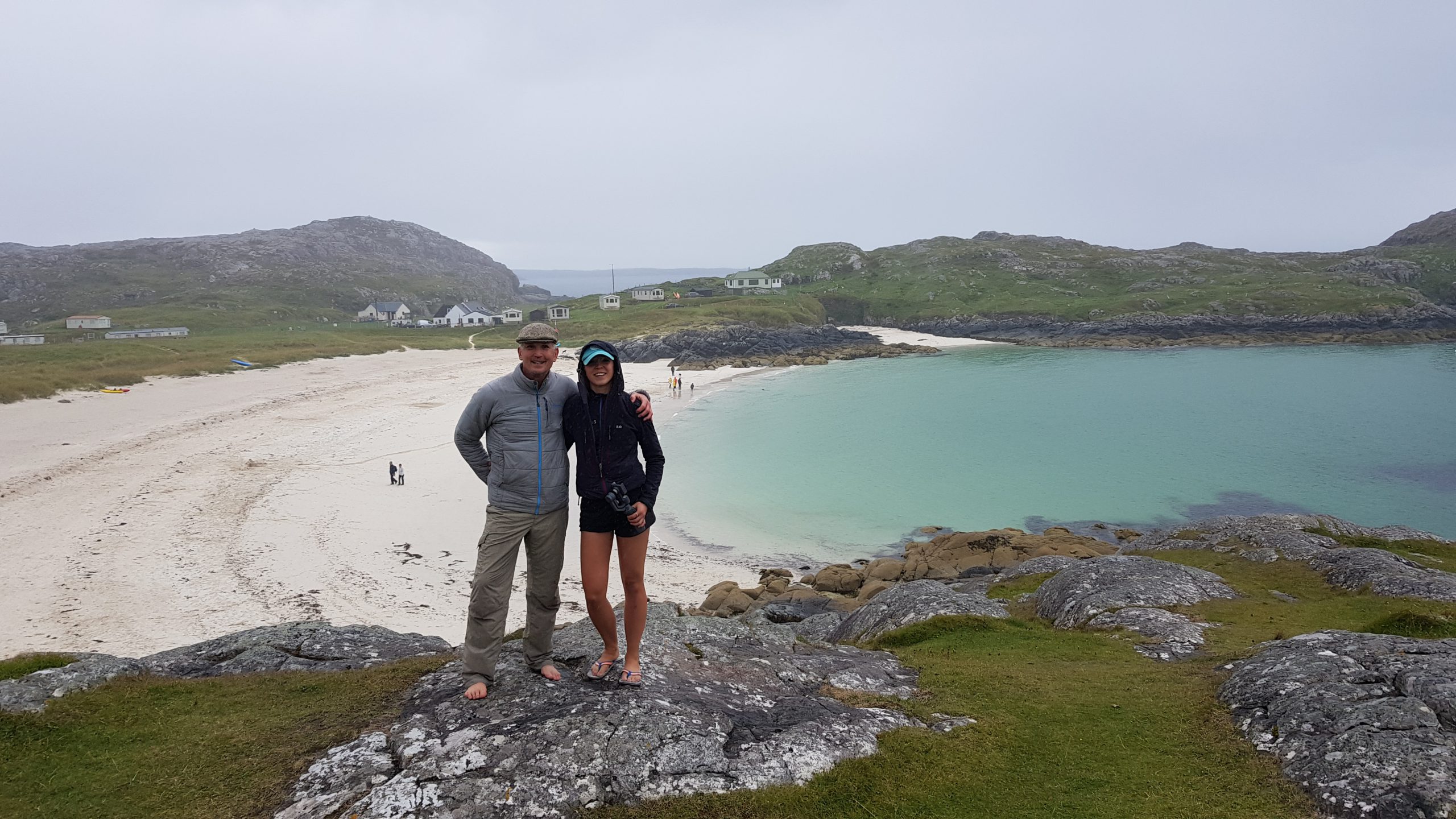 Planning your trip
There are two must-have books to help plan your journey. The North Coast 500 Guide Book by Charles Tait (£12.95, Charles Tait Photographic) is a comprehensive pocket guide, detailing lots of accommodation and eateries (such as the legendary Cocoa Mountain Chocolate Café in Durness), hikes, as well as historical anecdotes to enjoy en route. The Rough Guide to the North Coast 500 (£9.99, Rough Guides) leads you to hidden ruins and castles as well as serene lochs and soaring coastal cliffs.
September is an excellent time to visit Scotland, as the roads are quieter, the weather fairly stable, and the midges no longer a nuisance, but the main season begins in late spring. Your trip can be as adventurous or luxurious, and as long or short as you like, so spend time identifying activities or hotels you'd like to incorporate. We hired our van from family-run Cairngorm Campers (01479 831202, cairngormcampers.com). Inverness makes a good starting point – fly there or get the train. From Inverness, do the route clockwise, heading to Applecross on the west coast, or anti-clockwise zipping straight up the east coast. Plan your trip at northcoast500.com.