North Norfolk is home to a string of picturesque cottage-filled towns set back from the sea, and Wells-next-the-Sea is perfectly placed to explore more than one of them.
Words: Madeleine Barber
The big draw of Wells-next-the-Sea is, of course, its brightly coloured beach huts. They hug the tree-line on the town's expansive sandy beach and are nothing short of iconic. But there's so much more to this North Norfolk settlement and its surrounding communities than what first meets a beach-lover's eye.
What is in Wells-next-the-Sea?
Nestled behind one-mile-wide salt marshes, a maze of higgledy-piggledy streets is home to a host of independent shops, cafés, fishmongers, grocers and delis. From west of Wells an A road leads to Hunstanton, passing through Burnham Deepdale, Brancaster and Titchwell, all of which are rich with stone-built cottages, foodie hotspots and a close-knit community atmosphere. The area is also famed for its abundant bird-life and seasonal seal pups, so if you're in search of nature's creatures then ensure you visit at the right time of year.
FRIDAY PM
2PM
FIRST THINGS FIRST
On more than one occasion I have been known to follow my stomach, and this is no exception. On arriving in Wells my hungry tum leads me to French's, which I've been told serves the best fish and chips in town. The chippie's plaice is melt-in-the-mouth and views of the bustling quay outside make the meal even more enjoyable (01328 710396, frenchs.co.uk). Just around the corner is my cottage for the weekend, Sea Pink, so I settle in and nibble on the homemade cookies that owner Zoe has freshly made for my stay.
7PM
KINGLY COURSES
After window-shopping on the streets of Wells to work up an appetite again, I venture over to Titchwell for my dinner booking at Briarfields. It's a cosy, rustic restaurant where I tuck in to a Rosary ash goats' cheese and beetroot salad, followed by Gressingham duck with fondant potato, squash purée, sautéed greens and cherry jus – divine, and the service is exceptional (01485 210742; briarfieldshotelnorfolk.co.uk).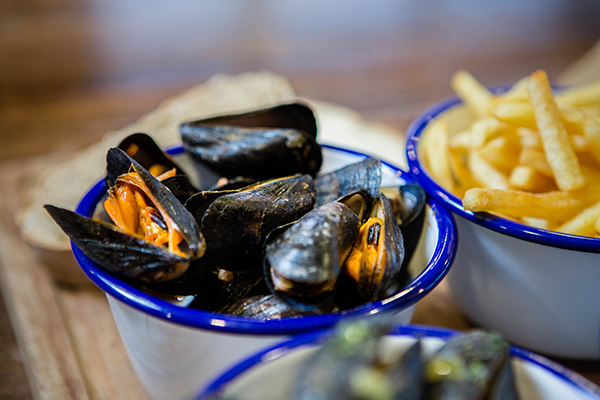 Read next 10 Best Places to Eat on the Norfolk Coast
SATURDAY AM
7AM
THE DEVIL'S POOL
I meet Henry from the Coastal Exploration Company bright and early at Wells' East Quay for a sail on his classic whelk boat. Decked out in locally made Carrier Company clothing, he tells me all about his time with the UN World Food Organisation in Afghanistan and Somalia, and how the pull of North Norfolk saw him return home to set up his own coastal business. Steering through the aromatic salt marshes, I take the helm for a time, admiring East Island, Scolt Head and Holkham Bay as we head for the sand bar. En route, we spot a curious seal. Keen for an on-deck fry-up, we park the boat in the peaceful Devil's Pool (as it is known locally), watch the sun rise behind a gaggle of geese sweeping across the marshes, and rustle up brekkie (07970 276397; coastalexplorationcompany.co.uk).
11AM
SUSTAINABLE SHOP
Eager to sample more of the wonderful produce Norfolk has to offer, I pop along to butcher E.H. Prior & Sons in Dersingham and decide on an old English long horn rump steak for dinner. The family-run business launched at King's Lynn in the 1930s, and is today heaving with locals picking up pork pies, sausages and all kinds of luxury meats.(01485 542589, ehpriorandsons.co.uk)
SATURDAY PM
1PM
CRUSTACEAN TIME
Appetite well and truly whetted by all the food shopping, I opt for lobster thermidor with bacon fries in The Crab House. The newly refurbished restaurant sources its lobsters from the harbour next door, and the one I have today weighs in at a half kilo, but they do get bigger ones, the smiley waitress tells me. The dish is so moreish I finish the entire plate – with a little help needed to crack the claws (01328 710456, wellscrabhouse.co.uk).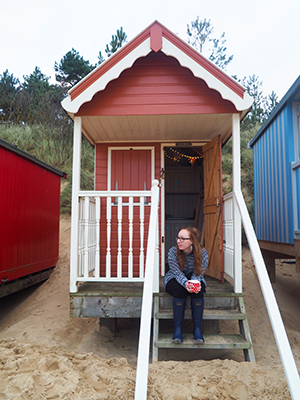 3PM
TO THE BEACH
Beach Hut 82, which is available with a stay at Stay-next-the-Sea, is a pastel red and adorned inside with fairy lights, kitsch cushions and bunting. Now, the tide is out at Wells Beach and sand stretches as far as the eye can see. I sit on the hut's decking with a cuppa and watch dog-walkers stroll with their over-excited pets. The grassy dunes and green forest shelter the huts from the breeze, so this is a spot where I could happily spend many hours more (wells-guide.co.uk).
7PM
COCKTAILS & COOKING
Being quite partial to a G&T, I hear The Crown Hotel is the place to be. It offers 10 types of gin, so I opt for the Norfolk Black Shuck, which comes in a goblet with juniper berries and plenty of pizazz. Tucked away in a cosy corner I get chatting to fellow holidaymakers, who share tips on where to go and what to see in the area. When my thirst is quenched, I head back to the cottage to cook up my Norfolk produce meal (01328 710456, crownhotelnorfolk.co.uk).
Read next Try it Now… Smuggling on the Norfolk Coast
SUNDAY PM
12PM
LUXURY LUNCHING
After a morning exploring the coast by motorbike calls for a hearty lunch, and The Lodge in Old Hunstanton is just the spot. Brancaster mussels poached in a white wine cream with parsley are heavenly, and best followed by the mixed seafood risotto. It's packed with white fish, Atlantic prawns, crayfish tails, baby spinach and fresh herbs, and the more-than-sufficient portion leaves me craving more. In my separate stomach made entirely for desserts, I squeeze in the milk chocolate cheesecake with salted caramel ice cream and toffee popcorn, which sets me up perfectly for the drive home (01485 532896; thelodgehunstanton.co.uk).
Find more inspiration for weekends away with our Weekend in Wirral, Weekend in Jersey, and Weekend on Tresco, or keep an eye on the magazine for our latest travel features.
NEED TO KNOW
STAY AT…
NORFOLK COUNTRY COTTAGES
Sea Pink is a chic one-bed cottage, ideal for a romantic stay in Wells, that costs from £365 per week, but Norfolk Country Cottages also has larger lets – the biggest Wells property sleeps seven for £514 per week (01263 715779, norfolkcottages.co.uk).
THE CROWN HOTEL
This former coaching inn is tucked away on the corner of a green in the centre of town. Prices for B&B in a classic room start from £100 per night (01328 710209, crownhotelnorfolk.co.uk).