coast editor Alex Fisher explores the rugged beauty of this westerly stretch of the Pembrokeshire coastline and discovers its vast, sandy beaches and islands teeming with wildlife
A bright flash of colour appears in the grass. Then another. Red and yellow beaks jut from the mossy burrows and suddenly a flurry of puffins launch themselves from the hillside, their short wings beating rapidly above the crystal clear waters below.
This is Skomer Island, home to more than 20,000 puffins during the nesting season, which runs from spring into summer. In the bay seals laze on the beaches and dolphins lark about in the distance. The careful protection this area has benefited from over the years under the management of the Wildlife Trust of South & West Wales has paid dividends. Skomer, and its sister island Skokholm are also home to the largest population of Manx shearwater in the world, and to visit here is perhaps one of the wildlife wonders our beautiful country offers.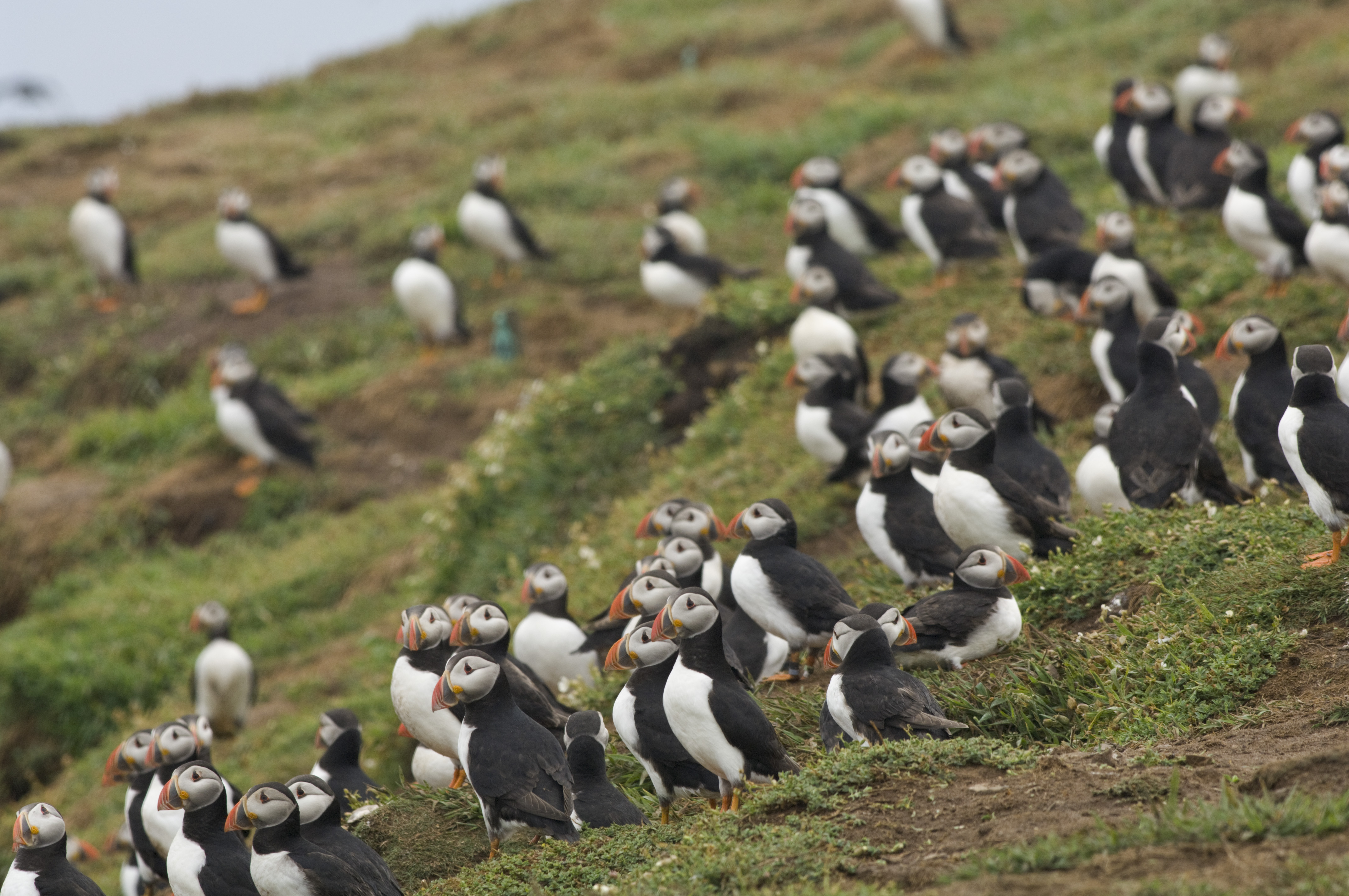 As Skomer Island marks the end of the seven-mile long bay to the south, Ramsey Island marks its northern point. Sitting just a few miles out to sea from Britain's smallest city, St Davids, boat trips around Ramsey and further afield Grassholm Island, also offer spectacular wildlife experiences, with dolphins and whale sightings being common.
Part of the Pembrokeshire Coast National Park and protected under European environmental law, the long, sandy beaches and rocky outcrops of the mainland are the perfect playground for coastal activities, from walking to surfing, kayaking to coasteering and even horse-riding in the shallows, making it the perfect destination for anyone who loves to enjoy the great outdoors in all its natural glory.
FRIDAY PM
4PM HISTORIC STAY
It's not that often you get the opportunity to spend the night in a castle, so I'm excited about my first hotel stay. Roch Castle was built in 1195 on a natural rocky outcrop along what was then a border between the English-speaking south of Wales and the independent Welsh speakers of the North. It remains a striking structure with panoramic views across St Brides Bay. A Norman knight, Adam de Rupe, was the first recorded inhabitant, who, according to folklore, built the castle to protect himself after a prophecy predicted he would die from a viper bite. However, it was in vain, as a snake carried into his chamber – the same room, I'm told, that I am staying in – in a bundle of firewood caused his death anyway. Although the room is now a rather more stylish version of what it was then, the fireplace remains, and I can't help thinking of de Rupe's fate later in the evening, as I am falling asleep.
7PM FRIENDLY INN
As Roch Castle has no restaurant, staff offer transport to local eateries and tonight they drop me of at The Cambrian Inn, just up the road in a coastal village called Solva. Popular with locals and visitors alike, this pub has a reputation for great food and a friendly atmosphere. After my long drive down the M4 it's nice to enjoy a home-cooked meal. The menu changes seasonally, but there is a Cambrian Catalan-style fish stew made with local seafood, and Solva-caught lobster, as well as high-quality burgers and Welsh lamb. Mains start at around £10 (thecambrianinn.co.uk).
SATURDAY AM
10AM AN ISLAND ESCAPE
Weather permitting, there's a small ferry service to Skomer Island, but tickets can't be booked in advance, so I head to the somewhat remote car park to buy my landing pass. A word of warning for visitors, especially those with children: there is nowhere to buy food either on the island or at the ferry port, so it's wise to eat well before you visit. As puffins live in burrows, keeping Skomer free of rodents is essential, hence the policy of only selling water on the island. You also need cash to pay for the boat – £11 per person, but it's worth every penny. When we arrive on Skomer there are steep steps up to the wildlife welcoming committee, who give us a short talk, along with strict guidelines as to how to respect the special environment we are entering. Then we're free. The narrow pathways wind right through the puffin burrows and the close proximity this allows to the birds is truly extraordinary (welshwildlife.org; pembrokeshire-islands.co.uk).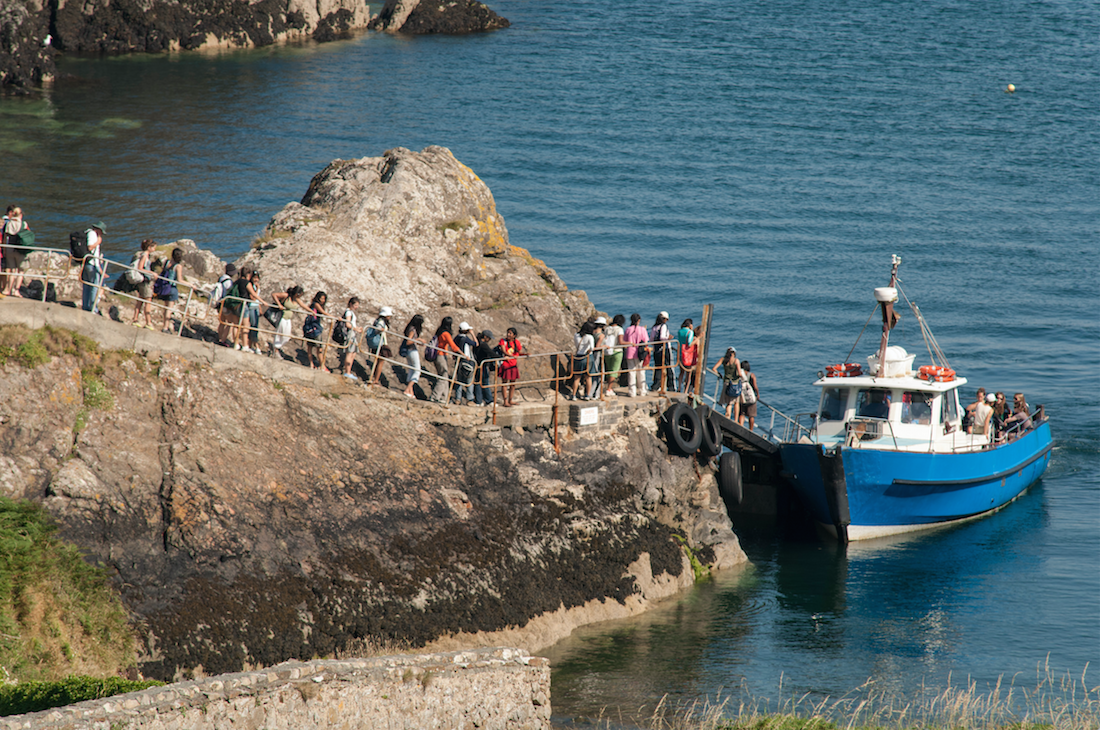 SATURDAY PM
7PM FINE DINING
Tonight I am staying at the Twr Y Felin hotel, just up the road in St Davids. It's part of a small group of hotels, including Roch Castle, owned by architect Keith Griffiths, who has a passion for renovating and preserving important buildings in the area. Once a working windmill, Twr Y Felin has now been transformed into a luxury 21-bedroom 'art' hotel, with an excellent two-rosette restaurant, Blas, which means 'taste' in Welsh. I'm treated to a delicious, beautifully presented meal of ceviche of sea bass, pickled carrot and brioche croutons, followed by halibut, spring peas, confit baby potato and cockle popcorn (twryfelinhotel.com).
SUNDAY AM
9AM SUNDAY SERVICE
With a population of less than 2,000 and the ambience of a village, St Davids owes its smallest city in Britain status to the cathedral dedicated to the patron saint of Wales. Although the present cathedral was built in 1180, St David founded the original monastery on the site back in the 6th century. There is no charge to look around the grounds or inside the building, and this is well worth doing. If you'd like to take photographs, a donation of £2 is requested to help maintain this historic site. Be aware that services continue here, led by the first female Welsh bishop, Canon Joanna Penberthy (stdavidscathedral.org.uk).
SUNDAY PM
2PM RIB RIDE
Expect to get wet on this fun wildlife excursion with Voyages of Discovery. The Atlantic grey seals, harbour porpoises and array of seabirds that live on and around Ramsey Island are easier to spot on the water so I head out to sea with the friendly crew who have been running boat trips from St Davids for many years. As well as learning about local wildlife, the team are knowledgeable about the history and geology of the island, which makes for a fascinating trip. They take us past the rocks where monks from the monastery on the island would be left overnight as a punishment, almost guaranteed to be swept away by the rising tides, and explain how prized the dark brown rabbits were to the monks, as their skin was used to make robes. The trip takes around 1.5 hours and costs £26 for adults and £13 per child (ramseyisland.co.uk).
7PM LAST SUPPER
Just outside St Davids there's another pretty coastal village with a quayside bistro that overlooks the sea. It's here that I head for my final meal of my trip, to watch the sunset over the water and eat some local seafood. The Shed in Porthgain is a relaxed diner specialising in local produce. As well as selling excellent take-away fish and chips you can eat on the harbour wall, they also serve a fantastic homemade fish and shellfish soup served with a crostini and homemade aioli and a range of sophisticated mains, which vary according to the fish and meat in season (theshedporthgain.co.uk). As the sun disappears into the ocean, I'm already planning my return visit.
NEED TO KNOW
STAY AT…
coast stayed at and Twr y Felin Hotel and Penrhiw Hotel in St Davids, and Roch Castle, Haverfordwest (twryfelinhotel.com, penrhiwhotel.com, rochcastle.com). Prices for a B&B Double room start at around £160 per night.
HOW TO GET THERE
Travel by train to Haverfordwest, which is a central location from which to access St Brides Bay. But many of activities listed are not accessible via public transport. Alternatively, travel by car on the M4 from London or the M5, to join the M4, from Birmingham.
For more information, go to visitwales.co.uk