Immortalised in fiction for its timeless riverside pleasures, the Shotley Peninsula is resplendent in its natural beauty and bursting with first-class produce. Words: Jessica Johnson
If you're driving north over the Orwell Bridge in Suffolk, chances are you're headed for the coastal gems of Southwold or Aldeburgh. Next time, take a simple diversion and begin a new adventure by exploring the lush countryside that stretches below – it will surprise and delight. Start your morning with coffee from the Suffolk Food Hall, nestled beneath the bridge's arches, and soak up a vista of ancient riverland in front of you, dotted with native Poll cattle the colour of conkers.
The Shotley Peninsula might well be one of the best weekend getaway destinations you've never heard of. With Ipswich at its peak, the peninsula is bounded by the Rivers Orwell and Stour and from its tip at Shotley Gate, views drink in the thriving ports of Felixstowe and Harwich. Water, water everywhere makes for much mucking about on rivers, best summed up by Arthur Ransome, who penned part of his Swallows and Amazons series of children's books here in the 1930s. 2017 was the 50th anniversary of his death and the 80th since he wrote We Didn't Mean To Go To Sea; a tale of life in and around the marshy waterways as seen through the eyes of four adventure-hungry children who find themselves in a spot of trouble on the water…
Parts of Ransome's peninsula fall under an Area of Outstanding Natural Beauty and are practically untouched almost a century on. Boaty adventures abound, from gentle barge trips to full-on sailing courses. Mix in arts and crafts, guided walks and some fine ales and artisan produce and you've got a getaway pleasingly free from the madding crowds.
FRIDAY PM
6PM HIDDEN RETREAT
Undulating fields and secret forests surround our luxurious self-catering cottage at Lodge Farm in Freston, which comes with its own shepherd's hut, an old-school games room and a priceless sense of peace and seclusion. After checking in, we head to The Cookhouse Restaurant, part of the mighty Suffolk Food Hall, a five-minute trip away by car. Formerly a giant milking shed, the hall is an unrivalled gourmet destination that sells some of the peninsula's best foodie assets and boasts an on-site artisan bakery, butchers, fishmongers, vegetable store and luxury chocolate counter. It's a lesson in provenance and the café, garden centre, homeware boutique and a brilliant bouncy pillow for the kids outside offer many reasons to make a return visit. I can't resist fish and chips, lightly battered in local Adnams' beer and served with crushed minted peas and tartar sauce. Delicious. This autumn, venison season shines through in the specials menu joining favourites such as Lowestoft hot smoked salmon and Cromer crab and chilli linguine. Starters are priced from £5.95 and mains from £11.95 (01473 786616; suffolkfoodhall.co.uk/restaurant).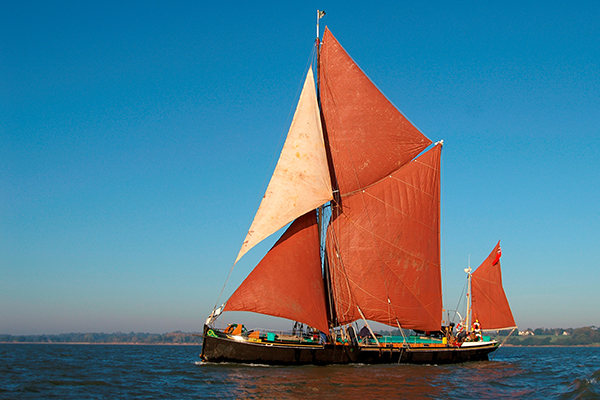 SATURDAY AM
8AM WATER BOUND
We hotfoot it up to Ipswich Marina to see the mammoth fleet of yachts and barges with their lanyards clinking in the early morning sun. Today, we're sampling the Birds by Barge tour aboard the majestic Thames Sailing Barge Victor, built in 1895. Sailing down the Stour Estuary with bird-watching experts fuelled by tea and biscuits, we spot marsh harriers, avocets and even peregrine falcons nesting under the Orwell Bridge. 'When the leaves fall and the mist comes in, there's an eerie beauty to the river – people are mesmerised,' says Emma Lightfoot, who runs trips on sister boat, the Orwell Lady, a modern Thames River cruise boat hosting everything from wine-tasting to afternoon tea cruises. Bird-watching trips are priced at £43 including complimentary food and all hot drinks (01473 258070; sbvictor.co.uk).
SATURDAY PM
12PM ANIMAL CRACKERS
Jimmy's Farm is a brilliant place for kids to get up close to farmyard favourites. After feeding the pigs and a tour of the woodland walk, my son runs off steam on the climbing pyramid while I peruse the on-site Joules store and pick up supper from the deli. The Restaurant is a rustic barn, offering seasonal comfort food starring farm-grown herbs and veggies. I opt for the rare breed beef burger with Suffolk cheese rarebit in a sesame bun with fries, sensibly leaving room for a decadent house brownie. Mains from £8.50 (01473 604206; jimmysfarm.com).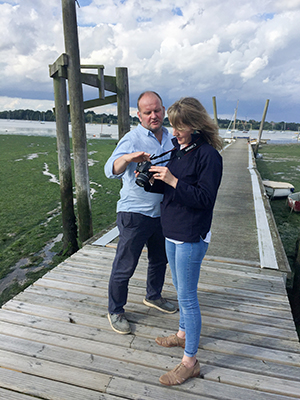 3PM IN THE FRAME
As a self-confessed camera-phobe, I'm keen to glean tips from award-winning photographer, Anthony Cullen. His studio is in Pin Mill, a picturesque harbour that inspired Arthur Ransome to build and moor his boat, the Nancy Blackett, here and write We Didn't Mean To Go To Sea. This year, Pin Mill Studio is exhibiting Ransome's photos documenting the building of the Nancy Blackett's successor, Selina King in 1938. Over coffee, surrounded by black and white prints of old, we look through Anthony's portfolio of breathtaking celebrity portraits and the river vistas on his doorstep. My lightbulb moment comes with the discovery of the 'A/V' setting on my Canon SLR and its purpose for determining shutter speed and effect on the depth of field. 'A common mistake is shooting the horizon in the middle of the shot and not looking for the leading line,' says Anthony, who runs group courses as well as one-to-one tuition. Following the curve of a brick wall by the river outside, my eye leads me to a pretty pink cottage and I get clicking. Back at the studio, I'm marvelling at the difference a little guidance can make and leave with a print I'm proud to call my own (07387 625074; photographicday.com).
6PM PIN MIL PINT
You can't visit Pin Mill without a pint at the Butt & Oyster. A former haunt for smugglers, it offers panoramic river views and serves up an extensive menu with seafood at its heart. We wash down a starter of pan-seared scallops with local ales before a short journey home for supper (01473 780764; debeninns.co.uk).
SUNDAY AM
10AM STARGLAZING
We're back at Suffolk Food Hall, this time in the airy ceramics studio of Dulcie Walker. Dulcie and her mother Barbara run Starglazing Ceramics, inspiring artists of all ages to let creative juices flow by putting paint to tiles, mugs, plates and even ceramic dinosaurs. Interchanging small round sponges with coloured feathers and hand-made brushes fashioned from twigs, I attempt some basic mark-making using three of my favourite shades. Soon, a simple white mug comes to life before my eyes and, feeling braver, I throw in random darker spots for added contrast. My toddler, meanwhile, is getting to work on his own masterpiece. With a few splats and a bit of finger-smearing, his blank tile transforms into a bright souvenir we'll treasure for a long time to come. The talented duo also run screen-printing, stamping and stencilling work-shops and specialise in ceramic painting parties (07706 040441; starglazingceramics.co.uk).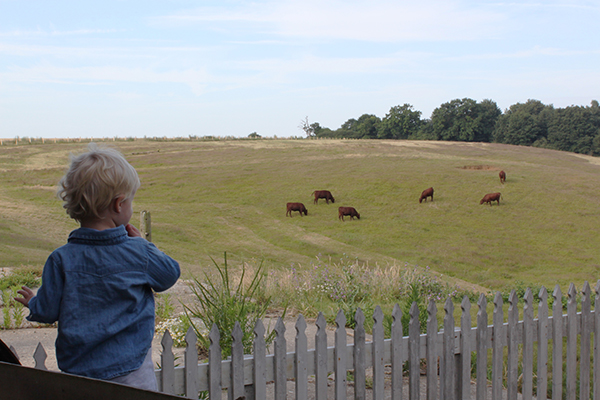 SUNDAY PM
1PM CROSS COUNTRY
After hearing only great things about The Pier restaurant at Harwich harbour, we board the cheerful yellow foot ferry for Essex and dis-embark in a speedy seven minutes (harwichharbourferry.com). The Pier is smart yet relaxed, and brings the best of the sea's bounty straight to the dinner table. We feast on a melt-in-the-mouth sea trout with a delicate orange and fennel salad, followed by a tender roasted hake for main and a good glass of white wine. Starters are priced from £7, mains from £14 (01255 241212; milsomhotels.com).
3PM LOOKING FOR PORPOISES
Before our departure, we follow part of the Arthur Ransome Walking Trail, which begins at either Shotley Pier or Pin Mill. The six-mile walk mirrors the watery adventures of Ransome's fictional foursome on their route down the River Orwell and was set up by community-run walking group Shotley Open Spaces (shotleyopenspaces.co.uk). An illustrated guide has excerpts straight from the story book and while you might have to remember to pack your own ginger pop for the adventure, the rest is here and waiting.
Find more inspiration for weekends away with our Weekend in Wirral, Weekend in Jersey, and Weekend on Tresco, or keep an eye on the magazine for our latest travel features.
NEED TO KNOW
STAY AT…LODGE FARM
The former Arts and Crafts dairy buildings have been converted to three self-catering cottages. Sleeping 2-12, prices for a two-night stay start from £56pp (01473 780215, lodgefarmsuffolk.co.uk). Or Suffolk Hideaways has 38 self-catering cottages (01728 666300; suffolkhideaways.co.uk)
GETTING ON THE WATER
• The Nancy Blackett can be chartered for short day sails or longer passages. Visit nancyblackett.org
• Shearwater Sailing School runs 5-day RYA courses, from £565pp, shearwatersailingschool.co.uk
HOW TO GET THERE
By car from London or Essex take the A12 and A14, then A137. Ipswich Rail Station is served by trains from London Liverpool Street (just over an hour) and Norwich (45 minutes). For more information, go to visitsuffolk.com