A weekend in New Quay on the west coast of Wales, renowned for its sand, seascapes and wildlife, and where beaches are sheltered and pods of dolphins play offshore, as Matthew Pike discovers.
The shallow waters and bountiful food found in Cardigan Bay, on Wales' west coast, create an ideal environment for bottlenose dolphins to live and breed. Indeed, around 250 of these playful cetaceans can be found here, the largest population in Europe. It's not just dolphins but harbour porpoises and Atlantic grey seals that are familiar faces in these parts too, and the occasional sunfish might make an appearance if you're lucky.
At the epicentre of this wave of wildlife is New Quay (so often mistaken for Newquay in Cornwall that you need to clarify it's 'the one in Wales' each time you tell someone where you're going). The Welsh New Quay is a charming town with rows of sugar almond- coloured houses lining the steep hillside. It's a popular spot in summer, yet it manages to maintain a low-key and relaxed vibe. The atmosphere is friendly and joyful, and as you walk past rows of traditional fishermen's cottages, you get the sense that this unspoilt town looks much as it would have done a century ago. From the harbour, boats take visitors out onto the water to spot dolphins, but the creatures swim so close to shore that they can be frequently spotted from the town itself.
Small and compact, everything's within easy reach in this bustling place, including the four sandy beaches – Dolau Beach, Harbour Beach, Traeth Gwyn ('whitesands') and Cei Bach Beach ('little quay') – which makes it especially popular with families in the summer months. For walkers, a beautiful sculpture of a maiden blowing a kiss marks the halfway point of the Wales Coast Path, and there's a dramatic and thrilling trail to the west of the town along clifftops often blanketed in wildflowers. New Quay has literary connections too, and was home to the Welsh poet Dylan Thomas for a time. It's widely believed that it was the inspiration for Llareggub (read it backwards!), the fictional location of his most famous work, Under Milk Wood.
FRIDAY PM – SUPERB SEA VIEWS
I arrive at my static caravan in Quay West Holiday Park, just east of town. Every caravan here, it seems, has a view of the sea and I sit on the deck, mug of coffee in hand, gazing across Cardigan Bay towards far-off Snowdonian summits. The Llyn Peninsula at the northern end of the giant bay is so far distant that it looks like a series of islands poking out of the water. My mind relaxes as my eyes take in the scenic views.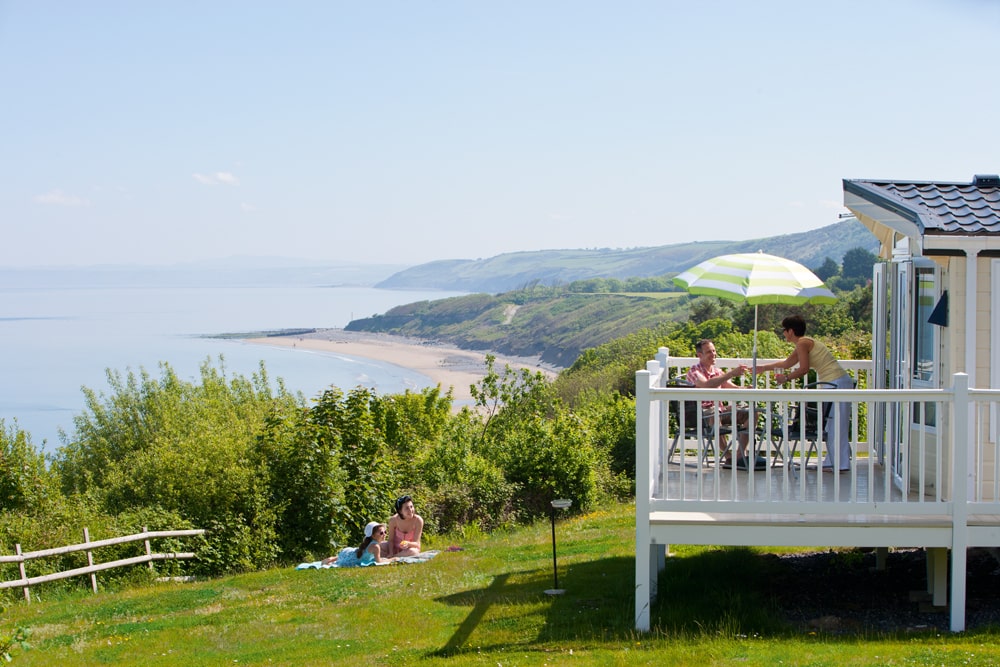 I stroll down to Traeth Gwyn – the beach just below the holiday park. As the town is north-facing and protected from the prevailing south-westerlies, the sea is normally calm in New Quay. Today, a few people are swimming, while several more are walking their dogs, but it's surprisingly quiet and I have plenty of soft sand in which to lie back and listen to the gently lapping waves.
SATURDAY AM – SHELLS AND COFFEE
It's low tide this morning, which means I can head back down to Traeth Gwyn and walk along the shoreline to explore New Quay itself (there's a cliff-top track otherwise). I pass the far more populous Harbour Beach, with several bathers already lining the golden sand and children playing football as the yachts gently bob in the water behind them, protected by the comforting arm of the harbour wall.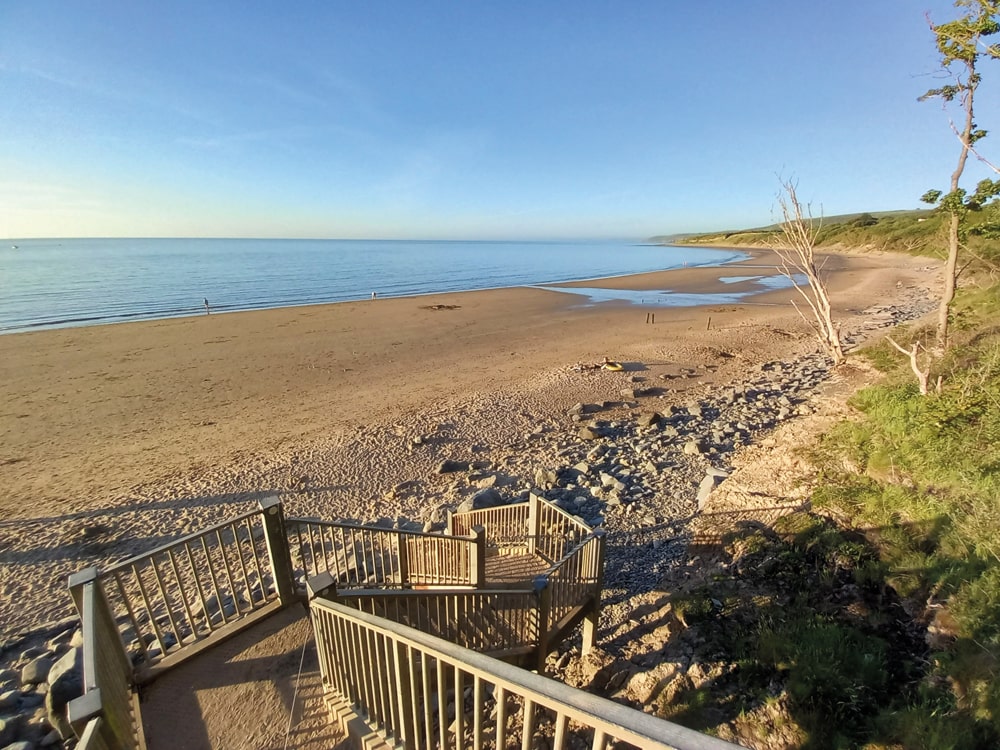 I head up the ramp to become acquainted with the town, first popping into Starfish (01545 561630, facebook.com/Starfishnewquay), a beautifully presented shop with lovely gifts and decorations for the home, then heading up a fairly steep hill of colourful, winding streets. I relax with a perfect flat white in the New Quay Coffee Company café, while watching excited families descend on foot towards the sea, armed with inflatables, buckets and spades (01545 560792, newquay.coffee).
SATURDAY PM – CRAB FEAST
It's time for lunch, and the New Quay Fish Shop catches my eye. It might be little more than a small kiosk, but this is one of the prime spots for sampling fresh local fare. The crab, lobster, prawns and mackerel are all caught in local waters, and are a real treat. Today I opt for a dressed crab, costing £7, which I take to the nearby harbour wall. The meat is full of flavour, so tender and, somewhat surprisingly, refreshing.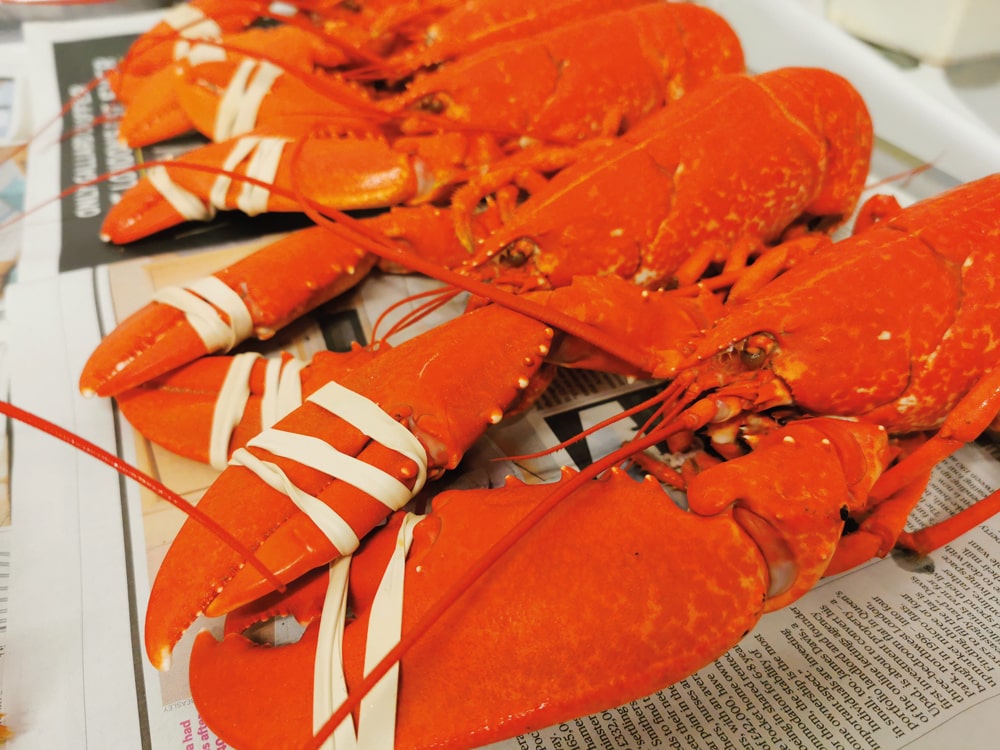 I'm told that the wall is one of the best spots in Wales to see dolphins from the land and, to my amazement, I soon spy two in the distance, rising to the surface every now and then for air. But for all I know they could actually be porpoises, so it's time to get a closer look with someone who knows what they're looking at.
Read next Miranda co-star SARAH HADLAND on childhood memories of New Quay, West Wales
DOLPHIN CRUISE
As exciting as it is to see dolphins from the mainland, I am about to discover that nothing beats taking a boat out to where the pod is frolicking in the water or hunting shoals of mackerel, as I hop on a New Quay Boat Trips vessel. Although you can never guarantee seeing these superb creatures on every voyage, I'm lucky today, as I see several playing in the water with the occasional leap to wow onlookers.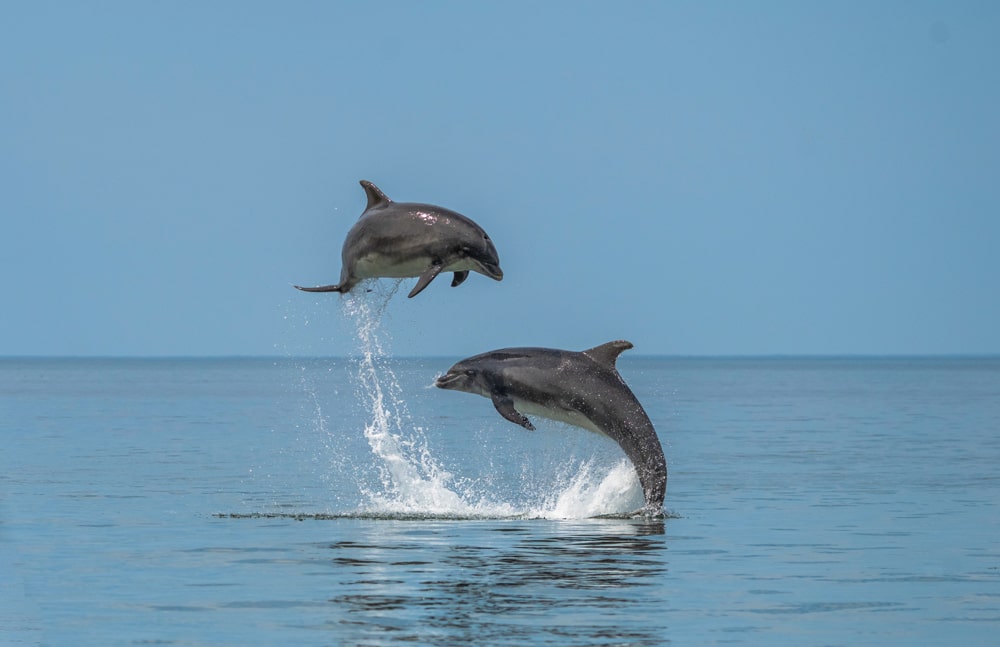 The cruise takes us along the base of high cliffs adorned with noisy seabirds. It's a fantastic experience. The trips range in length between one and two hours, with one-hour excursions costing £15 for adults and £10 for children, and two-hour trips priced at £25 for adults and £15 for children. New Quay Boat Trips also has a private charter vessel for up to 12 people (01545 560800, newquayboattrips.co.uk). Once back on dry land I head to The Pepper Pot Bar and Grill, where I enjoy an irresistible fish and leek crumble. Main meals here start from £12 (01545 560680, thepepperpotbandg.co.uk).
SUNDAY AM – GONE PADDLING
New Quay is known for its sailing, but this morning the water is like glass and there isn't a breath of wind in the air. I hire a paddleboard and wetsuit from Cardigan Bay Watersports. Having tried paddleboarding before, I'm confident I'll pick it up again. After initial wobbly legs I soon get the hang of it, and feel rather like a swan, gliding across the sea with views of the town and surrounding woody hillsides. It's a serene experience and I feel like I could keep going for hours. Hiring a paddleboard for one hour is £20, or a one-hour lesson costs £32 (01545 561257, cardiganbaywatersports.org.uk).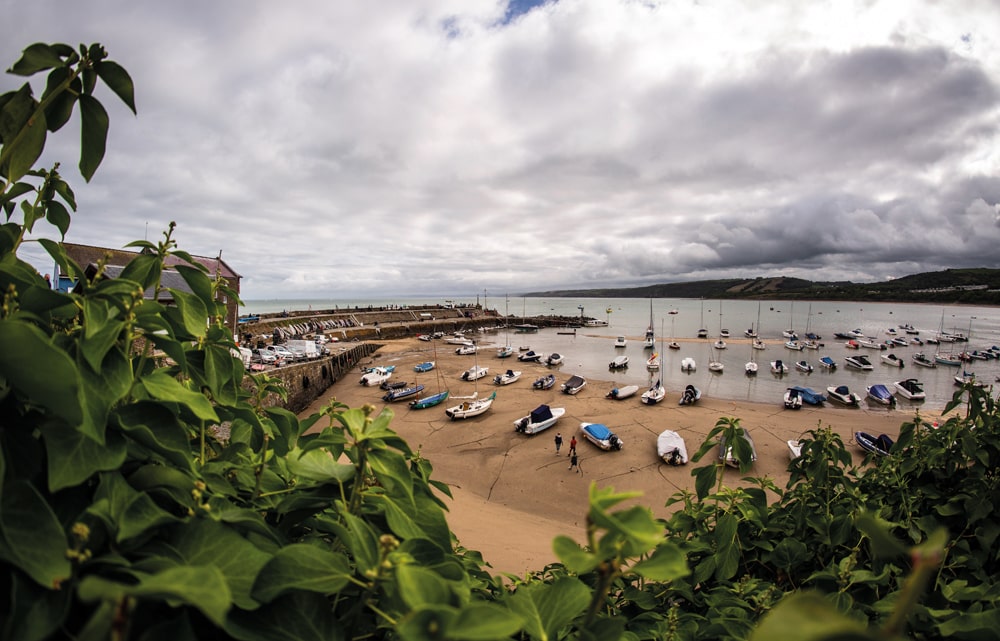 SUNDAY PM – TIME TO REFUEL
Luckily, I have fish and chips to look forward to from The Lime Crab, which is situated right next to the harbour. I opt for traditional haddock and chips with home-made tartare sauce, but this popular seafood eatery also offers more exotic fare – lobster thermidor seasonally, crispy cockles, prawns halloumi, salt and pepper squid and battered scallops, served with sides of homemade slaw and rocket and parmesan salad should you wish. It's even licensed to sell bottled beers, wines and champagne – though it's a little early for me! (facebook.com/TheLimeCrab).
FOLLOWING IN THE FOOTSTEPS OF THOMAS
Even though Dylan Thomas only lived in New Quay for a year, the town left a lasting impression on him. This afternoon I decide to follow a designated trail to the places he frequented, and those included in his writing. It takes me to several pubs (which won't surprise those familiar with the poet's lifestyle), numerous shops on which those in Under Milk Wood were clearly based, and also to his home. Thomas's bungalow has since been replaced, but I can still see the fabulous view he would have enjoyed with his family (newquay-westwales.co.uk/trail.htm).
SUNSET GARDEN
I meander back to town to finish the walk and the weekend at Dylan Thomas' favourite pub, The Black Lion (main meals start at £10.90). There's a large beer garden blessed with wonderful sea views here. It's a perfect evening for me to tuck into a tasty slow-cooked lamb tagine with couscous while watching the golden glow of the approaching sunset reflect against the tree-lined cliffs, the bronzed beach and the rippling water below (01545 560122, blacklionnewquay.co.uk).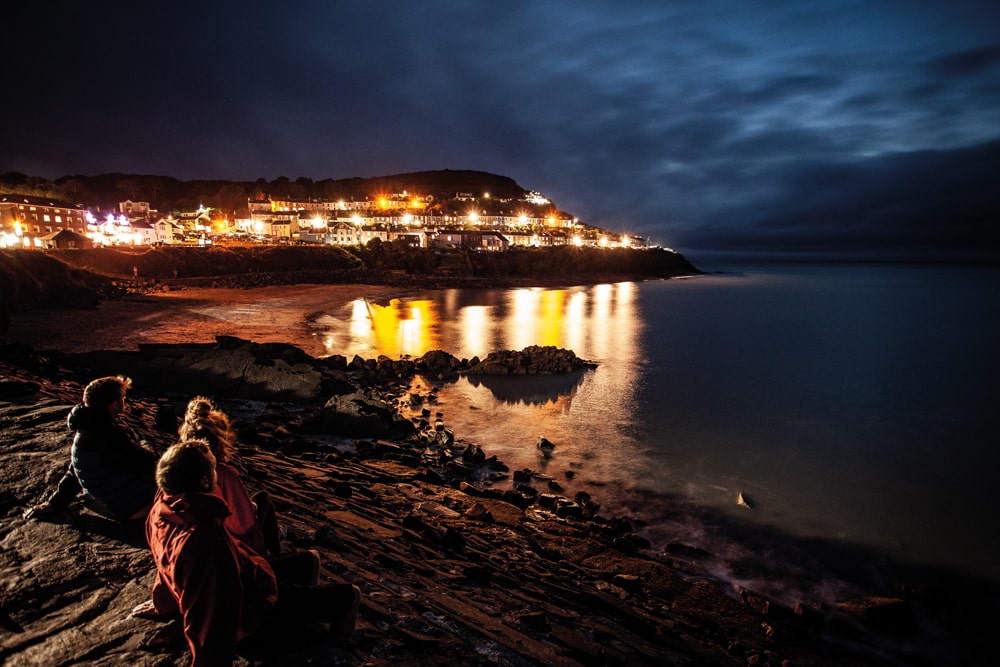 WHERE TO STAY IN NEW QUAY?
coast stayed at Quay West Holiday Park, where stays for a family of four start at £100 for a three-night weekend getaway. The park has a restaurant, amusement arcade, two swimming pools and beach access (0333 2025250, haven.com).
Cei Bach Country Club is a campsite overlooking the wonderful dog-friendly beach of the same name (to which it has direct access), less than two miles east of New Quay. Pitches start at £22 per night (01545 580237, cei-bach.co.uk).
Self-catering cottage San Remo sleeps up to eight people and is located in central New Quay with an incredible sea view for dolphin-spotting. Prices start from £510 for a two/three-night weekend stay (01239 810033, westwalesholidaycottages.co.uk/san-remo).
FIND OUT MORE ABOUT NEW QUAY
Discover seaside homes to buy in Wales, discover more weekend coastal breaks or pick up the latest copy of coast magazine for more coastal escape inspiration.