The British Isles coast has everything you could wish for in a holiday. Discover our pick of the best staycations destinations by the sea. Words by Alex Fisher
SILVERLAKE, HABITAT FIRST, WARMWELL, DORSET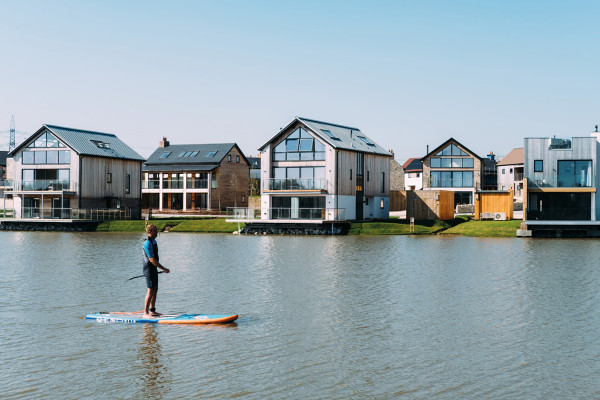 WHAT'S THE BUZZ? The last thing I want to do when I'm enjoying a holiday with my friends or family is waste time stuck in traffic… And one of the things I love about this stunning new staycation offering near Weymouth in West Dorset is that you can just park up and leave the car for your entire stay; there is so much to do on-site there's no way you're going to waste precious time driving from one location to another.
As well as a stunning outdoor pool, steam room and treatment rooms, there's a whole variety of watersports you and your family can take part in. All the equipment you need for paddleboarding, kayaking and wild swimming is here, and you can also book a bike, a slot in the tennis courts or explore The Island, a wooden play area with a zip-wire, tepee, swings and slides hidden in the forest. The Silverlake site is surrounded by a nature reserve, where you can go birdwatching, and possibly spot woodlarks, sand martins and nightjars. You can also take a nature trek, keeping an eye out for otters, Sika deer, Dartmoor ponies, rare butterflies and foxes.
HOW ABOUT THE FOOD? There are two places to eat on the estate. The Hurricane Terrace & Bar was gorgeous when we visited as the weather was good enough to sit outside, and the views across the nature reserve as the sun sets are beautiful. Here, they serve a selection of light lunches and suppers including a goat's cheese salad or a curry of the day. On Saturday night there are wood-fired pizzas from the Pizza Shack, which can be pre-ordered and delivered to your property or eaten in the luxurious yurt just next door. Mains cost from around £12, sourdough, hand-stretched pizzas start at just £8.
HOW ECO-FRIENDLY IS IT? Silverlake has been partially built on an old sand quarry and the former RAF station at Warmwell, and there is an integral commitment to restoring the natural landscape. Around 87 hectares of new habitat creation will take up a large percentage of the whole site. Work includes planting more native hedgerows and trees, and building bird and dormouse boxes as well as bat roosts. Many of the properties have been built using recycled timber and sheep wool insulation and some also have living roofs.
HOW ACCESSIBLE IS IT? The communal facilities have a disabled toilet and a lift to the Terrace Bar. There is level access to the spa and pool surrounds via side gates and a hoist and wide steps available for pool use. Footpaths on the wider estate can be uneven in places, but property access is generally level. Each property is an individual design, so do check when booking in relation to that property if you have any special requirements.
WHAT WILL IT COST? We stayed in beautiful Maple House, which sleeps up to 8 people and costs from £749 for a three-night stay. This modern property has floor- to-ceiling windows that look out onto the lake, along with both indoor and outdoor dining spaces, and plenty of parking.
HOW DO I BOOK? Call 0333 2416616 or visit habitatescapes.com/silverlake.
CLIFFTOPS, PORTLAND, DORSET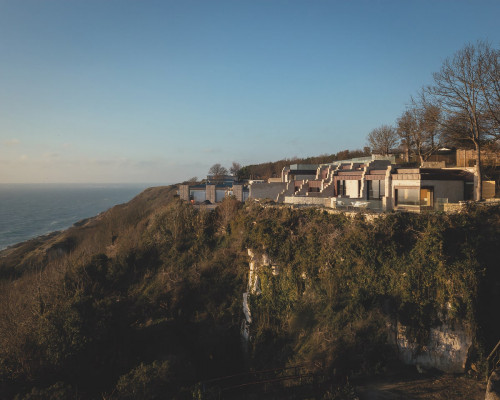 WHAT'S THE BUZZ? These jaw-droppingly beautiful holiday lodges officially opened just two years ago. Sitting high on the clifftops on the Pennsylvania Castle Estate, they have panoramic views across the English Channel. Hewn from local sandy-coloured Portland stone and wrapped in copper that will gradually be patterned by the elements, this impressive development has a unique look and feel. Inside, the contemporary styling complements perfectly the natural stone walls and floors, with simple wood, wool and cotton textiles and subtle colour palettes combining to create a truly stunning, yet calm, atmosphere. The generous outdoor spaces make the most of the view and offer everything you need for outdoor dining as the sun sets.
Beyond the lodges, there is a winding path that takes you through the ruins of 15th-century Rufus Castle, where ivy-covered archways frame the vista to the sea beyond. Continue your descent and you will reach Church Ope Cove, a secluded pebble beach peppered with beach huts and perfect for a dip. Here, you can also connect with the coast path, and take a longer walk around the island. However, if you want to explore, I can recommend doing this on horseback. Don't worry if you are just a beginner – the lovely people at the Chesil Equestrian Centre will carefully guide you on a spectacular ride from Sweet Hill Farm down to the Portland Bill Lighthouse, where you can watch the waves crash against the rocks and weave between the higgledy-piggledy beach huts that cling to the coastline. Perfect. (To book, call 01305 823719 or visit chesilequestrian.co.uk.)
ANY LUXURY TOUCHES? The whole development is deeply luxurious – along with free WiFi there are Bose portable sound systems, Samsung smart TVs and underfloor heating.
HOW ABOUT THE FOOD? If you pop into Weymouth, just a 10-minute drive away, you have some fantastic fish restaurants to choose from. My favourites are Catch, a new fine-dining restaurant that sits on the working harbourside and has beautiful views over the water, and The Crab House Café, which offers local seafood in a relaxed setting, perfect for those days you can eat outside. But the Clifftops properties have well-equipped kitchens, and dining tables both inside and outside, so I'd also recommend picking up some of that local seafood, fresh off the boats from the fishmongers just below Catch, and cooking at home where you can make the most of the sea views from your holiday accommodation.
HOW ECO-FRIENDLY IS IT? The lodges have solar panels to provide some of their electricity, and the design, with large windows, means there is high solar gain. The stone the lodges are built from is local, and the estate installed the first electric car charging point on the Isle of Portland. Clifftops is surrounded by planting that has been carefully curated to attract local butterflies and birds.
HOW ACCESSIBLE IS IT? Blue Lodge is available on a single level, making it more accessible. Be aware the parking is a little distance from the accommodation, and it is not possible to park right next to the properties themselves.
WHAT WILL IT COST? Prices for seven nights in low season start from £1,050, rising to £2,082 in high season.
HOW DO I BOOK? Call 01305 8290918 or visit thepennestate.co.uk.
SKYFALL, FALMOUTH, CORNWALL
WHAT'S THE BUZZ? You'd be hard pushed to find a room with a better view than Skyfall's master bedroom. With double-aspect, floor-to-ceiling windows, and curtains that open or close at the press of a button, this really is one of the most outstanding rooms I have stayed in. This brand new, two-floor apartment overlooks sandy Gyllyngvase beach, a sheltered bay that is perfect for swimming, SUP (to book lessons, call WeSUP on 01326 311830) and fabulous coffee and croissants in the Gylly Beach Café. There's even a shower in the car park below, so you can wash off the sand before heading back up to the accommodation.
The apartment has three bedrooms and three bathrooms, a huge living room with fabulous sea views, with a modern, open-plan kitchen and dining area for eight, as well as a snug. The wraparound balcony houses sofas perfect for lounging and sunbathing, along with another dining area. From this super stylish eyrie, you can see for miles across the ocean, and have a completely uninterrupted view of the stunning sunsets the location offers. With so much to do on your doorstep, this apartment is the perfect location for a family holiday or weekend away.
WHAT ELSE IS THERE TO DO? As well as SUP and swimming, you can visit the National Maritime Museum Cornwall and Pendennis Castle, both great days out with or without kids. There is a fantastic array of sub-tropical gardens around Falmouth too, Trelissick and Trebah being two of my favourites. Trelissick is run by the National Trust – go to nationaltrust.org.uk/trelissick or call 01872 862090. For more information on Trebah, go to trebahgarden.co.uk. Both gardens have good cafés.
HOW ABOUT THE FOOD? Falmouth is full of excellent places to eat. There are plenty of options around the harbour area, including Hub Box, the trendy burger chain that offers cool interiors with waterside views, craft beers and everything burgers, as well as award-winning vegan options.
If the sun is shining, there is a lovely decking area (to book, call 01326 761338, Hub Box also delivers). If you are looking for a traditional Sunday lunch, try The Working Boat – this great gastro pub sits right on the estuary and offers excellent food with views at reasonable prices (booking is essential, call 01326 314283).
HOW ECO-FRIENDLY IS IT? There are separate bins for recycling, and you can park your car in the car park below and not get back into it until you need to go home; Falmouth has great beaches and plenty of activities and places to visit. The town also has two train stations, so you could even avoid bringing a car altogether.
HOW ACCESSIBLE IS IT? Skyfall is on the fifth floor of a newly built block and is accessed by a lift. The apartment is on two floors, with a double bedroom and bathroom on the ground floor, along with the living space and balcony. There are stairs to the second floor, where there are two en-suite bedrooms and a snug.
WHAT WILL IT COST? From £1,390 for a three-night stay or from £1,835 for a seven-night stay in low season. In July/August the starting rate for a seven-night stay is £4,795. It can sleep eight people.
HOW DO I BOOK? Call 01637 861005 or visit beachretreats.co.uk/self-catering/Cornwall/falmouth/skyfall.
Discover more staycation destinations by the sea, Large Holiday Homes for all the Family or pick up the latest copy of coast magazine for more travel ideas.