coast contributor William Thomson shares the sense of freedom and empowerment seafaring brings as he finally realises his dream on an epic family sailing journey.
For a long time it had been my dream to sail the world, but as the years went by it stayed just that – an abstract idea, always out of reach, too immense to become a reality. There were two main hurdles that got in the way; firstly, I didn't know how to sail a boat big enough for a circumnavigation. Secondly, I didn't have enough money to buy such a boat. So time passed and I scraped by, paying the monthly bills and watching my children, Ottilie and Arva, get older, eagerly awaiting the occasional van trip during the all-too-short school holidays.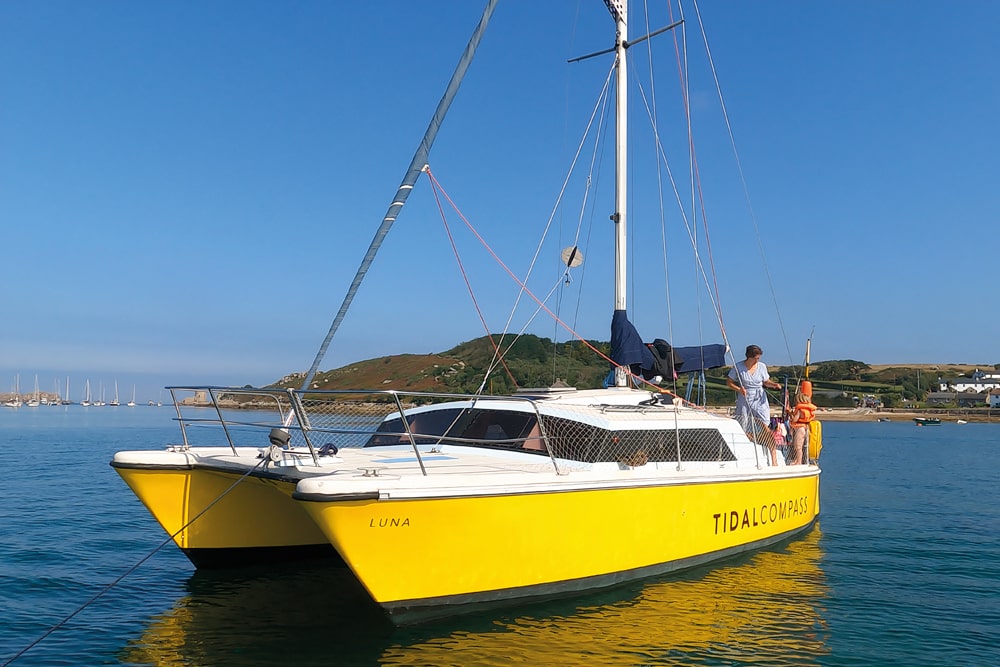 It was on one of these trips that everything changed. We were pulled into a lay-by on a hill high above the water, overlooking Ulva on the west coast of Scotland, when I spotted a small yacht far below, anchored in a beautiful little cove nestled within the island. They were exactly where I wanted to be, but could not get to. I needed a boat. And at that exact, life-changing moment, I decided it was time to take firm action and start making my dream a reality.
Read next… Tall ship sailing in the Hebrides
PREPARING TO VOYAGE
The first task was learning how to sail. I started by getting the MiniCat, an inflatable sailing catamaran that fitted under the bed in the van and assembled into a 4.2m-long speed machine, teaching me the principles of catamaran sailing (I wanted a multi-hull because they make ideal family boats and are perfect for exploring shallow coastal waters).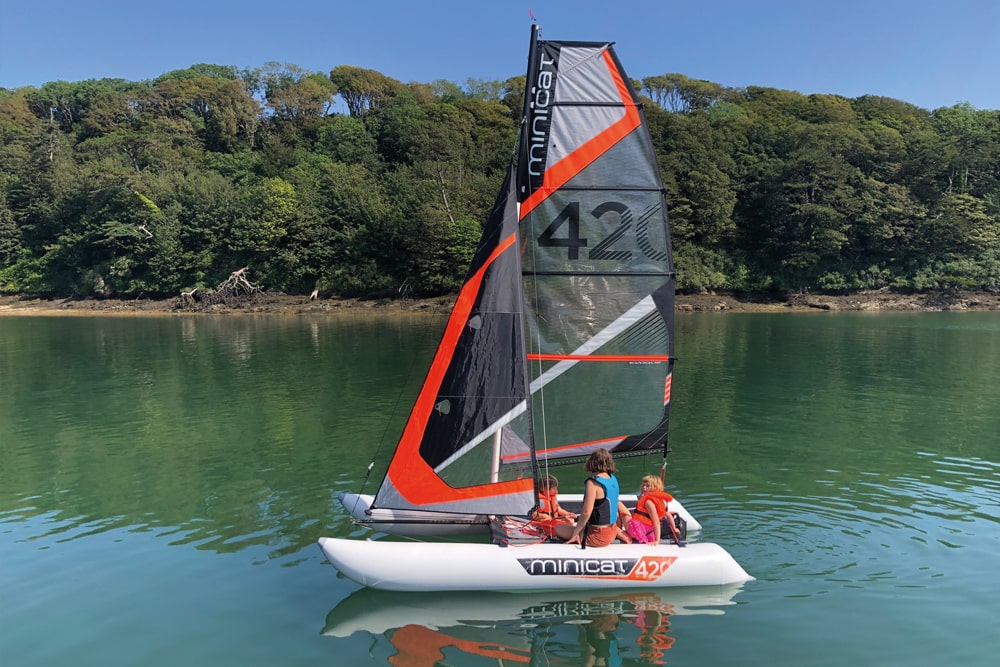 The next thing I did was acquire a library of books and placed them everywhere – by the sofa, on the bedside table, in the bathroom, next to the kettle, in the dashboard of the van (ideal for quick reading while waiting for traffic lights). I never spent more than a few minutes at a time reading each book, but over two years this added up to hundreds of hours and I learnt how to read charts, navigate by the stars, what different buoys mean, who to give way to at sea, how to tie knots, anchor a yacht, raise and lower large sails. I now had the knowledge; we just needed a boat.
There are two main catamaran brokers (estate agents of the sea) in the UK; Multihull World in Emsworth, Hampshire, and The Multihull Centre near Plymouth in Devon. I visited both and signed up to their monthly emails, waiting for the right boat to float onto the market. Our budget was small and we couldn't afford a fully equipped expedition yacht. Instead, my plan was to buy a cheap old boat with a solid design and kit it out myself, with just the bare essentials. Every month, I scrutinised the boats for sale, but there was never one that ticked all the boxes – until one day a 1977, 31ft catamaran popped up. It was a mess both inside and out, but the structure was sound so I put in an offer, which was accepted.
We started with the 'Day of Destruction', as my partner, artist Naomi Tipping, and I ripped out corroded electrical wires, ancient navigational equipment, dangerous gas pipes, mouldy lining, frayed ropes and rusty rigging. This, of course, made the catamaran look even worse, but we compartmentalised the tasks and tackled them one at a time for six months straight. Slowly, the list got smaller, the boat started looking seaworthy and most importantly, we acquired the skills to fix almost anything that might break (the ocean can be a rough place).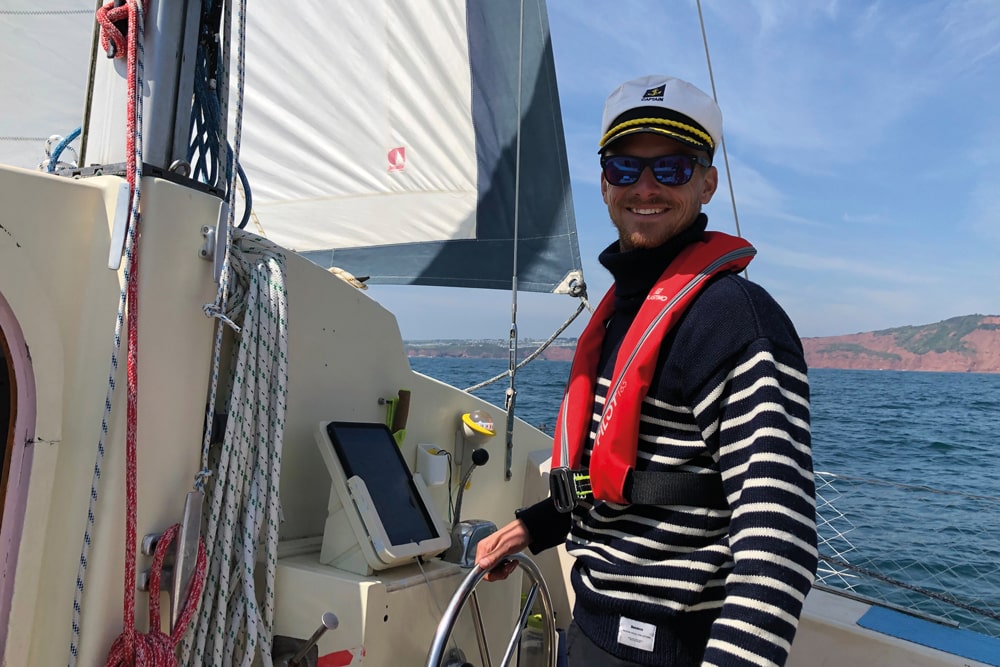 SAILING AWAY
Finally, we were ready. Bright yellow Luna was lifted into the air by a huge crane and gently lowered onto the water. She floated! We started with a short cruise around Chichester Harbour and had our first night on a mooring buoy in Itchenor, falling asleep to the magical sound of water running along the hulls. At sunrise we raced into the Solent and flew up to Cowes, but just upstream of the chain ferry, in the last place you want to break down, smoke started pouring out from the engine bay. Luckily we were near an empty pontoon, so cut the engine and drifted alongside. After several hours on YouTube we managed to semi-fix the problem and headed to Weymouth, where a mechanic replaced the cooling pipes to a smaller diameter.
Our plan was to push west to Falmouth then south across the Bay of Biscay, however, while waiting for favourable conditions to round Portland Bill, the UK went into lockdown, so we spent the winter in Weymouth. After a cold, damp six months, Luna finally rounded the Bill in spring and we headed to Falmouth with dolphins riding our bow wave and sun sparkling on the sea; life was great, sailing a joy. Just as I was thinking how well everything was going, we turned on the engine to make the final approach into Falmouth Harbour but a strange hissing noise sound started. I opened the engine door and found oil spraying through the entire compartment; the alternator had slipped from its mounting and cracked the oil filter.
With the engine out of action and the conditions not safe to enter the harbour under sail, we accepted a tow into Falmouth from a passing boat. Once again this vital part of our boat – the engine – had let us down; it was the one element that I had not personally rebuilt during the renovation and now I was paying the price. To make matters worse, a fortnight later the cooling stopped again, just as we were leaving Falmouth – exactly like in Cowes but without the smoke. I sat in the cockpit, head in hands, furiously cursing my decision to buy an old boat and take it on this crazy quest. But at the same time I was getting more confident with the mechanics, so I took apart all the elements of the cooling system and went through them one at a time, discovering that water wasn't running through one of the pipes. With a metal wire I prodded the tube and what came out? An acorn shell wrapped in seaweed! I put everything back together and the engine fired up perfectly.
BOAT BONDING
This was a major turning point in my attitude to sailing because I realised it was not Luna's fault; it could have happened to the most expensive, well-equipped yacht. Furthermore, I came to appreciate that her basic systems are actually an advantage because they are easier to fix, which is important when you are on a trip; any seasoned sailor will tell you that cruising is all about fixing your boat in beautiful locations. So, with a growing bond to Luna, we set sail for the Isles of Scilly. With Land's End fading from view, I thought of the times I used to park the van up on those hills, gazing out at the sailing boats and wishing I was in one. And now that dream was a reality; it had been a long and tough journey but we were where we wanted to be, racing over the sea in a bright yellow catamaran, waves breaking all around and wind whistling through the rigging.
The emotions these conditions create are incomparable to anything I have ever experienced before; a sense of life heightened, a blend of euphoria and adrenaline, fear and awe, a trust building in Luna and my own abilities. But the best part was getting there. Out of the empty sea a haze appeared, growing more defined with every hour until it filled our entire vision, a 360˚ panorama of rocks, white sand and crystal-clear water – the Isles of Scilly – our home until winds and tides moved us onwards around the world.
coast contributor William is the author of two books, The Book of Tides and The World of Tides. Boost your knowledge of the sea and enhance your safety and performance by signing up to his online Tide School, tide-school.com.
Feeling inspired to book a sailing holiday? Check out 7 of the best sailing adventures in the UK, consider sailing in the Isles of Scilly or pick up the latest copy of coast magazine for more marina and harbourside news.