On the East Sussex coast, the bohemian seaside city is a colourful mix of arts, laid-back-beach culture and historic architecture. Words: Lesley Gillilan. Illustration: Tom Jay
It was the Victorians who first coined the name 'London-by-the-Sea', and though Brighton is now conjoined with Hove to become a city in its own right, the saying still rings true. Jaded Londoners with a yearning for sea air often head this way – and not just for the weekend. This bustling East Sussex metropolis has everything a city should, plus miles of shingle beach, a pier, a flamboyant former Royal Palace and some of the country's finest Regency architecture.
Ex-Londoner Caroline Clifton adds parks, pavement cafés and world-class people-watching to Brighton's long list of attractions. And moving here, she says, has really improved her quality of life. 'Everything's so close in Brighton, compared to London. It's lovely to be able to walk everywhere and there's so much to do.'
Caroline agreed to move from London, when her husband – a native Brightonian – said he'd like to return to his seaside home. She tried commuting for a while, but found she didn't have a life in either place. 'I was just sleeping here,' she says. Eventually Caroline gave up her London job (she worked as a merchandiser for a national retailer) and found one closer to home.
Now, she juggles motherhood (she has three young children, including twins) with running her own business. Her gift shop, Present in the Laine (presentinthelaine.com) is one of hundreds of small businesses that crowd the narrow streets of Brighton's North Laine and the Lanes ('those higgledy piggledy streets where you can easily get lost').
She enjoys Brighton's youthful, bohemian vibe: it's party central, gay, green-minded (the town delivered Britain's first Green Party MP), quirky, arty and creative. 'Half the people in Brighton are artists,' laughs Caroline. Living near Preston Park in central Brighton, she is sandwiched between the sea and the South Downs (the latter only 10 minutes' drive). And she still gets a London fix once a month. 'You can just nip up for the evening,' she says. 'But Brighton is home now – I can't imagine living anywhere else.'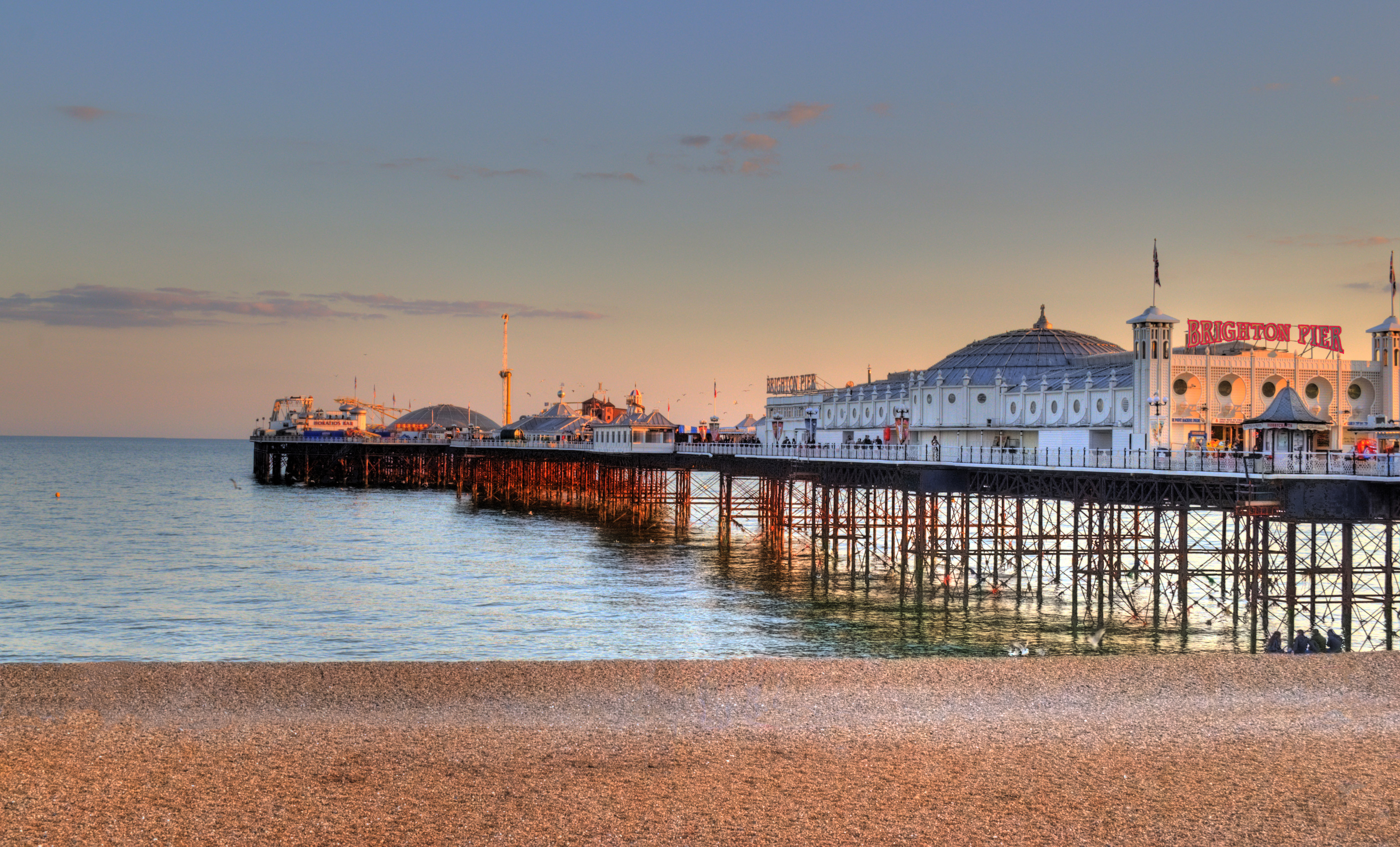 Brighton Pier. Photo: Mitotico/Shutterstock
WHERE TO BUY
At the upper end of the market, explore the handsome stucco-fronted terraces, crescents and squares of Regency townhouses that line the seafront from Kemp Town to Hove. All pilasters, porches and curved wrought iron balconies, most are Grade II-listed; a few are Grade I (Hove's Brunswick Terrace, for example, or Kemp Town's Sussex Square); complete houses are rare, but the best conversions offer vast seaside apartments. Hove is the more expensive place (four to five-bedroom Regency houses priced from £1 million). Kemp Town, to the east of Brighton Pier, is a happy mix of beautiful houses and bohemian street-life (four-bedroom houses from around £500,000). For modern apartments head for Brighton Marina. For slightly cheaper property and a quieter life, head inland to Victorian urban villages like Preston Park or Clifton Hill.
TIME OUT
All year round, there is so much going on in this city, for foodies, fashionistas, shopaholics and anyone who enjoys music, arts and entertainment (stage shows at the Theatre Royal, concerts at the Brighton Centre, cabaret at Komedia). For the active, there is cycling, sailing, sea-kayaking and a sports centre on the beach. Brighton's colourful and quirky annual events include Brighton Festival (May), Gay Pride (August) and the Fiery Food Festival (September). Among museums and galleries, George IV's eccentric Brighton Pavilion is one of the UK's most visited tourist attractions. There are markets to mooch around (for food, vintage items or crafts). And from vegan to Vietnamese, there are dozens of great restaurants, cafés and bars (too many to mention). For more, see visitbrighton.com.

Brighton ferris wheel. Photo: William Perugini/Shutterstock
JOBS & COMMUTING
Brighton has a strong jobs market, particularly in arts and education (at the University of Brighton for example), and it's a fantastic place to open a shop, restaurant or boutique hotel. Many Brightonians choose to do a daily commute to London – from Brighton Central, some of the nippier trains do the 53-mile journey to Victoria in around 50 minutes. By car, it can take longer (at least 90 minutes), but Brighton has good road connections via the A23 and A27. Gatwick Airport is a handy, half-hour away.
SCHOOLS
Most of Brighton's state secondary schools are rated by Ofsted as Good, including Dorothy Stringer School (a co-ed comprehensive for 11 to 16-year-olds). Brighton, Hove & Sussex Sixth Form College is rated as Outstanding. Local independents include Roedean and Brighton College.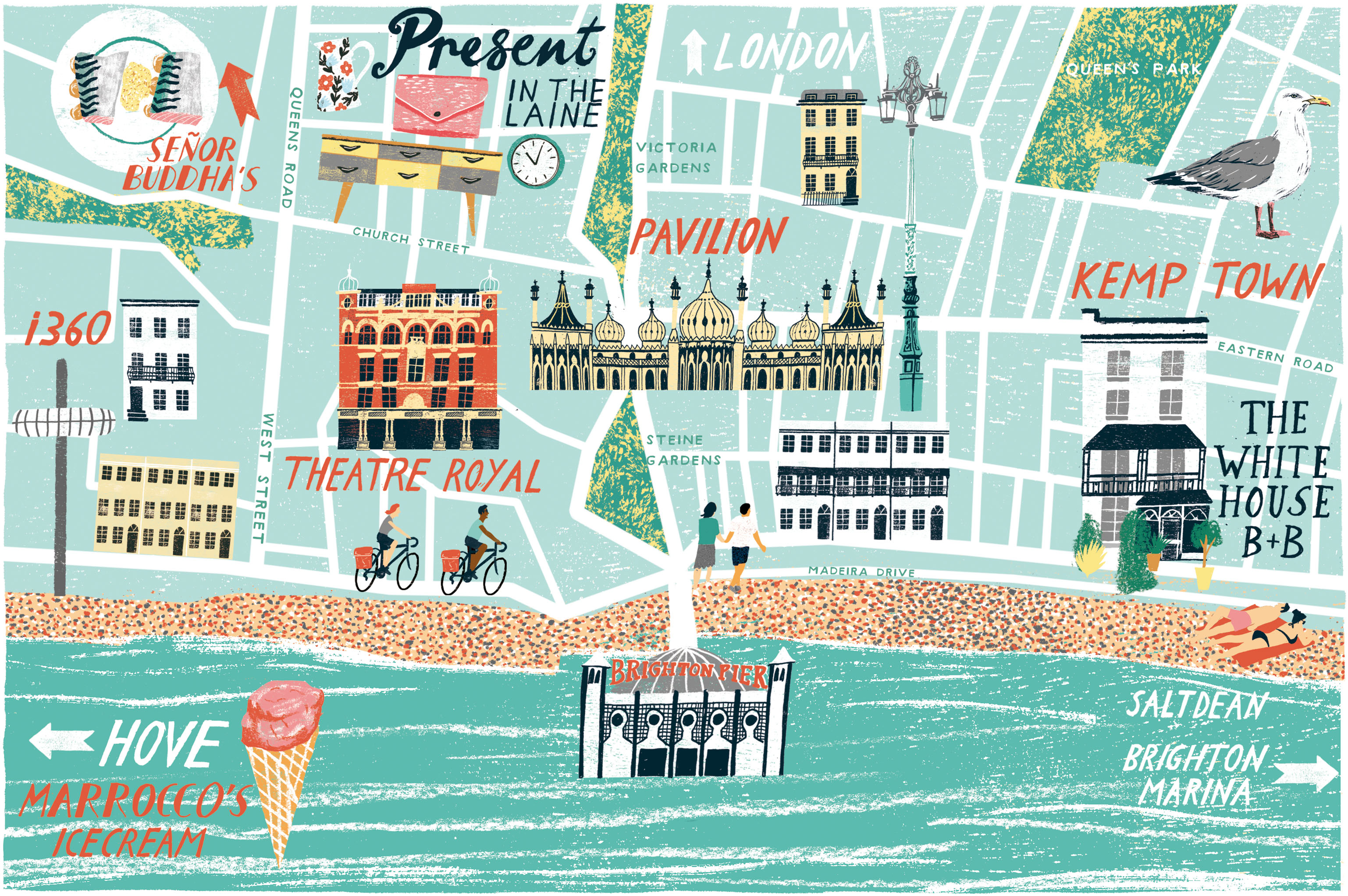 Map of Brighton. Illustration: Tom Jay
REALITY CHECK
Remember this is a city, with all the grime and crime associated with urban life. Schools tend to be over-subscribed and the number of tourists can be overpowering (eight million a year at the last count). Caroline admits that she tries to avoid the central seafront on busy weekends.
ATTRACTIONS
The city is celebrated the arrival of British airways i360 in 2016, the world's first vertical cable car, designed by the architect behind the London Eye and taking pride of place on Brighton seafront. The futuristic glass viewing pod doubles up as a Sky Bar in the evening. And the iconic Saltdean Lido is set to recieve £1.1 million funding to finish the refurbishment of its Art Deco pool and Grade II-listed building.
Read about moving to other places in East Sussex, Rye Bay and St Leonards. And look out for our 'Move To…' feature in the magazine.
WHAT CAROLINE LIKES ABOUT… BRIGHTON
The number of new restaurants and shops that are constantly popping up.
Walks on the coastal paths around Rottingdean (you can cycle there, via Brighton Marina), or to the quieter end of Hove, for a stroll along the seafront and an ice cream at Marrocco's (marroccos.co.uk).
SeaLife Brighton (01273 604234, visitsealife.com), the world's oldest operating aquarium. 'Right by the pier on Marine Parade, it's a good rainy day option, especially for families.'
WHO'S WHO?
A magnet for writers, musicians and entertainers, Brighton and Hove is home to celebrity couple Zoë Ball and Fatboy Slim, as well as David Walliams, Steve Coogan, Julie Burchill. Nick Cave and, occasionally, Noel Gallagher.
CAN YOU AFFORD IT?
Hove: £479,741
Brighton: £450,200
East Sussex: £388,638
UK: £249,000
Average house prices: [April 2016]. Source: Rightmove