Persuading teenagers to come on holiday can be a tricky task, with phones, friends and festivals – so mum of one, Suzy Walker, tried a good old-fashioned adventure sailing in the Isles of Scilly with her teenage son to tempt him out onto the seas
My son Charlie, 18, is leaning out over the side of the yacht hollering with joy. 'Best holiday ever,' he yells, as we zip along the glittering surface of the Atlantic, the sails of our yacht powering us forward from Penzance to the Isles of Scilly. It is our last holiday before my son goes to university and I want it to be a memorable one. With a busy social life, summer jobs and girlfriend, it's hard to get him to spend any time with me, never mind go on a week's holiday. But by booking a sailing trip to the Scillies on a 42ft yacht, inviting his lovely girlfriend and my friends with their teenagers, the proposition is exciting enough to hook him.
But what's not to love? After a year and half of lockdowns, we are free and heading for an archipelago 28 miles off the Cornish coast, famed for crystal-clear waters and white powder beaches. They are not exaggerating when they say it's like the British Caribbean. We are being taught to sail on Baloo, a sailing boat with a centre cockpit (making it very safe), by Duncan Monteith, a qualified sailing instructor with an MSc in Outdoor Education who runs the business with his partner, Claire Rowley, his secret weapon. Claire is an ex-BBC journalist and drama teacher who gives coaching sessions to teenagers on how to build their confidence.
Baloo is a beautiful old boat with a dark wood interior comprising a galley kitchen, two double cabins, two bunk beds and room for two to sleep in the living area ('saloon' in boat talk) if needs be. It's cosy for six but it means everyone interacts – no room for any sullen teenagers on this boat! During the five-hour trip across to the Isles we learn the principles of sailing and how to tack the boat. It's great to see the teenagers occupied with the sailing and disconnected from their phones but connected to nature and to each other.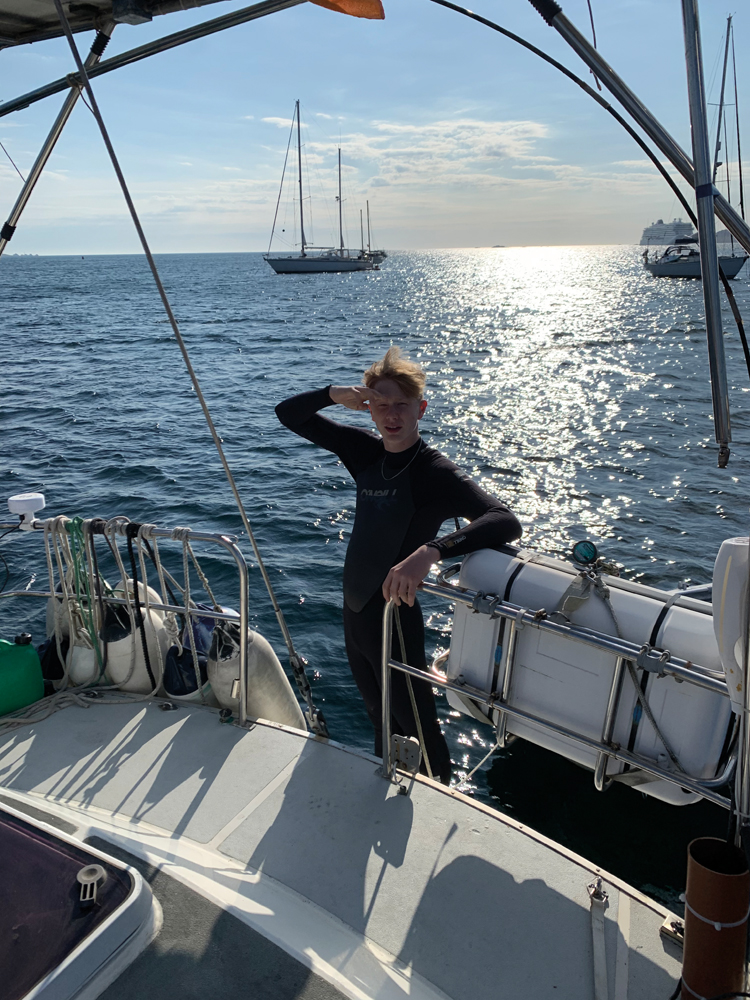 The low-lying archipelago appears on the horizon. We drop anchor at St Mary's, the largest island (population 1,800) and gateway to the rest, and head off for a beach picnic followed by a game of rounders. By 11pm we're back on board, being rocked gently to asleep, bedtime before midnight is unheard of at home.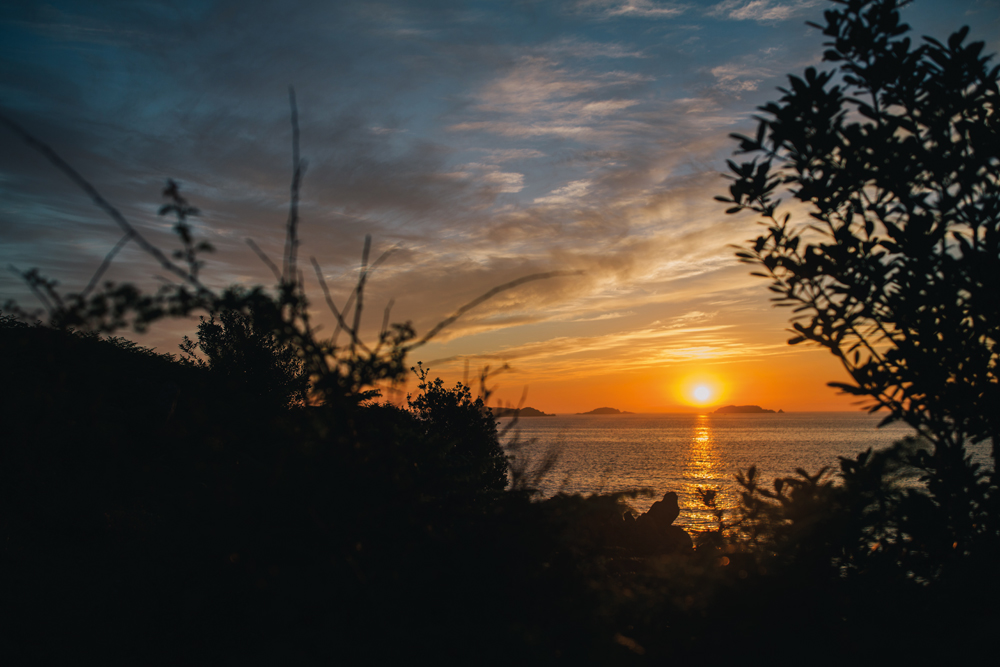 POWER TO THE PEOPLE
It's day two and everyone is excited and up early (again, unheard of) for a pre-breakfast swim, before we explore St Mary's six square miles by bike. Being on the Isles of Scilly feels like going back to a more innocent time. Islanders don't lock their doors, their children are allowed to roam free over the island and it feels like you've stepped into an Enid Blyton book. St Mary's has a bustling harbour with galleries, restaurants and three beautiful beaches. When we stop for coffee and cake, Claire gives an impromptu confidence coaching session on the promenade. It's not just the teenagers who learn something. Claire had us in fits of laughter as she teaches us to 'stand and find our voice' as we learn to 'own the beach' by 'powering up our personal presence'.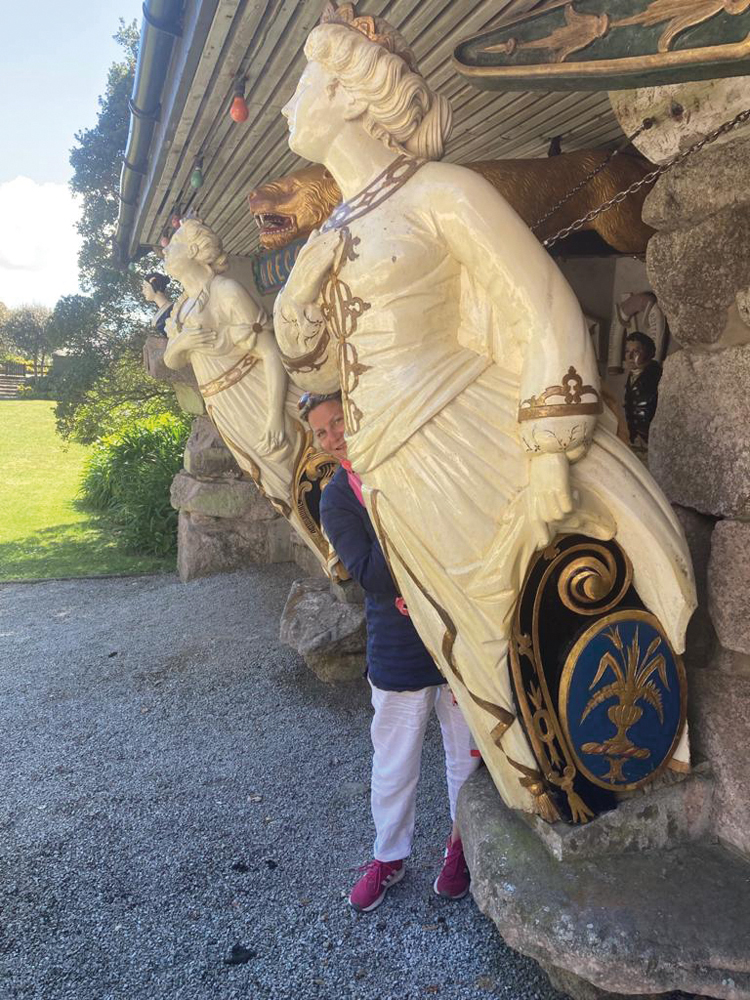 Heads up, chests out, oozing charisma, Bryher's 80 inhabitants don't know what hits them when we land there for a walk and a lobster lunch, freshly caught that morning, at award-winning Island Fish café. After sunbathing and swimming, Claire has us all telling stories around a beach campfire based on the theme of a haunted island. Bryher was notorious for shipwrecks in the 18th and 19th centuries. 'What if the ghosts of those poor souls still walk this very beach,' she whispers, prompting much discussion and ghost stories galore. It takes slightly longer for everyone to settle down to sleep that night is all I'm saying.
SHIPWRECKS AHOY
Our third day dawns and we move on to Tresco, the second largest island at 2.2 miles long. We get to see the rocky outcrops, the ruins of King Charles's Castle (built in the 1500s to protect against French attack) and then drop anchor just off a secluded sandy beach where Duncan cooks a brunch of bacon and halloumi rolls.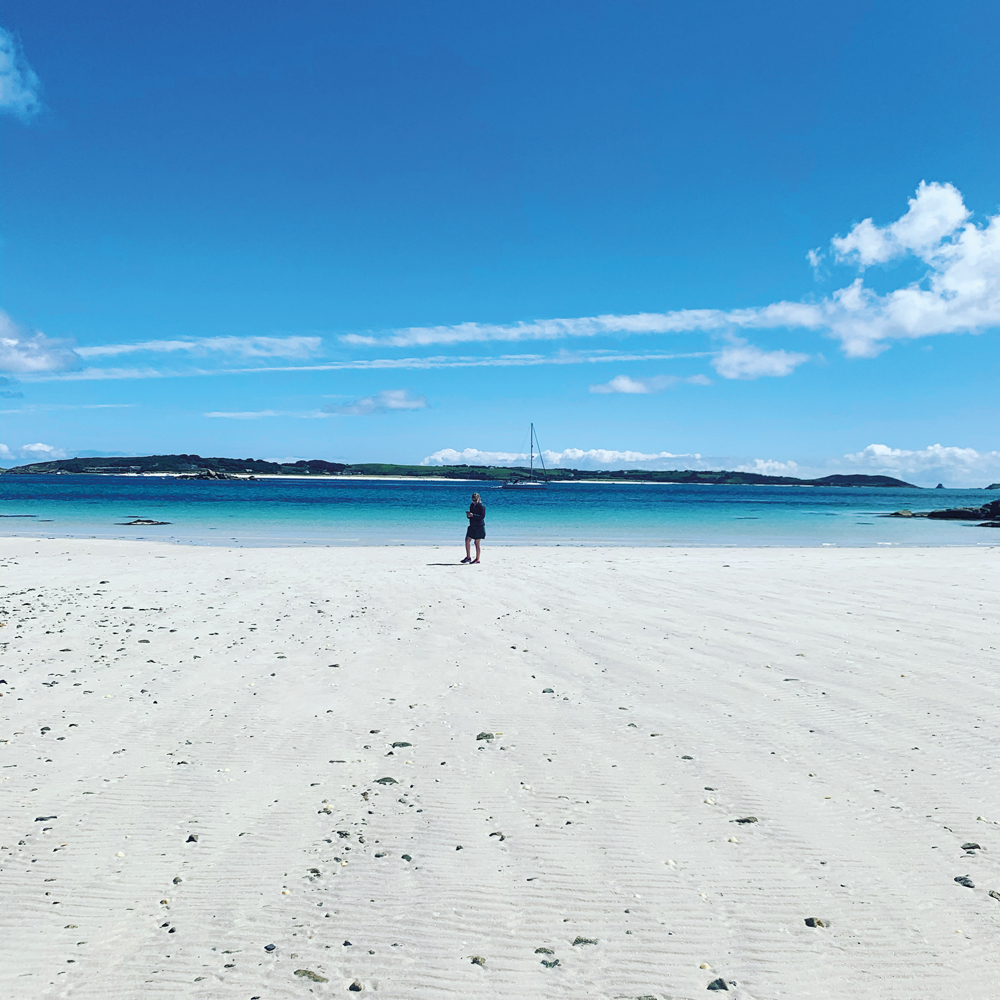 After a swim in crystal-clear waters, we hire more bikes and cycle to the world-famous Tresco Abbey Garden, which was established in the 1830s and hosts a subtropical treasure trove of plants, collected from all corners of the world. The gardens are also home to The Valhalla Collection, a devastating display of figureheads salvaged from the islands' 1,000-odd shipwrecks. Treacherous seas and shallow submerged rock reefs have made the Isles of Scilly the shipwreck capital of the UK.
Claire asks us to choose a figurehead in the collection, do some research and to 'give it a voice'. Our challenge over a delicious fresh fish dinner is to give a one-minute speech (projecting our voices) on the behalf of our chosen figurehead. Claire gave us tips and tricks on how to be a better public speaker – to speak up, slow down and make eye contact with the whole audience. Even the shyest in the group managed to put something together and it is a fun, interesting way to learn new life skills and about the history of the island.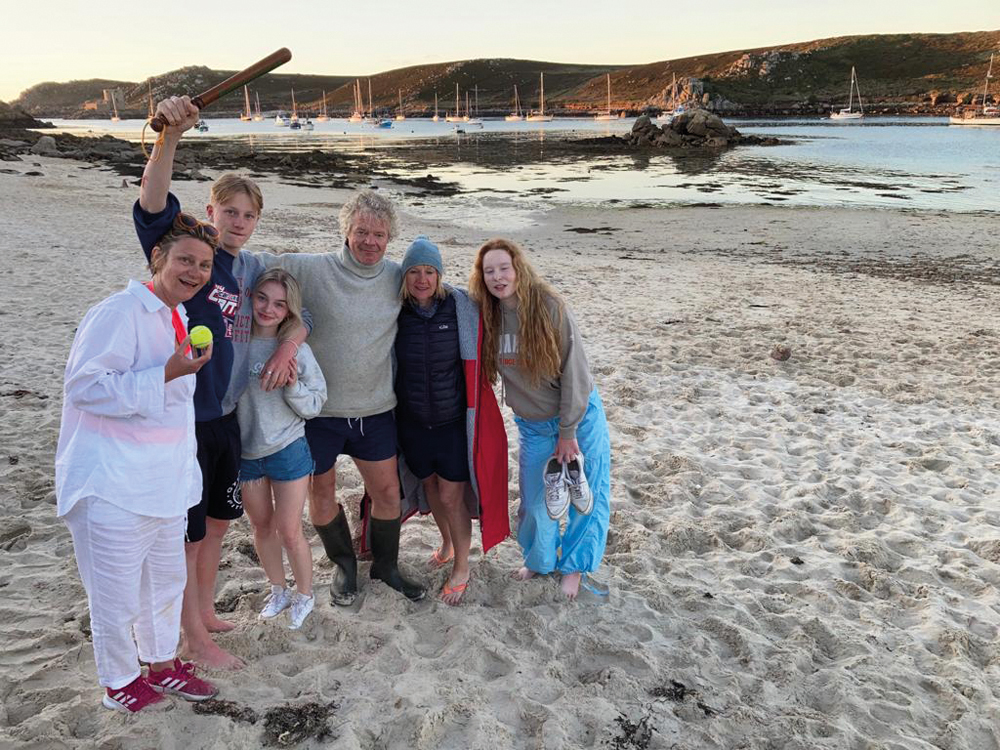 THE SIREN SEALS
Before heading home, we sail to St Martin's, just two miles long, and there are more shouts of delight as we commune with the resident colony of seals. After all the storytelling of the last few days, Charlie is convinced he can hear the song of a mermaid. 'They don't want us to leave,' he says, a tad wistfully. With siren songs in our ears, we find it tough to wrench ourselves away. But we've made memories and learnt new skills including how to work together as a team, be resilient, sail a yacht on the open sea, tie a firm knot, give an after-dinner speech, walk with presence and power, and commune with ghosts, nature and each other. Charlie was right. Best. Holiday. Ever.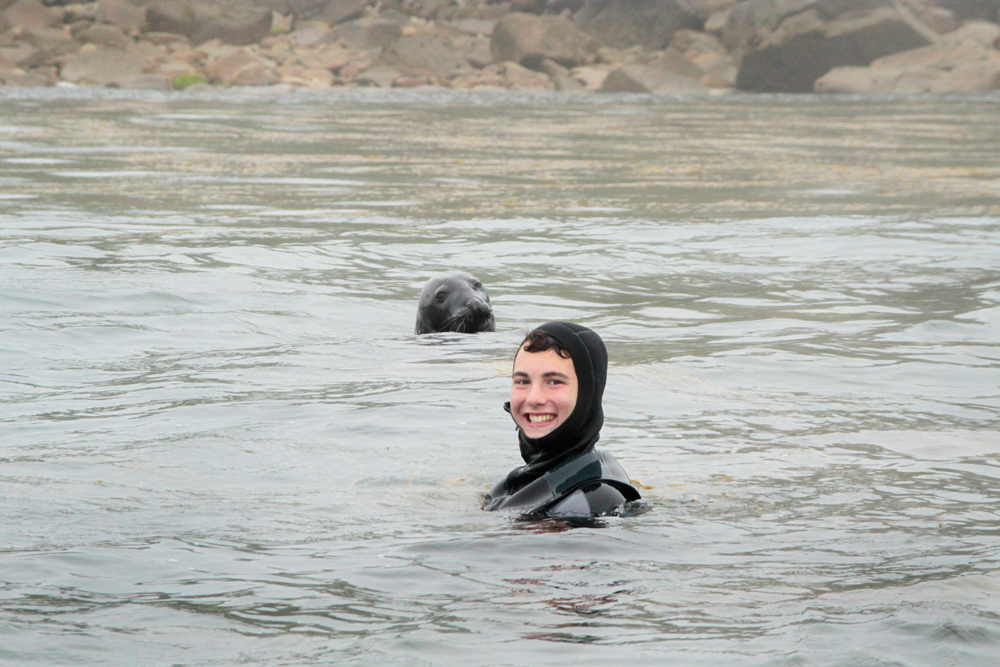 BOOK A SAILING TRIP ONBOARD BALOO
Prices for chartering Baloo start from £100 per hour per group of up to six people. Half or full-day excursions are available, leaving from Falmouth in Cornwall or the Isles of Scilly. Three-day trips cost from £1,500 per group. Trips can be tailor-made to meet individual or group needs. Find out more information online at islesofscillysailing.com.
For more guides to weekends away, head to our Weekends Away section, get inspiration for activities to entice your teenagers away with you or pick up a copy of coast magazine.