Puffins, dinosaurs and Dracula – SUE CADE gets her fangs into highlights of the East Yorkshire coastline.
Yorkshire is a heck of a large county, so big that it's sub-divided into four distinct regions. To the east, the 45-mile coastline offers a diverse range of experiences, from coastal paths teeming with nature to seaside towns rich in history.
The resort of Scarborough may have its fair share of 'kiss me quick' vibes but it also presents plenty of intriguing insights into the region's past. Visiting the unspoilt Scarborough Castle high above the town gives us our first taste of this magnificent coast. The panoramic views take in both the north and south beaches below and it's not hard to imagine would-be invaders arriving by boat.
Walking around the old harbour we drop into West Pier Studios and meet characterful artist Captain Ants, whose distinctive artwork captures Scarborough's personality perfectly. More Yorkshire creativity is evident on the beach as we walk along the front; a giant ad has been created for St Catherine's Hospice using the golden sands.
There's a sense of taking a gigantic step back in time at the beautiful Rotunda Museum, packed as it is with dinosaurs, fossils and stories of fossil hunters. Plenty for children to explore, and some marvels for the grown-ups including a fascinating oversized map of Britain showing various strata, and a frieze displaying the geology of the local shoreline.
Scarborough was once a spa town and the attractive spa building, now an event venue with a theatre and grand hall, evokes the era; one can imagine Victorian ladies daintily taking tea in the Sun Court. Scarborough also boasts a real gem of a restaurant in Dan Hargreaves Embers, wood fired cooking showcasing the most delicious Yorkshire produce. It's tucked away in Victoria Road – just be careful not to drive the wrong way up a one-way street when you're looking for it.
You don't have to be a twitcher to enjoy the sights and sounds of sea birds nesting, and a visit to RSPB Bempton Cliffs evokes the sensation of being part of a David Attenborough documentary. The charity has built viewing platforms, particularly helpful for people like me, who struggle with vertigo.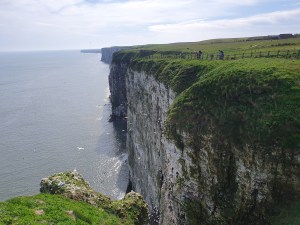 The excitement of puffin spotting is palpable in the crowds of visitors, there's something incredibly special about these clownlike birds with their colourful bills and orange legs. Everyone is transfixed watching a drama unfold as a pair of razorbills attempt to steal an established puffin nesting spot.
But while the puffins are a real draw, there are also huge numbers of other stunning seabirds to observe, from glorious gannets and pretty kittiwakes to chocolate brown guillemots, who lay only one egg and keep this on their webbed feet to incubate.
The visitor centre is perfect for families and you can hire binoculars, which make a massive difference to the experience. Further along the coast is another set of chalk cliffs, Flamborough. We pick up fish and chips from the award-winning Lighthouse Fisheries in the village on the way and enjoy the tasty fare at North Landing before heading off along the coast path towards the lighthouse and a chance to see yet more sea birds.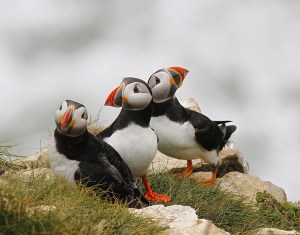 North of Flamborough is Whitby, well known for its association with legendary vampire, Dracula. Writer Bram Stoker was inspired by his holidays in the town and, as the fantastically cheesy Dracula Experience explains, this is where the evil count first arrives in England.
But there's much more to Whitby than the undead. Charming, cobbled streets, some hundreds of years old, are home to an eclectic mix of tiny cottages and quirky shops, many offering Whitby Jet, a black gemstone formed from the fossilized remains of the monkey puzzle tree.
We arrive at the bottom of a set of steps, 199 in fact, which take us up to Whitby Abbey, set on a headland. The English Heritage-owned site is laden with atmosphere; enormous pillars, some intact and others mere stumps, giving an indication of just how imposing it once was.
Viewing this landmark from the sea gives a better impression of how it dominates the cliffs. Coastal Cruises' eye-catching yellow boats run regular short rides close to the shoreline as well as longer trips for wannabe whale watchers and sea anglers.
After the bracing briny sea air, we stop at popular eaterie The Quayside, a good spot for lunch with its attractive interior and generous portions evidenced by a snaking queue of hungry tourists.
An uphill walk past a statue of Captain Cook, who worked as an apprentice for Whitby coal shippers, brings us to Whitby Museum in the environs of Pannet Park. I've long known of the Staithes group of artists and it's a treat to view an exhibition of their work, splendidly evocative of the countryside and coast.
The park itself is an oasis of calm, with a variety of prettily planted spaces including a Jurassic garden with a path featuring stone from different periods.
A trip to Hayburn Wyke is a double win, not only is there a waterfall cascading on to the beach below, but also an inn with a warm welcome from Hannah and Bobbie behind the bar. They suggest a cream tea which goes down a treat, although I take good-humoured issue with the Yorkshire preference for 'jam first'.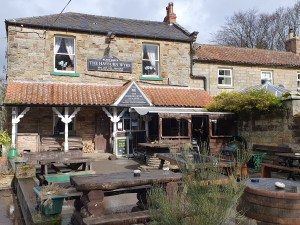 From the car park here, it's easy to pick up the Cleveland Way. The trail is actually 109 miles long and takes in the North Yorkshire moors before heading coastwards, but this section hugs the cliffs. It's possible to take a bus most of the way there and walk back into Scarborough, but we take a circular route, veering inland to the Cinder Track. It's a defunct railway track, a peaceful, level walk with a profusion of wildflowers and even the sound of a busy woodpecker in the copse nearby.
By contrast, Sewerby Hall near Bridlington is packed with families boisterously enjoying the grounds. This historic Georgian country house is now owned by the local authority and combines a zoo, landscaped gardens and exhibitions in the main building. There's an absorbing display about aviator Amy Johnson who was born in nearby Hull, plus the chance to try on some Edwardian outfits; the posh frocks were, alas, too tiny for us although the servants outfits fitted perfectly. We knew our place immediately – below stairs!
Sue was a guest of England's Coast (englandscoast.com), Discover Yorkshire Coast (discoveryorkshirecoast.com) and Visit East Yorkshire (visiteastyorkshire.co.uk).
Whilst there's an abundance of seaside hotels in the region, heading inland provides a little respite from the coastal bustle. Two independently owned hotels with very different characters both offer guests an equally convivial East Yorkshire welcome.
Wrea Head Hall, Scalby
Built in 1881, this opulent country retreat set in beautifully landscaped grounds is the perfect place to escape, unwind and rejuvenate. Each of the 32 guest rooms and suites is individually designed with features such as four-poster beds, roll-top baths and luxury marble bathrooms. The recently renovated Carriage House, including the original 'Chauffeur's room' offers charming guest accommodation with views across the cobbled courtyard, paddock or orchard.
Sumptuous dining is offered in the oak-panelled dining room with a focus on seasonal dishes using local produce. Visit in autumn or winter to enjoy the likes of pheasant, venison or duck accompanied by fresh vegetables from the kitchen garden.
Visit here to relax with a cocktail after a day's exploration, indulge in an afternoon tea of freshly baked scones and pastries or a delicious Sunday roast.
Highfield House, Great Driffield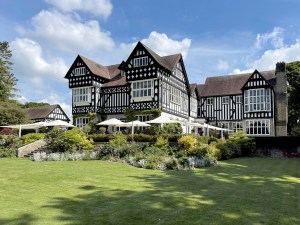 By contrast, Highfield Hall is a fanciful experience of exuberant colour and character. Each suite has something different to commend it, from the four poster opulence of the deep blue 1610 to Kingsland's expansive white elegance – a room you'll find it hard to leave in the morning.
Quirkiness abounds throughout. In Yes Mallard a train set runs overhead, the splendid Library Bar is stuffed with curiosities and every corner reveals yet another surprise – check out the bizarre Barbie collection and make sure you visit the lavish powder room.
Delights abound in the restaurant too, where head chef David Prysor Jones showcases the best of East Yorkshire produce.
Tempted to explore the Yorkshire coast? Read our article on walking North Yorkshire's Cleveland Way Footpath.