Beat the winter blues by planning this year's UK coastal trips. CHRISSY HARRIS has some ideas for your diary in the new year…
Drimnin, Morvern Peninsula, Scottish Highlands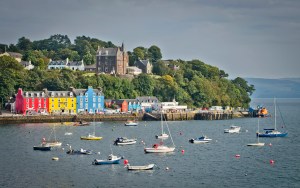 Drimnin is said to be one of the most remote places in Scotland. Now there's a thing. This ancient settlement – once part of the Maclean clan territory – lies at the end of 12 miles of single-track road from Lochaline (also very remote). Getting here certainly takes some doing but that's the point. But, if the splendid isolation gets too much, there are a few things to do nearby. The Nc'Nean Distillery was recently named by The Guardian as one of the top ten Scottish distilleries to visit. There are regular tours and the shop opens every weekday.
Landscape, seascape and wildlife artist Alan Hayman lives on the Drimnin Estate and has his own studio and gallery on site, open weekdays.
Accommodation-wise, there are a few options on the Drimnin Estate, including the eccentric neo-gothic manor house.
Or else book The Captain's Cabin or PilotHousePH5. These two unique and architecturally striking cabins with panoramic views have been built for pure pleasure. See outoftheblue.uk.com.
WHILE YOU'RE THERE
Catch the seasonal weekly water taxi to Tobermory on the Isle of Mull. You have to book in advance at tobermoryboattrips.co.uk. If there's time, head south to explore the Isle of Iona, collecting a bag of mussels at Inverlussa mussel farm at Craignure on the way (make sure you drop £2.50 in the honesty box).
Ballycotton, County Cork, Ireland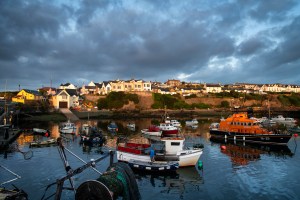 This comfortingly named village surrounded by sandy beaches is just 40 minutes from Cork airport. You can be dipping your toes in the sea with a locally sourced fish and chip lunch in no time. Ballycotton has an impressive choice of restaurants, cafes and pubs, with many serving seafood that's come straight off the boats.
Natural beauty is in abundance here. The village sits on a rocky ledge overlooking Ballycotton Bay. The local cliff walk is a must, with views of the roaring Atlantic Ocean and even the occasional dolphin. Interesting fact: Ballycotton Lighthouse (also a visitor attraction) is one of only two black lighthouses in Ireland.
WHILE YOU'RE THERE
Go deep sea angling. It's a popular pastime because the harbour is non-tidal, so boats can go to sea at any time. See ballycottonseaadventures.com.
Port Isaac to Polzeath, South West Coast Path, Cornwall
Everyone should do a least a section of this world-famous trail at some point in their lifetime. Mountaineer Graham Keene has done the whole lot – as well as becoming the oldest British climber ever to have climbed Mount Everest. Graham trains for his expeditions by hiking different stretches of the coast path and says one of his favourite walks is from Port Isaac to Polzeath on the north Cornish coast.
He says: "It's little hilly but there are two super spots along the way. The first is Lundy Bay where the sandy beach is only accessible if the tide is out (don't get cut off).
"And further along towards Polzeath are The Rumps, a twin headed promontory. It's a great spot to enjoy a picnic, the sea views and contemplate."
WHILE YOU'RE THERE
Doc Martin fan? Spend some time in Port Isaac, the setting for the hit ITV drama, starring Martin Clunes. There are regular walking tours which take fans around the key locations in the fishing village (known as Portwenn in the series). See portisaactours.com.
New Brighton, Merseyside
Nice and flat, great promenade and a beach with Liverpool as a backdrop. There's lots to like about New Brighton, the sort of place the whole, multi-generational family can enjoy. There's been a big push here to revive the fortunes of this seaside town which, like so many up and down the UK, has suffered over the centuries. Loss of footfall as people holidayed abroad, attractions closing, lack of investment etc made the town look tired for a time.
Now it's enjoying the chance to shine again with the regeneration of its seafront and the Marine Point development. It's even got a 'quarter'. The Victoria Quarter, the roads in and  around Victoria Street, is all colourful street art and independent businesses.
Out with the old, in with the New Brighton.
WHILE YOU'RE THERE
Catch a show. The iconic Floral Pavilion Theatre is Wirral's largest theatre space. Situated right on the promenade, the 800-seat venue also has a dog friendly cafe.
Brixham Pirate Festival, Devon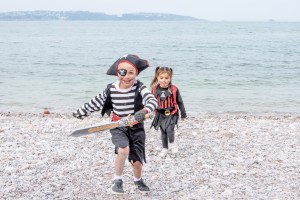 Shiver me timbers! They do like to enjoy some swashbuckling fun in Brixham. The South Devon town comes alive with the sound of swooshing swords and sea shanties every early spring bank holiday. This year's event takes place from May 4 to 6 and has grown to become one of the largest of its kind in the country. People, parrots and pirates pack the streets of this historic port, the perfect backdrop to all the seaside shenanigans. Expect music, re-enactments, markets, plus the occasional canon fire. And probably some rum…
WHILE YOU'RE THERE
Take a break from the 'ooh-arring' and walk along the harbour to Berry Head. The National Nature Reserve is home to a lighthouse and Napoleonic Fort and protected guillemot colony. Porpoise-spotting is also recommended. Just keep an eye on the kids – there's no fence between you and the deep blue sea when you get to the end of the headland. See countryside-trust.org.uk.
Aberdaron, Gwynedd, north Wales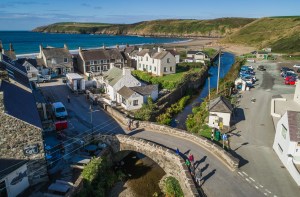 Aberdaron is right at the end of the Llyn Peninsula and just about as far west as you can get on the Welsh mainland. The coastline near this ancient village is within an Area of Outstanding Natural Beauty (AONB), so expect stunning views and plenty of wildlife watching.
Aberdaron has a rich Celtic history and was the last stop for medieval pilgrims on the way to Ynys Enlli (Bardsey Island), the 'Isle of 20,000 Saints'. There are summertime trips to Bardsey Island from nearby Porth Meudy.
The mainly sandy Aberdaron beach is a short walk from the centre of the village. Sea caves and rock pools await on this lovely stretch, which is protected from the area's strong winds by the headlands. If it's gusts you're after, the area is well-known for its surfing, kayaking and sailing. The Aberdaron Sailing Club holds regatta events during the summer.
WHILE YOU'RE THERE
There's a fabulous artisan bakery in the village. The tray bakes, iced buns and pies at Becws Islyn Bakery come highly recommended.
Seasalter, Kent
Seasalter is near Whitstable. There. Got that out of the way. Being close to one of the most popular coastal resorts in the country has its perks but Seasalter is a pretty special destination in its own right. It has a wonderful windswept beach with colourful huts and estuary views, plus an unassuming looking Michelin-starred restaurant disguised as a pub (The Sportsman). It's the next level of seaside fun.  And yes, you can walk to Whitstable along the coast path.
WHILE YOU'RE THERE
Mount Ephraim in nearby Hernhill is set in ten glorious acres of stunning Edwardian terraced gardens. Highlights include the animal and bird topiary, a grass maze, the arboretum and an extensive collection of spring bulbs and mature trees. Open between April and September. See mountephraimgardens.co.uk.
Falmouth Food Festival, Cornwall
Falmouth held its first ever food festival last year and it was such a hit, they're doing it again. Schoolfriends and locals Harry Mills and Barney Farnworth cooked up the idea after meeting up by chance and talking about their shared passion for their hometown.
That summer's day out on the harbour eventually led to the creation of Falmouth Food Festival, a celebration of quality produce, music and arts. This year's event, which aims to support local businesses, takes place from May 24 to 26 and promises to be bigger and better than before. Chef demos, gin talks, tastings and tunes – what a feast.
WHILE YOU'RE THERE
The National Maritime Museum Cornwall is well worth a visit. You don't even have to like boats that much to appreciate the exhibits in 15 galleries over five floors inside this modern harbourside building. There's a major exhibition on about Pirates here until December. Kids will love the RNLI rescue zone. And don't miss the Tidal Zone, where you go down into the depths and see the harbour waters through two big windows. See nmmc.co.uk.
Low Newton by the Sea, Northumberland
"I can't believe I'm telling you this," is what my Durham-based pal said when I tapped her for insider knowledge on where to go on the North East coast. "It's my fave beach in the world…"
Low Newton is a small but perfectly formed fishing village, almost completely owned by the National Trust.  Its curving, sandy beach has fine views across Embleton Bay towards Dunstanburgh Castle. Suggested schedule includes rockpooling, paddling, windsurfing and then a pint. The Ship Inn, a superb local a stone's throw from the beach, has its own brewery on site. And Saturday is pie night.
Newton Pool, a freshwater Nature Reserve is nearby and has two accessible hides to observe migrating birds.
You can also take a short walk to Newton Point to enjoy big views out towards the Farne Islands (on a clear day). There. The secret's out. Sorry, Em.
WHILE YOU'RE THERE
Head up the coast and pay a visit to the iconic Bamburgh Castle (definitely on my bucket-and-spade list). The former royal fortress has stood guard above the spectacular Northumberland coastline for more than 1,400 years. In more recent times, the castle featured in the hit Netflix series, The Last Kingdom.
Weymouth beach, Dorset
Weymouth recently took the top spot in The Times and Sunday Times annual guide to the best UK beaches.
Litter-free, first-class facilities and great chippies are among the reasons why this family-friendly classic with its Georgian seafront deserves its accolade. The curving arc of golden sand gently slopes into safe, shallow water, making ideal for tiny tots. There's also a toy library scheme, where visitors can borrow and reuse buckets and spades etc for free to save money and help reduce plastic waste. During the summer there are lots of activities lined up, including Punch and Judy shows, donkey rides, amusements and pedalo hire. Altogether now…'Oh we do like to be beside the seaside..'.
WHILE YOU'RE THERE
Enjoy a sea-to-plate extravaganza. Catch at the Old Fish Market is based in Weymouth's landmark Portland Stone, Grade-II-listed building, which dates back to 1855. Fishmongers Weyfish still operates out of the ground floor. Catch's menu celebrates the best of Dorset's local and seasonal produce.
Downhill Beach, County Londonderry, Northern Ireland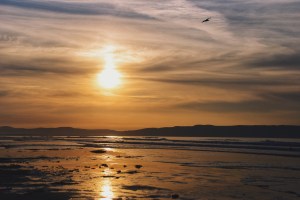 Game of Thrones fans will know that Downhill Beach is also known as Dragonstone, where the Seven Idols of Westeros were burned during season two. But don't let that put you off. This stretch of coast is some of the most scenic in the region with scientifically important sand dunes, flora and fauna – as well as one of the most photographed buildings in Northern Ireland. The 18th century Mussenden Temple perches on the edge of a 120ft clifftop at Downhill Demesne.
Look out towards Magilligan Point and County Donegal, Portstewart, Portrush and Fair Head. There are walking trails around the National Trust-owned estate.
WHILE YOU'RE THERE
Go along the coast to Harry's Shack, Portstewart. Stunning outlook, cocktails and the best local seafood around. HRH the Duke of Edinburgh popped in for a visit in the summer.
Clevedon, Somerset
Bucket loads of charm and a grade I-listed Victorian pier make Clevedon a perfect seaside pit-stop. It's near junction 20 on the M5, so easy access if you need a quick fix of salty air – and a dip in the world's largest seawater infinity pool. Clevedon Marine Lake opened in 1929 and is open all year round for you cold water swimming types.
Lovely community vibe here, too. Summer barbecues, flower shows, author talks and coffee mornings mean that this is a real, lived-in sort of a place where everyone is welcome to join in the fun. There's a good coffee shop-to-visitor ratio and the retail offerings are great. Stationery shops, plus craft shops and artisan markets…you might want to set a budget before arrival.
WHILE YOU'RE THERE
Walk the stretch of the King Charles III England Coast Path between Aust and Clevedon. This part of the trail opened in the summer and the remaining sections are due to be completed by the end of 2024, making a continuous walking route to the Somerset coastline and beyond.
The Needles, Alum Bay, Isle of Wight
The island's most famous landmark has got to be done. Take the world-famous chairlift for the best way to see The Needles, a mighty row of three stacks of chalk that rise 30 metres out of the sea.
The chairlift takes you down from Alum Bay cliffs to the beach, where you can also find a boat trip to see the rocks close-up before your return journey back up, up and up.
Stacks conquered, there are other activities on offer, including the sand shop where the family can fill a glass or plastic shape with Alum Bay's 21 shades of sand. Apparently, this has been a tradition since the mid-1800s when Queen Victoria (who loved her holidays here) was presented with a souvenir.
WHILE YOU'RE THERE
Keep the kids entertained for hours with some old-fashioned family fun. The Needles has a variety of children's attractions including a traditional Victorian carousel, teacup ride and a games kiosk with a tin-can alley and hook-a-duck (prize every time so no excuse for meltdowns).
Lowestoft, Suffolk
Be the first to see the sunrise from the UK's most easterly town. Lowestoft has had a burst of energy recently – not least because of Ness Point, home to Gulliver, the tallest wind turbine in the UK.
Sustainable resources are powering some of the revival here but new arts venues, pubs, restaurants, a restored pier and fancy beach huts are also helping to breathe new life into the Suffolk town.
Lowestoft has had its fair share of ups and downs following the slow decline of its fishing industry. There's still regeneration and 'levelling up' and all that kind of work to be done but the spirit of a UK seaside town is a powerful thing.
In July last year, a section of Lowestoft's famous Claremont Pier was reopened for the first time in 40 years. Arts and culture are taking centre stage here, too. The Marina Theatre is being upgraded, The Grit performing arts centre opened last year and the newly transformed East Point Pavilion hosts live music, film nights and performances (plus street food and drinks).
WHILE YOU'RE THERE
Get to know the score(s). The Red Herring Trail will guide you through the steep alleyways and narrow lanes, known as the Lowestoft 'scores' which run through the town, linking the clifftop to the beach.
Mersea Island, Essex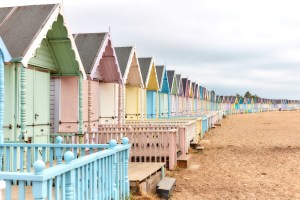 Proof, if ever it were needed, that size isn't everything when it comes to finding coastal bliss. The diminutive Mersea Island might be just seven miles-square but it sure packs a lot in. Crabbing and sailing are popular pastimes, as is taking Insta-worthy pics of the pastel-coloured beach huts.
Eating the fruits of the Mer-sea is also recommended. Fishing is still one of the main industries on the island and the area is known for its oysters, cultivated in the creeks here since Roman times. Country walks are plentiful. The round-the-island route is a popular 13-mile challenge, which takes around three hours for non-whingeing, seasoned walkers. Probably not suitable for younger kids.
Even getting here and back is exciting. Mersea Island is connected to the mainland by the Strood, a causeway which often floods at high tide, preventing anyone from entering or leaving. Local advice is not to take on the sea (many cars have been stranded) and to check the tides via stroodcam.co.uk.
WHILE YOU'RE THERE
Stay. Apparently, the best time to be on Mersea is when all the daytrippers have left. Fen Farm accepts touring caravans, motorhomes and tents. The Victory Hotel offers bed and breakfast. There are also holiday cottages available to hire across the island.