Alex Fisher discovers a town that now offers funky hotels, trendy restaurants, surfing, climbing and the only pier-to-shore zip-wire in the world
There's not a lot you can't do on Bournemouth beach. The seven miles of sandy coastline incorporates four Blue Flag beaches, which, alongside two piers, an aquarium, safe cycling routes and a land train, offers an abundance of entertainment for families. It's also home to one of the better breaks on the south coast; serious surfers come for the swell next to the pier, while beginners can learn to surf, SUP or kayak in calmer waters to the east. Grade II-listed Victorian gardens sweep down to the promenade, imbuing the town with a sophisticated elegance reminiscent of a bygone age. Music often wafts through from the bandstand and you can enjoy panoramic views of the entire resort in the 100ft high Bournemouth Big Wheel (closed for renovations until Easter 2022).
It's hard to imagine that just over 200 years ago there wasn't even a village here; the area was common land used for grazing and home to a few notable smugglers. The first hotels were built in 1838, when the population numbered just a few hundred. But after renowned physician Augustus Bozzi Granville included Bournemouth in his guide to Spas of England, the town exploded into a bustling health resort. Now there are over 250 hotels to choose from, the latest addition being the Hilton Bournemouth, which opened in 2015. With its contemporary interiors designed by Ted Baker, funky Sky Bar and high-end restaurant it offers visitors a luxury base for a traditional seaside holiday. With the added attraction of the only pier-to-shore zip wire in the world and some of the very few specifically designed disabled-access beach huts in the UK, it appears that the city has tried to provide everything a visitor might enjoy.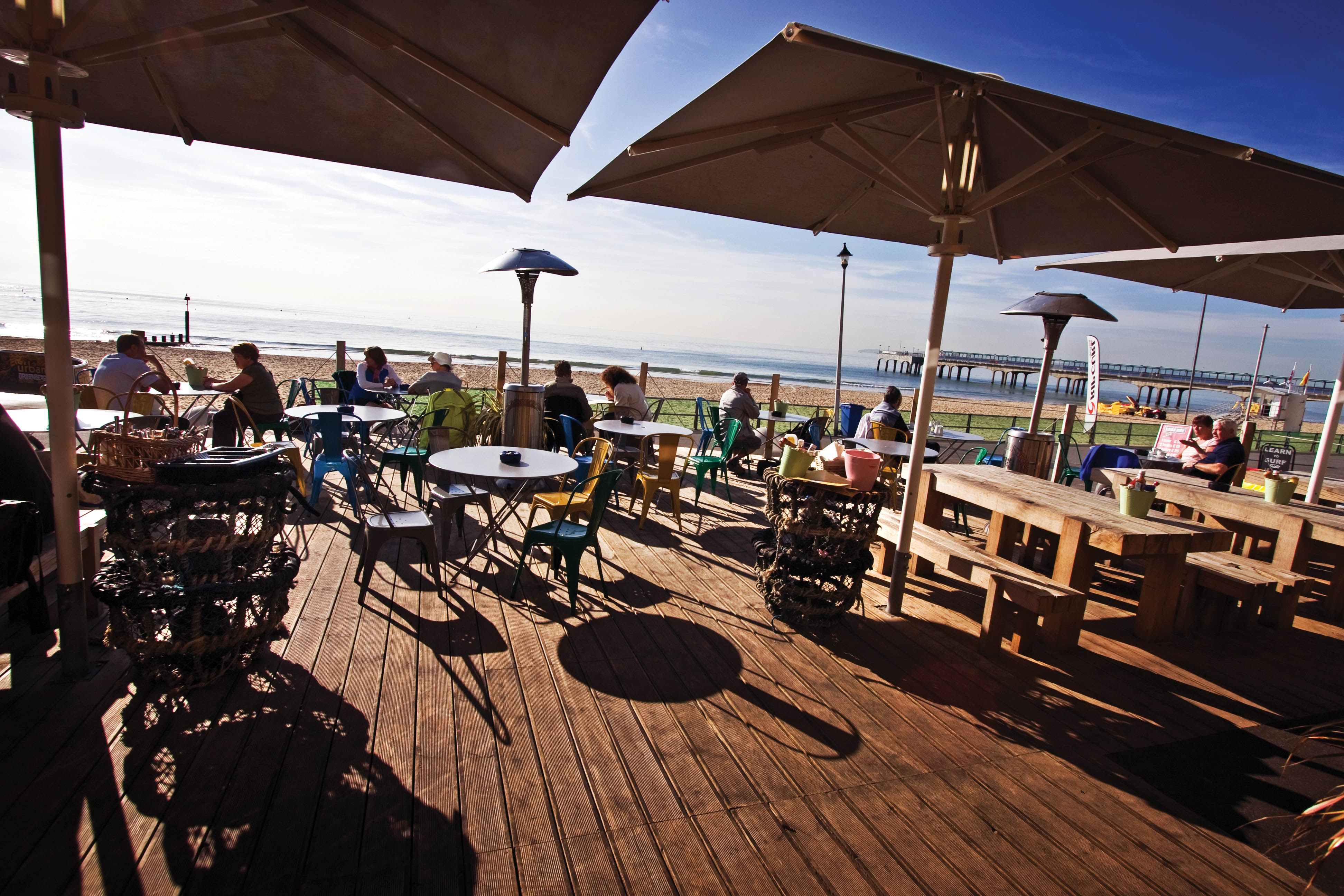 Urban Reef
FRIDAY PM
7PM SUNSET SUPPER
My favourite places to eat usually have sea views and Urban Reef looks promising as it sits right on the promenade at Boscombe Beach. Friendly staff guide us through the packed restaurant just as the sun is beginning to set. A pink haze settles across the sea, filling the room with a peachy hue through floor-to- ceiling windows. The menu concentrates on British produce, from Somerset camembert and Cornish mussels to local asparagus and West Country steaks. We try the superb mussels and the Dorset crab, both served with homemade bread. The décor and ambience reminds me of California, and gives me a real sense of 'beach-life' in Bournemouth. Mains start at £14, and desserts from £5.50 (01202 443960, urbanreef.com).
SATURDAY AM
10AM FEEL THE FEAR…
…and do it anyway. That's my motto for this morning's activity. After an excellent breakfast in Schpoons & Forx, the Hilton restaurant, I head out to try the pier-to-shore zip-wire. The wind is up and the surfers are out, along with the lifeboats. We have a quick safety talk, don our hard hats and harnesses, and scale what looks like a tall helter-skelter at the end of the pier. Half-way up the metal staircase some people have second thoughts and head back down. When we get to the top I'm nervous. The size of the waves doesn't help. 'You need to go quickly', they tell us. 'Later on the wind will be too strong and we will have to close.' The beach looks a long way away. I'm first up. Determined, I grit my teeth and leap off the tower. As soon as I jump, my fear vanishes. I zoom down the wire laughing hysterically, waving at those who didn't brave it. When I reach the other end my knees are shaking, but I'm elated. Afterwards, we head to the climbing centre at the end of the pier and spend a few hours scaling walls and ducking into tunnels. This is a terrific day out for families with kids of all ages. The buzz from the zip-wire stays with me all day (01202 983983, rockreef.co.uk).
SATURDAY PM
2PM BEST OF BRITISH
After rewarding myself with an ice cream from The Prom Café, I pick up a bike from a very nice man at the bike hire company on the seafront (01202 373280, frontbikehire.co.uk). There are three wonderful things about cycling in Bournemouth; it's flat, safe and by the sea. The cycle lane follows the promenade, which stretches all the way to Sandbanks. The views are stunning. There's a splatter of rain, but no worries, I have a key to a nearby beach hut and duck in for a cup of tea until it passes (01202 451781, bournemouthbeachhuts.co.uk).
7PM SCHPOONS & FORX
I love the Ted Baker décor at the Hilton's restaurant, Schpoons & Forx. Mossy pots of vintage cutlery decorate tables instead of flowers and the open kitchen creates a lively and vibrant atmosphere. Bold and experimental, the menu offers crisp cockles and parsley, pig's cheek and Tandoor mackerel. I opt for mixed roasted local fish and shellfish, thyme, garlic, parsley and vermouth, which is delicate and delicious, and enough for two. Starters from £7, mains from £12.50 (01202 200187, www3.hilton.com).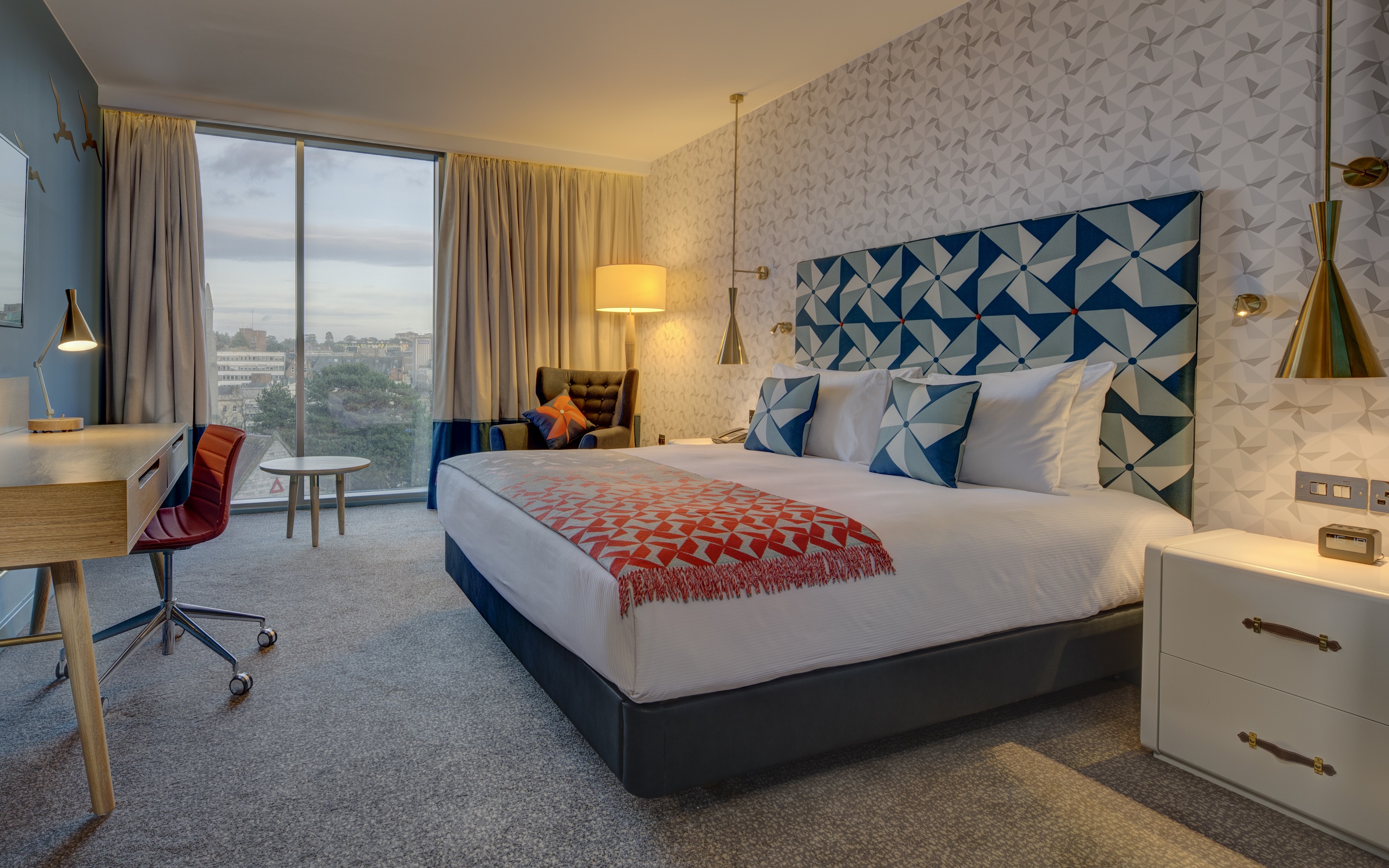 Bournemouth Hilton
SUNDAY PM
1PM FISH AND CHIPS
We head to Harry Ramsden's, on the promenade opposite the zip-wire, for some of the best fish and chips you can get anywhere: fantastic service, crisp light batter, thick, flaky fish and excellent mushy peas. They have been perfecting their recipes for 85 years and really know what they are doing. This is a chain that hasn't given up on quality. There are knickerbocker glories too, but I can't quite fit one in (01202 295818, harryramsdens.co.uk).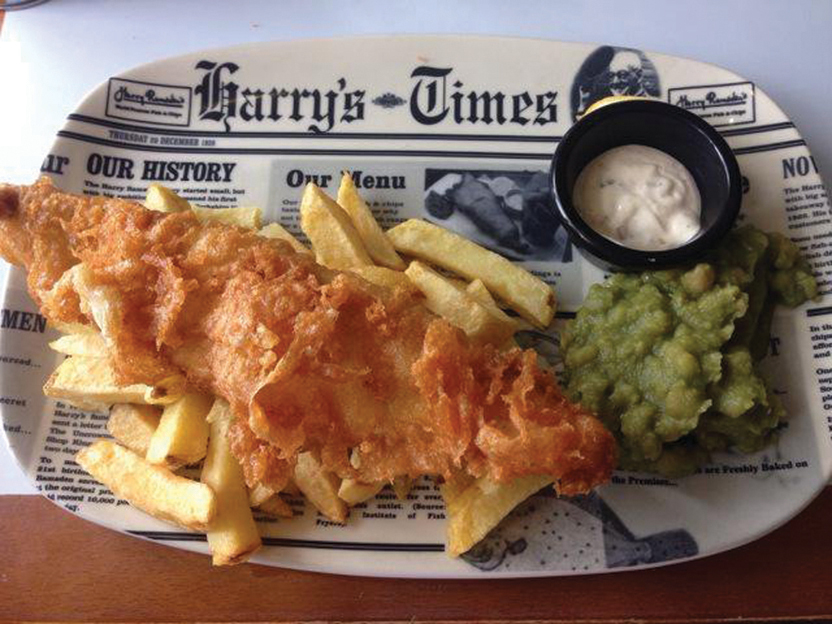 Harry Ramsden's
2PM FISHY BUSINESS
The Oceanarium is a short stroll from Harry Ramsden's – a great outing for a rainy day. Little ones will love watching turtles and penguins being fed, and there's a strong emphasis on conservation (01202 311993, oceanarium.co.uk). The land train is also a good distraction for toddlers, and can be picked up just outside the Oceanarium. A family ticket for two adults and three children makes for an economical outing at £7.50. Trains are wheelchair-friendly and run from April to October (01202 451451, bournemouth.gov.uk).
5PM CHILLING OUT
It's been a busy, but brilliant, weekend. I head to the Eforea Spa & Health Club at the Hilton for a bit of TLC after all my adventures. Guests can use the pool, steam room and sauna for free, and non-guests can buy day passes. There are exquisitely decorated treatment rooms where you can also book massages and facials. I opt for a back massage and find myself snoring lightly within moments (01202 200180, eforeaspahealthclub.com).
To find out more information about Bournemouth see bournemouth.co.uk andvisitbournemouth.com.
For more ideas for weekends away, click here or pick up a copy of the magazine.
NEED TO KNOW
WHERE TO STAY
coast stayed at the new Bournemouth Hilton, which opened in 2015. With the first hotel interior designed by fashion designer Ted Baker, it offers a luxurious and fun stay just five minutes' walk from the beach and pier. The quirky, colourful interiors, great restaurant, sky-high bar, along with a sumptuous spa, make it a unique destination for an exciting holiday. Doubles from around £119 (www3.hilton.com).
HOW TO GET THERE
Bournemouth is two-hours by train from London Waterloo and Bristol Temple Meads. The area is well serviced by the M3 and M27 if you want to drive. And the city's international airport caters for those flying to and from other countries (bournemouthairport.com).