Inspiring places beside the sea to propose on Valentine's Day in the UK and Ireland. Words: Gabrielle Jaffe
Are you looking for somewhere memorable to pop the question? From a moonlit horse and carriage ride on a car-free island to a hot tub with fabulous Cornish sea views, we've got you covered for ideas that will really impress your partner. All you need to do is work up the courage to ask…
FOR A FAIRYTALE PROPOSAL
The Ducket, Northumberland, England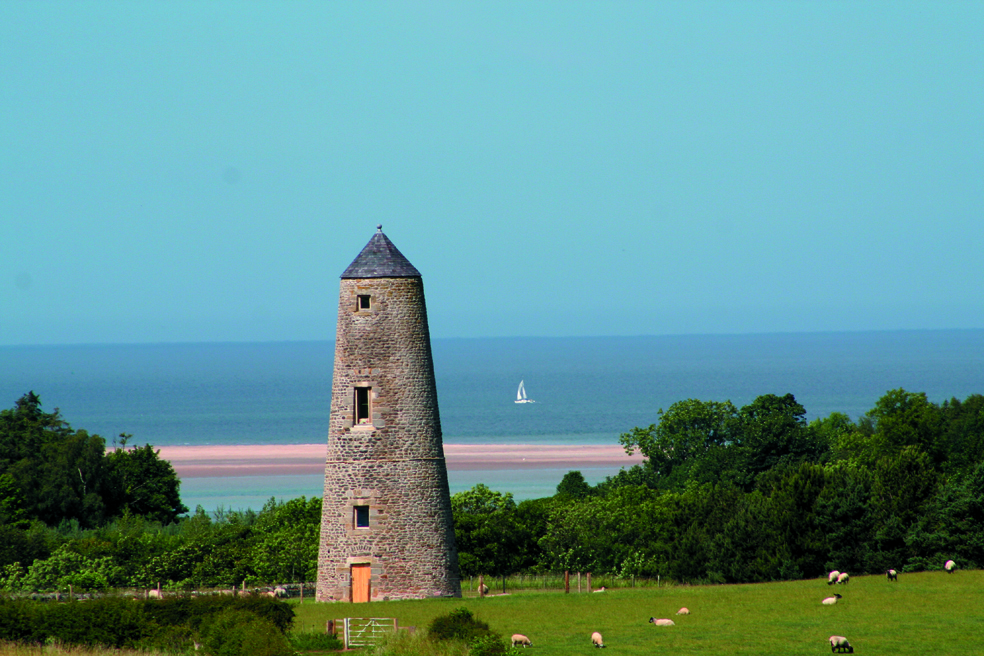 Photo: John Sutherland
Standing watch over Northumberland's long sandy coastline, with panoramic views of Holy Island and Lindisfarne Castle, The Ducket is a five-storey, tower with a handcrafted, wrought iron, curved staircase. Its impossibly slender outline can't help but make you recall the tale of Rapunzel. Beautifully restored and converted into a 5-star self-catering cottage, this is an enchanting place to hole yourself up with your fiancé.
The Ducket is available to rent from £540 for a three-night weekend break. To book, visit rosscottages.co.uk (01668 213336).
FOR A STARRY NIGHT
Dark-Sky Reserve, Kerry, Ireland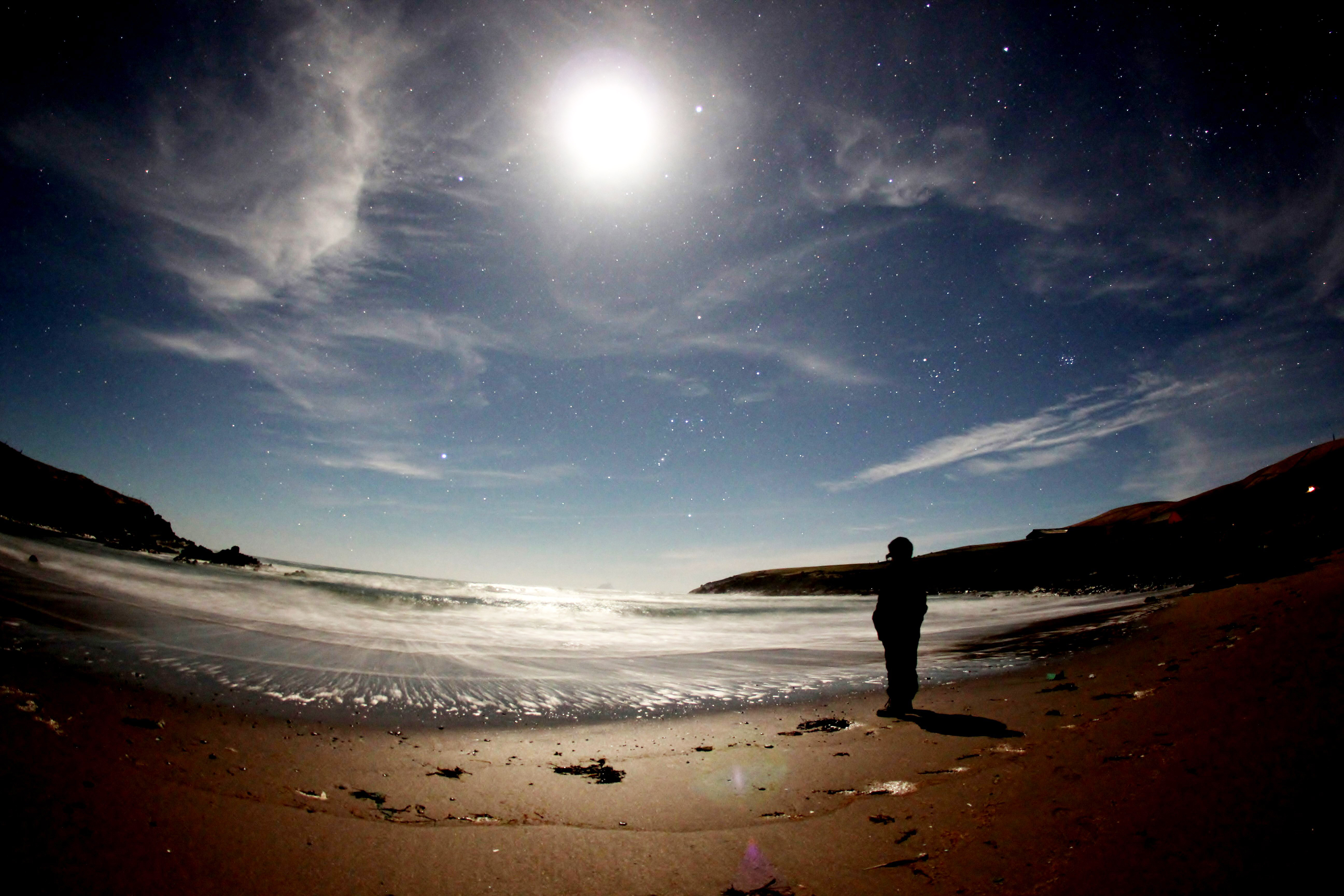 Photo: Michael Sheehan
Imagine asking someone to marry you under a sky twinkling so brightly with constellations that you can see astronomical sights normally only visible in the remote desert plains of Africa. There's no need to fly long haul – the Kerry International Dark-Sky Reserve in southwest Ireland is the only gold tier reserve in the entire Northern Hemisphere (as designated by the International Dark Sky Association). Bordering the Atlantic Ocean, the 700sq km reserve also boasts plenty of stunning beaches.
For more information, visit kerrydarkskytourism.com. Seaside B&B (+33 (0) 66 947 9885; skelligsseaside.com) is a charming guesthouse in the area with skylights in some of the guest rooms and bathrooms, so you can continue to admire the stars inside
.
FOR A LEGENDARY VISTA
Arthur's Seat, Edinburgh, Scotland

Photo: Gabrielle Jaffe
Sitting 250m above sea level, the dormant volcano Arthur's Seat gives an awe-inspiring view back over Edinburgh. From the summit, you can look out over rolling green mounds to the city's dramatic skyline, with its gothic churches and medieval castle, and the calm waters of the Firth of Forth. The steep climb up the hill is sure to leave your partner breathless, as hopefully your proposal will too. Situated in Holyrood Park, which is free to enter, it's a popular spot and you're unlikely to have it entirely to yourself but the peak is large enough to find some private space to ask you big question.
FOR MOON-LIT BLISS
Horse & Carriage Ride, Sark, Channel Islands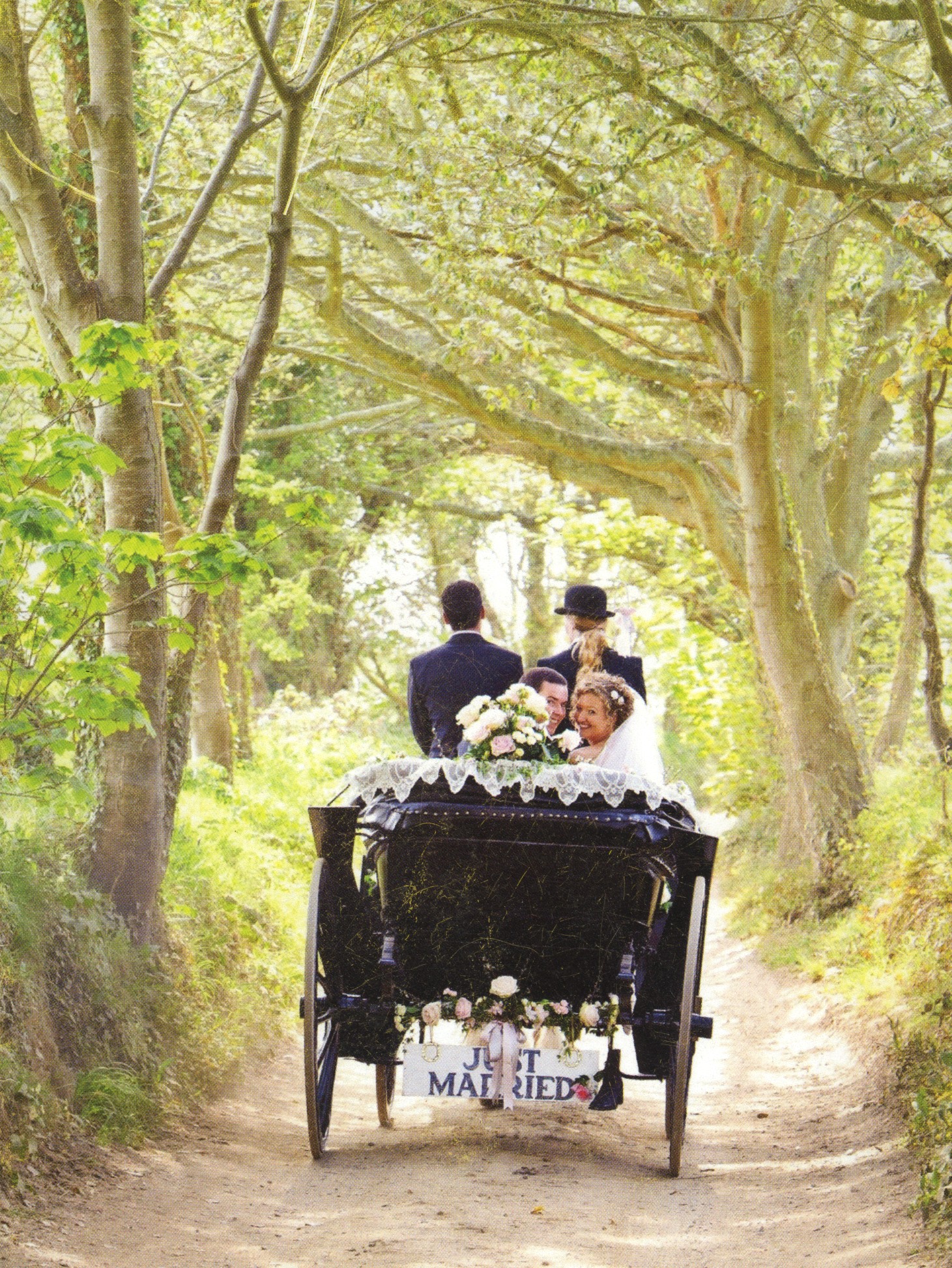 A trip to Sark is like travelling back to a more peaceful time. Located some 10 miles off Guernsey, this island with a population of 600 is one of the few places in the world were there are no cars on the road. So if your partner is a big fan of Jane Austen and period dramas, this could be the perfect setting to act out your own betrothal. Sark Carriages offers moonlit and candlelit, two-hour night and sunset drives around the island's beauty spots, with a box of chocolates and handmade sloe gin thrown in, for £110 for two people. And if you want a bit of privacy, you can always put up the hood!
FOR A TOWERING ROMANCE
Lyme Regis Lookout Tower, Dorset, England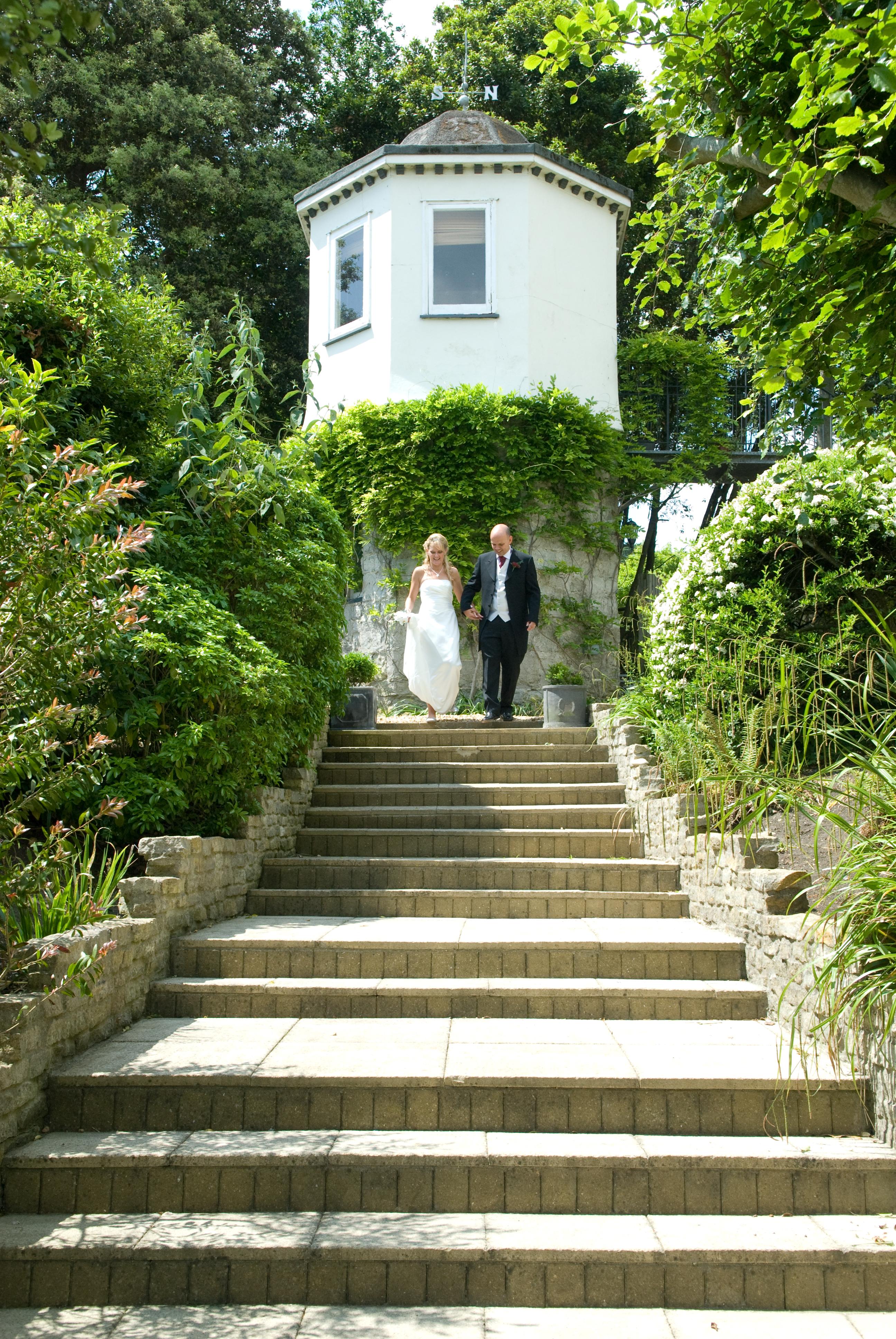 Perched above Lyme Regis – the setting for romance in The French Lieutenant's Woman and Austen's Persuasion – The Alexandra Hotel has gorgeous views from its private gardens out over the harbour and the Jurassic coastline beyond. Nestled in the gardens is a picturesque lookout tower that can be booked out for a private, candlelit dinner for two. Included in the £99-per-person price-tag is a multi-course meal with locally-sourced dishes such as seared scallops from Lyme Bay, glasses of Champagne, Champagne sorbet, a strawberry platter, cheese board and petit fours. Well, they do say the way to someone's heart is through their stomach.
FOR A THRILLING RIDEFly Heli Wales, Pembrokeshire, Wales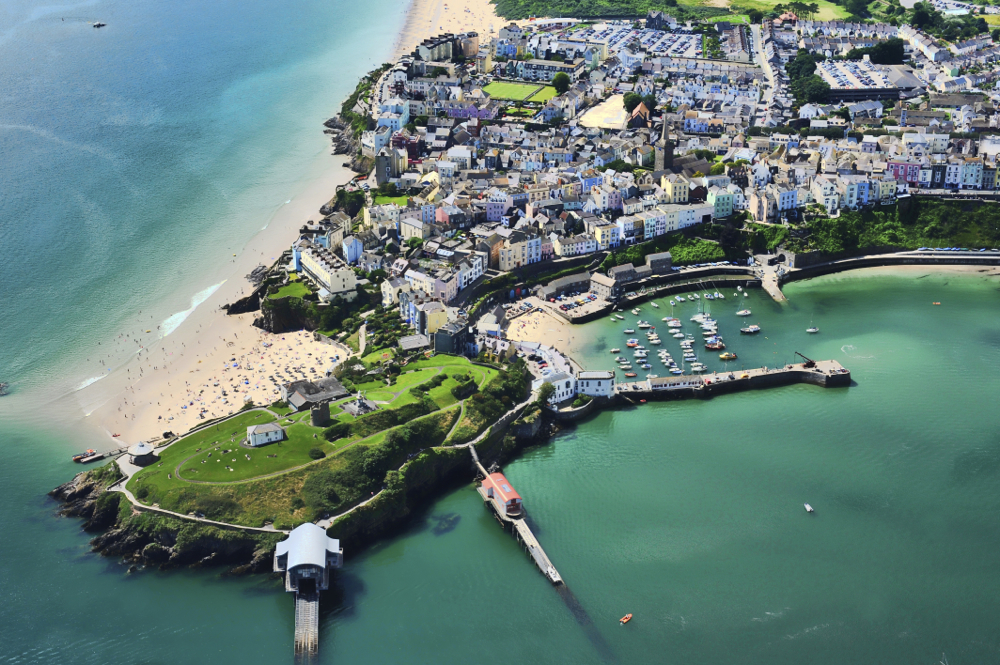 Photo: SkyCam Wales
With its sweeping beaches, cliffs, castles and traditional fishing villages, the Pembrokeshire coastline is a feast for the eyes – and all the more so when seen from a bird's eye view. With Fly Wales, you can book a private flight for two along the coast, planning beforehand with the pilot to create your own bespoke route. You'll have to wear ear protection to block out the noisy blades and so may have to wait until you're back on tarmac before you pop the question. Alternatively, you could always slide your partner a note with the ring, mid-flight.
FOR LOVE ON CLOUD NINE
Blackpool Tower, Lancashire, England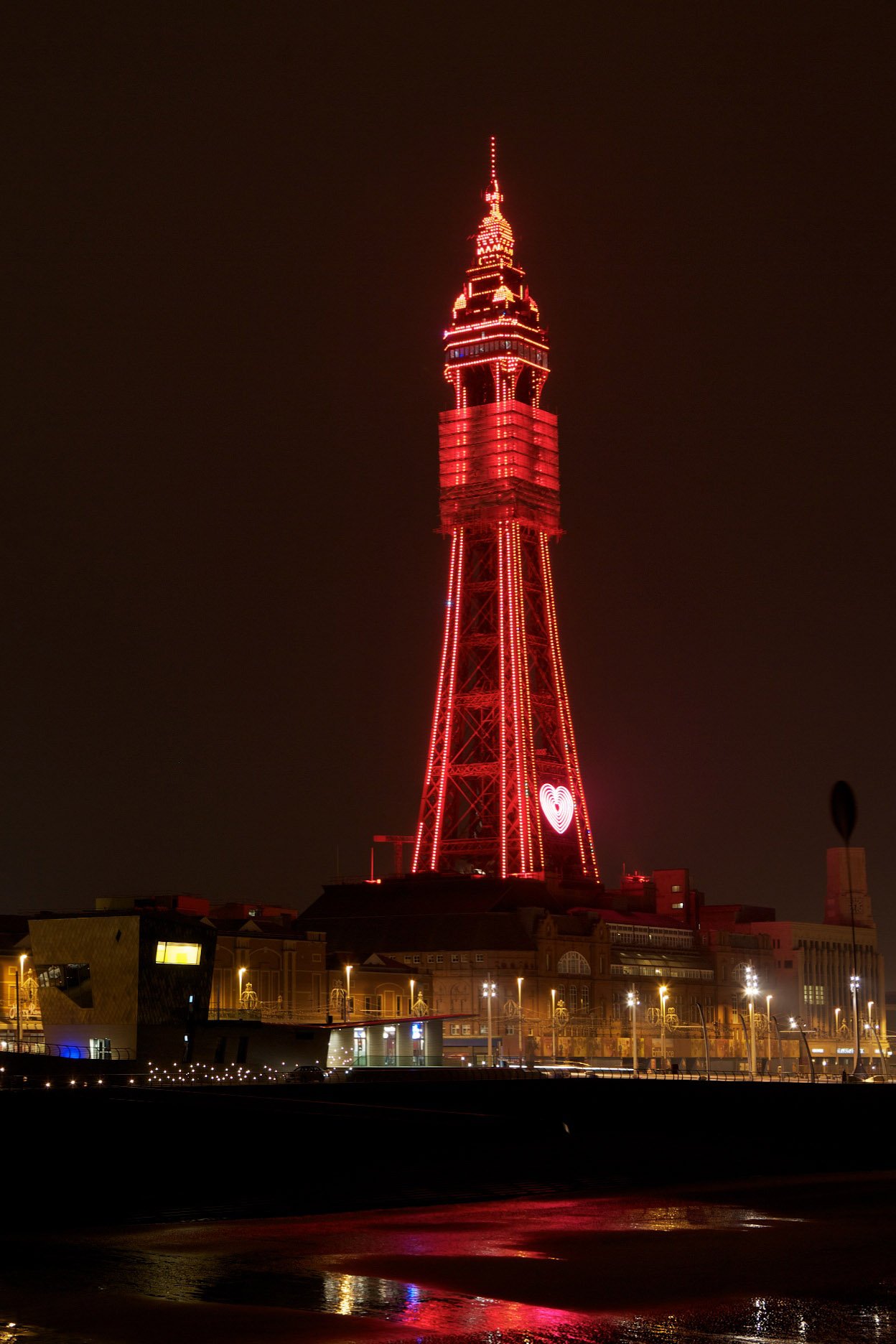 Is that vertigo or the thrill of just being proposed to that's making your partner's knees go wobbly? The seaside icon that is the 380ft Blackpool Tower now offers a sky-high engagement package, which, for £120, includes a glass of chilled champagne on The Blackpool Tower Eye's glass skywalk and a bouquet of flowers and box of chocolates for your fiancée. The tower first opened to the public more than a century ago, making it an appropriate place to promise yourself to your partner for more than a hundred years.
FOR A LOVER'S ISLAND
Llanddwyn Island, Anglesey, Wales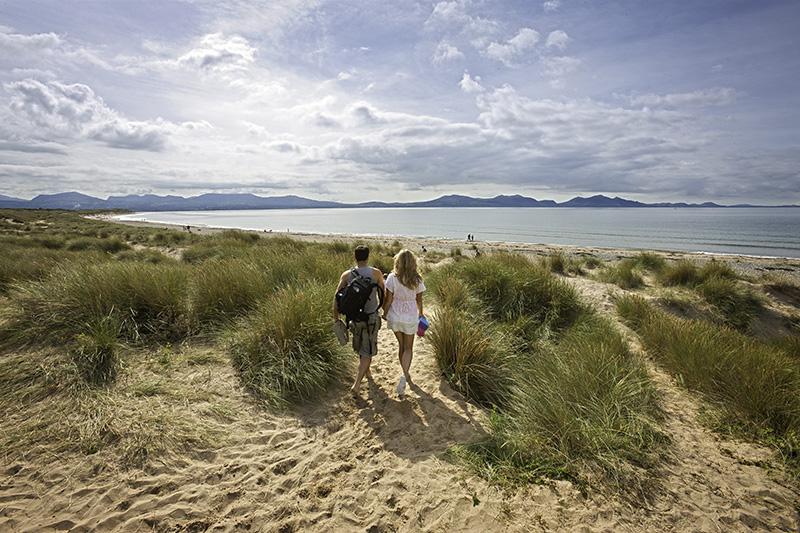 Photo: Visit Wales
Named after the Welsh patron saint of lovers, Ynys Llanddwyn is a tidal island off the west coast of Anglesey, which is reached via a blue flag beach and sand dune system. Once you're on the island there's plenty in the way of Celtic romance: church ruins, a lighthouse, grazing Welsh mountain ponies and the mountains of Snowdonia in the distance, over the water. The island can be cut off for an hour or two at very high tides, adding to the feeling of being marooned in your own patch of paradise. And an hour should be just enough time to pluck up your courage.
FOR A CELEBRATORY SOAK
Whitsand Bay, Cornwall, England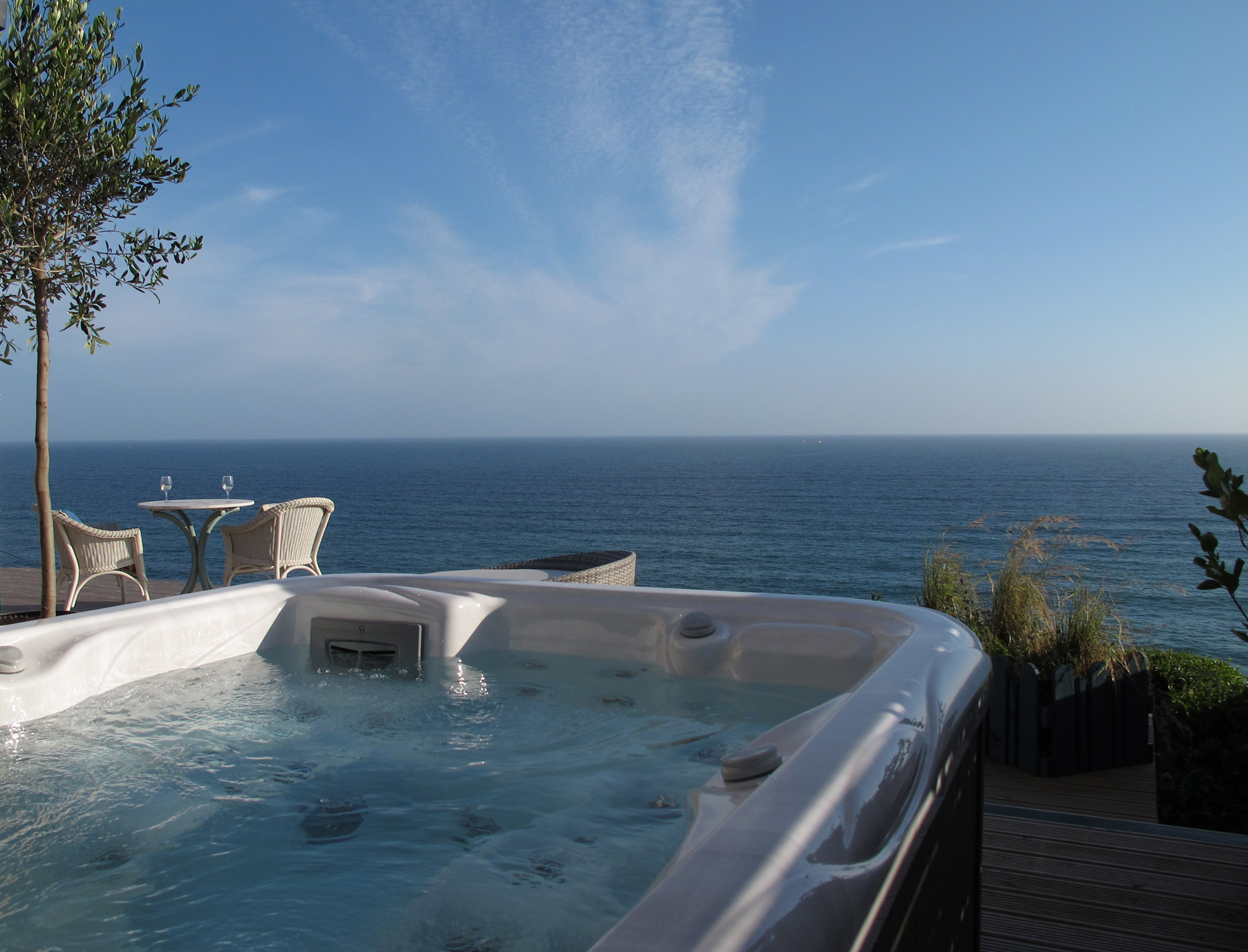 Photo: Unique Home Stays
Picture you and your loved one slipping into a Jacuzzi and peering out at the sun setting over azure Cornish waters. It might be tricky to find somewhere to hide the ring but there's no doubt it's the perfect place to the set the right mood. Built into the cliffs over Whitsand Bay, Daydreamer is a new luxury beach hut with an ensuite double bedroom and outdoor decking area with its own hot tub (with plenty of room enough for two). The golden beach is short clamber away – but we're betting you won't want to leave this stylish hideaway.
A three-night weekend stay in Daydreamer costs from £925, booked through Unique Homestays (01637 881183; uniquehomestays.com).