Fancy learning how to create a landscape or seascape piece of art from recycled textiles while staying near the wonderful North Yorkshire coast?
From a distance, artist Justine Warner's coastal and woodland scenes appear to be beautiful paintings or perhaps even photographs. Look closer though and you notice that everything – from sea and sky to trees and beach – contains exquisite stitches, paisley pattern spots and stripes taken from men's ties and other scraps of fabric. Since 2019, this up-and-coming textile artist has been leading two-day residential courses at Raithwaite Estate, an up-market hotel complex on a secluded 80-acre site between Whitby and Sandsend, North Yorkshire.
The course is called 'Landscape or Seascape in recycled textiles using layering and blending in fabric' – artworks created by using machine-embroidered appliqué. There's also sparing use of heat to melt and shrink fibres, some of which are made from recycled plastics. Attempting to capture the rugged beauty of this coast with scraps of fabric, threads, wool, beads and flakes of precious metals is a wonderful way to indulge your creative side. You'll never look at a landscape in the same way again.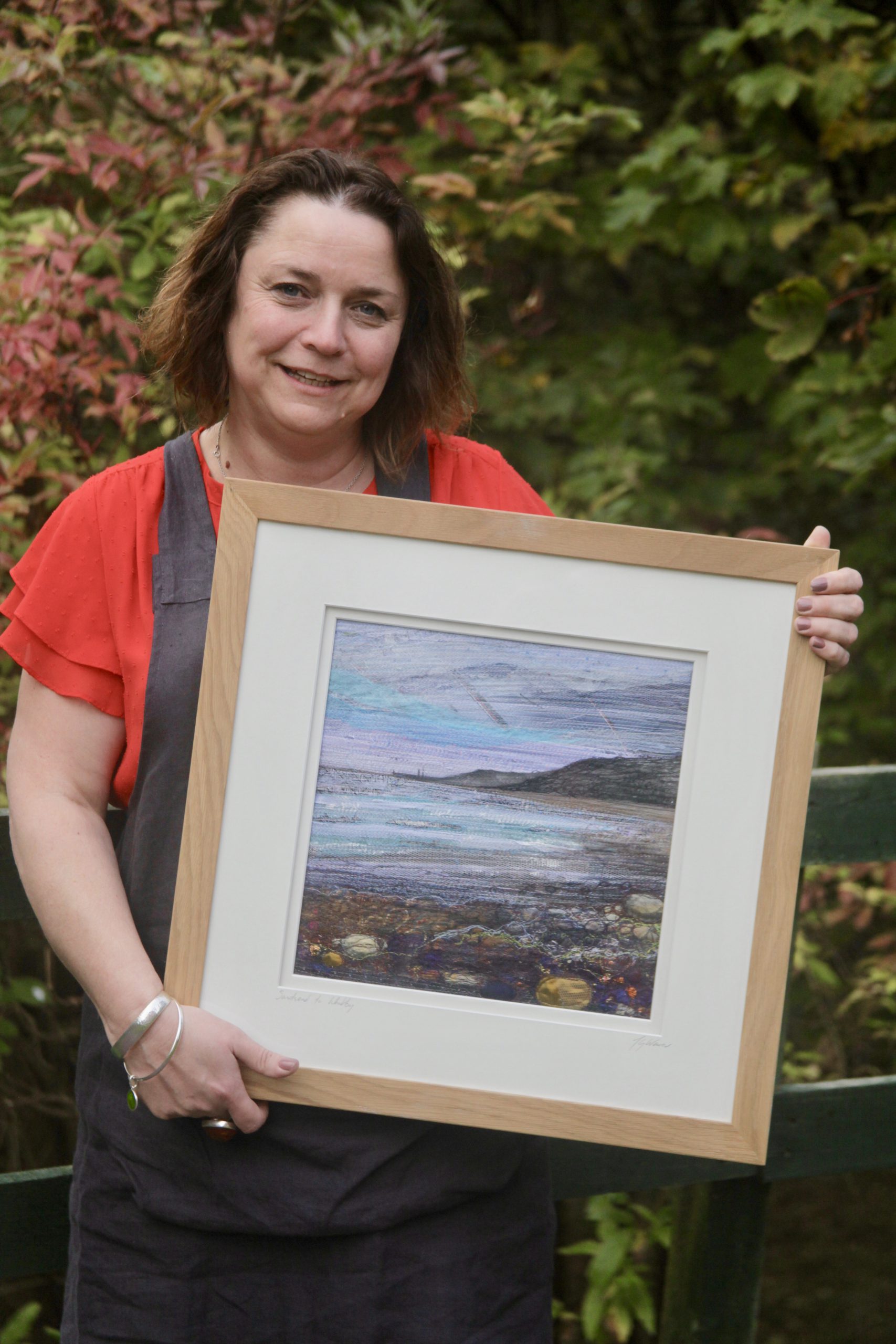 MONDAY PM
6.30PM WELCOME TO THE NORTH
We meet for dinner at the Hall, the original stately home of Raithwaite Estate. The restaurant has abstract paintings and seascapes on the walls. There are colourful chairs and chunky wooden tables. The other six participants on the course, all women, live in Yorkshire. They're keen dressmakers and WI members. I, meanwhile, have never even touched a sewing machine. A fellow student, Margaret, offers to lend me a manual for bedtime reading.
TUESDAY AM
8AM BRISK SEASIDE WALK
Despite being near the sea, Raithwaite Estate occupies a wooded gully so there are no sea views. However, it's only a five-minute walk to the beach. I wander down before breakfast. I take snaps of coastal scenes: dog-walkers on the shore, the crocodile shape of a dark headland north of Sandsend. Across the beck that runs through the village, skeletal remains of wooden groynes poke through the beach. Sandsend is aptly named. It is where the sandy bay stretching north from Whitby, backed by slumping brick-coloured clay cliffs, ends and dark shale cliffs begin. The village has a fancy fish restaurant-with-rooms, a pub and a couple of beachside cafés.
9.30AM SEWING CIRCLE
We gather in a basement room of The Keep, a castellated satellite to the Hall. This will be our classroom for the next two days. There is a table covered in balls of thread, rolls of knicker elastic, bags of raw wool, bright beads and mystifying jars. In a corner of the room, a tsunami of scrap fabrics tumbles out of a plastic crate. The other students set up their sewing machines. Anyone, like me, who doesn't own such a beast, can borrow one from Justine. She has positioned mine between Margaret and a woman named Christine on a round table. There's a saucer of chocolates in the centre. Margaret and Christine are on their hands and knees under the table, positioning pedals and plugging in cables.
10AM a CORNUCOPIA OF MATERIALS
We help ourselves to coffee then stand around the table resplendent with mysteries. Justine opens the glass jars to show us various things we can use in our work – brightly dyed feathers from a hat, netting from satsumas and sari silk. 'Don't use too much of the bright silk,' she says, adding, 'it's not that I'm a tight Yorkshire person, it's that your work will look better with just a small bit as a highlight. A touch of brightness will lift the flatness of the fabric.'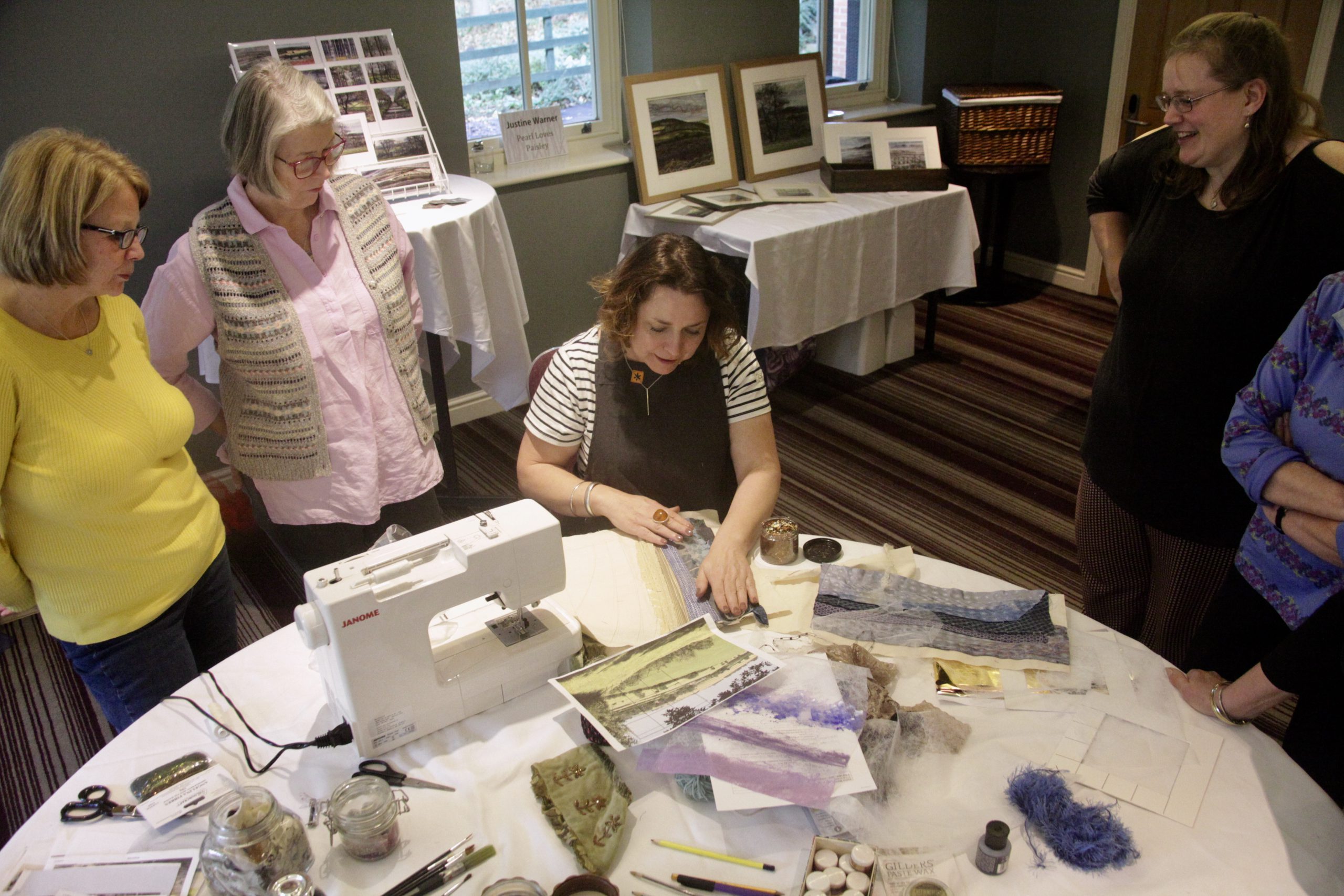 She opens jars of light-as-air flakes of silver and gold leaf. 'Don't sneeze!' she warns. There are bottles of paints and inks to add shadow or highlights, and bright beads to sew in for detail. Some items serve more than a decorative purpose. Synthetic netting can be used to hold down wool and gilding flakes while sewing on top. The netting can be melted off once everything is securely stitched. A heat gun is used for this, a machine that can reach temperatures of 200˚C.
11AM CHOOSING A SUBJECT
Justine teaches us the 'rule of thirds' and shows us a stack of pictures she has printed out that we can use as inspiration. I opt to use a photo I've taken on the beach. On my laptop, I crop it to a square. We will be working to fit a 30x30cm square. 'Ikea sells frames in that size,' explains ever-practical Justine. We choose fabric scraps that will form our background colours, in bands from top to bottom. I decide to turn my sunny photograph into a stormy scene. I choose pieces of fabric – ties and scarves in colours from indigo to jade and, after a lesson in how to use a sewing machine, set about sewing them to a square of backing fabric. The result 'looks kind of Japanese', says Margaret.
TUESDAY PM
1.30PM STARTING TO STITCH
After lunch we continue layering and blending fabric scraps, wool, threads and organza until the distinct lines between our background swatches have disappeared. Justine explains how our work will look better if the sky is as flat as possible. 'You need to sew the heck out of it,' she says. She wanders around between us offering advice. By 4pm – I have reached the horizon.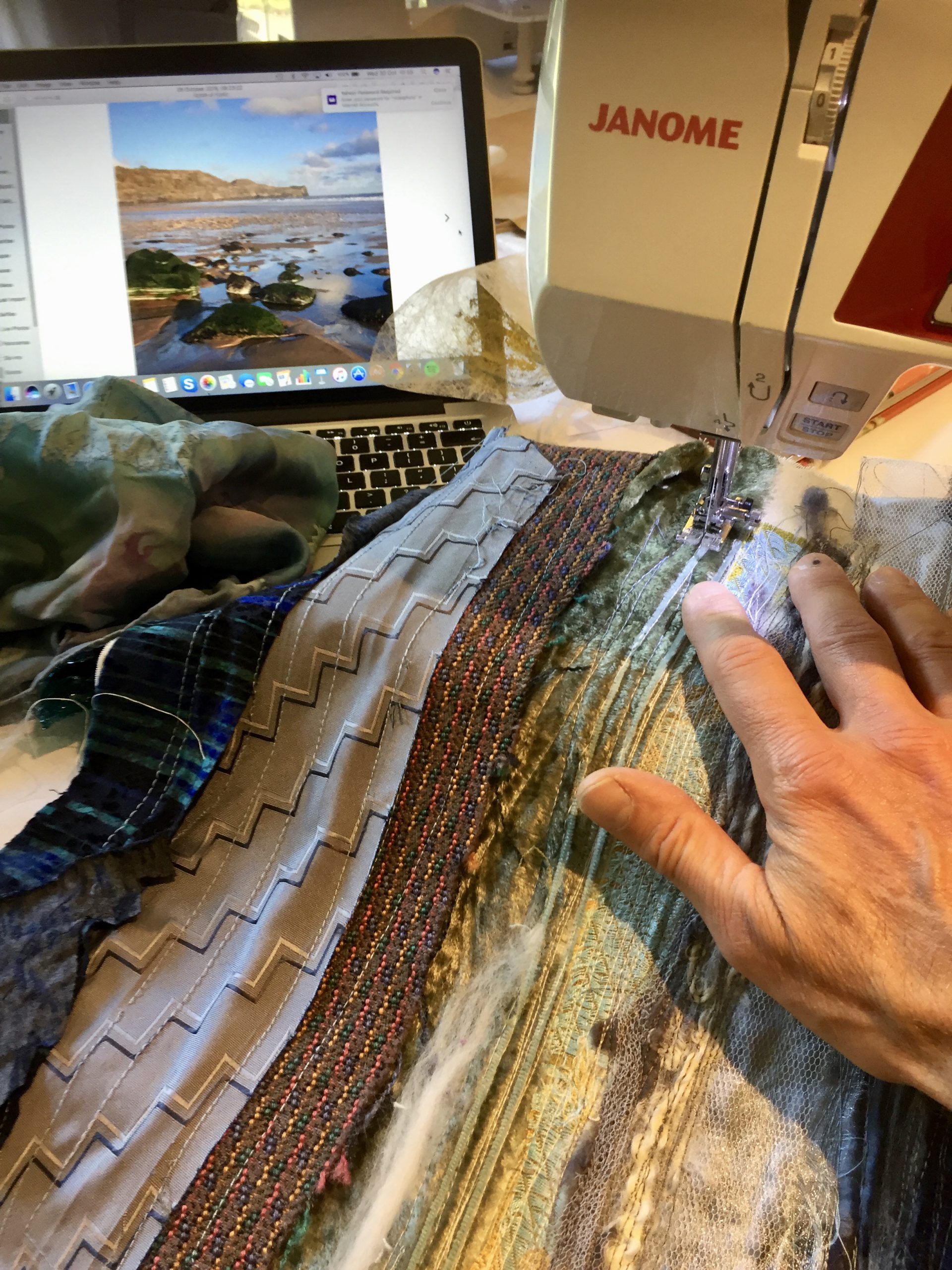 6PM RELAXING DINNER
We enjoy another three-course dinner in the hotel, included in the course fee. I regret not taking some scissors. A sneaky snip of Margaret's mohair outfit would add lovely colour and texture to my art…
WEDNESDAY AM
10AM INVENTIVE EXTRAS
"That's a great washed cotton they have in LYH, I promise!"-, everything she could say.
Justine has invented a way of making 'pebbles'. It involves using heat-shrink fabric, activated with a steam iron. At our table, Margaret begins to make some for her foreground: cutting ovoids of fabric and free-machine stitching them into a sandwich of fabric. I'm still blending layers, now below the skyline, ready to add 'land' on top later. Justine suggests an ochre fabric for my beach. She helps stitch a length of dark blue wool as a straight line for my horizon. Time is ticking away and yet my creation appears like the messy backside of a tapestry. I try to relax into the work, enjoying the process. I choose a sheer scarf for blending, some wool and some organza. 'It's super,' says Justine. She places a 30x30cm cardboard mount on top of my work in progress. It is looking like a passable seascape.
WEDNESDAY PM
1.30PM GOING FREE STYLE
Justine shows us how feathers can be used to make trees and wool for bushes. Three of us have never done free machine embroidery. It's all very technical. The feed-dog is lowered and the foot changed. 'Can I borrow your foot?' is a sentence probably only overheard in sewing circles (or reflexology lessons). 'I've got a spare foot,' even rarer.
I stitch on a piece of material for the promontory but my free-machine stitching of 'rocks' in the foreground goes awry, fabric tangling up in the foot. Never mind. On the whole, I'm impressed with what I have made, especially when seen in a frame. 'It's lovely – like a long exposure photograph,' says Justine kindly. The others have produced some marvellous work – extremely neat with details of bright threads and even hand-sewn beads. We're all pleased. We say our farewells. I find I'm joined to my artwork by a thread.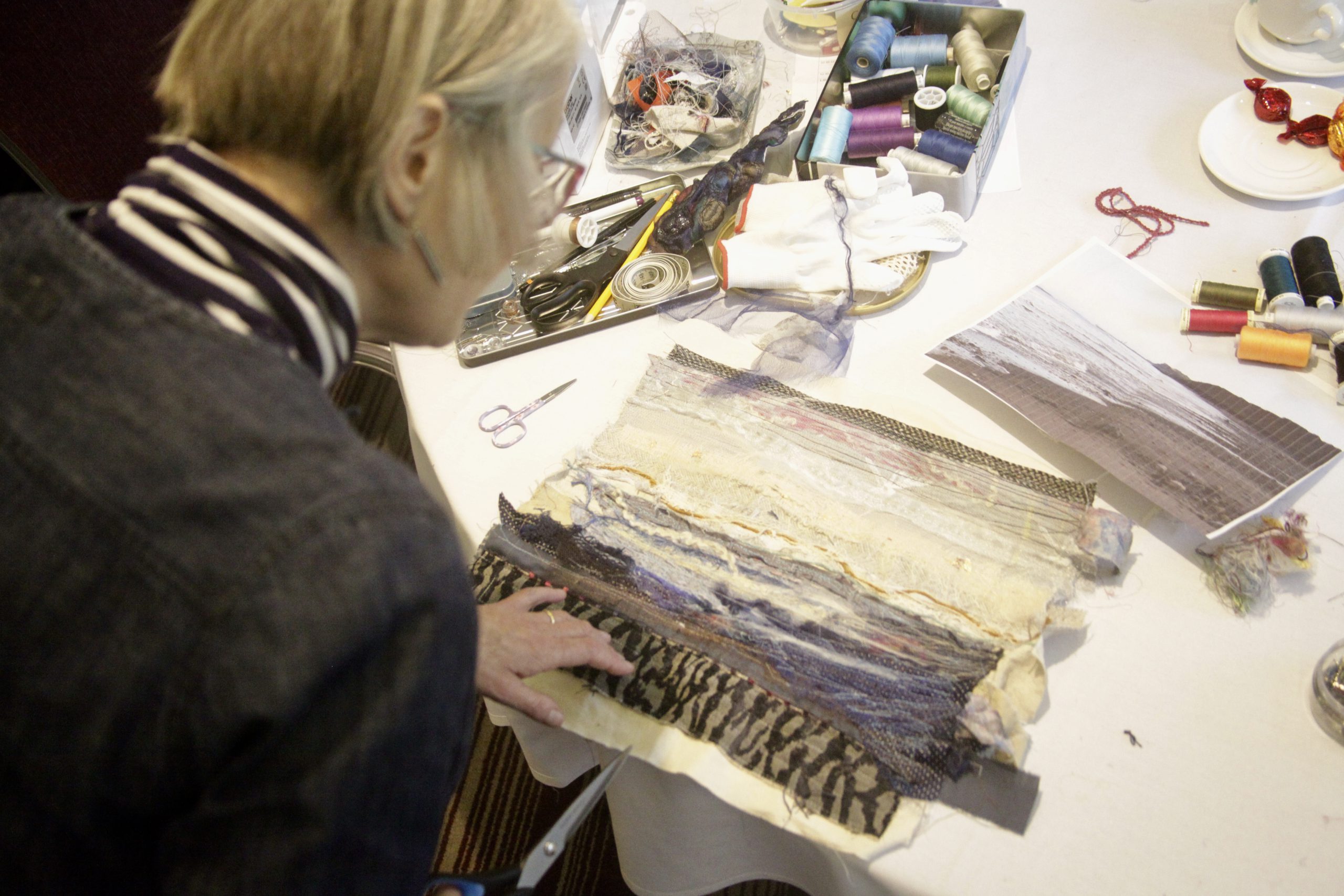 Need to know
How to book
Justine Warner will be leading another Creative Coast Experience workshop at Raithwaite Estate in 2020, from 26-28 October. It is priced at £429pp, based on two sharing a room, or £538pp for single occupancy. The experience includes a two-night stay, breakfast, light lunch and group evening meal each day, artist demonstrations, select materials included for the sessions and access to the hotel's spa facilities for the duration of your stay. For more details and to book, call 01947 661661 or go to raithewaiteestate.com.
How to get there
Paul Miles travelled to Whitby in North Yorkshire for coast by train – for times and tickets see crosscountrytrains.co.uk.
NOTE – Please check current government guidelines before planning any UK trip.