Nicola Smith slinks through the salt marshes in search of contraband, learning traditional sailing, navigation and survival skills as she goes
The British coast is not all about buckets, spades and ice creams – it has a darker side too. In the 18th century, harsh taxation prompted a rise in illegal trading. Certain sections of the British coast became hotbeds of smuggling as luxury goods such as tea, gin, brandy, silk and lace were brought in from the continent by sailing ships, and covertly distributed inland.
North Norfolk was one popular haunt for these criminal gangs, boasting numerous lengthy beaches just across the sea from Holland. Yet a successful smuggling operation demanded more than just the right location: it needed a highly skilled sailor with intimate knowledge of local waters to deliver the contraband discreetly to the right place at the right time, while evading watchful customs officials.
When I was offered the chance to take part in an adventure training exercise that teaches the traditional boating and coastal fieldcraft skills used by smugglers 250 years ago, I was quickly onboard. It was a day well spent with Henry Chamberlain, a former Royal Marines officer and UN worker who returned to his native North Norfolk to establish the Coastal Exploration Company.
7AM ALL ABOARD
The sun is rising as we muster on the East Quay at Wells-next-the-Sea, the air cold, the water still and the tide high. Henry introduces himself and crewmate Dom, as well as his handsome traditional Norfolk working boats, which have been beautifully restored. We climb aboard Salford, a 30ft open wooden gaff rigged whelk boat, with its characteristic four-cornered sail, donning life-jackets and listening to Henry's safety briefing. He is at pains to tell us he does not condone smuggling in any way, and that the purpose of this trip is to learn the skills used by smugglers of old. But we know there is booty to be had, and the adrenaline is starting to flow.
We are promptly called into action as we motor out to sea, removing sail covers and helping to attach the headsail. Henry cuts the motor and turns the boat into the wind as we pull the halyards, raising the deep red sails high into the sky. Suddenly we are sailing, the sleepy morning sky streaked with pink and blue. Henry says smuggling operations could be covert or overt. We are covert today: to the untrained eye we are heading out for an adventure training sail towards nearby Holkham Hall, as Henry frequently does.
8.30AM LEARNING THE ROPES
As we return from open sea towards the salt marshes, we spot several plump geese soaring in the distance, their high-pitched honks carrying across the water. Henry teaches us some basic knots – crucial for every competent sailor. We watch as he demonstrates the bowline and reef knots, and we keep practising until we earn his approval.
The sky blackens and it starts to rain. We hastily put the cover on the boat, creating a canopy. Henry stresses the importance of looking after yourself when out in the elements – keeping warm, dry, fed and watered is paramount to a successful mission.
We edge towards the sandbanks. There are approximately 12 hours between high tides, with about two hours of passable water either side of high water. Getting it right is an art with the sandbanks constantly shifting, their passable channels a moveable feast. The only way to plot the safest route is to regularly walk the creeks at low tide, as Henry and his team have done often, observing how they have altered. Local knowledge is really essential, and in Henry and Dom we have it in spades.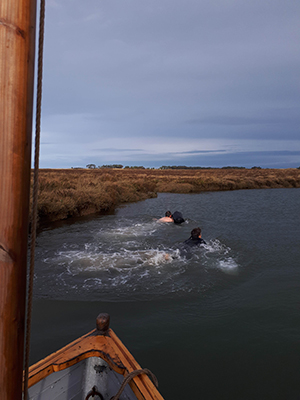 9.30AM IN THE SWIM
Having wended our way slowly through the salt marshes, we spot Colin, Henry's colleague, who has sculled one of Henry's other boats – the 16ft Brancaster mussel flat – out to meet us. I am reluctant to partake in the next training exercise – a wild swim along the uninviting creek to simulate the action a smuggler might have to take if compromised. But Henry is nothing if not inspiring. In no time I have donned Colin's spare wetsuit, and we have transferred to the mussel flat, Colin manfully sculling us along to our entry point.
I follow Henry into the cold creek, with a sharp intake of breath. We power through the water, dry bags on back, hopping out further up the bank, drying off and jumping back in the mussel flat to be whisked back to the Salford. I feel invigorated – and ravenous. Dom has lit the small woodburner and it is toasty under the canopy. Changed and dry, we enjoy excellent bacon, eggs, bread and coffee, all locally sourced.
11AM THE LIE OF THE LAND
Henry leads us onto some nearby high ground where we sit in the long grass, maps and compasses at the ready. He refreshes our Ordnance Survey map-reading skills, showing us how to pinpoint our exact location using everything from gradients to footpaths, rivers to coppices. We learn to use the compass to identify our precise grid location – ensuring that we will later be able to find the contraband as quickly as possible.
We benefit from some of Henry's advanced military skills, not least 'why things are seen'. This comprises shapes, shadows, silhouettes, spacing, surface and movement, and teaches us the power of observation and how to spot danger while concealed. We scan the horizon for suspicious persons as we creep back to the Salford.
12.30PM SPY MATERIAL
Henry shows us how to gut mackerel, and we each prepare one before then frying it over the woodburner. With our stomachs filled, we're ready to put our training into practice. We are given our rendezvous point – we must locate a certain café in Wells and identify a youth reading a book about birds. On being asked a specific question, he will provide us with the grid reference for the drop.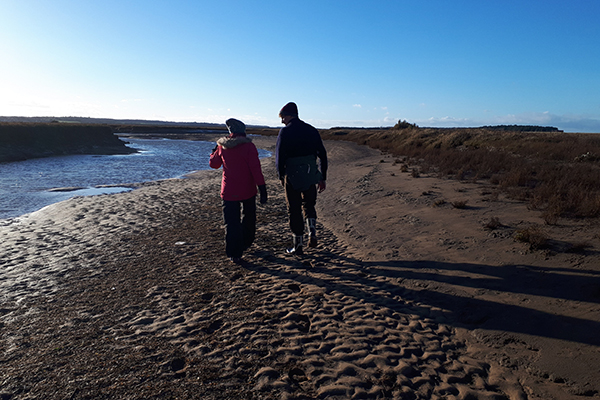 1.30PM MISSION RENDEZVOUS
It is mid-tide and we stride across the marshes, the low afternoon sun creating something akin to a lunar landscape. We are escorted by Colin, who judges the creeks, advising on where to step. We are unsuccessful on more than one occasion and squelch our way into the café having left him keeping watch on the quay.
The twitcher is waiting. After ordering a cup of tea and striking up a conversation, we ask if he has seen a marsh harrier. His answer is as we had hoped. Moments later he leaves, placing a piece of paper on our table as he goes. Hearts racing now, we have the grid reference and the fruits of our labour are in sight. Confident we aren't being followed, we locate Colin and return to the boat.
5PM SAILING OUT
The afternoon is a waiting game as the tides slowly rise again. We check the eight-figure grid reference on the map and pinpoint where the contraband has been dropped. The mussel flat is the most appropriate vessel to reach the location. The light fades quickly over the marshes as we heat tomato soup by the light of a Tilley lamp. We tuck in with artisan bread and cheese, followed by delicious local flapjack. We need to keep our strength up – the mission ahead is nothing if not uncertain.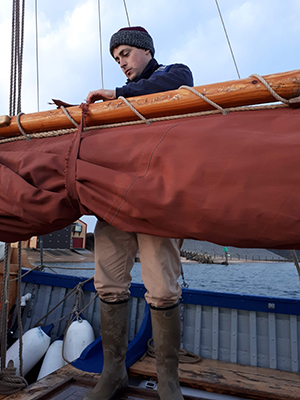 7PM FINDING THE HAUL
The tide is finally high enough, and we layer up, life jackets on, torches in hand, and board the mussel flat, easing into the silent, eerie creek under a carpet of stars, the tiny light of the Salford growing ever smaller. We sit in studied concentration, each scanning one side of the bank with our torches, looking for plunder. It is about half an hour before we shriek (very quietly) with delight. Our eyes have adjusted to the inky night and we've spotted a rope high up on the bank. I clamber up to find a bag attached to an anchor, and haul it aboard. Success.
9PM HOME AGAIN
We inch our way back under the beautiful firmament, enveloped by the salt marshes with not a soul in sight. A hesitant breeze whips up and we raise the sail, carrying us back towards the Salford. Onboard we make haste, chugging gently back to Wells Quay, towing the mussel flat behind. Back on dry land we scan the cold night for shadowy strangers before checking our haul. It would be unwise to disclose the contents, but suffice to say, it was a fitting end to a magical trip, and we will savour both our booty and our memories.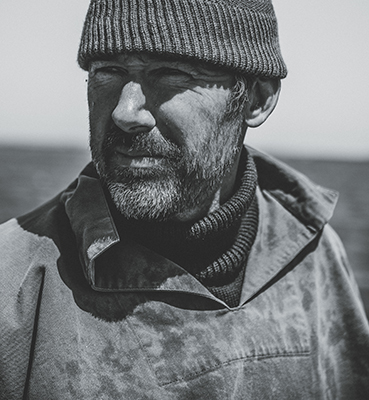 ASK THE PRO
Coastal Exploration Company founder Henry Chamberlain was formerly in the Royal Marines. 'Coastal fieldcraft and smuggling skills are some of the most advanced seamanship skills it's possible to acquire: the ability to navigate creeks and seas at night in bad weather, for example. The North Norfolk coast is a wild and beautiful place and these trips are also about recharging in nature, disconnecting from the modern world and leaving behind mobiles and iPads. There is an environmental aspect to what we do too: no plastics, minimum use of the diesel engine – therefore less pollution. You connect more with nature as you have to understand wind and tides. It is about preserving some of the old ways, gaining a deeper understanding of previous generations.'
NEED TO KNOW
A day's smuggling with the Coastal Exploration Company costs £225pp, and £300 for an overnight trip that includes wild camping. Maximum group size is six, and smuggling trips run all year. To book call 07970 276397, or book online at coastalexplorationcompany.co.uk.
Nicola photographs: Fiona Rundle
GETTING THERE
BY CAR: Wells-next-the-Sea is located on the main A149 coast road.
BY AIR: Wells-next-the-Sea is a 50-minute drive from Norwich Airport, which is served by flights from Edinburgh, Exeter and Manchester.
BY BUS: The Coasthopper Bus runs approximately every half an hour during the summer and every hour during the winter. The service runs along the North Norfolk coast, and connects with trains at King's Lynn and Sheringham.
BY RAIL: The nearest train station is at Sheringham, which connects to Norwich via the Bittern Line. Sheringham is approximately 17 miles from Wells. Larger stations with main line connections are at Norwich and King's Lynn.
WHERE TO STAY
Norfolk Hideaways has a number of properties in Wells-next-the-Sea, including a beach hut and a converted boathouse (01485 558349, norfolkhideaways.co.uk). Overlooking the town's Georgian square is also The Globe Inn, which has 19 lovely en-suite bedrooms and a great restaurant, with food sourced from local butchers and fishermen (01328 710206, theglobeatwells.co.uk).