Caroline Wheater tries her hand at a simple Japanese printing technique, taught by an accomplished artist at her North Cornwall studio
The Japanese technique of Gyotaku or 'fish rubbing' – also known as 'fish printing' – was a way for 19th-century fishermen to record their catch by taking an impression using rice paper and edible inks. Cornish artist Susie Ray came across Gyotaku a few years ago on Pinterest and was so inspired that she started experimenting with the technique herself. It's easy to see why it appealed. After training as an artist, Susie specialised in the precise world of seashore flora and fauna book illustration, becoming a self-confessed 'seaweed nerd' in the process, and fish rubbing offers a similar realism.
Now, Susie offers workshops on this Japanese craft at her St Merryn studio, near Padstow in North Cornwall. Intrigued, a group of five students recently gathered at her HQ to learn this new-old art. We turned our phones to silent, donned our aprons and quickly became immersed in the artist's creative and imaginative world. The four-hour workshop whizzed by, enhanced by Susie's enthusiasm for our work, and aided by her wonderful drawing and painting skills as well as her confidence-boosting sense of fun.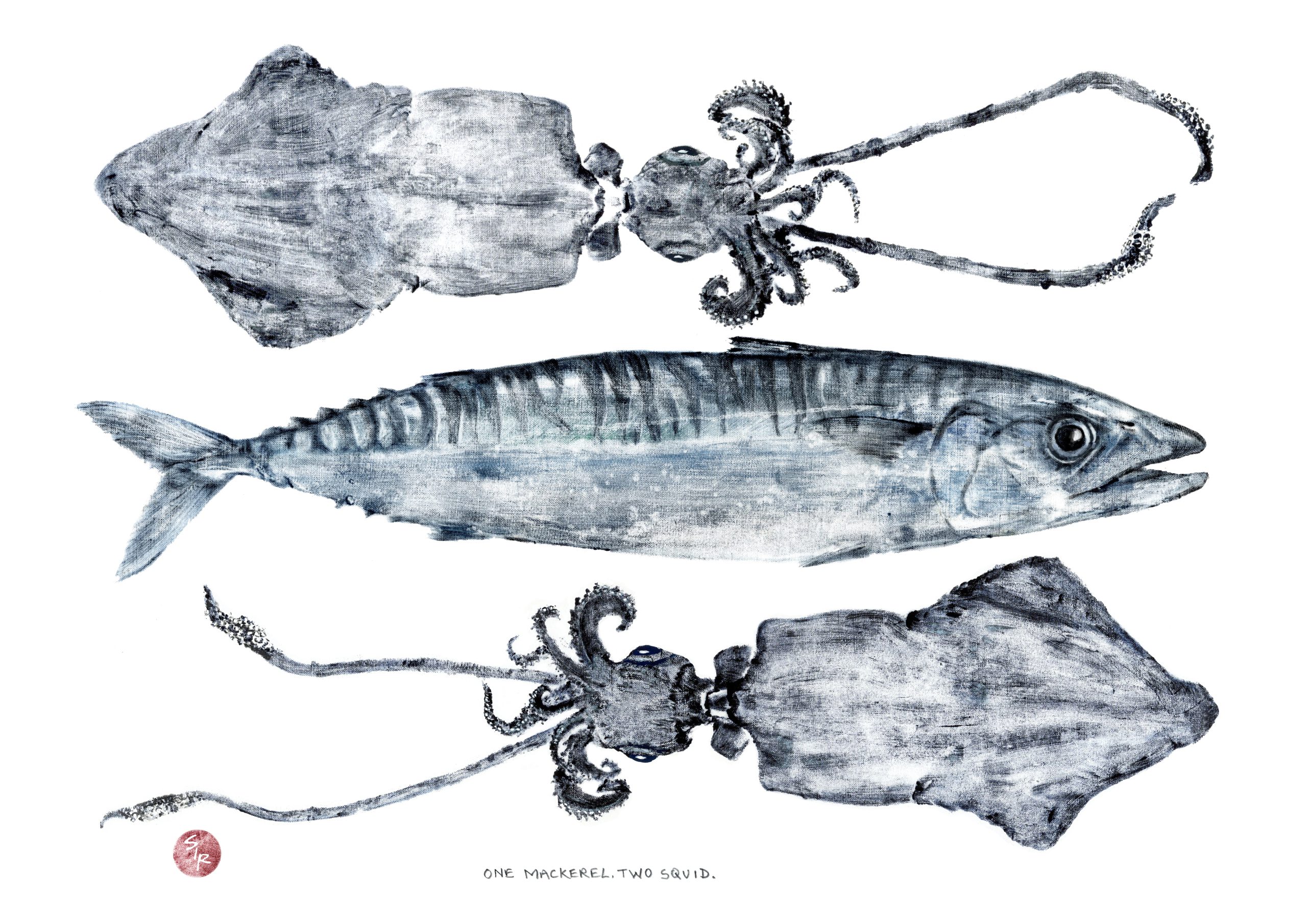 2PM WELCOME TO THE STUDIO
Light streams into Susie's newly built art studio – a place full of coastal inspirations, with flotsam and jetsam showcased in frames, hanging from the ceiling, and arranged on windowsills. The views are dreamy, looking west over Treyarnon Bay and Porthcothan. We're here to learn how to take rubbed prints from seaweed, shells and fish, and there's a frisson of anticipation as our small group gathers. Ollie, Susie's partner, settles us in with hot drinks and biscuits, while Sydney, their fluffy dog, bumbles about.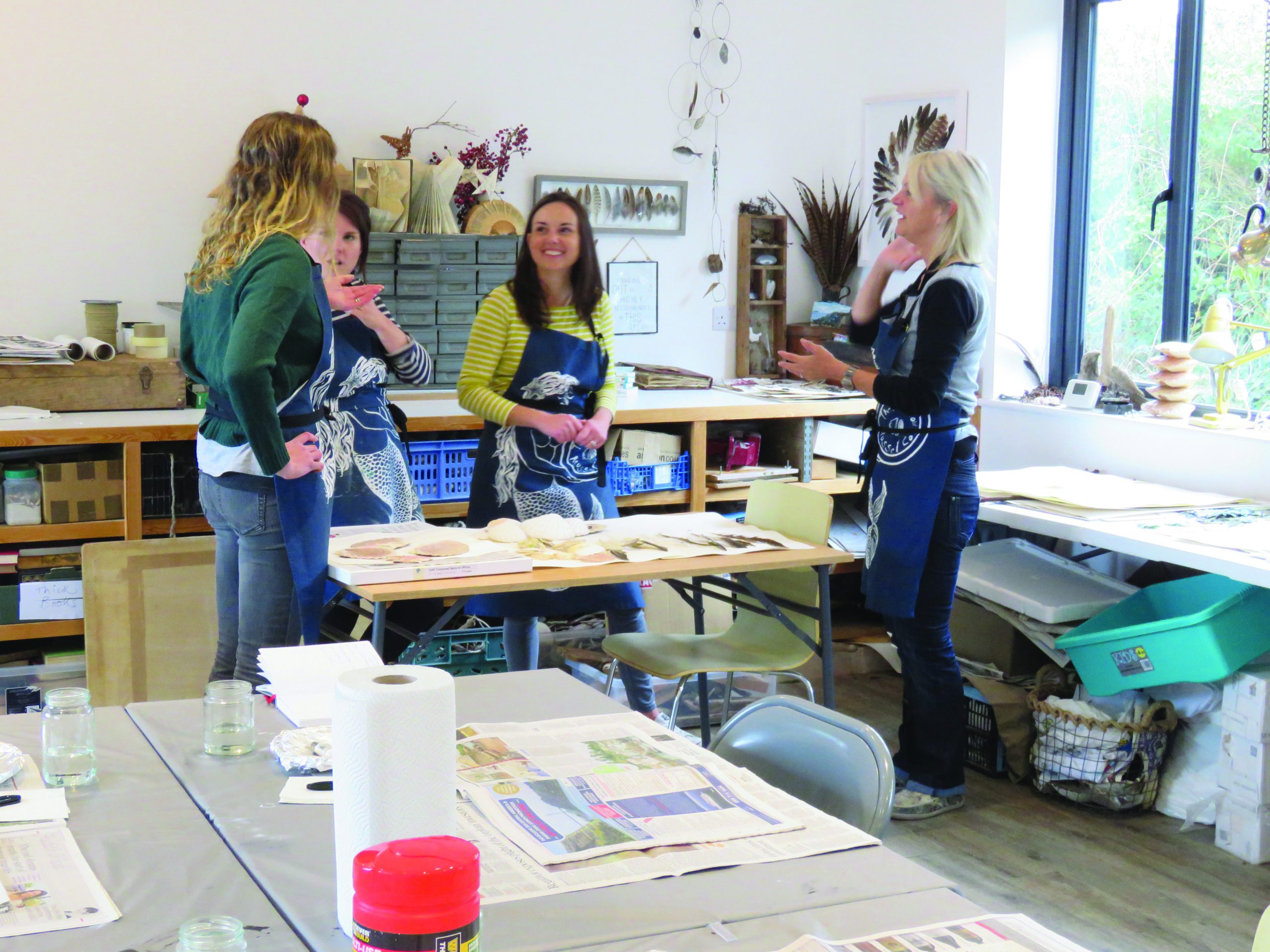 2.30PM APRONS ON
Tea drunk and introductions over, Susie dons an apron and takes us through a few health and safety points, such as, don't (by accident) drink the white spirit used to clean brushes. I make a mental note – well, I am out of my comfort zone and I could do something silly… She tells us that the Gyotaku method can be used to take imprints of all manner of objects as long as they are fairly flat, from freshly gathered seaweed to feathers, ferns, ivy and shells, even prawns and fish. It sounds great, if a little perplexing.
2.45PM MIXING PAINTS
A demonstration is required so Susie chooses a discarded scallop shell collected from Rick Stein's Restaurant in Padstow. She places the lid of the shell (as it's flatter than the underside) on newspaper and then prepares her Winsor & Newton fast-drying oil paints. From a couple of squirts of Ivory Black and Phthalo Blue
she blends a further blob of dark pigment. These paints are just the right consistency, she explains,and once dried can be washed on a cool wash without running.
2.50PM MAKING AN IMPRESSION
Using a small brush, Susie paints the shell's surface thoroughly and evenly, including the dips between the ridges. While the paint is moist, she picks up a square cotton cloth and gently pushes it down onto the shell, smoothing and pressing with her fingers. A few seconds later, she places the cotton, image side up, on the table. We all gasp with admiration. Before us is a perfect 2D rendition of the shell, from the little hinges to the textured surface.
3PM GETTING READY
Inspired by Susie's shell print, it's our turn. There's an excited burble of chatter as we whizz around the studio, preparing. I nip to the shell table and choose two scallops of different sizes to start with. As I pick up a piece of cotton cloth Susie explains that these squares are actually cut from old cotton sheets bought from local hotels. Apparently, their starchiness helps to absorb the paint and pick out the detail.
3.10PM SHELLS FROM THE SEA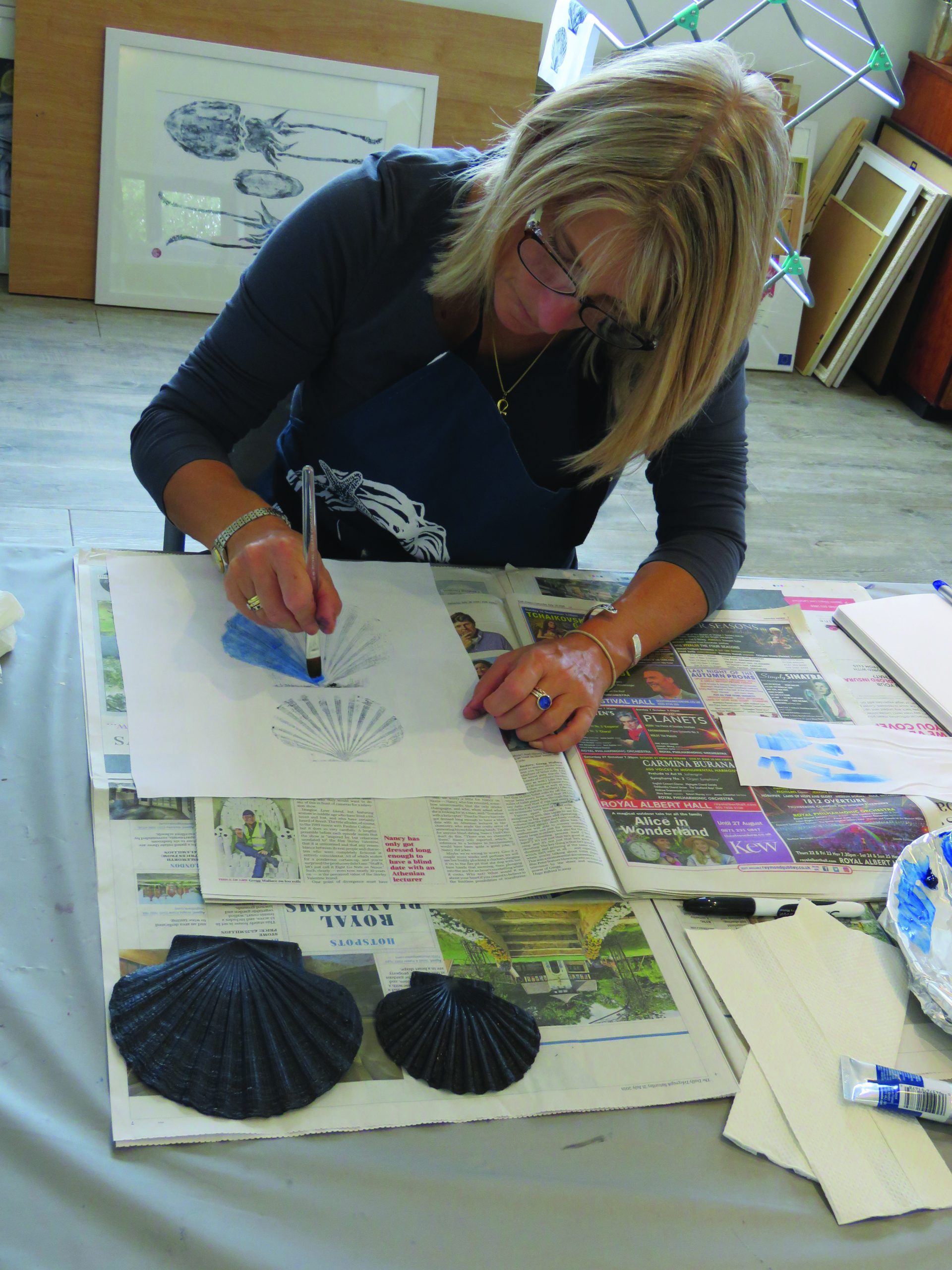 Tentatively and with concentration, I begin painting the surface of the bigger shell, giving it two coats until it is jet black. Now I'm ready to do my first print. I lift the cotton square and place it over the shell, pressing my fingers over the ridges, right to the edges. After several minutes of smoothing, I lift it up to find a lovely, if somewhat heavily inked, shell print. I repeat the process with the second shell and the result is more subtle. I'm starting to get the measure of Gyotaku, and hang my prints on a clothes airer to dry.
3.30PM MORE SUBJECTS
My next print is a large frond of kelp, and the waxy surface takes three coats of paint. The result is dramatic – an almost tropical-looking leaf and stalk. Gull feathers follow. Each time I take a new print, I understand better how the process works – through my sense of touch I'm exploring each subject in a new way which is almost meditative. As if by magic, Ollie breaks the spell with more mugs of tea and we compare our prints – all slightly different – and remark on the relaxing nature of the workshop.
4.30PM THE BIG FISH
As prints dry, the grand finale is just minutes away. Next, we are to rub a magnificent John Dory, a large but flattish fish with the ideal shape to print from. Susie has one for each of us but she demonstrates again first, in her expert, measured way. Deftly, she lays out the gutted, eyeless fish on a large piece of card, carefully pinning the fins to some extra card so that they fan out nicely. She paints the fish, then prints, and the resulting image is brilliant. A John Dory looks so ancient, as though it belongs with the dinosaurs. My powers of observation are improving by the hour.
5PM FISH FEVER
Under Susie's direction, I paint a new John Dory, paying lots of attention to the little fins and to the eye and mouth. The flesh is firm, and it's a slightly strange sensation drawing the brush across the skin. I blot the paint with some kitchen paper and then place the fish on a clean piece of paper, before laying a large piece of cloth over it, with the help of a classmate so as not to smear the surface. In meditative mode, I gently press down all over the fish, taking several minutes to smooth and massage every inch of my piscatorial subject matter.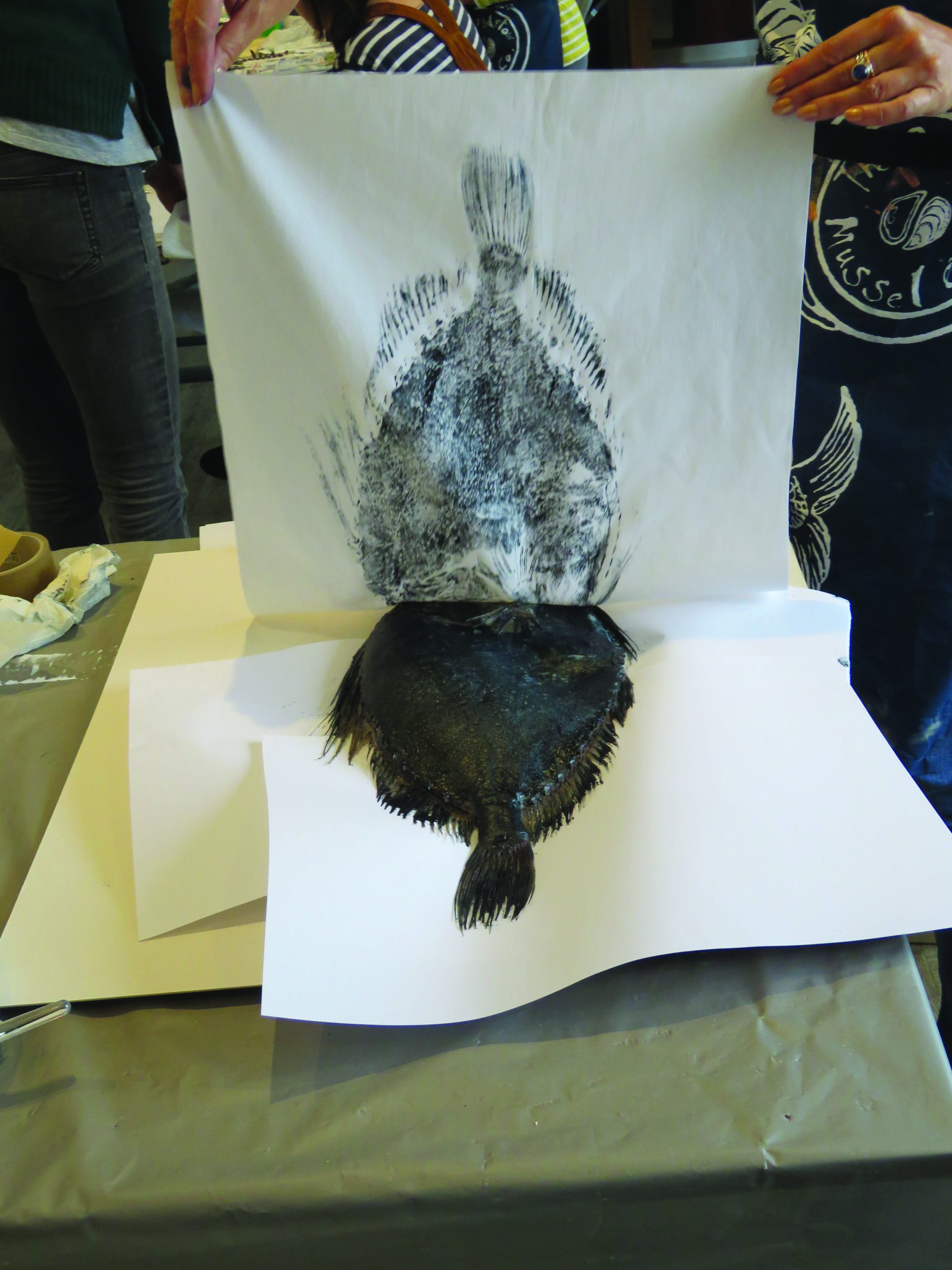 5.30PM THE GRAND REVEAL
Gently, I peel back the cloth to reveal a print so visceral it's striking. Susie helps me paint in important details such as the eye and the ends of the delicate fins, and I add a blue wash to give my John Dory greater visual impact. As one last cuppa comes round, the studio is filled with satisfied oohs and ahs as we all admire each other's work. It's six o'clock and home time. With eight prints to my name, I've got quite a haul. The John Dory, however, is the catch of the day.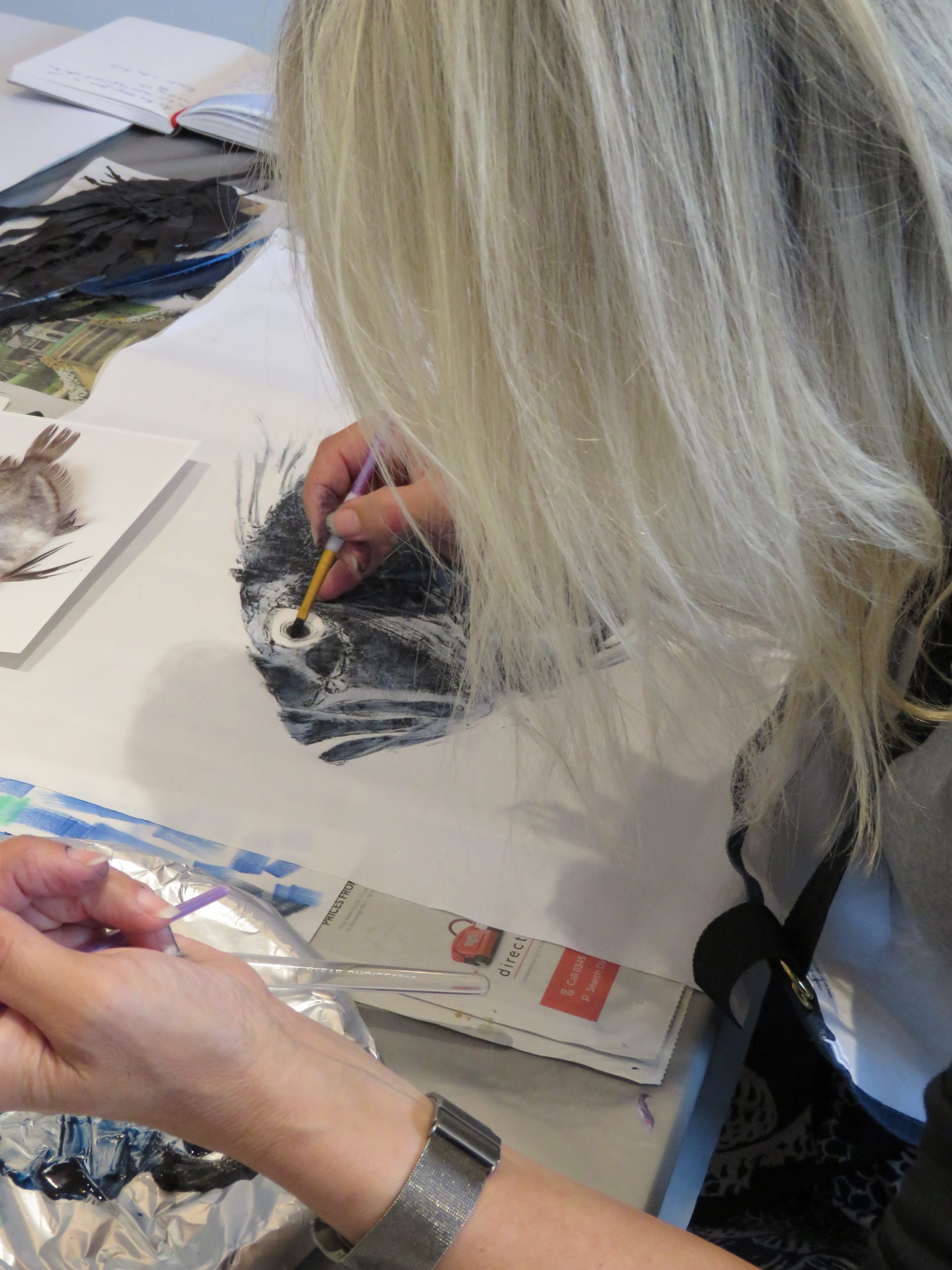 BOX – ASK THE PRO
Susie Ray grew up on the South Cornwall coast but studied art in London, first at the Chelsea School of Art for her foundation course, then at Hornsey College of Art. A successful book illustrator, she moved back
to North Cornwall 18 years ago and has developed her practice further, including copying masterpieces, painting landscapes and seascapes, and running arts and crafts workshops for small groups of students. 'I first tried fish rubbing using an old rag and a painted scallop shell and it was an, "Oh, my God – this is amazing!" moment,' she remarks. 'With fish rubbing you don't need any special skills and everybody gets great results.
BOX – NEED TO KNOW
How to book
Susie Ray's fish-rubbing workshops take place during an afternoon, and cost from £60pp, including refreshments. See the website for dates. To book call 01841 521031, email [email protected] or find them online at susierayworkshops.co.uk.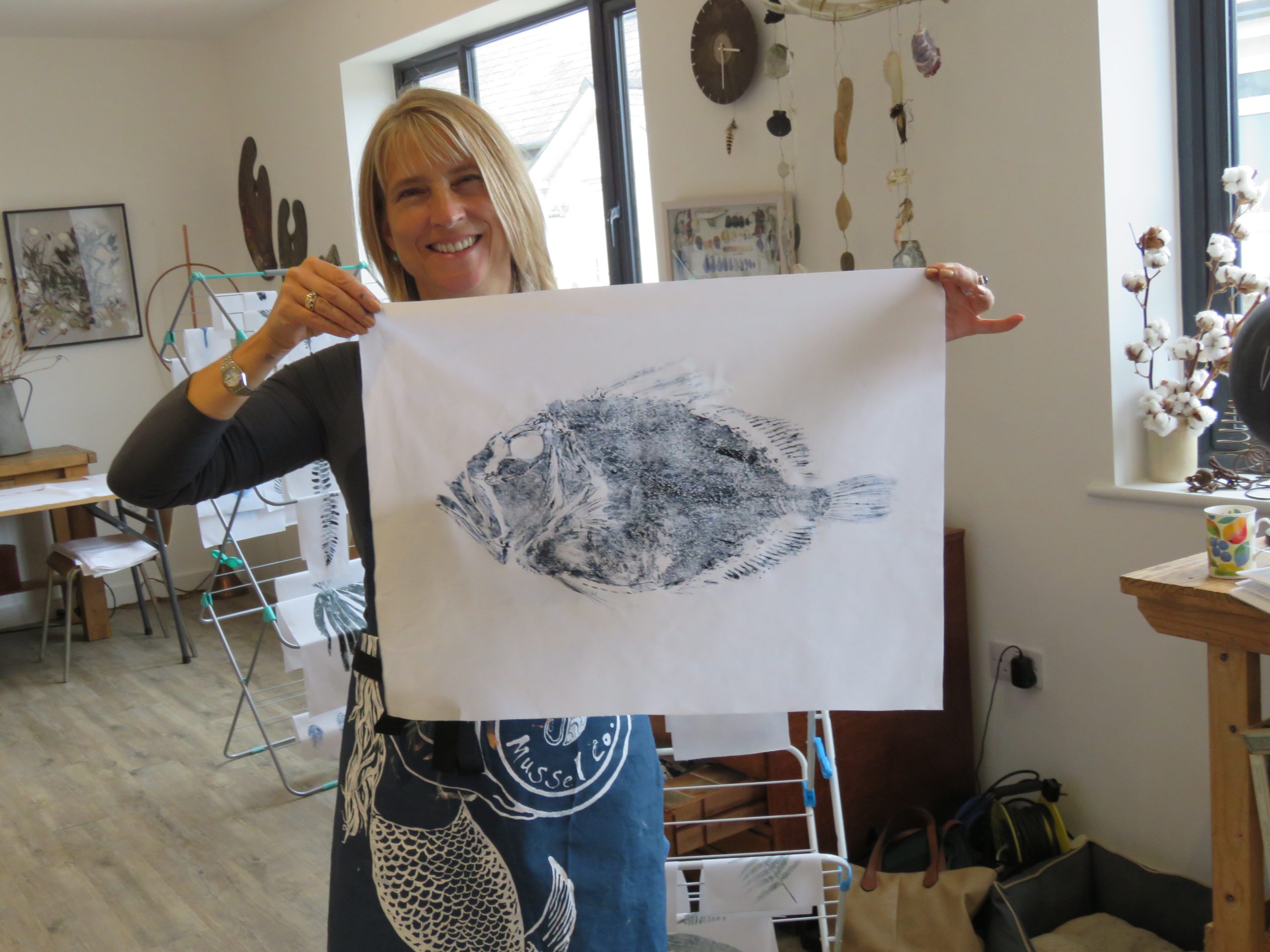 GETTING THERE
By car: St Merryn is a few miles from Padstow, reached via the B3276.
By air: St Merryn is roughly a 25-minute drive from Newquay Airport, which has up to three flights a day from London.
By bus: The Atlantic Coaster A5 from Padstow Bus Terminus to Newquay to the stop at the chip shop in St Merryn takes 15 minutes.
By rail: From Plymouth, catch the Penzance train, which stops at Bodmin Parkway. The BlueFlash 11A bus from Bodmin Parkway goes to Padstow.
WHERE TO STAY
Susie and Ollie offer accommodation in two gorgeous new cabins on-site, The Lobster Pot which sleeps two, and The Strandline Cabin which sleeps four (01637 861005, beachretreats.co.uk).
coast stayed at the Mary Dann Apartment at Duke House, part of a boutique collection of luxury properties in Padstow Old Town. The ground-floor apartment has a double bedroom with king-size
bed, bathroom, kitchen and lounge-diner, with wifi, White Company toiletries and a welcome hamper. A three-night stay costs from £186, a week from £280 (07815 201864, padstowbreaks.com).