As the new sea sport arrives on our shores, James Stewart, Travel Journalist of the Year 2021, is eager to have a go – first lying, then standing, then flying across the Menai Strait on a hybrid surfboard
Whenever summer approaches, as predictable as roadworks on the M5 come newspaper articles about British surfing. The sea is warm(er), the sun shines (hopefully) and we all get to pretend that Cornwall is California. Or we might, if there were waves. As any British surfer will tell you, fewer storms in the Atlantic Ocean over summer means fewer waves on our shores. That's where an eFoil comes in.
In 2019, after a decade of development, a Puerto Rican company called Lift launched a motorised surfboard that flies. Yes, you read that right. Called an eFoil, it is a board with a 5,000w electric motor and a foil – a hydrodynamic wing which lifts the board above the water for a ride that's faster (no drag) and smoother (no chop). That's the theory anyway.
Blogosphere footage of eFoils hovering above the sea is extraordinary. They are the surfboards that Back to the Future's Marty McFly might have ridden. And now you can too – after Anglesey boat-tour operator RibRide opened the first foiling school in the UK, FoilRide. The FoilRide team hope their mums will book a session as well as the core market of intrigued surfers and paddleboarders. The question, though, is can any of them get airborne after a single lesson?
SATURDAY AM
10AM THE THEORY
At RibRide's base at Menai Bridge, co-founder Tom Ashwell shows me around an eFoil. It's the love child of your basic surfboard and paddleboard – a broader, thicker, carbon-fibre surfboard with a deck-hatch for the battery. Controlled by a handheld Bluetooth throttle like a Scalextric controller, the electric motor is mounted on a carbon-fibre blade beneath. 'It's virtually silent,' Tom says. 'Like having an electric toothbrush under your feet.' Beneath it, at the blade's tip, is a wing – the foil that makes the magic happen.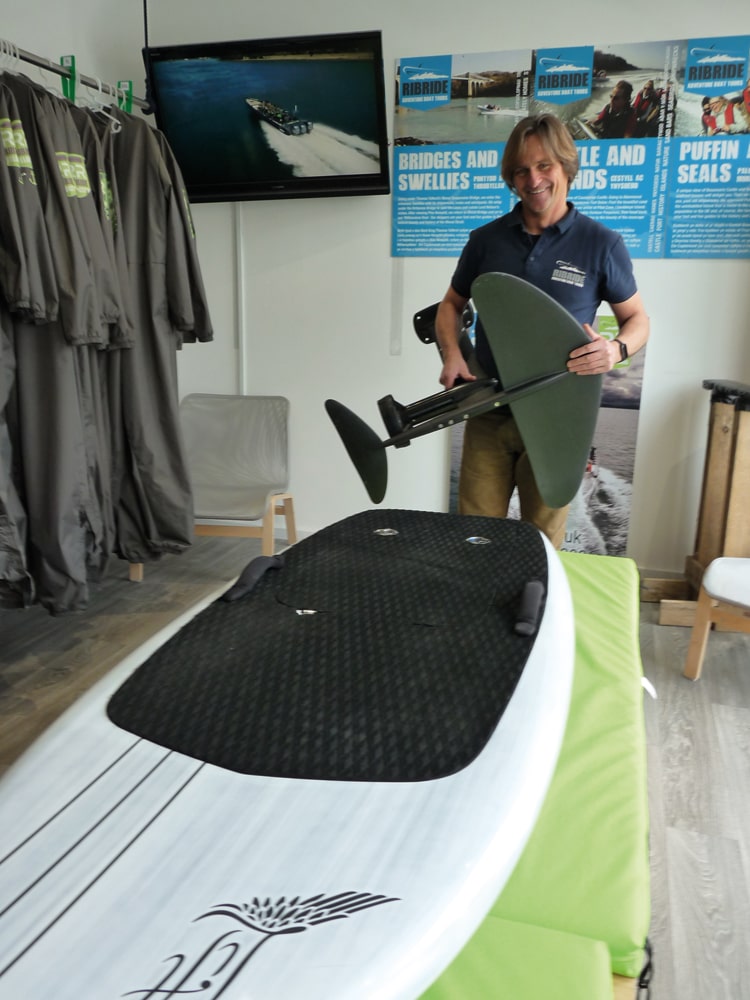 11AM THE GEAR
Foiling is the new frontier of watersports. Lifted from the water on foils, yachts taking part in the America's Cup – sailing's Formula 1 – achieve motorway speeds. You can buy off-the-shelf kite and windsurf foiling boards. Now, there are motorised surfboards (£10,000 a piece if you're keen). Videos I'd seen of people riding eFoils seemed to involve surf-dudes gliding over tropical seas wearing nothing but boardshorts and big grins. I've brought the grin but let's just say the Menai Strait in February is not Puerto Rico. We change into thick wetsuits, lifejackets and helmets and load up the RIB – a steady 6ft 2in 'Explorer' board for me, and a wobbly 5ft 6in 'Cruiser' for instructor Matt Middlehurst. Is getting airborne really achievable in one session? 'Foiling looks a lot harder than it is,' promises Matt. Large, floaty boards, more stability and all that. He says most people stand up within 20 minutes, and then, with masterful restraint, adds: 'That depends on you.'
11.30AM OUT ON THE WATER
Gosh, isn't the Menai Strait beautiful? We skim over calm water silvered by sunshine: beneath the channel's historic suspension bridges, past islets where herons stalk and oystercatchers poke among bladderwrack, along bosky banks which front Snowdonian peaks. Frankly, it seems a shame to tie up at a mooring buoy. Matt explains the basics of foiling: how to balance, how to turn. Lying prone on the board, I squeeze the throttle and follow him around the bay, leaning on the board's edges to turn, salt-water splashing my face. Ten minutes later we're doing the same, on our knees this time. 'You're going great,' Matt hollers. Well, obviously. It's brilliant, idiot-proof fun.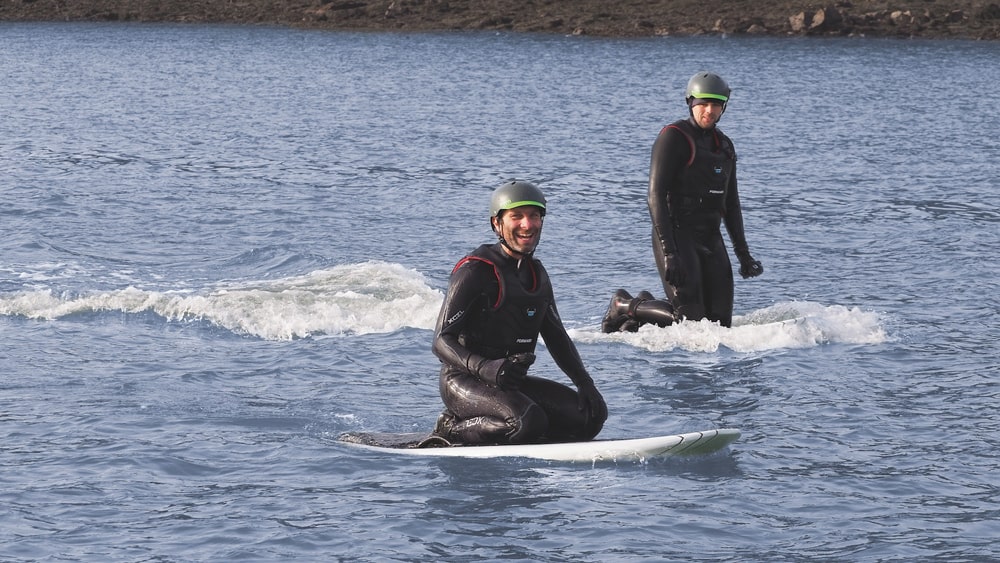 SATURDAY PM
12.20PM MAKING A STAND
Standing is as simple… almost. eFoils are forgiving: they are as buoyant as paddleboards while their engines sidestep the tricky wave-catching bit of surfing that provides stability. Speed is your friend, Matt advises me. What that means in practice is you can lumber gracelessly to your feet as long as you keep the revs up – I think all of us on the wrong side of 50 can agree that's good news.
That's when you notice something else: eFoils have a lot of oomph. They wheelie if you're heavy with the throttle. I stomp hard on my front foot, look where I want to go (a little tip: don't glance at the water) and after a few tumbles (when I do glance at the water) I'm on my feet, skimming across the briny, Matt shouting encouragement as he glides alongside. Terrific, but not what I'm here for. I'm here to fly!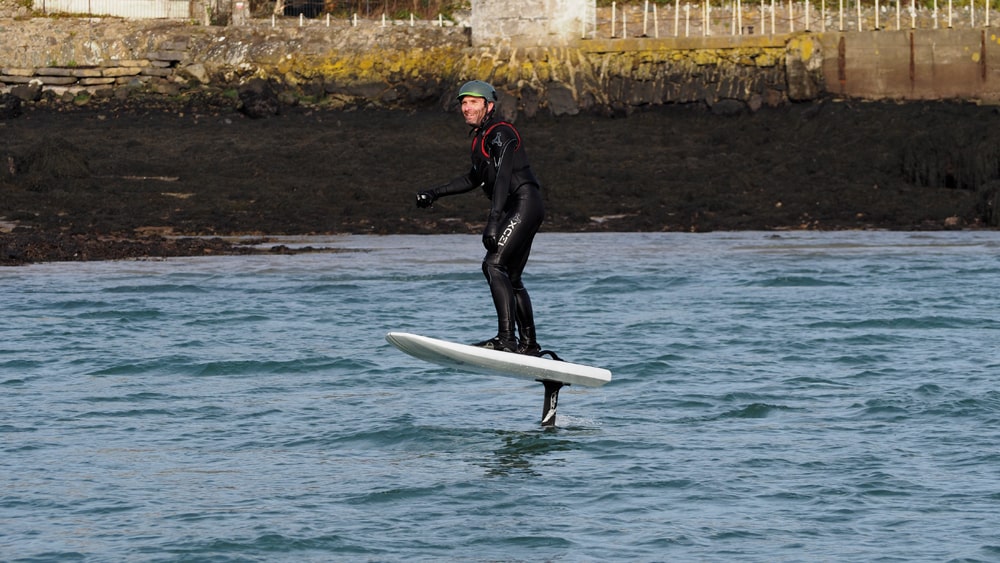 12.30PM TAKING OFF
Foiling occurs when the wing generates lift through water, just as a plane wing does through air. The surprise is that it requires balance not speed, a subtle shift of weight backwards so that the foil angles slightly in the water. Crouched low, I shuffle a couple of inches on the next run. The gurgle of water quietens, ceases, and for a beautiful moment I'm above the sea as the board rises. And rises. I lurch forwards. The board crashes down. I rock back again, point up steeply, so lean forwards and, well, you get the idea.
12.45PM NEW TACTICS
The next half-hour isn't pretty. I'm either aquatic bunny hopping – 'porpoising' Matt describes it with unbefitting poetry – or crashing into the drink. In search of a solution we swap boards. While Matt's smaller board is less stable, it means I can activate the foil by shifting my weight using my hips. I accelerate, rock on to my rear foot and something extraordinary happens. The board lifts from the water and glides smoothly above the surface chop, the only sounds the purr of the motor and the wind in my ears. I press a front toe and it arcs gently towards the sea. However much you know it's a result of clever hydrodynamics, it still feels like magic.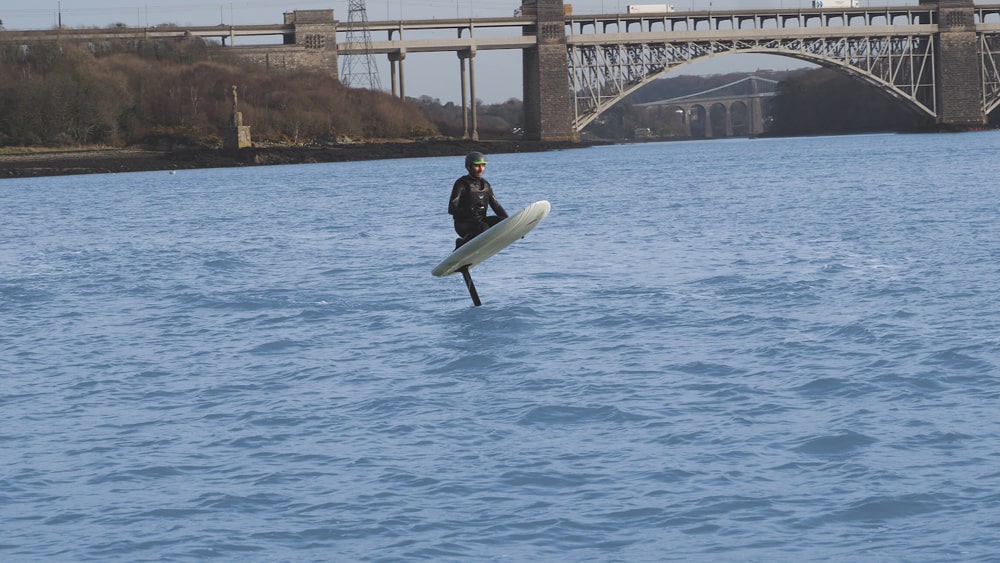 1.15PM SWEEPING MOVES
Confident after a few foiling runs, I now attempt to link turns. They're not elegant – movement amplifies when up on the foil – but the board comes alive with a smooth, swoopy power as I carve S's across the bay. It's thrilling – like surfing glassy waves or skiing on fresh powder. It's also addictive, right up until the moment when my battery dies after 90 minutes' use.
1.40PM BIG FUN
Somewhat disappointingly, that's when Matt tells me he sets the engine at 75% for starter sessions, so I'd been foiling at around 16mph rather than the maximum 25mph. To be honest, with sea strobing below and wind roaring in my ears it felt double that. I'd book two sessions if I was you: one to master the basics, the other to play. Even on a taster it's obvious that eFoiling is a blast. No wonder those surf-dudes have big grins.
BOX: ASK THE PRO
Tom Ashwell, co-founder of FoilRide – 'An eFoil is not just a repackaged jet ski. Anyone can jump on one of those and drive around like a yeeha. An eFoil completely changes what jet skis can be. It's a pure, effortless ride that feels like flying. It's also more environmentally friendly: not only is there an electric motor, we recharge the lithium battery with solar power.
'Because there's no wake and the engine is virtually silent, eFoils are better for the wildlife in the Menai Strait too. They're a great alternative to paddleboards. Starting FoilRide was a big investment for us and the response has been amazing. It's good PR to be the first but that's not why we started this. We're all kitesurfers and surfers in this business – we were too excited by eFoils to work out the economics beforehand!'
EFOILING NEED TO KNOW
BOOK A SESSION
FoilRide (0333 1234 304, foilride.co.uk) is based at Menai Bridge, Anglesey. It runs group sessions with no more than three people per instructor for £200 per person, or one-on-one sessions for £495. Both last three hours. Minimum age requirement is 16 years old.
WHAT TO EXPECT
You'll need little to have a go except the ability to swim 25m and enthusiasm. That said, seasonal factors may influence when you book. The sea is warmer in summer and early autumn; wetsuit gloves and a hood are advisable in winter and early spring – classes run all year round. Whenever you come, you're provided with a wetsuit, including booties, plus a buoyancy aid and helmet. Bring a swimming costume to wear underneath the suit, plus old trainers to wear over booties in colder months. Will you fall off? Of course, but that's part of the fun. Anyway, a hot shower awaits back at base after your session. You've brought a towel, right?
STAY
Beaumaris's former coaching inn, The Bull, is just the job after a day in the Menai Strait, offering Hypnos mattresses in quietly luxurious rooms (traditional in The Bull; modern and larger in the adjacent Townhouse); smiley staff and good food in the bar. Doubles start from £106 (01248 810329, bullsheadinn.co.uk).
Discover more exhilarating coastal sports or pick up the latest copy of coast magazine for plenty more vitamin sea.