Broadcaster, columnist and Southwold Arts Festival patron Emma Freud explains how a handful of arts enthusiasts came up with the idea for the rip-roaringly successful event as it gears up for its third year
As so many great ideas do, it started in a pub. A few rounds of Adnams in the Blyth Hotel in January 2013 saw the birth of an audacious plan by four Suffolk arts enthusiasts to create Southwold's first Arts Festival. Their vision was to do something none of the other (excellent) local festivals were specifically doing: celebrating art, at affordable prices, in all its forms – music, theatre, poetry, visual art, comedy, dance and speech – so that the week-long event would have something for everyone. The plan was to make it as inclusive and as inexpensive as possible, and to hold it in June as a little pre-season boost to hotels, shops and local businesses.
FREUDIAN TRADITION
When the organisers asked me to be patron, I couldn't say yes quickly enough. I've always considered Suffolk my home: my father moved here when he was seven and spent every holiday crabbing and playing cricket. I spent every holiday of my childhood here crabbing and snogging boys. And my children have spent every holiday of their lives here crabbing and telling me how appalling I was for snogging so many boys as a teenager.
One of the reasons I admire Suffolk is because its artistic community punches far above its weight. If you draw a triangle between Benjamin Britten in Aldeburgh, Ed Sheeran in Felixstowe and The Darkness in Lowestoft, Southwold would be roughly in the middle – geographically and artistically – so it feels like the ideal home for such an eclectic arts event.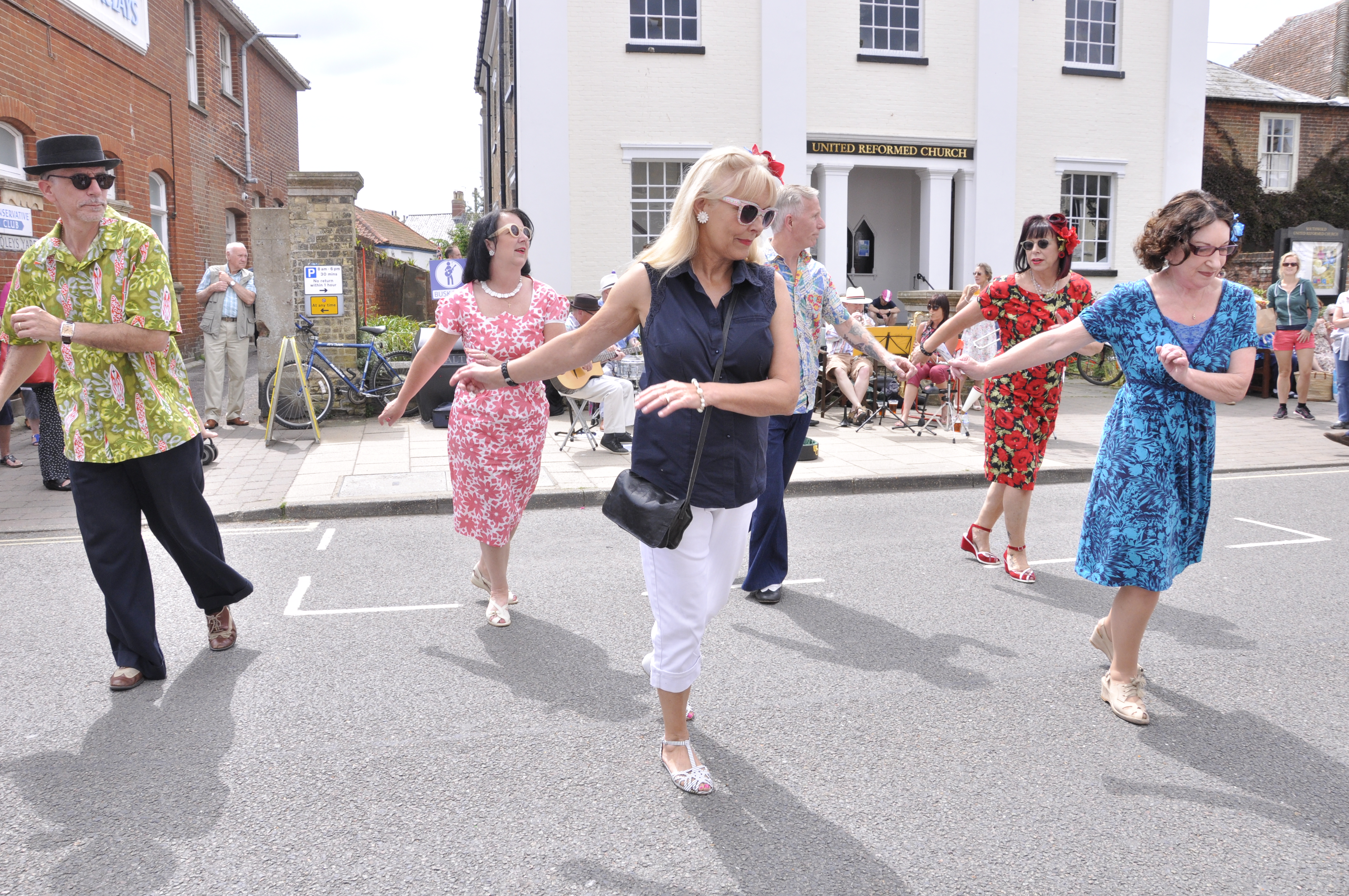 And in brilliant East Anglian tradition, the whole thing started with a street party. In 2014, the council kindly agreed to close the high street to traffic for the Festival's inaugural event. On that scary June Saturday, stalls were erected down the length of the town, bands took their places, entertainers stood by and the organisers waited outside the town hall longing for people to arrive, with no idea whether they had bitten off more than they could chew. I joined them excitedly and looked down the long, well-prepared street – it looked empty. But, slowly, dozens, then hundreds, then thousands of visitors arrived. The high street was packed, the atmosphere was exhilarating, the procession was a rainbow of colours and costumes. I made a speech, the mayor's chains sparkled in the sunlight, and the Southwold Arts Festival arrived in town.
SOMETHING FOR EVERYONE
Year two capitalised on everything that had been wonderful in year one – ticket sales rose and even my mum, who ran the Southwold Theatre for 30 years, put a show together for one night. This year it has blossomed even further: there are 30 events over eight days; you'll find novelist Blake Morrison, sports journalist Henry Blofeld, The Blues Band, bell-ringing, acapella singing, murder stories, modern poetry, Rick Wakeman, and contemporary dance. I defy you not to enjoy something unexpected, and I applaud our unique little corner of the country for compiling and casting something so imaginative. Long may the pubs that give birth to these inspiring events continue to serve Adnams.
Southwold Arts Festival 2016 runs from 25 June to 2 July. For details and bookings: 01502 722 572, southwoldartsfestival.co.uk.
For more stories from coast-loving celebrities, click here or pick up a copy of the magazine.
FESTIVAL HIGHLIGHTS
PRE-FESTIVAL WARM-UP 18-19 JUNE
• Slaughter in Southwold Crime Writers' Festival, Reydon Village Hall (suffolk libraries.co.uk/slaughter)
SATURDAY 25 JUNE
• Street Festival, 12-6pm, Southwold High Street
• An Intimate Evening with Rick Wakeman, 7.30pm, St Edmund's Church, £25
SUNDAY 26 JUNE
• Bell ringing and Festival Service, 10am, St Edmund's Church
• Valerie Hobson by Max Tiarks, 3pm, St Edmund's Hall, £12.50
• A Very British Murder, 7.30pm, St Edmund's Hall, £17.50
MONDAY 27 JUNE
• A Morning with an Author, 11am, St Edmund's Hall, £7.50
• Young Musicians' Showcase, 1.15pm, United Reformed Church, £6
• The Magical World of Charles Dickens, 3pm, St Edmund's Hall, £12.50
• Luke Wright, 7.30pm, St Edmund's Hall, £10
TUESDAY 28 JUNE
• Eccentric Look at Suffolk, 11am, St Edmund's Hall, £7.50
• Young Musicians' Showcase, 1.15pm, United Reformed Church, £6
• Turner – England's Favourite Artist, 2pm, St Edmund's Hall, free
• Tangomotion, 7.30pm, St Edmund's Hall, £17.50
WEDNESDAY 29 JUNE
• Outside in: the Flowering of Wallpaper, 11am, St Edmund's Hall, £7.50
• Young Musicians' Showcase, 1.15pm, United Reformed Church, £6
• Olivia Castle, 3pm, St Edmund's Hall, £12.50
• Folk at the Pavilion, 7.30pm, The Godell Pavilion, £10
THURSDAY 30 JUNE
• George Orwell's Southwold – Ronald Binns, 11am, St Edmund's Hall, £7.50
• Young Musicians' Showcase, 1.15pm, United Reformed Church, £6
• Kipling and Cake, 3pm, Methodist Church Hall, £6
• The Best Thing – Vamos Theatre, 7.30pm, St Edmund's Hall, £12.50
FRIDAY 1 JULY
• A History of Southwold in 25 Objects, 11am, St Edmund's Hall, £7.50
• Young Musicians' Showcase, 1.15pm, United Reformed Church, £6
• Life Writing and the Writing Life, 3pm, St Edmund's Hall, £12.50
• An Evening with Henry Blofeld, 7.30pm, St Edmund's Hall, £20
SATURDAY 2 JULY
• George Orwell's Southwold – Ronald Binns, 11am, St Edmund's Hall, £7.50
• Blyth Five, 3pm, United Reformed Church, £7.50
• The Blues Band, 7.30pm, St Edmund's Hall, £20