LOUISE BRYNING discovers why the natural wonders of Morecambe Bay have attracted the next Eden Project.
"Beauty Surrounds, Health Abounds" has been Morecambe's motto for decades and one to which the Eden Project has added another phrase, "Nature Astounds."
Earlier this year, it was announced that Eden Project Morecambe would become reality with the news it had been awarded £50million by the Government's Levelling Up Fund.
But what had attracted those behind the Eden Project in Cornwall to look at a North West town whose most famous claim to fame was lending its name to one of the nation's best loved comedians, Eric Morecambe?
"Our mission is about connecting people with nature and Morecambe is a great place to do that," says Si Bellamy, Eden Project Morecambe's chief activation officer. "Our site is literally right on the coast looking out over the bay and towards the Lake District."
Morecambe Bay is the largest intertidal area in the UK and its massive expanse of mudflats attracts more than 250,000 birds every year. "Morecambe is made by the moon, because of the tidal systems, and the natural rhythms of life of the bay, such as the migratory patterns of birds, inspire the project," adds Si.
Eden Project Morecambe, which is expected to open in 2026, aims to reflect nature above and below the bay with plants, art exhibitions and theatrical experiences. It will be more immersive than its Cornish cousin and make greater use of digital media.
While Morecambe awaits construction starting next year, the bird, plant and wildlife which attracted the Eden Project to the area in the first place continues to flourish. The bay's mudflats are a particular magnet for wading birds such as curlews and oyster catchers.
"Morecambe Bay's intertidal mud flats are important as waders are dependent on them in winter months," explains Beth Fox, the visitor experience manager at Leighton Moss RSPB reserve which marks its 60th anniversary next year and is a Site of Special Scientific Interest.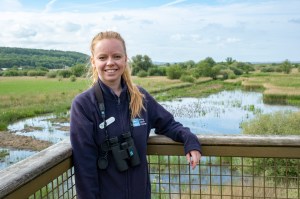 Just a few miles from Morecambe, it's home to the biggest reed bed in the north west, a scarce habitat which attracts special species such as the bittern with its distinctive boom.
In autumn months, bearded tits fly into Leighton Moss and spectacular starling murmurations amaze visitors. Otters and deer can also be spotted at the reserve so it's little wonder that Leighton Moss has twice featured on the BBC's Autumnwatch.
Leighton Moss is a highlight of the Arnside and Silverdale Area Of Outstanding Natural Beauty which has many interesting features of its own vying for attention. It has an unusually high number of nature reserves for such a relatively small area, more than half of which is under water.
"The area also benefits from a lot of managed land which is really significant in terms of biodiversity and has had a big impact over the past 50 years," says Caroline Howard, communications and funding officer.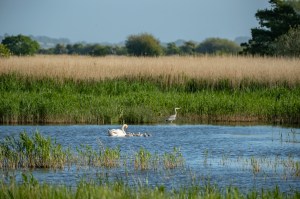 Limestone pavements are abundant in this AONB and form mosaic habitats which also include grassland and ancient woodland fairly well protected in terms of climate.
Gait Barrows National Nature Reserve at the heart of the AONB is one of Britain's most important limestone landscapes while Arnside Knott, owned and managed by the National Trust, is a marvellous place to see butterflies including rarities like the High Brown Fritillary. In total, the AONB is home to 34 species of butterflies.
Warton Crag, the AONB's landmark site, attracts nationally important butterflies and moths while peregrine falcons regularly nest in the main quarry. Arnside and Silverdale can also boast 14 species of orchids, a high proportion for an AONB, and includes the Lancaster Whitebeam, found nowhere else in the world other than around Morecambe Bay.
Arnside and Silverdale AONB has many vantage points from which perhaps Morecambe Bay's most spectacular feature can be viewed – its famous sunsets. Filling the wide expanse of sky with an impressive spectrum, the sunsets can also be enjoyed from the Promenade in Morecambe itself.
Along the Promenade and Stone Jetty is the nature-inspired Tern Project, a series of public art sculptures with the popular Eric Morecambe statue as its centrepiece. Eric is depicted with binoculars around his neck reflecting his lifelong love of birdwatching. Indeed, one of the hides at Leighton Moss is named after him.
Helping to ensure that Morecambe Bay's attractions are kept special is an adapted version of the Coastal Code, promoted by Morecambe Bay Partnership, a charity dedicated to connecting people with the nature, heritage and culture of the bay.
One of MBP's new developments for 2023 is Ways Around The Bay, a website featuring new and less well known existing routes and itineraries for walkers and cyclists as well as places where the less able can use off-road and on road mobility scooters.
"Expanding access to Morecambe Bay for people with different needs is a developing area of our work," says MBP's chief executive officer, Sarah Mason. This year, MBP are launching a hub at Grange Railway Station where people can hire mobility scooters, trampers and e-bikes.
Also new for 2023 is Bay Lines, a series of interactive events culminating with a jamboree on Morecambe Promenade, and also MBP's first cross bay walk.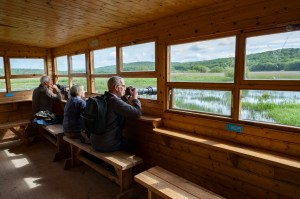 Sarah adds: "For me, Morecambe Bay is all about the birds, it's a feeding station for them. We want to make sure that everyone who lives in and visits Morecambe realises how special it is for the birds and they keep it that way so that birds continue to thrive here and we get even more."
And with the prospect of Eden Project Morecambe on the horizon, it won't be just birds who'll be flocking to a bay which brings sunshine into so many people's lives.
For information on all the area's attractions, visit exploremorecambebay.org.uk
TOP 5 BIRDS TO SPOT
Curlew – Morecambe Bay boasts one of the country's biggest concentrations of Europe's largest wading bird with its distinctive long, curved down bill.
Bittern – Leighton Moss with its impressive reed bed is the place to try and spot this secretive thick-set heron although the male's giveaway is its boom, heard in spring.
Oystercatcher – these stocky birds can be seen on almost all UK coasts but in winter, large numbers particularly flock to Morecambe Bay.
Bearded tit – comedian and artist, Jim Moir, visited Leighton Moss to glimpse this moustachioed bird for his television series, Painting Birds with Jim and Nancy.
Redshank – these birds, with their distinctive orange-red legs, hunt by probing their bills into soil and mud, making Morecambe Bay their ideal feeding place.
CLAIMS TO FAME
Morecambe Bay shrimps – these fishy delicacies, much smaller than a prawn, should be boiled, peeled and cooked in butter and spices, and were much favoured by the late Queen Elizabeth II. The Hairy Bikers also enjoyed them on one of their trips. Dave Myers hails from Barrow, on Morecambe Bay.
Cross Bay Walks – held regularly during the summer, these walks are led by a King's Guide to the Sands who has specialist knowledge of the ever changing flats and channels. They are a unique way to soak up the bay's scenery and wildlife.
Midland Hotel – celebrating its 90th anniversary this year, the Midland Hotel on Morecambe Promenade is recognised as one of the country's finest examples of Art Deco architecture and design. Eric Gill and Eric Ravilious left their artistic mark on the building designed by Oliver Hill.