Sponsored by Forthglade
The multi-award-winning path is the longest National Trail in the country, covering 630 miles of UK coastline. It begins at Minehead in Somerset, passes the coast of Cornwall, Devon and Dorset, finally ends at Poole Harbour. It's easy to see why it's been listed as one of the world's most inspiring walks – attracting over 9 million visitors every year – and it's ideal for dog walkers whatever the season.
A pawfect path
Dogs will be in their element on the South West Coast Path, packed with lots of exciting smells and obstacles to explore. Dogs are permitted on the entire path. Pet owners are simply asked to respect other walkers when out with canine companions, and to be mindful of livestock and wildlife off the path.
Dog friendly beaches
On some beaches, dogs are banned during the summer months, but out of season the majority of the beaches are open to dogs. Where the Coast Path crosses a beach, which may carry a dog ban, there will be a way to cross it with your dog – normally this is along the back of the beach, above the high tide mark. On many of the more rural and quieter beaches that can be reached from the Coast Path, dogs are welcome all year round. To find a wonderful walk that may suit your location, visit the South West Coast Path's website which is packed full of great dog walking spots.
Dog friendly accommodation
So many wonderful places in the South West now welcome both you and your dog to stay. Accommodation is listed on the South West Coast Path website next to each of the walk pages. Or, you could also search for somewhere to stay using the Accommodation Finder listed on the site.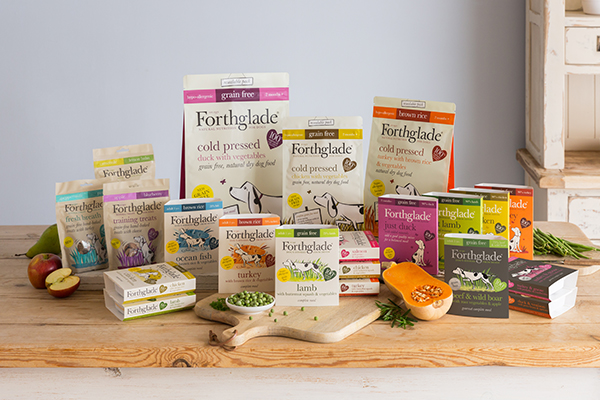 Devon natural pet food makers introduce #PawsOnThePath
The South West Coast Path Association is the registered charity that works hard to protect and conserve the Path. It costs over £1,000 per mile each year to keep the path well maintained and safe for everyone to use.
This year, to help raise awareness of the South West Coast Path Association, they've joined forces with Devonian dog lovers Forthglade, to run a national photo competition aptly named #PawsOnThePath. So, if you fancy winning £250 worth of Forthglade natural pet food, a GoPro camera and dog harness, plus a year's subscription to coast magazine, then simply take a picture of your dog's adventures on The South West Coast Path, and enter it here.
The winner will be announced in the spring, so there's plenty of time to take a photo. What better excuse do you need to get #PawsOnThePath!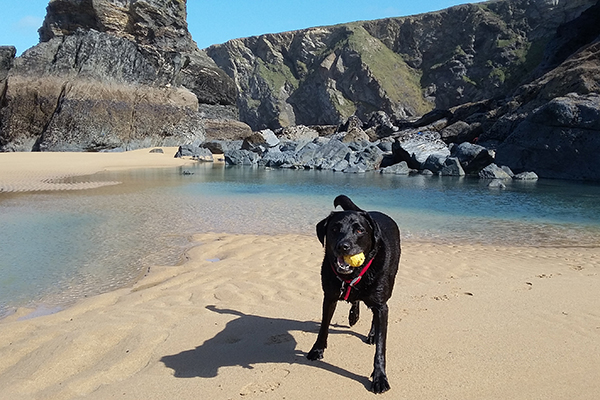 And finally… a few dog walking safety tips from the South West Coast Path Association:
• Always keep your dog in sight; use a lead if you don't have a reliable recall.
• Carry water for your dog as they can easily get dehydrated in warmer weather, or even cooler climates if on a long walk.
• Keep your dog away from cliff edges – they can be loose and home to rabbits.
• Clip on a short lead when close to sheep, cows and horses, irrespective of how well-trained your dog is.
• Don't let your dog run up to other people uninvited – not everyone likes dogs.
• Always bag it and bin it wherever you are. Otherwise you give all dog owners a bad name and can even pass on diseases to people and farm animals.
• Ensure your dog has a name tag and is micro-chipped so you can be easily reunited if your dog gets lost. If on holiday, have a temporary tag with your contact on it.
• In areas of mining heritage be aware there may be uncapped mineshafts hidden in the undergrowth near the path, so keep your dog close.
• Occasionally white, waxy lumps of palm oil is washed up on beaches, which can be harmful if eaten by dogs – see BeachWise for advice.

Fun Facts From The Path
Walking the entire South West Coast Path is equivalent to scaling the world's tallest mountain four times!
With 115,000 feet of ascent and descent the Coast Path rivals the likes of Mount Everest! As well as covering 630 miles of stunning coastline, walkers will cross 230 bridges, catch 13 ferries, open and close 880 gates, climb over 436 stiles, pass more than 4,000 Coast Path signs and go up or down over 30,000 steps! Phew!
Approximately 71% of the Path is in either a National Park or Area of Outstanding Natural Beauty.
The South West Coast Path is open to everyone and completely free.
The Path makes up the largest visitor attraction in the South West and plays an important part in the region's tourism economy.