Su Carroll rounds up the very best activities to do and things to see close to the coastline this month.
1. IN THE NIGHT GARDEN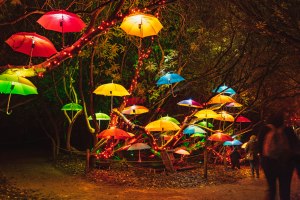 Journey through the magical garden trail, exploring woodlands and gardens beautifully lit with installations and lanterns at Heligan Garden in Cornwall, overlooking the River Fowey.
Arts organisation The Lantern Company will mix magic and nature with illuminated installations – from badgers to fungi, bees to butterflies, and a joyful family of cheeky Tamworth pigs. The seasonal trail creates a treasure-filled space for families and friends to discover these beautiful indigenous species.
Take a mile-long, one-way trip around the garden. Admire the glittering oak trees, toast marshmallows and enjoy seasonal warming refreshments. The route is suitable for wheelchair users and pushchairs, but dress for the Cornish winter! The Heligan Shop will be open selling festive treats, local produce, and a variety of beautiful gift ideas and there are Lantern making workshops for children (pre-booking essential). Ends January 2. heligan.com
LOCALS LOVE
Mevagissey is still a working harbour, but visitors can enjoy the pretty picture postcard village with its narrow streets, shops and galleries and a chance to enjoy the local catch of the day in restaurants, pubs and cafes. The village dates back to at least the early 14th century and its heyday with in the 1800s when it prospered due to the abundance of pilchards in the local waters. An aquarium is housed in an old lifeboat station. Entry is free but donations go towards conservation work. Seasonal opening. mevagisseyharbour.co.uk
2. LIGHT FANTASTIC
It's 60 years since the tiny Cornish fishing village of Mousehole first created a Christmas lights display. Since then it's grown into a magnificent festival of lights that attracts thousands of visitors.
A new display will be unveiled for this year, but all the old favourites are there – the sea serpent, the whale and the Celtic cross. In a more low-key way, the lights will be gradually switched on from December 11, but will continue until January 3.
On December 23, Tom Bawcock's Eve, the traditional Stargazy Pie is made where pilchards peek out from under the pastry, their heads pointed heavenwards. The Lights will be illuminated daily from 5pm to 10pm.
On December 19, the community remembers the Penlee Lifeboat Disaster in 1981 when the eight-strong crew of the lifeboat Solomon Browne were lost, along with eight people they were trying to rescue from a stricken vessel. Lights are dimmed until the following night. mouseholelights.org.uk
LOCALS LOVE
Just three miles along the coast is Penzance, where they celebrate Midwinter traditions with the colourful Montol Festival, climaxing on December 21 – the Winter Solstice. It revels in Cornwall's cultural past – folklore, myth and legend with a Pagan edge. It was revived in 2007 to mark traditions that date back centuries and Montol Eve is the end of six days of fun and festivities including lantern and mask-making workshops, carol services and Mummers plays. There's a huge procession and plenty of family fun. montolfestival.co.uk
3. YARD SALE
Step back in time at the atmospheric Grade I listed Royal William Yard on the water's edge in Plymouth. Once a victualling yard for the Royal Navy, you can stock up on your own victuals at the Christmas Good Food and Craft Markets starting on the first weekend in December.
The markets will take place in the iconic Melville building at the centre of the Yard, both indoors and in its courtyard. With festive lights, mulled wine, a choir and children's crafts all adding to the atmosphere – this is the place to visit to get into the Christmas spirit. Markets are held during the day (10am to 3pm) on December 3, 10 and 17 and the evenings (5.30-9pm) on December 6 and 13. royalwilliamyard.com/whats-on
LOCALS LOVE
Head for Home Park, the stadium that is home to Plymouth Argyle Football Club, nicknamed the Pilgrims. Outside the ground is a statue in tribute to Jack Leslie, a top goal scorer from the 1920s. He was so good that he was signed for the England international side in 1925, only to be dropped a few days later because, it is said, he was black. After a local campaign a statue was unveiled in 2022 – the same day Jack finally was recognised with a posthumous honorary England cap. jackleslie.co.uk
4. WINTER WONDERLAND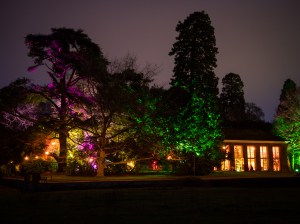 Discover Christmases past at Felbrigg Hall, one of the most elegant country houses in East Anglia. This glamorous house, which dates back to the 17th century, oozes elegance and opulence as benefits the previous occupants.
The interior includes stained-glass windows in the Great Hall and collections from around the world, including luxury exports traded by the East India Company and relics amassed on a European Grand Tour.
The National Trust delights in dressing its houses for Christmas – lots of fresh decorations, traditional touches and twinkling lights and they have exciting plans for this year. On the estate, discover the seasonal delights of the walled garden, the rolling landscape park with lake, woods and trails. Dog friendly!
Check the website for events and opening times: nationaltrust.org.uk
LOCALS LOVE
Just three miles from Felbrigg Hall, is Cromer on the Norfolk House. A nice bracing walk with spectacular views will take you to Cromer Lighthouse. Although this Trinity Lighthouse structure isn't open to the public, it's a good excuse for a stroll. Permission for the erection of a tower was given in 1669 and served as a beacon for vessels until a permanent light was fitted in 1719. trinityhouse.co.uk
5. YES CHEF!
Great chefs are at the heart of Padstow's Christmas Festival. Rick Stein is one of the names behind the festival along with Nathan Outlaw (who once worked in Rick's kitchen) and Michelin-starred Padstow restaurateur Paul Ainsworth (pictured).
They are collectively thrilled to be back for the first festival in three years, bigger and better than ever before. There isn't a shop, cafe, restaurant, pub or street that doesn't get into the Christmas spirit here and there is a charity event every year for local groups, music, entertainment and fireworks.
Heading for the north Cornish coast and the food demonstration theatre to join Rick, Nathan and Paul this year are west country food heroes Emily Scott, Mark Hix and Mitch Tonks along with TV favourite Phil Vickery. The demos will be live streamed to a large TV screen in the town. It runs from December 7-10. padstowchristmasfestival.co.uk
LOCALS LOVE
Seafood is important to the economy of Padstow and on the water's edge is the National Lobster Hatchery – a marine conservation, research and education charity. Lobsters have considerable value as a food, which puts supplies under pressure – overfishing has devastated populations in the Med and Scandinavia. It's worth £40million to the UK economy and important work is done here to keep it sustainable. See how modern technology can help preserve and improve stocks – a female lobster can carry around 20,000 eggs at one time but only one of these is expected to survive in the wild. nationallobsterhatchery.co.uk
6. TWINKLE TWINKLE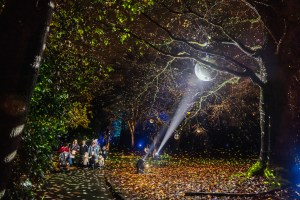 The lovely Luminate in Wales event is family-run and family friendly too. For four years they have been lighting up the grounds of Margam Country Park near Port Talbot on the Welsh coast.
A 19th century Tudor Gothic mansion is surrounded by Grade I listed gardens and landscape, beautiful trees and shrubs, lakes and views that have remained unchanged since medieval times. It's the perfect backdrop for the Luminate in Wales event.
Follow the mile-long trail and admire the stunning lighting installations and impressive interactive elements. There are hot drinks and tasty treats at the start and marshmallows toasting over fire pits in the cafe courtyard halfway round.
Luminate (who have other events around the country) partner with Ecologi to plant a tree for every booking – that's more than 37,700 trees to date. Ends December 31. luminate.live
LOCALS LOVE
The South Wales Miners' Museum aims to promote and preserve the industrial heritage of the beautiful Afan Valley. Open seasonally and manned by volunteers, there are indoor and outdoor exhibits which will show the often harsh working life of a miner. Exhibits include a Blacksmith's Shop, Miners' Lamp Room and a working Engine House. swminers.co.uk
7. WELSH CAKES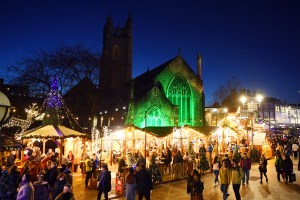 Artisan arts and crafts are at the heart of Cardiff Christmas Market which has been in the city centre for 30 years. Cardiff has lots of places to shop – from the modern St David's Centre to Victorian and Edwardian arcades.
Organisers of the Cardiff Christmas Market, Craft*Folk, were established to support artists and crafts people who are looking to promote and sell their work in pretty wooden huts in the pedestrianised part of the city centre.
The key word here is diversity. Each year there are over 200 individual businesses selling a wide variety of arts and crafts alongside seasonal food and drink. There are lots of demonstrations and entertainment. Admission is free and visitors can buy original work directly from the makers themselves. The organisers also encourage new businesses creating items for sale with a series of taster stalls. Until December 23. cardiffchristmasmarket.com
LOCALS LOVE
Cardiff Castle looks like a typical Norman stronghold from the outside. Founded by William the Conqueror on the site of a Roman fort dating from the 1st-century AD. But be prepared to be surprised because inside are amazing Victorian apartments, decorated in a lavish neo-Gothic style. They were designed by William Burges for the wealthy 3rd Marquess of Bute and inspired by Medieval history. Lots to explore in the life of the Castle through 2,000 years of history. cardiffcastle.com
8. CRAFTY CLASSES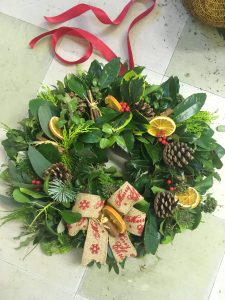 Christmas is all about the detail – getting food, drink and decorations right. It's the ideal time of year to try your hand at something arty and crafty – sign up for a class on canapes or preserves or polish up your cocktail-making skills.
English Heritage suggests Advent wreaths were first used by Lutherans in Germany in the 16th century. They had become widespread in the 19th century to hang on the front door and welcome visitors. They were also known as welcome rings and usually consisted of holly, ivy, pine cones and ribbons.
Learn how to make your own at the atmospheric Victorian era hotel The Headland, perched on the cliff above the Atlantic Ocean. Newquay florist Home Nansledan will hold wreath-making workshops every Saturday from November 26 to December 16. The workshop includes a festive afternoon tea and glass of fizz. All materials and guided tuition are provided and guests can take their wreath home. headlandhotel.co.uk.
LOCALS LOVE
A bright white building found overlooking Newquay is a restored huer's hut. A huer would keep a lookout for shoals of fish and cry out when they spotted them, alerting local fishermen who would put to sea. They date back to the 14th century and the one on Towan Head, recently restored, may have survived because it was made of stone rather than the traditional wood. visitnewquay.org
9. BLOOMING LOVELY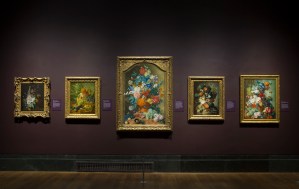 Paintings so spectacular you can almost smell the perfume – The Box in Plymouth has ten of the finest examples of Dutch flower painting as The National Gallery tour Dutch Flowers is in Plymouth for the first time.
Teeming with beauty, colour and life, the artworks are in The Box's beautifully restored St Luke's church gallery. Artists include Ambrosius Bosschaert the Elder (1573-1621), Jan van Huysum (1682-1749) and Rachel Ruysch (1664-1750). At the dawn of the 1600s, these Netherlandish painters were among the first artists to produce pictures that exclusively depicted flowers. Boosted by a growing interest in botany and horticulture, and an international trade in exotic plants, they went on to become one of the most characteristic themes of Dutch painting.
Dr Gabriele Finaldi, Director of the National Gallery describes them as "paintings of astounding quality and beauty, often rich in symbolism and historic interest". Dutch Flowers ends on January 7. Admission is free. theboxplymouth.com
LOCALS LOVE
Volunteers keep alive the Plym Valley Railway, founded in 1980 to restore part of a Plymouth to Tavistock branch line axed in the 60s. On selected days they run a service on a short stretch of track from Marsh Mills to Plym Bridge. There are also popular Christmas services. The team are working to preserve steam and diesel trains, carriages and wagons and have launched an appeal to buy a steam locomotive and secure standard gauge steam train services in Plymouth. plymrail.co.uk
10. RING IN THE NEW
Let's end with a bang! If it's New Year it has to be Hogmanay in Scotland when the streets of the nation's capital will resound to the sound of singing, cheering and fireworks to welcome 2024. The event is now so popular that you need tickets to enter Edinburgh city centre's Hogmanay area. The party is heralded on December 29 with a torchlight procession.
Of course, you don't have to be in Scotland to celebrate Hogmanay in the traditional way. It's thought the celebrations were introduced by the Vikings in the early 8th century, to mark the arrival of the Winter Solstice. Remember to sing Auld Lang Syne, written by Robert Burns in 1788, and welcome the first foot in the house after midnight – they should bring coal, shortbread and a wee dram.
Apparently a Hogmanay was a smoking stick to ward off evil spirits and the name has stuck. edinburghshogmanay.com
LOCALS LOVE
The aforementioned Robert Burns was born in Alloway in the West Coast of Scotland. His life and work, alongside fellow Scottish literary giants Sir Walter Scott and Robert Louis Stevenson, is celebrated at the Writers' Museum close to Edinburgh's historic Royal Mile. The museum, which is free to enter, is home to portraits, manuscripts, rare books and personal objects. You can see the writing desk Burns used, the printing press on which Scott's Waverley novels were first produced and his childhood rocking horse. edinburghmuseums.org.uk
COMING SOON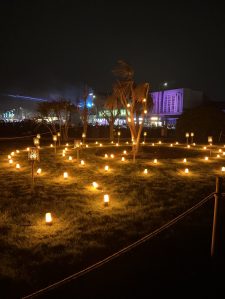 After a hugely successful launch this year, Baylight returns to Morecambe on the Lancashire Coast in February 2024. The event, with a fantastic parade along the promenade, harks back to the days when Morecambe had its own coastal illuminations to rival Lancashire coastal neighbour Blackpool.
The Morecambe illuminations started in 1919, running from Happy Mount Park in the east all the way to the Stone Jetty. The traditional annual illuminations in Morecambe stopped in 1996 but there have been a number of events popping up since.
The three-day Baylight festival of light and art will attract artists from around the world and it is hoped it will become a jewel in the town's winter calendar. As well as the parade, visitors can follow a trail of work by internationally respected light artists who have creted visually stunning artworks and installations. February 15-17, 2024. baylightmorecambe.co.uk