It's an award-winning example of rural housing at its best. But this simple larch-clad and stone building on the north west coast of Scotland is also a place to call her dream coastal home. CHRISSY HARRIS finds out more.
Chris Johnson is sat in her open-plan living room, talking about her 30-year career which has taken her to some of the world's most unstable regions. She has just returned from a stint in Yemen's third city, Taiz, working with a global organisation to try to support long-term economic recovery in this war-torn city. Before that, Chris spent nine years in Sudan and eight years in Afghanistan.
If ever there was a moment not to mention cushions, this was it. But, somehow, I manage it.
"Yes, I've got some lovely cushions with Afghan embroidery," says Chris. "I've also a few really nice old rugs, collected from Afghanistan, a comfy sofa and an old chaise longue which I picked up from a tiny little antique shop in Kinlochewe."
Many different worlds collide in the interior of this beautiful house, high in the hills of north west Scotland, which is why we're discussing soft furnishings and a life spent working in some amazing places.
"I've always been fairly peripatetic in where I've lived but I'd often said that at some point, I would come up to the north west of Scotland," says Yorkshire-born Chris, explaining how she's ended up here, in a cleverly reimagined stone croft house in Diabaig, Wester Ross.
"It's partly the physical landscape, the mountains and the sea," she continues. "Partly cultural because I think Scotland has a very different culture from England and partly political. I might not know where home is but I'm a northerner. So it's an amalgam of all of those things, really."
Chris was working in Sudan when she first saw the picture online of a little, windswept barn on the shoulder of the hillside in Diabaig.
She had been looking 'for ages' for either land or a building with renovation potential along this stretch of coast before she found the perfect project.
"I went and had a look and thought yes," says Chris. She goes on to describe the dark, wet November day in 2018 when she first went to visit the stone building (which had two sheep curled up in the corner at one end). "It was beautiful," she adds. "I put in an offer and that was the beginning of the story."
Chris knew she wanted to keep the little barn in some form.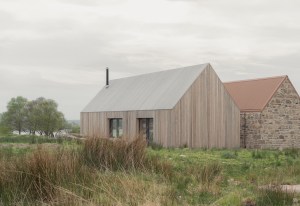 "It was iconic," she says. "And I knew I wanted something that was fairly simple – I didn't want a great big house. And I knew I wanted something light-filled and that sat gently in the landscape, as though it belonged there."
So far, so logical. Luckily, architect Neil Stephen at Dualchas Architects agreed. Chris had commissioned the Skye-based firm to help her realise her simple but effective plan for this unique location.
Together they settled on keeping the original stone building but then adding another, larch-clad mirror image, connected by a glass link corridor.
"That was kind of the defining vision but how we realised it was much more of a process of discussion," says Chris, adding that this was something she very much enjoyed. "That was one of the really nice things about it, the fact that we all worked so well together."
There were, of course, challenges befitting a complex project in such a rural location, including getting the space to work, making it all fit together – and the presence of a family of barn owls.
The whole two-year project had to be paused for three months when the protected birds were spotted flying in and out of the barn, presumably to a nest of young (a new home for the owls was created in part of the roof space of the stone building).
A global pandemic didn't help, either. It made travel to and from the site difficult for Chris and she wasn't able to meet with suppliers or talk to the kitchen fitters.
"It was all a bit of an act of faith, really," she says. "It was amazing that it all turned out so wonderfully."
It really has. The house went on to win the coveted award for the Best New Building at the 2022 Highlands and Islands Architecture Awards. Judges were impressed with the simple, well considered use of frameless, triple-glazed link to connect the rebuilt stone croft and the larch wing.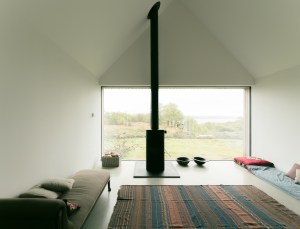 The comments called it an example of rural housing at its best and "an exquisite delight and joy which makes us consider what we actually need in life."
For Chris, that was always the plan. After decades spent in distant places, coming home to her little stone and wood-clad haven in the Highlands has proved to be a wonderful contrast.
"It's lovely to have a base like this," she says. "You get this whole series of different views, it's not just mono-directional. You see out to sea but also up to the mountains and across to the woodland.
"But it's also nice within the building. Sat here in the living room, you can look across the glass link to the stone and depending on the time of day, you get a really nice light."
There's no need for clutter. Chris has chosen just a few, carefully curated key pieces to complement the simple beauty of her surroundings.
We're back talking about cushions again.
"I've been incredibly lucky and worked with some amazing people," she says, reflecting on these souvenirs. She's chosen to be away less often now but still has to travel now and again. "It's always lovely to be home, though, to have that space. It's a real joy to be here."
LIFE IN DIABAIG
Chris says she has well and truly settled into life in this Highlands township.
"It's a lovely community to live in," she says. "I always knew Diabaig was beautiful, but you never know until you get here who you're going to live amongst and it's a really nice, very mixed community. The people are very welcoming."
BETWEEN A ROCK AND A LARCH PLACE
The existing stone ruin was taken down and rebuilt to the same proportions. A larch-clad mirror image was created alongside and connected to the stone structure by a triple-glazed link.
Architect Neil Stephen says it was a simple but effective design: "The challenge was to do something that fitted. Having an existing building gave us a good starting point and we were able to mimic the exact proportions in the new build."
Neil and colleague Ian Hall worked closely with Chris throughout the project.
"Good architecture can only happen with a good client," says Neil. "There was a strong idea of what we wanted to do and we were able to follow it through. That was very satisfying."
Both Neil and Chris would like to say a special thanks to the construction team, Simpson Builders, based in Beauly.
Tempted to see the sights of Scotland for yourself? Find out how you can explore the lesser known gems of Scotland here.