This bustling fishing village on Loch Fyne is dubbed the gateway to Kintyre, but it deserves more than a brief visit, says EMILY ROSE MAWSON.
Tarbert is folded into a natural harbour in the northern nub of Scotland's Kintyre Peninsula, on the mile-wide isthmus of a steep wooded coastline pocked with tiny coves that separates the Clyde estuary and the Western Isles. The land is so narrow that in 1098, King Magnus II of Norway reputedly dragged his galley across it to secure Kintyre for his country.
These days, rainbow-bright fishing boats piled with cranes and nets navigate maritime highways, passing yachts easing into Tarbert's 200-berth marina, where pontoons partition masts like reeds in a pond. Rippling from the colourful high-street into the hills, 19th-century properties give onto knobbly mounds adrift in an ocean of trees. Seaward, there are smudgy outlines of peninsulas and islands, and in the foreground, the fuzzy little islets of Dubh-chaol Linne gatepost the harbour.
To get here, it's two-and-half hours' drive from Glasgow via The Trossachs National Park and Inveraray. But the best way to take in the setting is by boat. And if you don't own a vessel, you have a few options.
The Portavadie ferry, for example, which takes 25 minutes to cross from the Loch Fyne spa resort near Tighnabruaich. The Waverley, the world's last seagoing paddle steamer, calls here on her summer tours. And for extended visits, Tarbert is close to three other ferry routes in delicious settings: Claonaig to Arran; Kennacraig to Islay; and Tayinloan to Gigha.
For centuries, this outpost commanded strategic importance, controlling the passage of vessels from Loch Fyne out to the west. Just glance up at the resiliently commanding remains of Robert the Bruce's 14th century castle. From Harbour Street there's a set of 62 steps to the lookout, quite steep, so I arrive breathless, on a bright and blustery early summer morning.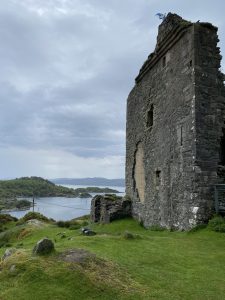 There are inviting-looking picnic benches that panorama glens and sea lochs pooled in sunlight. Above, birdsong dissolves into shivering leaves. Two walls of the keep prop each other up. They're all that remains; Tarbert Castle has been a grassy ruin since the beginning of the 18th century.
The earliest stone on the site dates from the 13th century. In 1292, the property was granted to John Balliol by Edward I of England, but it was Robert the Bruce in 1325 who positioned Tarbert on the strategic map. The Good King enlarged and fortified the castle, with, according to some of the oldest documents in the Exchequer Rolls of Scotland, a "settlement with Robert cimentarius (mason) for work on the walls of the Castle at Tarbert £282.15.0".
After all, this was a spot, as Dugald Mitchell wrote in his 1908-published Tarbert – In Picture and Story, "eminently fitted to serve as a convenient base of operations from which to keep the Islesmen in check".
Hebridean sheep graze the grounds in April and May, making for as lovely a photo opportunity as the illuminated castle by night. In the trough behind the ruins, alder, rowan, birch, willow and hazel waft among wildflowers and pond reeds. The community woodland also features a sculpture path with a unicursal labyrinth, as well as two short walking trails.
I descend to the harbour, my eye drawn by boat traffic around the Commercial Quay, where nets are stacked up like a drystone wall. A fishing vessel is landing fish, another is refuelling. Squatting in the harbour, there's a tiramisu-shaped concrete structure: the 'Beelding', once used by fishermen to scrape the barnacles off their fishing boats.
"Tarbert is one of the remaining active fishing villages in mainland Argyll, and it's fiercely proud of protecting and building upon its heritage. This keeps it real," says Victoria Winters, director of Heart of Argyll Tourism Alliance. "It's not just a picture postcard (although it is Insta gorgeous) – catches are landed, processed and distributed locally, across Scotland and even to Europe from here, with the first-class seafood enhancing the reputation of our pristine waters."
The local fishing industry peaked in the 1800s, largely with herring, but the current fleet remains pivotal to the economy, bringing in fresh catch almost daily, mainly of prawns.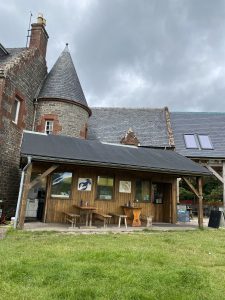 One of the best places to eat local seafood – although there are lots to choose from, according to Victoria – is Skipness. So later, I head east. It's a ravishing 20-minute single-track drive across lonely hillsides, where I glimpse the afternoon sun polishing West Loch Tarbert, the deep-valleyed, high-summited skyline of the Isle of Arran, and finally Skipness' long beaches, trimmed by creamy meadowsweet, yellow tormentil, buttercups and daisies. You can walk here from Tarbert if you wish, on the nine-mile first stage of the 100-mile Kintyre Way.
Skipness' shoreline is dominated by Clan MacSween's 13th-century castle, which backs onto golden sand. It's in better shape than Tarbert's, and there's a staircase to the roof, with views over the Kilbrannan Sound. Across the field is Kilbrannan Chapel, from the same century, with a collection of carved medieval tombstones, and nearby is Skipness Smokehouse, specialising in responsibly sourced, small batch production.
Skipness Seafood Cabin looks onto all this from the neighbouring grounds of a turreted estate with a gatehouse and ponies grazing in a seaside meadow. From its serving window come platters of langoustine, scallops, oysters and mussels. I order salmon salad with hot smoked fish from the smokehouse: salty and flaky and just what I feel like eating, on our wooden picnic table, as drizzle starts to drip from the molten clouds.
The next day dawns brighter, with a moonlike sun in a milky sky. I walk from one end of Tarbert's high-street to the other. It's low tide and seaweed streaks the exposed harbour walls, and children giggle as they romp on the uncovered shore. The shops remind me of old hardbacks on a shelf: weathered facades painted apple green, dandelion yellow, china blue, forest green and raspberry pink.
Outside The Larder, wooden trays bulge with great shiny peppers and buttercup-yellow courgettes, and inside there's a counter lined with local cheeses and deep-filled cakes. Café Ca Dora sits a little further along, with a mid-morning queue snaking onto the street.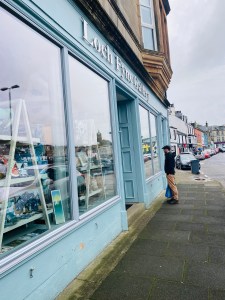 One of the prettiest buildings is Loch Fyne Gallery, all pastel blue panelling, specialising in cheerful seascapes and coastal homewares. I luxuriate in browsing the books – there's Scottish literature, local art, popular fiction, and a glorious selection of sea-themed children's titles. At the other end of Harbour Street, occupying the old post office, is the organic skincare and eco aromatherapy candles specialist Zing Organics.
"The building had been lying in disrepair for years. I used to sit in the deli across the road wondering if I couldn't take my hobby from the kitchen table to the next step," says owner Kirsty Morrison, who opened Zing in Tarbert in 2014. These days, she also offers a marine collagen boosting facial as well as a series of workshops, including candle making.
Kirsty tells me that the most popular product is the Celtic Rain Forest Candle: "It evokes the aroma of Argyll's enchanted rain forests. It's an all-botanical soy wax candle infused with sustainable oak moss and pure essential oils of cedarwood and ancient Scottish highland pine."
Later, I meet with Heather Thomas-Smith of Heathery Heights, who runs guided walks and foraging tours into the woodlands Kirsty mentions. But today we're picking our way along the rocky shore of a private estate near Tarbert – Heather has access rights for several otherwise inaccessible locations.
Her goal, she says, is to introduce people to Argyll's "incredible variety" of wild foods. "You find everything from seaweeds and fungi to what many consider weeds," she explains. We identify sorrel and Hogweed shoots, as well as nettles and wild garlic that Heather shows me how to turn into pesto and tea. She also teaches methods for safe identification, sustainable foraging practices and important aspects of the law. But she'll never reveal where she finds fungi. "A forager never gives away their favourite spot!" she laughs.
As my weekend in Tarbert draws to a close, I mosey south along Pier Road. I clamber between boulders and tentacles of branches on a muddy notion of track, until the coast splits into a cove. There's no sand, or pebbles – instead, the beach is a white fan of broken clam and queenie shells, arranged in stripes like feathers on a bird. They're the waste material from a shellfish factory, long since disappeared, that have washed back onto the shore.
Today, the translucent water laps gently, its slap and slosh intersected by the muffled voices of lads fishing nearby. An oystercatcher picks its way along the tideline. You can sometimes spot seals, porpoises and even dolphins in these waters. Last summer there were sightings of a humpback whale.
The word that slips into my mind is beautiful, but when I think of Tarbert, I think of a place inhabited: of the volunteer in Tarbert Church Charity Shop who ushered me to a coffee morning earlier. Of Kirsty at Zing Organics keeping the old post box active outside her shop. Of the fishermen tending their nets.
In his 1908 work, Dugald Mitchell wrote of a Tarbert "so fair, so grandly picturesque, so historically interesting, and yet so unknown to the human race". Today, this picture remains largely unchanged.
WHERE TO STAY
Knap Guesthouse
Book a harbour-view room at this charming B&B in a Victorian townhouse in the centre. Décor is Scottish-homely, all magnolia paintwork and tartan furnishings, and breakfast is simple but tasty. For anyone staying longer, the Captain's Suite has self-catering facilities. Superior King Doubles from £115 B&B per night (01880 820015, knapguesthouse.co.uk).
Stonefield Castle
This Scottish baronial pile is spectacularly situated, two miles out of Tarbert, where its 19th-century cornices and stone carvings bathe in woodland on the shores of Loch Fyne. All 38 rooms are ensuite and feature sumptuous jacquards and hardwood fittings; most have a view; and three have a four-poster bed. The restaurant does a very popular afternoon tea. Loch View Doubles from £123 per night (01880 820 836, stonefieldcastlehotel.co.uk).
DINING OUT IN TARBERT
LUNCH
Lulabelle's of Tarbert
Serving a fusion of seafood and street food, Lulabelle's is quirky, with a menu that peppers sharing platters with tapas-style dishes, served up in a black-panelled setting like a ship's galley on Harbour Street. (01880 821294, lulabellesoftarbert.co.uk).
LIGHT BITES
The Gather
Deep-filled sandwiches and locally baked cakes are the specialities at this lodge-style cafe on the A83 into Tarbert from Campbeltown. It's very popular with locals, stocks a selection of art by Argyll craftspeople, and has six camping pods to rent. (01880 739 215, thegather.uk).
DINNER
The Anchorage Bistro
Specialising in fresh local seafood, proper pies and fare so seasonal the menu sometimes changes daily, this bistro sits right on the fish quay. Proprietor Paul is skilled at adapting recipes to cater to intolerances, but if you can eat anything, his steak and peppercorn sauce with hand cuts is hard to beat. (01880 821417; anchoragetarbert.co.uk)
DID YOU KNOW?
The name Tarbert derives from the term 'isthmus', which is why there are so many places in Scotland with a variation of the name.
WHEN TO GO
From seafood to music and maritime, it is worth planning your visit around Tarbert's events calendar. Here, Victoria Winters of the Heart of Argyll Tourism Alliance shares her top picks:
May: Scottish Series
This prestigious yachting event was first held in 1975. Almost 50 years later, it continues to attract sailors from across Scotland. As well as sailing courses and passage races, there are big band performances, a bar and food stalls. Want to get out on the water yourself? Fyne Sea Tours are available for charter, picking up from the harbour.
July: Tarbert Seafood Festival
Two days dedicated to fish and shellfish from Loch Fyne. The highlight is the crowning of the Seafood Festival Queen, who travels across the harbour by fishing boat to lead the festival parade through the village.
September: Tarbert Music Festival
A weekend of live music and impromptu sessions from local bands, such as Little Mix Tribute Band and The Bhangra Beatles. Food stalls sell fare like breaded scallops and there are trampolines for youngsters.
For all the details, visit tarbertfestivals.co.uk.
Victoria's free downloadable guidebook is helpful for planning your trip to Argyll: tinyurl.com/52tk59f8