SARAH JAMES takes us on a historical and cultural tour around her home town, Cardigan.
Being born on April Fools' Day, the annual reminder of my birth, was softened by the fact that my birthday often fell in the Easter holidays, thus thankfully avoiding the majority of pranks I could have endured at school. The fact that the maternity ward at Cardigan Hospital closed a few years after my birth, did however, provide hilarious opportunity for my family to blame my apparent arrival for the ward to finally shut for good!
RICH HISTORY
Like a lot of British coastal towns around the UK, Cardigan, at the most southern point of Ceredigion in West Wales, has had a rollercoaster ride of its own. Whilst many places have slipped into seemingly permanent decline, Cardigan – or Aberteifi – is a story of rebirth.
I grew up in Cardigan, taking it entirely and utterly for granted. Surrounded by unspoilt beauty, beach after rugged beach, situated in magnificent isolation on the border where Pembrokeshire and Ceredigion meet. The town sits proudly at the mouth of the River Teifi, with Cardigan Castle looming protectively above the its 13th century bridge.
It is a close knit, friendly community where Welsh is widely spoken. Over 45 per cent of Ceredigion residents speak the language and, according to a recent Duolingo survey, 1.62million people are learning Welsh.
For language nerds, 'Aber' in Welsh means mouth of the river – you can play the Aber game with numerous towns across Wales.
Cardigan's origins centre around the Norman Castle build in 1093. Its estuary position led to Cardigan becoming one of Britain's largest ports with merchants carrying fish, slate, bricks, bark for tanning, corn and ale. By the 1800s, commercial trade via Cardigan was only surpassed by Liverpool, London and Bristol. A thriving shipbuilding industry sprung up in the Netpool area of town, producing nearly 200 ships between 1798 and 1877.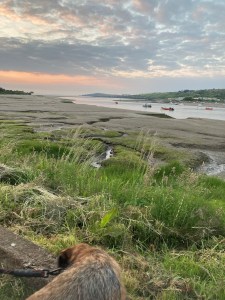 My family has its own maritime history. My great-grandfather, Captain William George James of British Isles Coasters, transported goods from the port. But by the early 20th century, as the Teifi filled with silt, trade had declined. British Isles Coasters' offices at Teifi and Lloyd's Wharf are now home to Pizza Tipi; a truly unique place to eat and drink in views down the river.
The National Eisteddfod, the gigantic annual celebration of Welsh culture, also has its roots in Cardigan. Whilst the Eisteddfod of the modern age was held in Aberdare in 1861, Cardigan Castle is the home to the very first National Eisteddfod in 1176. I remember very well Cardigan hosting the 800th anniversary of the National Eisteddfod in 1976 and being utterly miffed that, unlike my sister, I was too young to take part in any of the official festivities.
By the latter half of the 20th century Cardigan Castle had fallen into utter ruin. It is now, however, a vibrant venue for community events, big name music acts and open air theatre. It was in a very sorry state for many decades, but thanks to the curiosity and passion of a group young volunteers in the mid-1980s, a 35-year battle to bring the castle back into public use began. One of that original group of teenagers, now a respected local historian and former classmate of mine, was Glen Johnson. I asked him, why at 16, did he get involved?
He explains: "It had so much history as the birthplace of the Eisteddfod and the first stone castle built by a Welshman, and also the huge potential for breathing new life into the town. But, mainly because I was a bit daft and loved old buildings!"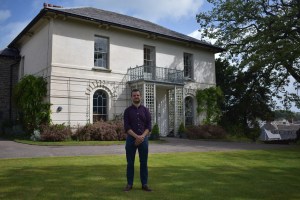 Much has happened since then and the castle opened to the public in 2015.  You can now wander the castle grounds, marvel at the impressive kitchen garden, enjoy food in the cafe and discover its history in the beautifully restored Castle Green House. History buffs take note: The Research Room is open to the public.  Throughout the summer you can watch live theatre and music performances from the Castle Green. What an amazing achievement!
CHANGED BY COVID
During lockdown Ceredigion became a fortress against Covid, with one of the lowest rates of the disease. Coupled with a Stamp Duty holiday during that time, the property market in the area exploded as people from other part of the country sought refuge and investment. Prices shot up, often out of reach to local buyers.
Whilst tourism has always been a vitally important part of the rural economy in this part of Wales, it threw the lack of social and affordable housing sharply into the limelight. The Welsh Government has intervened, giving council's the power to treble council tax in certain scenarios, which Pembrokeshire has adopted, with Ceredigion taking a more moderate 25 per cent premium.
There are arguments on both sides – second home owners bring inward investment, spending and job security into the area, but local people, though working, are priced out of the market and have to consider moving elsewhere to afford to live.
CULTURAL REBIRTH
Cardigan has thrived in recent years and continues to re-build after lockdown, whilst now navigating the cost-of-living crisis that has followed.
Whilst Cardigan is geographically challenging to get to, this splendid isolation has meant that most of big corporations have stayed away, leading to a vibrant environment for independent shopping. Over decades the area has long inspired makers and artists and there is now a vibrant, lively food and music scene. It is also utterly beautiful. Surrounded by rugged coastline, isolated coves, expansive beaches, riverside and mountain walks where tranquillity and adventure can both be found.
Retired fisherman Dai Crabs, who runs regular boats trips down the Teifi on the Diana Ellen, sees the unspoilt outdoor spaces as a huge draw to the area: "I had very positive feedback from my passengers on the boat last season especially people who normally holidayed in Cornwall and have found it too overcrowded. They were so surprised about the beauty of Cardigan and the surrounding area and will definitely return."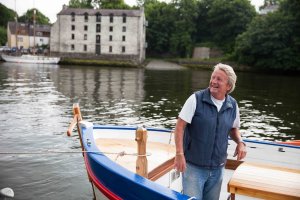 Theatre Mwldan, the cinema and arts centre, continue to recover post Covid with ambitious programming. Cardigan is the latest outpost for the iconic Irish music Festival, Other Voices which returns to the town at the end of October. Hosted in partnership with Mwldan, the Irish and Welsh Government-backed festival will see 100 international musicians performing across dozens of venues across the town.
I asked Tamsin Davies from Mwldan, why Cardigan was so resilient and she responded: "Obviously Covid has been incredibly hard on everyone. But Cardigan has been one place which has bucked the trend and actually thrived over the past couple of years against all odds.
"It's always been a very spirited town and resisted the mainstream. Independent businesses here have been able to respond and adapt swiftly which has given our high street a resilience and a survival edge over other places dominated by chain stores.
"That independent spirit, post-Covid which is being expressed through music, art, craft and culture, food and drink, and the vibrant creative businesses popping up across town, makes Cardigan an incredibly exciting place to be right now."
One of those creative businesses is Canfas, a fine art gallery that specialises in Welsh painters and printers, which opened in 2019. Curator and painter, Anne Cakebread, has managed Canfas from day one: "The business is going well and despite being closed for nine months due to lockdowns there was a huge surge in visitors to Cardigan when the regulations were lifted which brought a massive increase in sales."
MAKING A DIFFERENCE
Craft Festival, which I founded in 2004, was built on the notion that makers can be the catalyst for rural regeneration. And in a post-Covid world, this is truer than ever. Peter Bodenham who runs St Dogmaels Pottery is upbeat about the future.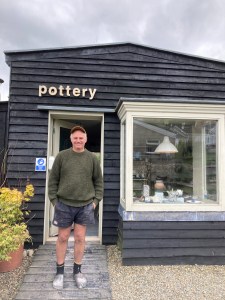 He enthuses: "People value handmade pottery and like buying something that is evocative of the area. I'm looking positively to the summer as the area has a number of thriving local businesses, fabulous beaches and great local walks. I ask visitors to the workshop if they have been to the area before, many saying no, but will definitely return."
Sarah's latest project, Craft Festival Wales at Cardigan Castle is in development for Autumn 2024. To register your interest, go to craftfestival.co.uk
FIVE PLACES TO EAT
Crwst – impressive, glass-walled café with in-house bakery, deli and the best brunch EVER.
Yr Hen Printworks – former print room for the Teifiside newspaper, sympathetically transformed into a chic eatery.
Stiwdio 3 – bustling town centre café with specialist craft workshops and shop.
Cardigan Bay Brownies – indulgent homemade brownies, waffles and more.
The Ferry – try the fresh fish with breathtaking views overlooking the Teifi.
5 BEST BEACHES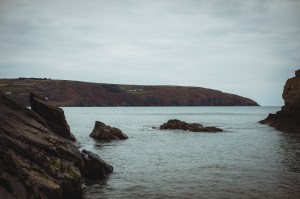 Want to be alone? Go to Evelyn's Beach. A hidden path at The Cliff Hotel leads you to its pebbly cove.
Poppit is a large expanse of sand with great access, loved by dog walkers as your furry friends are allowed all year. Just head to the right from spring through summer. You can also grab great coffee and world class dougnuts at Crwst's Poppit outpost.
My family is from Llangrannog. It's my all-time favourite for childhood memories of never ending, barefoot summers, crashing waves, the iconic Carreg Beca, home-made ice cream at The Patio, brilliant pizza from Tafell y Tân and post-swim pints in the Pentre. There are also great coastal walks from this popular village.
Mwnt – lots of steps down but so worth it. A great place to swim.
Patch – though not recommended for swimming, this underrated beach has fantastic views of Cemaes Head and Poppit. Rarely busy, it has lots of rockpools to splash about in and you can almost walk to The Cliff Hotel at low tide. Head down the side of the Boat Club and park on the beach. Dogs are allowed year round.
Want to explore Wales further? Take a look at our Wales by Mountain Rail tour