The coastal counties of Wicklow, Wexford and Waterford are known as Ireland's Ancient East. SHARON GOBLE discovered the treasures they hold for today's traveller.
The Irish language is full of poetry. I'm standing on the larger of the two Saltee Islands off Ireland's south east coast, looking at the white tops of waves on a choppy sea. In Gaelic, I discover, they would be described as "white flowers on the fisherman's garden" (bláth bán ar gharraí an iascaire). How beautiful is that?
Privately owned by the Neale family, The Saltees are a twitchers' paradise; a must-visit for anyone who wants to get up close and personal with the most endearing of seabirds – the puffin. During my visit in early summer, these cute and colourful little chaps are busy feeding their young. The parents pop up from holes dotted along the cliffs, facing the vast expanse of the Atlantic Ocean. Seemingly unperturbed by human visitors, the puffins clearly know their place in the local pecking order, swiftly moving on when a razorbill shoos them away.
At the far tip of Great Saltee, another seabird spectacle awaits. After pushing through a 'forest' of shoulder-height fern, we emerge at an outcrop covered in thousands of nesting gannets. Old and young jostle noisily on the rocks while more of these large birds squall overhead as they fly in and out to feed their chicks.
Fellow daytripper Pat Nooman, from Dublin, is a birdwatcher and regular visitor, drawn back to the island several times a year. He says: "It's so accessible, and there's so much variety here. Everyone comes for the puffins, but there are gannets, razorbills, chuffs, and occasionally rare visiting migrant species.
"Today, we're sitting just feet away from a rabbit sprawled out in broad daylight. You can relax in nature here even when you don't get any good photos. What's not to enjoy?"
The boat journey to and fro is an experience in itself! Your white-water thrill ride on board a small ferry begins at Kilmore Quay on the Wexford coast. The operator's not kidding when they tell you to wear waterproofs or prepare for a soaking. An inflatable dinghy takes you to the landing spot where, depending on the tide, you may wade through seaweed a foot deep to reach the island's rocky beach.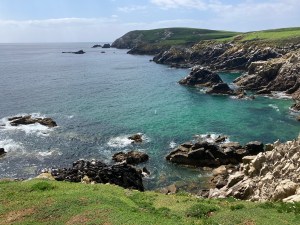 This stretch of coastline is notoriously treacherous and known as the 'Graveyard of a Thousand Ships'. Back on the mainland, Hook Lighthouse stands tall at the tip of a peninsula; by day, its broad black and white stripes are an unmistakable landmark for sailors; by night, its powerful lenses flash as a warning to shipping.
Purpose-built 800 years ago, it's the world's oldest working lighthouse. Welsh monks were the first custodians of this site in the 5th century when coal kept a beacon alight, warning of danger where numerous currents collide. Oliver Cromwell's flagship, Great Lewis, is among the many shipwrecks on the seabed.
Our tour guide Tracy Decastro tells us that Hook Lighthouse takes its name from the missionary monk Saint Dubhan. She explains: "Dubhan's name translated from Welsh means 'fishing hook', and when Cromwell attempted to besiege the city of Waterford, he famously vowed to take it 'by hook or by crook'. Hook is on the Wexford side of the estuary, and Crook is a small village on the Waterford side."
The reward for making it up the 115 well-worn steps is a 360º view from the balcony with surround sound. Linger long enough and you may spot seals, dolphins and sometimes even whales. It's a magical place. One of many on a five-day trip with Celtic Routes across three Irish counties, all beginning with a watery 'W'.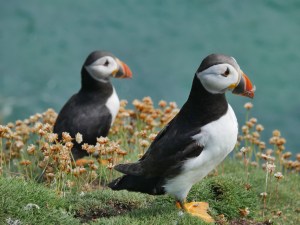 My husband accompanied me on this journey of discovery, which started on dry land. When I say 'dry', it depends on how you interpret the phrase as our first stop, south of Dublin, was an Irish whiskey distillery on the impressive Powerscourt Estate in County Wicklow. The gardens at Powerscourt are rated by National Geographic as the world's third best, after Versailles and Kew. The estate also boasts a relative newcomer on the Irish whiskey scene, Fercullen Whiskey, whose triple-distilled tipples have already garnered awards.
Our guided tour started in the distillery, dominated by the impressive sculptural forms of three copper stills. Next, the maturation warehouse, where barrel upon barrel of oak-aged whiskey exuded an intoxicating fragrance. In the luxurious bar, our guide Niamh Kennedy's mum, Santina, welcomed us with a curated food offering – each pairing complements the different whiskies. With my husband driving, I took full advantage of this opportunity to sample the diversity of Ireland's best regional food and drink products!
The Kennedy family has close connections with the estate dating back five generations, and now mother and daughter provide the perfect blend of youthful enthusiasm and mature wisdom. Santina tells us: "There's an Irish saying 'What butter and whiskey can't sort, can't be sorted'."
It's a comforting notion and one we put to the test that night at the Horse and Hound in Delgany, County Wicklow, a gastro pub and restaurant with rooms near the coastal resort of Greystones. While I choose the superb fish dish, Richard opts for a succulent Irish steak cooked in butter and washed down with a dram of whiskey, all served with genuine Irish hospitality. Sorted!
Each place we stay at has a different personality – agreeableness at Clonganny House in County Wexford, elegance at Faithlegg House Hotel in County Waterford, and character at The Tannery in County Waterford – yet all exude that warm quality: Irish charm.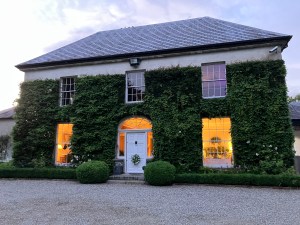 Delgany apparently has the driest climate in Ireland, but we awake to a damp morning for our guided walk along a section of The Wicklow Way with Gillian Duggan of Hilltop Treks. The sun breaks through as we make the gentle ascent to the stunning viewpoint overlooking Powerscourt Waterfall, the water supply for Fergullen Whiskey. However, as we climb steadily into the clouds, the Wicklow Mountains become wetter and windier. Gillian informs us there are over 30 Irish words for rain, her favourite being 'wet rain'!
On the upper slopes, Gillian points out vertical lines on the mountainside, commonly seen in Ireland's uplands. These are Lazy Potato Beds, dating back to the time of the Great Hunger. Gillian says: "They weren't sure what was causing the crop to fail in the valleys, so they tried to grow potatoes as high up as possible.
"The disease was airborne, so they were on a hiding to nothing. The vertical lines allowed the water to drain away. They rotated the planting by turning the soil each year; it was hard work, nothing lazy about it."
Hunger, I have to say, isn't a pressing issue for us. We are well fed and watered during our stay at Clonganny House, a fine Georgian pad in a pastoral setting near miles of stunning coastline. I have the expanse of golden sand pretty much to myself for an early morning dip at Old Bawn, except for a horse rider who arrives as I head back through the dunes for a hearty breakfast.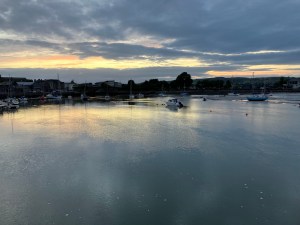 The third and final leg of our trip is County Waterford. The Viking city of the same name is best known for its luxury crystal, and you can see this being made by skilled craftspeople on a factory tour of The House of Waterford Crystal. Like us, you may be surprised how few talented workers produce this world-famous product.
For a more active pursuit, take the Waterford Greenway cycle route along the banks of the River Suir, arguably Ireland's most scenic off-road cycling trail linking Waterford with the historic harbourside town of Dungarvan. We're not cycling quite that far. Frank Ryan of Saoirse Cycling is accompanying us on the stretch from Waterford to Kilmeaden, taking in the Waterford Suir Valley Railway and the beautiful house and gardens of Mount Congreve.
The Greenway follows the tracks of the former Waterford, Dungarvan and Lismore Railway, established by the Duke of Devonshire and sold in the late 1800s to become part of a rail network with connections to Wales and England via Rosslare.
Frank explains: "The trains would set off to Fishguard from Paddington carrying mail that was then transferred to paddle steamers – faster than today's ferries – to be brought across.
"It was said you could post a letter in London to arrive in Waterford the next day. Trade between the coastal counties of south east Ireland and west Wales continues a historical connection between the two regions."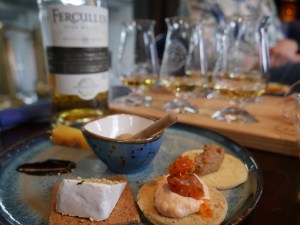 The Greenway has transformed places like Dungarvan, bringing new visitors and a buzz to the seaside town. Chef Paul Flynn runs The Tannery, a restaurant, townhouse and cookery school in three buildings close to the harbour. I catch up with Paul after our final breakfast on Irish shores.
He tells me: "I can't describe how much the area has changed in the 26 years we've been here. People have become more interested in food, and chefs and cooks have become more skilled at their trade.
"There are lots of exciting young chefs coming up now in great cafes, as well as posh restaurants. You can have magnificent food around Ireland, for sure. A renaissance has happened in the last 20 years. I'm glad to be part of it."
As we head off to explore the nearby Copper Coast, a UNESCO Heritage Site, Paul adds: "Of course, I'm biased, because I'm from here, but the coastline in this part of Ireland is absolutely magnificent and yet to be discovered."
Paul, I'd have to agree.
FORAGE WITH THE SEA GARDENER
Wild food forager and author Marie Power, AKA The Sea Gardener, reaps her harvest from the edible plants and seaweeds that grow along the Copper Coast. We foraged at one of the secluded coves close to Dungarvan, Ballydowane Strand.
It's a wonderful way to connect with the landscape and ecosystems of our shores while discovering the nutritional benefits and properties of an ancient superfood.
A picnic of seaweed butter on Blaa buns, washed down with seaweed tea, was the final taste sensation of our trip and a lasting memory of a stunning stretch of the Irish coast.
EXPLORE THE ROUTES FOR YOURSELF…
Sharon travelled to Ireland's Ancient East with Celtic Routes, a partnership between six coastal communities in Ireland and West Wales that encourages visitors to 'go deeper, stay longer'.
The Irish counties of Wicklow, Wexford and Waterford and the Welsh counties of Carmarthenshire, Ceredigion and Pembrokeshire have joined forces to deliver a broad range of trips and immersive experiences, showcasing the shared heritage and untamed landscapes of these six places steeped in legend and myth.
Sharon's activities were provided by the Celtic Experience Collection. This compendium of themed experiences allows travellers to discover the Celtic spirit linking two nations separated by the sea yet sharing an unbreakable bond.