With a friendly community, beautiful coves, botanical gardens, and a hub for water sports, consider moving to Shaldon- the hidden gem of Devon for property hunters seeking a coastal lifestyle. Words: Helen Heyns.
As you approach Shaldon from the bridge at Teignmouth, you can't help but smile at the beauty of the town rising from the water. There is a relaxed atmosphere to the streets of this stunning coastal village in Devon. The waves lap on the beach and transmit a therapeutic energy, which is felt across the town.
Voted the best place to live in the UK 2020 by The Times, the friendly community of people are very proud of the village and their history. Located on the River Teign, Shaldon is the hidden gem of Devon.
The Ness sits at the top of the village, it is named after the 'Ness' rocky outcrop that towers over it and is a focal point of the area in its beautiful sunny yellow paint. Today The Ness is a hotel and restaurant; however, the house was originally built in 1810 as the summer home of the Clifford family; rumour has it that the family increased their fortune through smuggling, via the smugglers' tunnel which you can find just behind the Ness.
The community comes together to celebrate their village, coastal lifestyle and love of food and music throughout the year. Shaldon hosts some incredible annual events such as the Music Festival in June, Water Carnival and Regatta in August, fireworks in November and Christmas markets in December. Shaldon also provides regular meets for Baby and Toddler groups, Coffee mornings and volunteering groups to maintain the beauty of the area.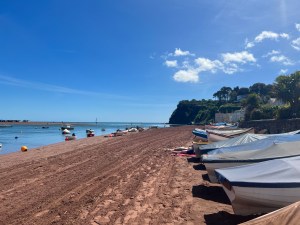 WHERE TO BUY
There is no bad place to buy in Shaldon – anywhere with a view of the River Teign is popular, and there are many properties of this nature in Horse Lane, Homeyards and Broadlands. Neighbouring Ringmore is also located on the river in a south westerly position and is just as popular as Shaldon itself. Shaldon has a range of property, from Georgian style, modern architect design, to coastal cottage. The neighbouring village of Bishopsteignton is also popular place to buy, with estuary views and good pubs.
Ben Epps from Dart & Partners tells me: "Shaldon provides an interesting and eclectic mix of properties in an idyllic coastal setting and so it is easy to see why the village has received such attention from out of area buyers in recent years."
HOW MUCH?
Shaldon is known for its higher-than-average property prices, which contrasts with its neighbour across the water, in Teignmouth. With the average price of property over £701k, this is an increase of 22 per cent on the previous year 2021-2022. The majority of sales in Shaldon during the last year were detached properties, selling for an average price of £1,038,941; however, you will find pretty two-bed cottages priced at between £250k-£300k.
TRAVEL LINKS
With fast access to major roads and excellent high-speed trains links, moving to Shaldon offers great convenience for those who wish to travel. Be in London in just over three hours by train from Teignmouth to London Paddington, or by road you are 20 minutes from the start of the M5. It is a 30-minute drive to Exeter and all that the city has to offer, while still living in tranquillity by the sea.
SCHOOLS
Shaldon Primary School is one of the top performing schools in the UK with an outstanding Ofsted rating. Shaldon has good access to the boys' and girls' grammar schools in Torquay, private education is offered locally at Trinity school in Teignmouth, and there are several primary and secondary schools in Teignmouth; with good Ofsted ratings across the area.
REALITY CHECK
While there is a large community of permanent homeowners, there are also holiday homes and second homeowners who do not frequent Shaldon as often during the winter months and so you will notice quieter streets during this time. You will notice a shortage of parking and green space so if you are looking for land, moving to Shaldon is not the town for you. There is a risk of flooding to the lower areas of the town, however, flood gates were installed in the town in 2011. Most of Shaldon is on a hill so be prepared to walk up steep hills and know that much of the town is in shade during the afternoon as the sun retreats behind the village.
TIME OUT
For time outside in the area, there is so much to do. Visit the Shaldon Wildlife Trust and Zoo at the top of the village, which is set in an acre of woodland gardens. It is a small zoo but it's making a big difference. The interaction experiences with the Meet the Meerkats, Lemur Liaisons and Be a Keeper are excellent gifts for memory making with a difference and help support the zoo's existence.
Grab a coffee from Lollie Bean or Ode Cafe and take a walk to Ness Cove Beach through Smugglers' Tunnel – it's quite an experience. The beach is surrounded by magnificent red cliffs, where you can swim and paddle board. MoCoast, run by Dom and Bobbi, are based at the top of the Village, and they offer paddle boarding, yoga on the beach and water sports – mocoast.co.uk/
The Botanical Gardens are a hidden retreat, where you can walk amongst beautiful trees and plants and alongside the small castle, with a spectacular view of the estuary and the town. The gardens are open to the public free of charge seven days a week.
Take the South West Coast Path from The Ness to Labrador Bay, it's a 30-minute walk full of nature and stunning views. The beautiful coastal reserve was created to help secure the future of the Cirl Bunting, a rare bird whose population is almost entirely restricted to South Devon.
Enjoy the excellent places to meet, eat, drink, enjoy the view, the sunshine in summer or escape winter rain at The Clipper, London Inn or The Ferry Boat – which has an ongoing diary of live music that is enjoyed by visitors and locals alike.
You will find the Shaldon Bowling Club play regularly on the green in Shaldon, which is a pretty setting, surrounded by cottages in pastel shades with wonderful pubs nearby for a spot of lunch and watch the world go by. Shaldon pitch and putt is located next to the zoo if you want to improve your swing, admire the view and take on the very hilly course.
The passenger ferry operates a continuous daily service between Teignmouth and Shaldon. Not only does it provide an essential link between Teignmouth and Shaldon for residents and visitors, but also access for local walks along the coast.
Shaldon is dog friendly and a popular area for dog lovers with our canine friends enjoying the estuary and fetching their favourite toy or ball. Sticky Paws dog groomers located in the high street and Clare Walpole Photography, who specialises in dog photography is also located in the town centre.
PAY A VISIT
Shaldon Beach Hut (cottagessw.co.uk/, 01626 872314)
Set in a central location on Shaldon Beach, The Beach Hut has its own gate which opens on to the beach. Bi-fold patio doors on the ground floor open the full width of the hut and lead to a large terrace with spectacular views of the sea. Managed by Anthony and Katrina Drummond from Cottages South West, there are many personal touches to create a home from home and a warm welcome. Towels are provided, and other additional services can also be arranged on request such as welcome hamper, flowers, or celebratory bubbles! With sought after allocated parking and free wi-fi you can enjoy the finest beach side location in the heart of the village. The hut has a lounge, kitchen, shower room and mezzanine bedroom, making this beach hut deceptively spacious.
Prices start from £150 per night, with a two-night minimum.
Old Walls Vineyard (signature-properties-sw.co.uk/properties/, 07747 604665)
Located in Bishopsteignton, Old Walls Vineyard has six beautiful and modern two-bedroom holiday lodges, along a quiet cul-de-sac lane beside the vines. Three of the lodges welcome dogs to stay with their owners and have enclosed spaces by each lodge. The vines are an incredible view from the front of the lodges, it is a relaxing retreat; where you can eat in the accommodation or take a one-minute walk to the bistro on site or down the hill to the village. Packages are available to tour, taste and rent the vines, plus everyone is invited to visit the bistro for breakfasts, lunches, afternoon tea, tapas and Sunday roasts and (of course) you can enjoy a bottle of their wine with your meal. The lodges are fully equipped with lounge, kitchen, two bedrooms, bathroom, free wi-fi and parking.
WHAT CAN YOU GET FOR YOUR MONEY?
Here are some of our favourite Shaldon properties for sale:
6 Ringmore Road, Shaldon (£775,000)
A beautiful Grade II-listed Regency-style property arranged over four storeys close to the village centre and beach. Attractive receptions, modern kitchen opening to dining room and conservatory. Three bedrooms (two ensuite) and utility. Large attic room, enclosed garden, garage and parking.
(dartandpartners.com, 01626 772507)
9 Oak Tree Grove, Shaldon (£695,000)
An attractive, detached property set in a select development close to the heart of this sought-after coastal village with fantastic estuary views. Free-flowing triple aspect sitting/dining room, kitchen, three bedrooms and two bathrooms. Driveway, double garage with utility area and mature gardens.
(dartandpartners.com, 01626 772507)
Verness, 20 Horse Lane, Shaldon (£1,850,000)
Completed in 2021, this fantastic home was designed and constructed by the current owners. Located in a sought after, slightly elevated position above the village situation yet close to the river and beach, the house was built to take in the most amazing river and estuary views.
(bradleys-estate-agents.co.uk, 01626 873757)
21 Cherra Cottage, Albion Street, Shaldon (£395,000)
Beautifully presented cottage situated in the heart of the village. Offering character accommodation with pretty sash bow windows, this period cottage offers two double bedrooms, sitting room, kitchen/breakfast room and bathroom. Front courtyard garden and small enclosed rear yard.
(bradleys-estate-agents.co.uk, 01626 873757)
Helen Heyns, Love Lifestyle – Buyer's Agent and Relocation Specialist
07548 761785, [email protected], lovelifestyle.org
To discover more coastal areas, check out our ranking of affordable seaside locations to move to here.