Staying on a converted tugboat then wild swimming around the Isles of Scilly is about as elemental as you can go – especially in the inquisitive company of seals, dolphins and octopuses
Words & Photographs: Paul Miles
The seal was just below me. With its whiskery features and dappled pelt of greys, it rolled and danced like a mermaid. I had first noticed it, head out of water, staring at me. When I looked into its big dark eyes, it dived among a waving forest of kelp in hues of umber and yellow as if inviting me to follow through an underwater garden; the jade-green sea streaked with sunbeams.
I was swimming in the Isles of Scilly, the archipelago 28 miles southwest of Land's End, Cornwall. The water was a chilly 13.5 degrees despite it being the end of a long, hot summer. I was travelling with SwimTrek, a pioneer of group swimming holidays, which first started taking swimmers to this scattering of five inhabited islands and hundreds of rocky outcrops in 2003. Back then, SwimTrek billeted visitors in a guesthouse on the largest island, St Mary's. Since 2017, however, the company has been chartering a 12-berth sailing vessel, the 102ft Lady of Avenel, a former Russian tugboat, converted, in the 1990s, to a square-rigged brigantine.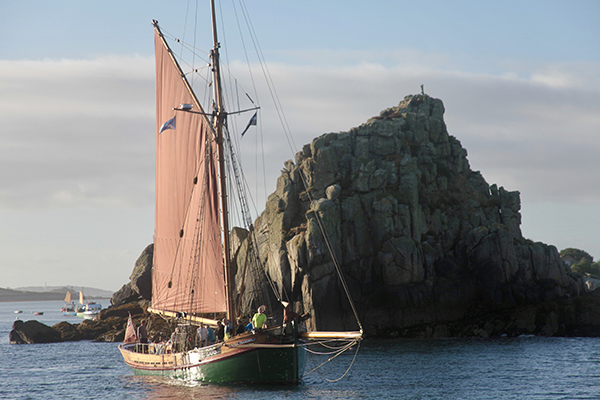 ALL ABOARD
Under command of her skipper, fiddle-playing Shetland Islander Barry Nisbet, the Lady had sailed slowly from Scotland to Cornwall over the summer months, hosting a succession of swimming holidays in the Outer Hebrides and in Co Donegal, Ireland. In September, I boarded her in Newlyn, Cornwall, for a week-long 'Cornwall and Isles of Scilly' adventure. 'Being based on a boat gives us so much more flexibility: we can take swimmers more or less anywhere as long as the tides and weather permit,' explained Pete Carr, one of two swimming guides-cum-lifeguards accompanying eight of us swimmers. My fellow travellers were open-water enthusiasts who compete in long-distance races. One, Lee, swims year-round in her local river, where the temperatures plunge to seven degrees. She swims without a wetsuit. They were a hardy bunch. After all, this trip was billed in the 'expedition' category; in other words, not for softies.
Me? I love swimming outdoors. In a heated lido. I enjoy pacing up and down, the water warmed to 26 degrees, lane ropes to guide me. I had doubts as to how I'd cope in an Atlantic archipelago with sea temperatures forecast to be 14 to 17 degrees. Despite research showing that cold-water swimming is good for you, I borrowed a high-tech swimming wetsuit from Huub. Accompanying goggles, with lenses that react to sunlight, were superbly clear. Topped off with a bright rubber hat, my first swim – in Cornwall, 2km around St Michael's Mount – was a game-changer. I wasn't cold. Movement wasn't restricted and I could swim freely, enjoying the sight of blocky granite rocks below, the silvery bubbles as waves surged against them. I glimpsed an octopus taking shelter in a crevice. When I turned my head above the waves to breathe, I spied the island, the Union flag aflutter on the castle.
It was reassuring to have the presence of Pete and his colleague, Eoin Gleeson, a dynamic 25-year-old, who shadowed us on our swims – Pete in a rigid inflatable boat (RIB), Eoin on a paddleboard. 'If you don't hear us whistle, all is fine,' Pete had informed us in a safety briefing. 'If we whistle, look up. It might be because you're going off-course or need to stop.' No whistle was blown all week.
DOLPHIN AHOY
After two days of Cornwall swims, including wonderful Kynance Cove, our last mainland swim was along the bay below the Minack Theatre, beside ivory sand beaches where naturists sunbathed under cliffs fashioned like Barbara Hepworth sculptures. Once aboard, we upped anchor, helped the crew heave on halyards and – thanks to an out-of-the-ordinary northerly wind – sailed into the sunset towards the islands. A dolphin appeared beside the boat, backlit in a wave like a Damien Hirst exhibit. As the sea heaved and roiled, I steadied myself on the poop deck while Barry gripped the helm guiding us southwestwards. Some four hours later we anchored off St Mary's among small yachts as bright stars appeared in a darkening sky.
We motored rather than sailed among the isles. The wind was tricky, the maze of islands with low tides and rocky reefs, awkward to navigate by sail in a big boat. We didn't want to join the list of 1,000 wrecks strewn around the shores. Sails stayed furled as we cruised onwards each day for new swimming routes. We averaged two coastal swims of a total 4km daily.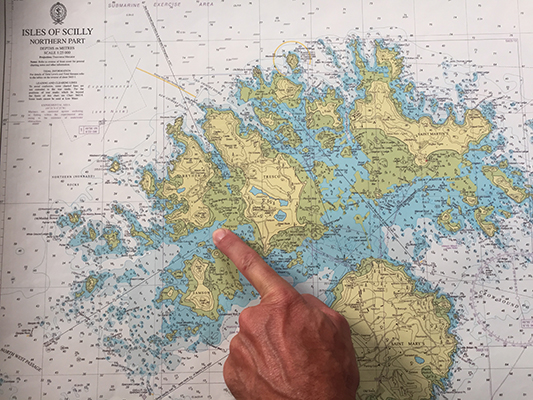 CATCHING THE GLOW
At midnight, at anchor in the uninhabited Eastern Isles, near the island of Nornour – a name that sounds more Polynesian than Scillonian – I ventured on deck alone. The moonless night was full of stars, the Milky Way a river running down the sky. The tidal current around the boat glowed with phosphorescence, like writhing bioluminescent eels swimming past its bow. A shooting star fell and oystercatchers piped from shore. We were indeed in some treasured distant islands, or somehow sailing out to space. I wanted to dive in the black water and trail phosphorescence all about me.
On the last day, Lady of Avenel anchored between the two islands of Bryher and Tresco. In WWII, a secret naval flotilla disguised as French fishing boats was based in this channel. Today, local fishing boats and pleasure yachts, some of them classic sailing vessels, anchor near a rocky outcrop called Hangman's Island, complete with replica gibbet atop. (Some say the name comes from 'an men', Cornish for 'the rock'.)
It was time for our final swim of the week. All but two of us chose to brave a dash around the rock 'in skins', without 5mm of neoprene. 'We've got our natural bioprene!' laughed ever-joyful Lee, pinching an inch before jumping in. The cold was exhilarating but the tidal current was strong and I was quite happy to be climbing back on board again within 15 minutes. Sara, the first mate, greeted me with a hot chocolate and brandy.
Bryher is the smallest of the inhabited islands. The Royal Mail van clocks up less than three miles daily as it delivers to the 50 year-round residents. The island is known for luxury Hell Bay Hotel and fishermen who catch lobster and crab. The hotel runs a pop-up 'Crab Shack' in a candlelit stone barn where diners crack open enormous crustacea. On the Lady of Avenel meanwhile, we swimmers tucked into vast quantities of roast lamb and chocolate mousse before retiring to our tiny, windowless bunk-bed cabins (with a sink if lucky). But then we could swim in peace through blueness, among waving underwater gardens of eel grass and kelp, an experience like no other.
NEED TO KNOW
SwimTrek's Cornwall and the Isles of Scilly is based on Lady of Avenel tall ship. Similar swimming trips around the British Isles are available (01273 739713, swimtrek.com).
The Isles of Scilly Tourist Board (visitislesofscilly.com) provides information on accommodation, attractions and events.
There are three forms of public transport to and from the islands. Helicopter to/from Land's End (from £215 return) is the most exciting. Skybus (a small plane) between Land's End, Newquay or Exeter (March and November only from the latter), costs from £140 return to/from Land's End. The Scillonian passenger ferry to/from Penzance (March to November only), which takes 2hrs 45 mins, from £90 return. (islesofscilly-travel.co.uk).
Paul's wetsuit was on loan from huubdesign.com.
Looking for the perfect holiday right at the water's edge? Try out our selection of exclusive cruise trips around the British Isles here.