We select some of our nation's best fish and chips around the coast, from sustainable takeaways to vegan-friendly alternatives
Words Alex Reece & Jessie Johnson
Piping hot fish and chips doused in salt and vinegar are never tastier than when they are eaten by the sea. In this guide, we salute a few of our nation's best chippies that make seaside suppers worth staying out for.
D. Fecci & Sons, Pembrokeshire
Situated in the heart of Tenby, this family-run restaurant and takeaway, founded in 1935, is a must-visit for Coeliac sufferers. Fecci's uses separate utensils and fryers, offers an array of gluten-free sauces and vinegars, and makes its batter uniquely from rice flour. Locally grown potatoes are freshly cut on the premises and all the fish is sustainably sourced and cooked to order. Grab yourself a homemade fishcake and some chips for a tasty fish supper on the harbour. For more information visit visitpembrokeshire.com.
Beach Buoys, Margate, Kent
Spicy salt-and-pepper squid, cockle popcorn, beer-battered pickles and vegan banana blossom and chips; just a few of the weird and wonderful delights taking Margate by storm at brand new street-food-style fish and chip shop, Beach Buoys, which opened in March. Founded by Nadine and Simon Morriss, owners of award-wining local seafood restaurant Buoy and Oyster, the menu also stars a list of classics featuring cod, skate, sausage and fishcake bites served up with freshly cut chips – cooked twice in British rapeseed oil. Orders operate via click and collect, which allows locals and day-trippers to book a beach feast up to a month in advance. For more information, visit beachbuoys.co.uk.

Maggie's Cafe, Hastings, East Sussex
Fish suppers don't get more atmospheric than a trip to Maggie's, nestled within the iconic net shops of old Hastings town. For take-outs, the café menu can be ordered from by phone – featuring cod, haddock, wines, beers and knickerbocker glories. Its sister eatery, 'Maggie's at the Boat' sits in the same pebbly stretch of beach offering more of a street-food take on the classics; think herb-battered dab fillets in soft brioche buns, smoked fish chowder and catch of the day specials landed by the local fleet. Watch this space for Maggie's roving fish and chip van. For more information, visit maggiesfishandchips.co.uk.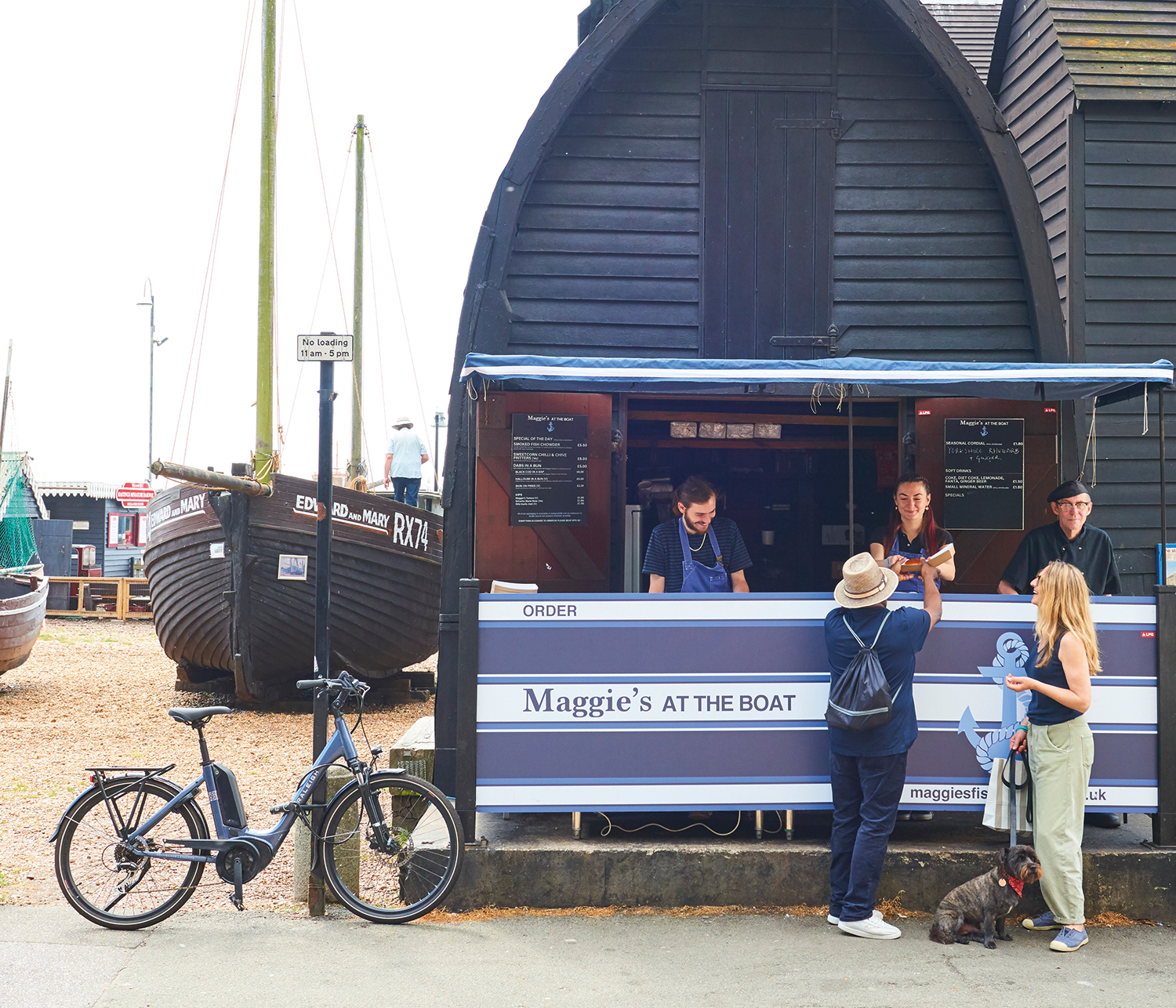 The Little Saltee, Co Wexford
Taking a seat at Kilmore Quay with freshly cooked supper from the Saltee chipper has become the stuff of foodie dreams in Wexford – and this small but mighty takeaway has a string of awards – including Irish Takeaway of the Year 2019 – to prove its mettle. Choose from monkfish medallions with homemade tartare sauce, crumbed fillets of lemon sole or a signature fish box, packed with battered cod bites, pepper squid, tempura prawns and panko-breaded squid. If fish isn't your bag, there are pizzas, burgers and loaded chips so no one goes hungry. Staff recommend phoning and ordering in advance to avoid disappointment. For more information, visit thelittlesaltee.com.
You may also like to see our 9 Best British Fishmongers
Seasmiths Fish + Chips, Cornwall
This family-run takeaway in Porthtowan opened two days before lockdown in March 2020. Re-opening proper this May for click-and-collect, orders at this tiny artisan eatery have gone through the roof. Alongside lightly battered, sustainably sourced cod and haddock, there's a changing menu of fish fresh off the boat, homemade sauces, pickles, fish fingers for the kids and an array of sparkling San Pellegrino drinks. For more information, visit seasmithsfishandchips.com.
Read next Best Cornish Sea-View Restaurants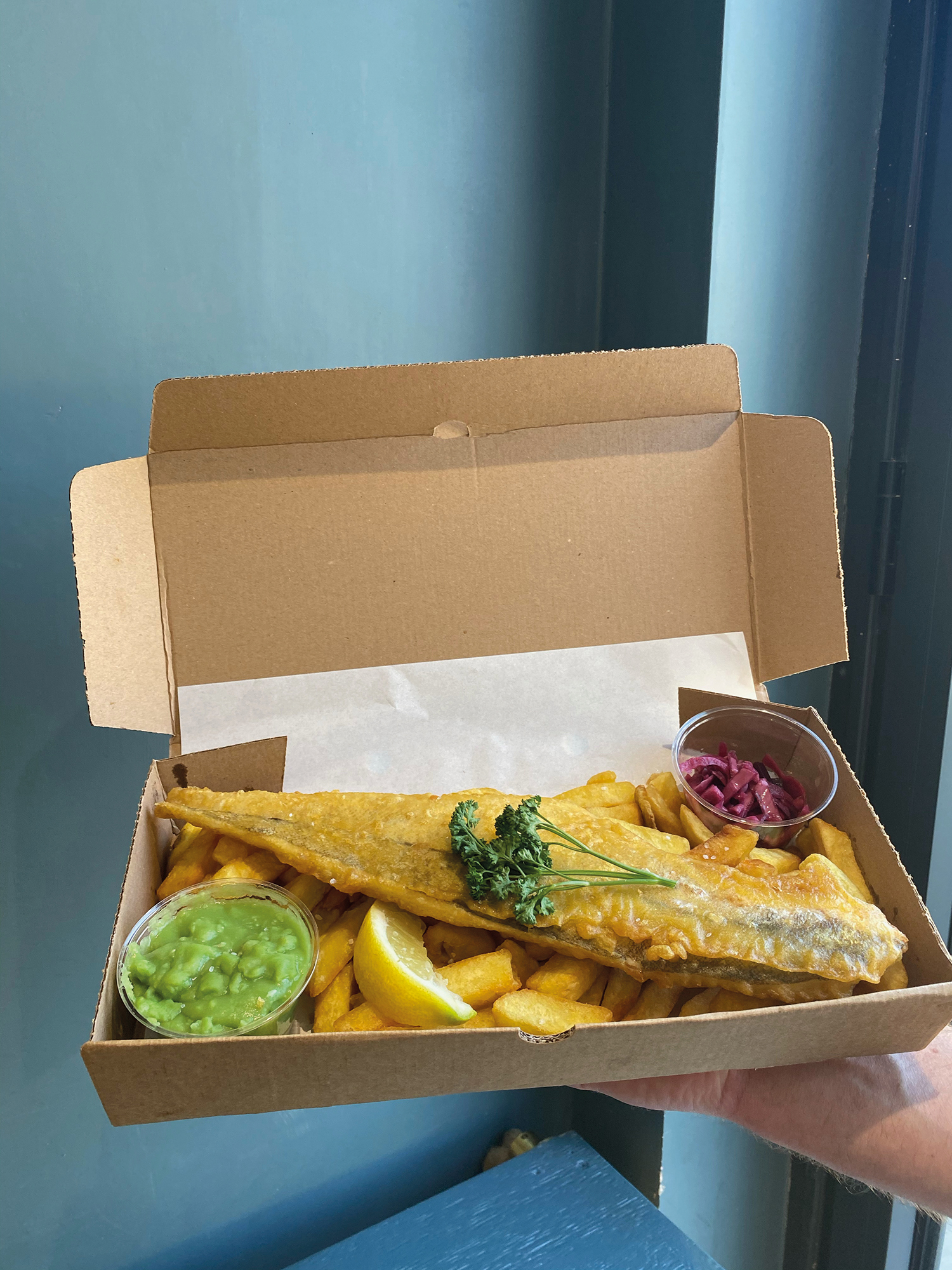 Atkinsons Fish & Chips, Morcambe, Lancaster
Atkinsons Fish and Chips is a prime example of a classic chippy moving with the times. Fish is sustainably sourced and MSC- certified, spuds are grown just 20 miles down the coast at Pilling and takeaways are all served in biodegradable boxes. The flagship café and takeaway is just a short hop from Morecambe prom, and customers can choose from an array of takeaway specials including freshly battered haddock for two with chips and mushies to share, mini fish and chips plus pies, curry, pickled eggs and battered halloumi bites. For more information, visit atkinsonsfishandchips.co.uk.
Steel's Corner House, Cleethorpes, Lincolnshire
Traditionally, a visit to Cleethorpes on the Lincolnshire coast isn't complete without a visit to Steel's Corner House – which first opened in this seaside town way back in 1946 – where customers can gather in an old-fashioned booth for freshly battered haddock, chips and mushy peas with a pot of tea and a plate of buttered bread. Over the last 12 months, Steels' click-and-collect service has meant that everything from homemade fishcakes and scampi to the famous homemade beef pies can be enjoyed al fresco, overlooking the pier – just watch out for those pesky hungry seagulls. Pre-order your own fishy feast at steelscornerhouse.co.uk.

The Fisherman's Kitchen, Portsmouth, Hampshire
Just a short walk inland from Clarence Pier and Southsea Castle, The Fisherman's Kitchen is a restaurant, takeaway and delivery business offering some of the tastiest fish and chips in the Portsmouth area. Riffs on classic fish and chips (both the cod and haddock are MSC-certified) include calamari tacos, battered halloumi sticks and, if you've still got any room, freshly battered banana fritters complete with ice-cream, sprinkles and caramel sauce. Gluten-free options are no problem, takeaway packaging is recyclable and there's a 10% discount for NHS and emergency services workers too. For more information, visit thefishermanskitchen.co.uk.
You may also like 10 Best Seaside Cafes and Beach Shacks
Sea Salt + Sole, Aberdeen, Aberdeenshire
Panko crumb langoustines, rock turbot, monkfish scampi with sriracha and lime dip and even black pudding and doughnuts are all orders of the day at the award-winning Sea Salt + Sole on the coast of Aberdeenshire. The Bridge of Don site, which sits three miles shy of North Donmouth Beach, opened in 2019 four years after the first restaurant launched inland at Dyce. Owners Rikki and Gillian Pirie work alongside reputable fishermen to ensure fish is boat-fresh and sustainably sourced, serving up double-cooked chips while providing a comprehensive menu of gluten-free swaps on the classics. Order online for collection at seasaltandsole.co.uk.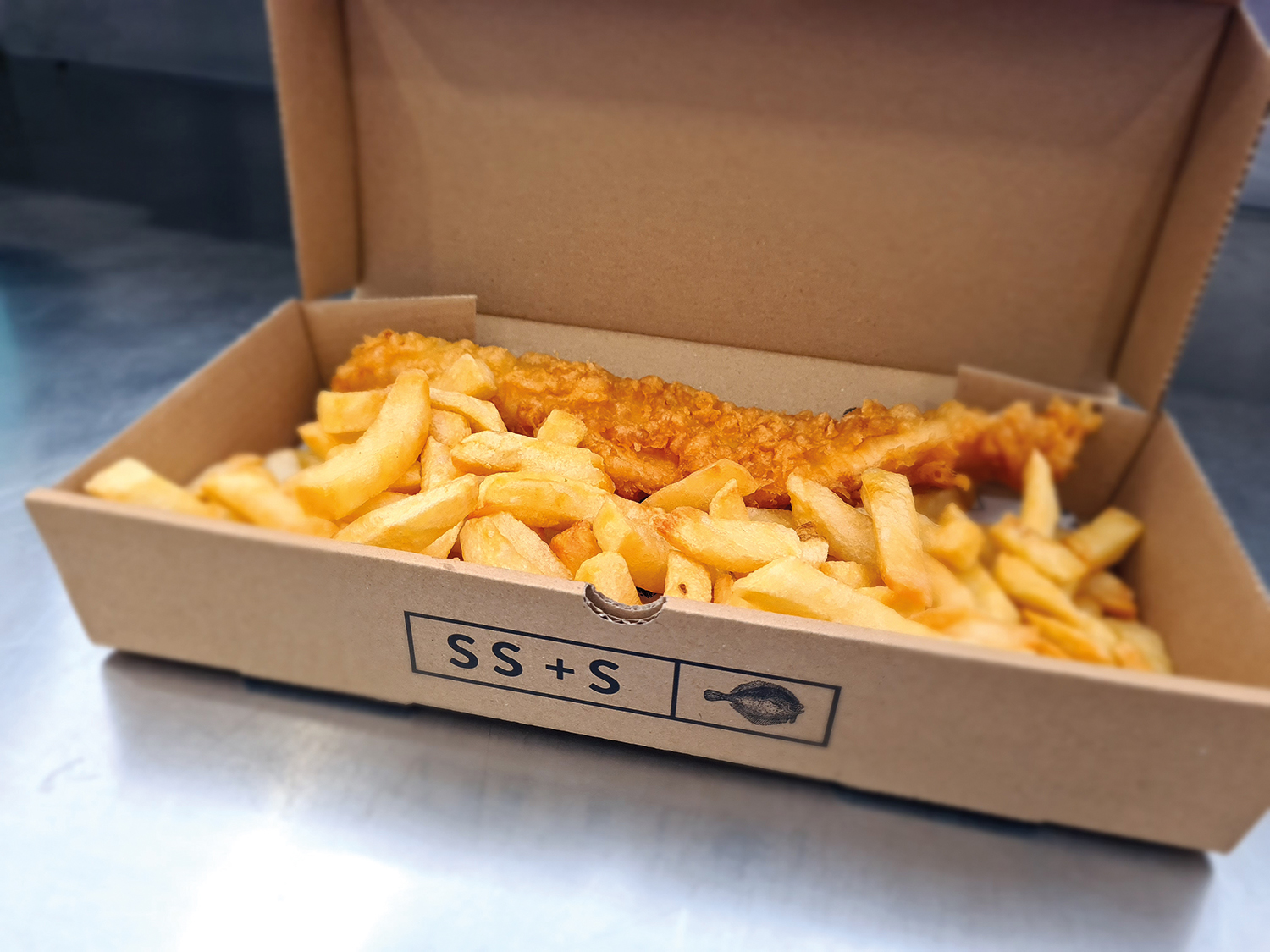 Carlo's Fish & Chips, Alnwick, Northumberland
Nestled under majestic Alnwick Castle and Gardens, a trip to Carlo's is perfect if you fancy a tray of piping hot, succulent fish and chips after a day spent exploring the Northumberland coast. Established in 1989, Carlo's is famed for its generous portions and is one of the top chip shops in the UK, holding the National Fish Frier's Federation Quality Award for consistently high standards in food and service. Save space for a mouth-watering scoop of handmade gelato with flavours including bubblegum, pistachio and white ripple cookie dough. For more information, visit carlosfishandchip.co.uk.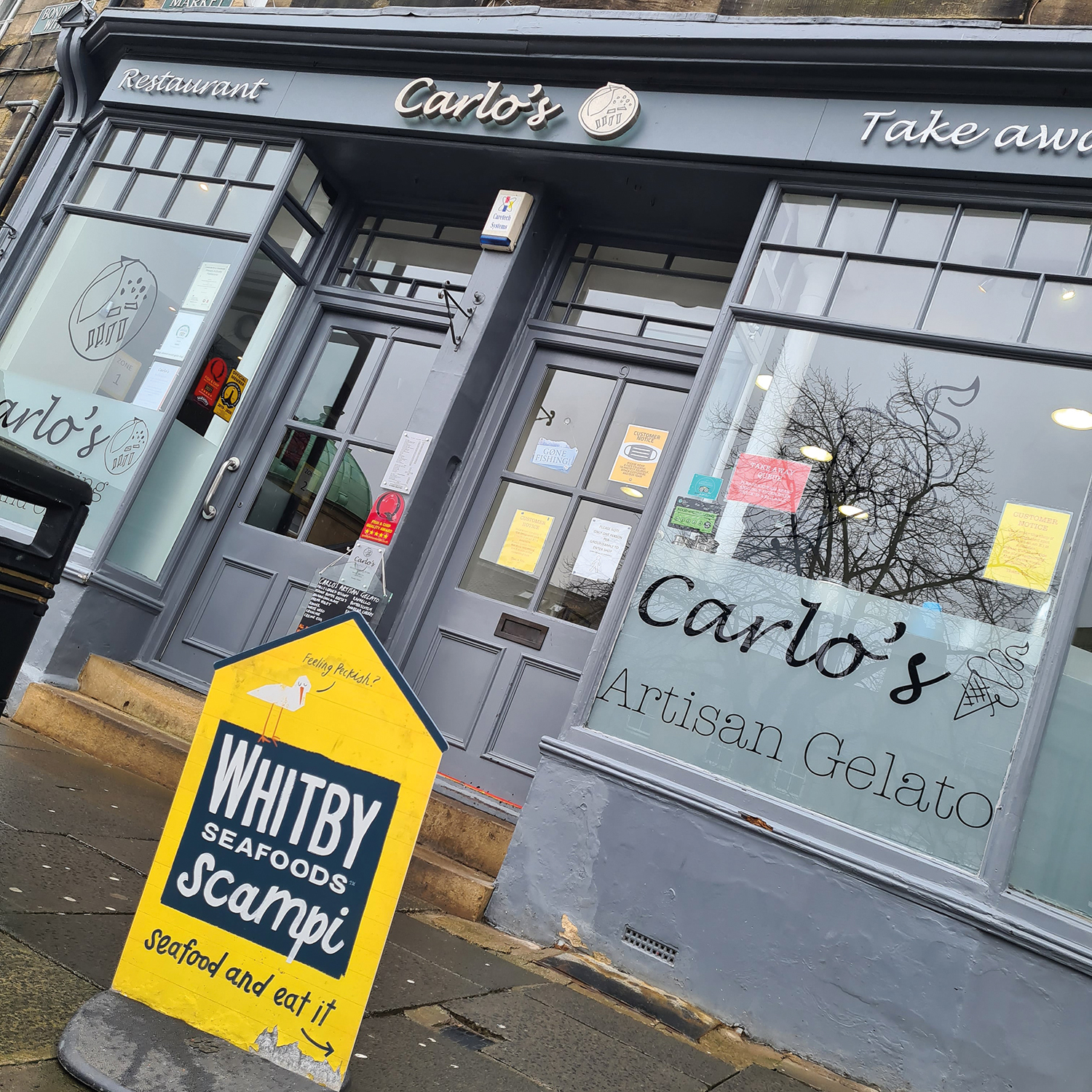 Quayside, Whitby, Yorkshire
The winner of the National Fish & Chip Awards 2014 is run by the Fusco family (fish friers for three generations), and housed in a Victorian former bathhouse and library where Bram Stoker reputedly did his research for Dracula. Despite this long history, the business has its eye very much on the future. 'All our fish is sustainably sourced – we're very, very passionate about that. We want customers to come back for generations,' says owner and head frier Stuart Fusco. Along with MSC-certified cod and chips, which are cooked in beef dripping, grandma Fusco's fishcake is another firm favourite. Quayside's community involvement extends to inviting primary school children into the restaurant to teach them about traceability and the food chain. Bookings for large parties only.
For more information, visit quaysidewhitby.co.uk.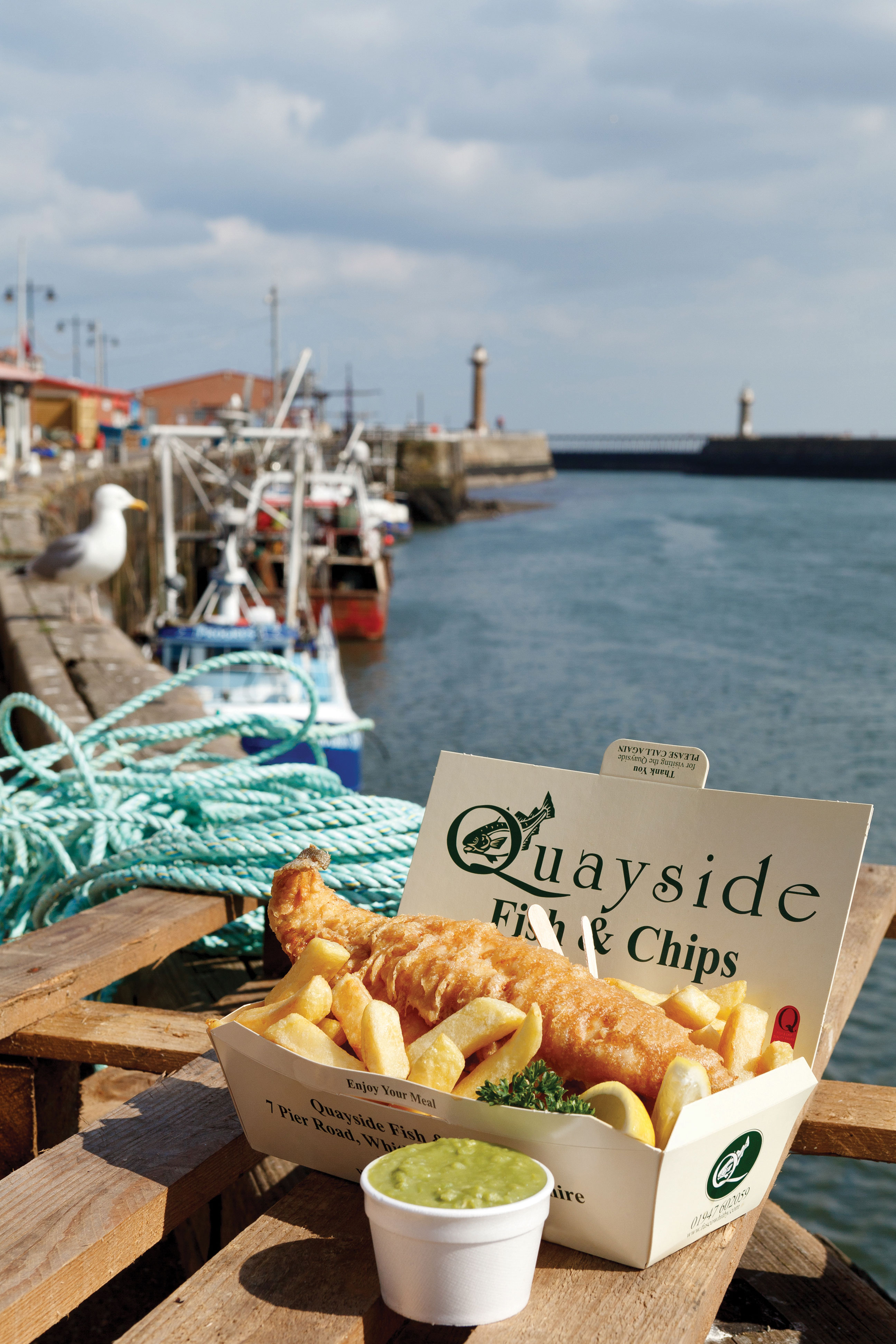 Colmans, South Shields, Tyne & Wear
Richard and Frances Ord are fourth-generation chippies, and Colmans has been based by the foreshore at South Shields since 1926. But despite the traditional setting, this business has been a trailblazer in terms of sustainability, and Colmans was the first MSC-accredited fish and chip shop in England for cod and haddock. Lobster, crab and shellfish come from local day boats. 'We like to support the local fishermen,' says Richard. 'We don't want them to be an endangered species as well.' A legend among regulars is the scampi, made with local langoustine tails in a secret-recipe batter, served with chips, salad and homemade tartare sauce. No bookings.
For more information, visit colmansfishandchips.co.uk.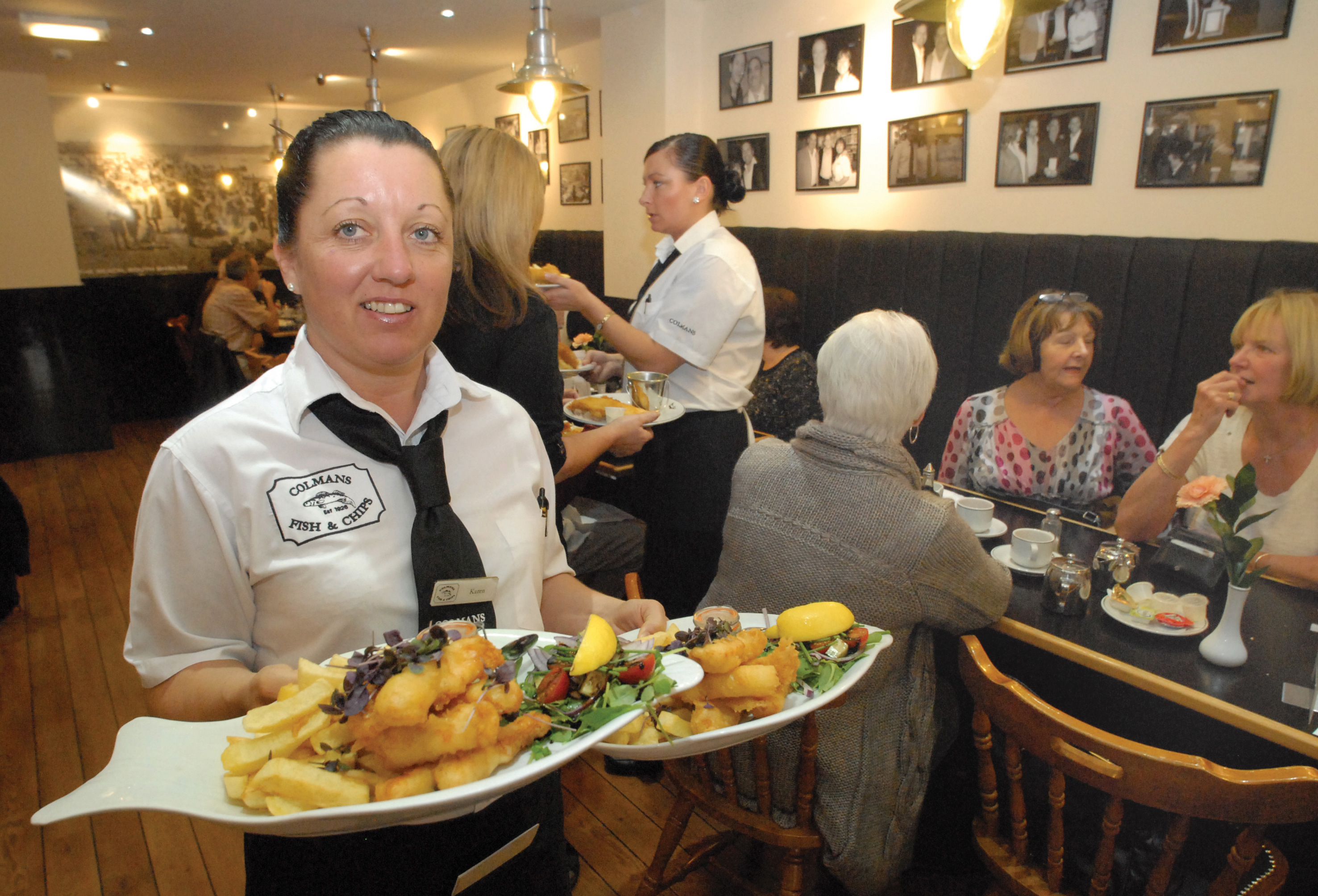 Frankie's, Brae, Sheltand
'We are fortunate to be able to source first-class, fresh and sustainable seafood right on our doorstep,' says Valerie Johnson, owner of Frankie's, the regional winner for Scotland in the 2014 National Fish & Chip Awards, and the most northerly café/takeaway of its kind in Britain. Frankie's was purpose-built in 2008 and has indoor and outdoor seating overlooking the shores of Busta Voe. The haddock, mussels, brown crab and king scallops are all MSC certified – indeed, the mussels are rope-grown just a mile away. Staff visit schools throughout Shetland to explain about ethical seafood, and raise funds for the Fishermen's Mission. Call or book online to eat in or take away. Check their website for takeaway hours.
For more information, visit frankiesfishandchips.com.

Enochs, Llandudno Junction, Conwy
Since 2006, Danny and Donna White-Mear of the surfy-looking Enochs in North Wales have been reinventing the formula for fish and chips. The high-oleic sunflower oil they use contains 84 per cent less saturated fat than conventional chip shop palm oil, and they encourage customers to try different fish species from the specials board, such as megrim, dab and flounder: 'We want to change people's mindset,' says Danny. Ethics are key to Enochs' approach: cod and fishcakes are MSC certified, all packaging is compostable and for every fishcake sold, 25p is donated to the RNLI. No bookings, but call 20 minutes ahead and staff can advise on the wait and save you a table.
For more information, visit enochs.co.uk
.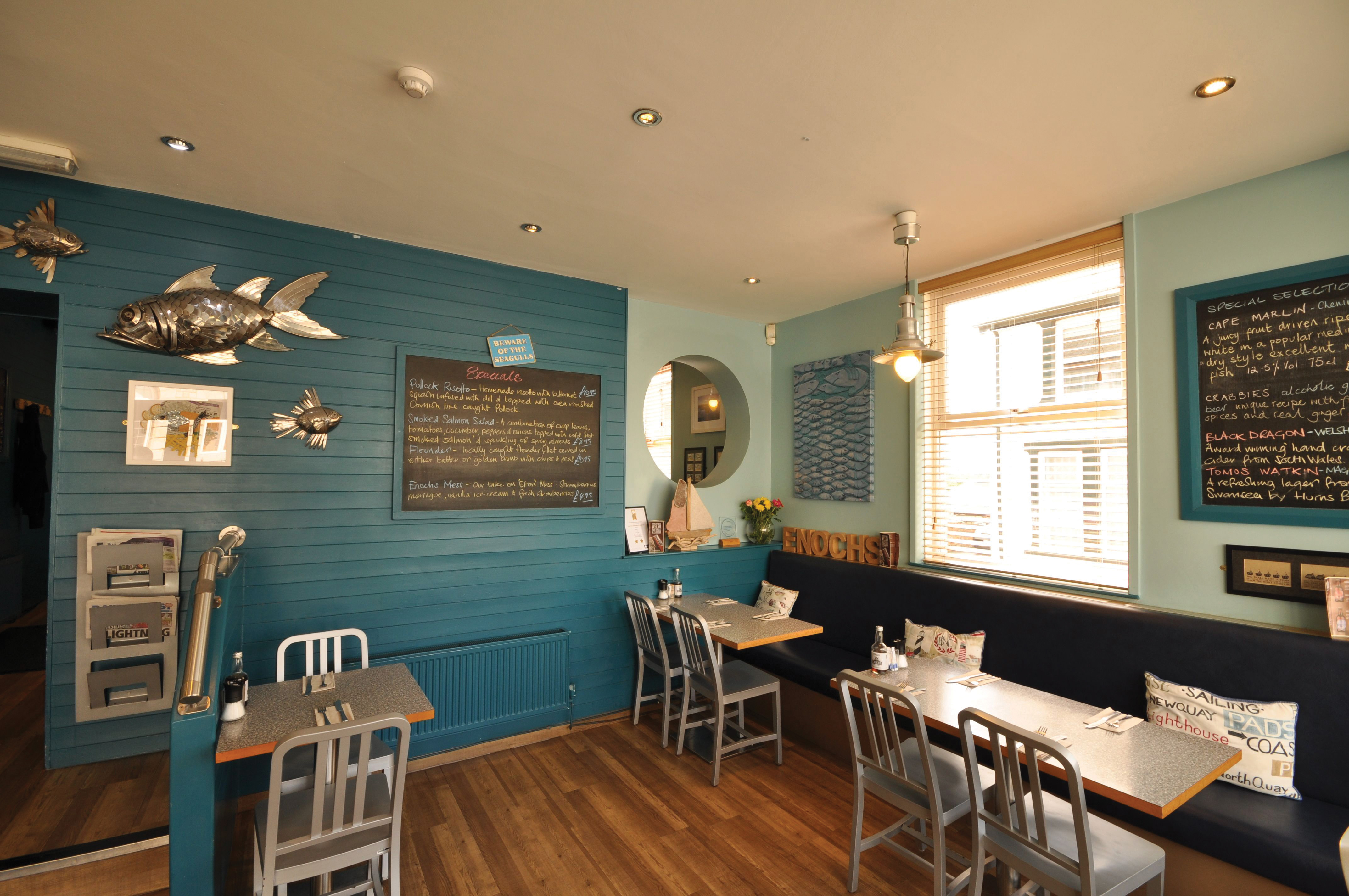 Rockfish, Torquay, Devon
Opened in July 2014,
Rockfish in Torquay is part of the five-strong chain of family-friendly seafood restaurants in Devon run by restaurateur and fishmonger, Mitch Tonks.
'This is a lovely cosy restaurant in the heart of the town and right by the water's edge, which has got to be the place to eat fish and chips,' says Mitch, whose menu offers MSC-certified cod and chips, plus crab rolls, pints of prawns and grilled local specials. 'We also have Torquay mussels on the menu, which is really exciting,' he adds. The décor, as in Dartmouth and Plymouth, has a beach-hut vibe, with stripped-back wood, banquette seating and paper tablecloths, which customers are welcome to doodle on.
For more information, visit therockfish.co.uk.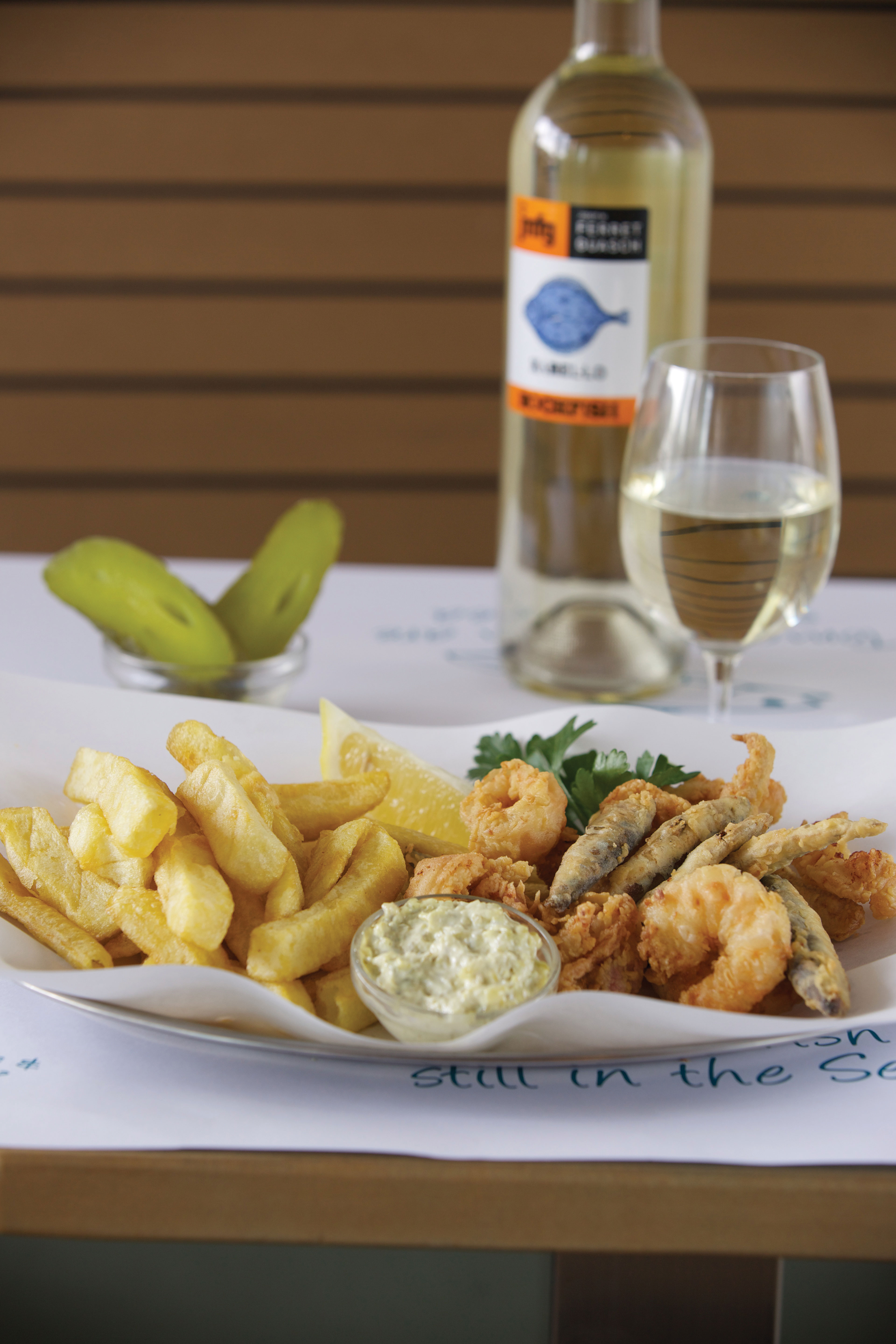 The Bay, Stonehaven, Aberdeenshire
'All my fish is landed in Peterhead,' says Calum Richardson of the multi- award-winning Bay Fish & Chip Shop, which he founded in 2006 with his wife Lindsay. Only the hand-dived scallops come from further afield – 89 per cent of their products are sourced within a 50-mile radius, and the shop was the first in the UK to gain MSC chain of custody for Scottish haddock. The Bay has just launched an app to keep customers updated on the daily changing specials, providing details of the boats on which the fish were landed. The takeaway is serves its own beer, Bay Ale – perfect for enjoying with a fish supper overlooking Stonehaven Beach.
For more information, visit thebayfishandchips.co.uk.

No1 Cromer, Cromer, Norfolk
Since opening his first fish and chip shop in 2013, Michelin-starred chef Galton Blackiston has had a hit on his hands: No1 Cromer serves in the region of 1,200 people a day in high season. Galton puts its popularity partly down to the prominent beachfront location: 'You can't miss it, and every window faces the sea,' he says. But the food is also a massive draw: sustainably sourced traditional favourites, such as cod and haddock, are paired with Norfolk-grown potato chips. Then there are Cromer crab burgers, plaice goujons and cockle popcorn, if you fancy something different. (More refined modern British cooking is on offer in the restaurant upstairs.) To beat the crowds, a tip: get there early.
Lakenham Creamery ice creams, plus coffee and doughnuts, are served in sister establishment, the Ice Cromer kiosk next door.
For more information, visit no1cromer.com.
Read next 10 best places to eat on Norfolk's Coast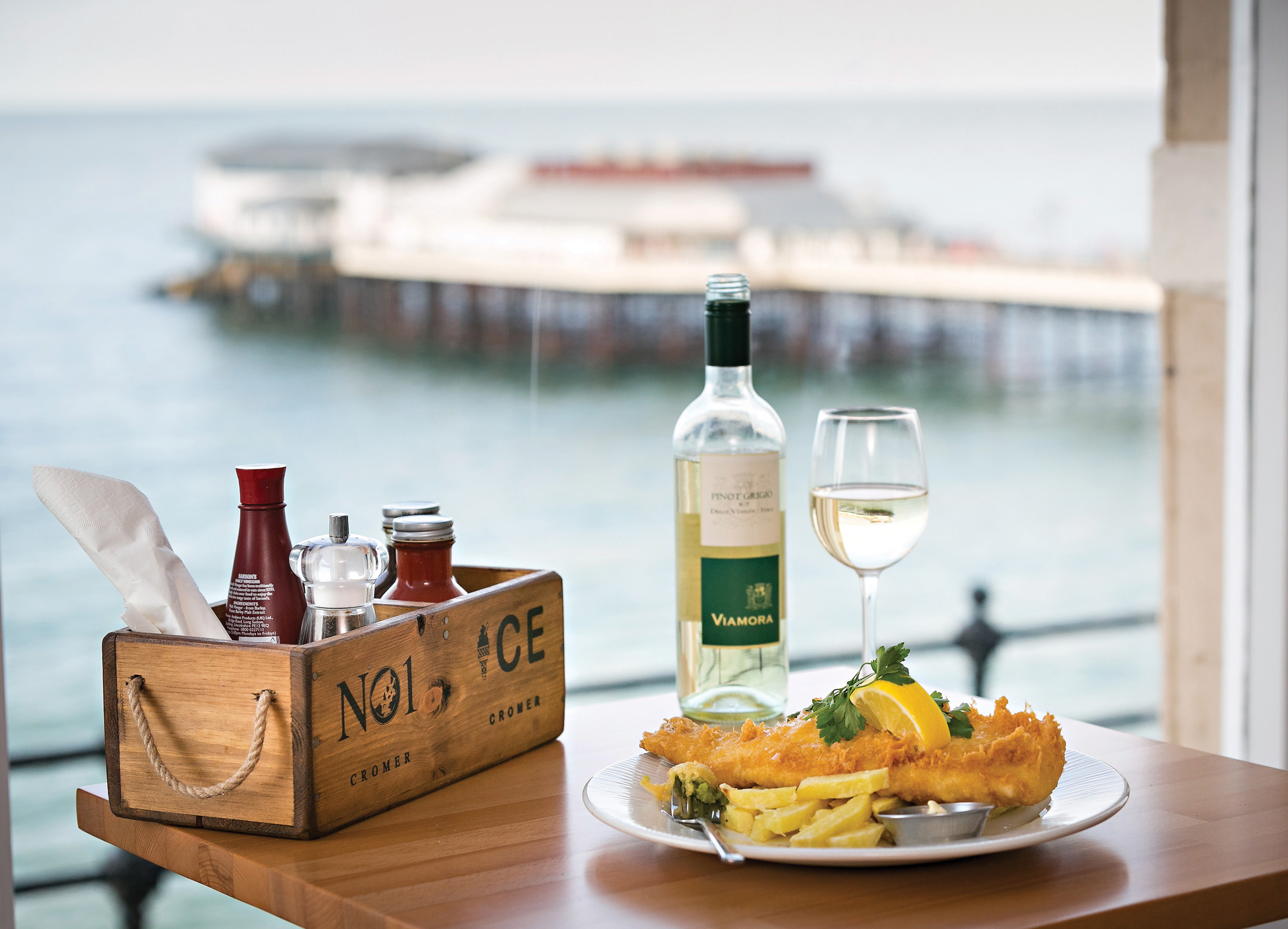 The Fish Shed, Topsham, Devon
After running a fish van in Topsham, and the town's Galley Restaurant, Dave Kerley set up the Fish Shed – a chip shop and fishmongers – at Dart's Farm near the Exe Estuary. The Shed's USP is that it buys directly from local day boats, so it sells only fish and seafood that has been caught and landed in Lyme Bay within the last 12 hours. Among the signature dishes are lobster and chips or scallop and bacon with chips. There's a small seating area (no bookings), but if it's sunny, many choose to eat on the grass outside. Dart's Farm sells a selection of local wines and beers for BYO.
For more information, visit dartsfarm.co.uk.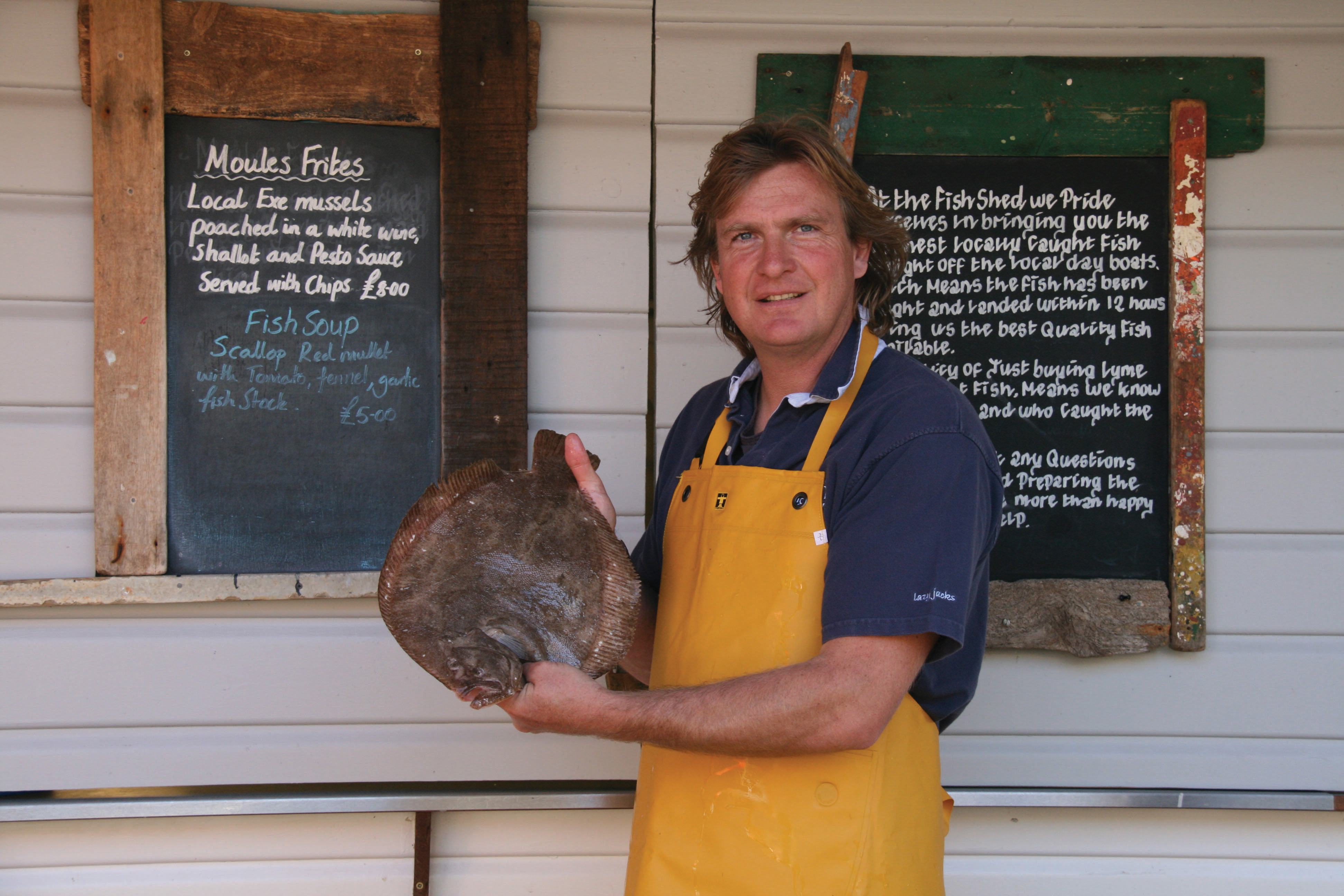 The Smokehouse, Folkestone, Kent
This former fish smokery on Folkestone waterfront was derelict until chef Mark Sargeant converted it into a stylish fish and chip shop (with accommodation above) in 2011, just a stone's throw away from his flagship restaurant, Rocksalt. Here, the fish is sourced in the locality as far as possible and the chips are cooked the traditional way in beef dripping, although vegetarian and gluten-free options are also available. Innovative sides and starters include salt and pepper squid and mussel popcorn. The minimal interiors, pegboard signage and floor-to-ceiling windows facing the sea all add to the ultra-modern feel. Bookings available for large parties only.
For more information, visit thesmokehousefolkestone.co.uk
.