For the enchanting Isles of Scilly, lockdown might have brought peaceful beaches, but the lack of visitors had a huge impact on the livelihoods of local artists and craftspeople. Spurred on by digital ingenuity, product designer Maisie Humphries came up with a solution
WORDS Caroline Wheater PHOTOGRAPHS Maisie Humphries and Ellie Tabron
Just 28 miles off the coast of Cornwall, the Isles of Scilly are the pearls of the South West, an archipelago of small islands fringed with white sands and clear, turquoise waters. The vibe is laid back, unhurried and close to nature on the five inhabited islands of St Mary's, Tresco, St Martin's, Bryher and St Agnes. Among the 2,000 permanent residents live many creative people – artists, photographers, potters and designers, drawn by the unique beauty of the islands and the inspiration they find there. On the whole, they make their living during the summer, when holidaymakers come to experience some of that island magic, too.
For a craft community so dependent on tourism to survive, lockdown on 23 March was bad news, yet out of it came a story of passion and resilience, driven by 20-year-old eco designer Maisie Humphries, who relocated to the islands with her family four years ago. She has work space at Phoenix Studios on St Mary's where, under the brand name Traceless, she makes a select range of eco products, including screen-printed recycled fabric T-shirts and reusable bamboo cutlery sets wrapped in handmade canvas pouches.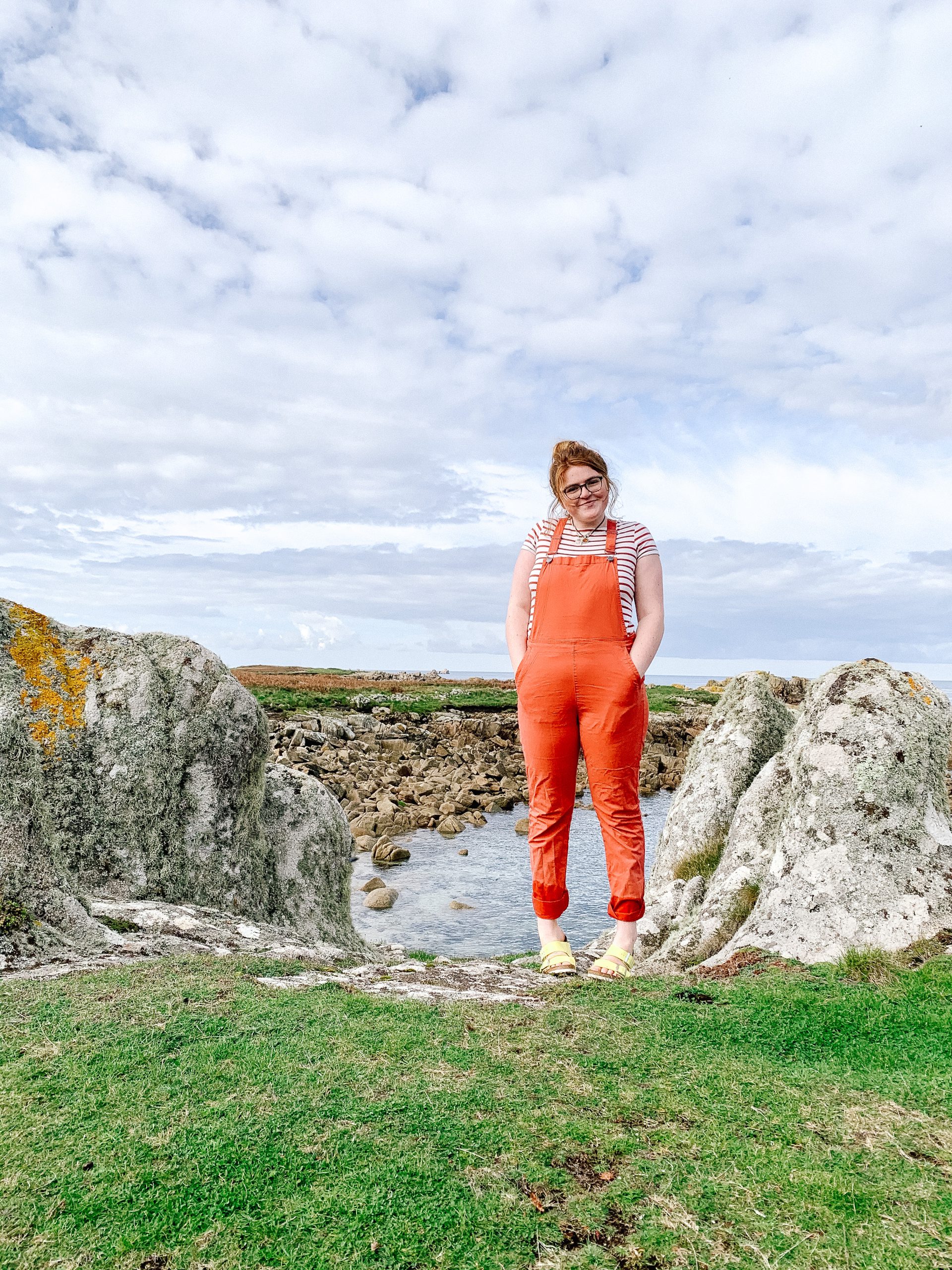 LOCKDOWN LIFE
The week before the national lockdown was announced, Maisie had a big decision to make – whether to fly out to Australia with her boyfriend Jack, a Bryher resident, as planned, or whether to cancel the longed-for trip. 'I'd booked a month off in my life, got all this stock made, worked part-time at Ratbags [a canvas goods shop in St Mary's] to cover my costs, then lockdown loomed and we decided to postpone. Suddenly, I didn't have anything to do,' she says.
Fortunately, Maisie was about to turn a negative into a positive, and on the day of Boris Johnson's announcement she went down to Phoenix Studios to meet studio founder and stained glass maker Oriel Hicks, for a heart-to-heart chat about how they would all cope with no visitors to buy their work. 'Oriel knows Scilly very well and has great connections with all the craftspeople, but she didn't have a clue about social media,' remembers Maisie, who during the conversation suggested creating a dedicated website to sell the island's arts and crafts.
Oriel takes up the story: 'We went into lockdown with some trepidation, worried that our core customers might forget we were here, so when Maisie came up with the idea to take our products to them instead of waiting until they could safely return, we all thought it was a grand idea.' That very afternoon, Maisie rustled up a prototype website – an online shopping hub to represent those Scilly makers who wanted to be involved. By that evening, 15 people had agreed to be featured on the site, and she subsequently emailed many more over the next few days, inviting them to join.
PASSION FOR ART
Says Oriel: 'Maisie's speed in creating The Island Makers website was amazing! The whole site was up and running within a week. Anyone who has ever tried to organise creative spirits will know it's like herding cats, so to start with more than 20 makers and now be nearer 40, several months on, is astonishing.' Undoubtedly, Maisie's grasp of social media helped oil the wheels and her posts on Instagram and Facebook generated stories on local BBC radio and nationally in The Daily Telegraph newspaper. Both platforms now have over 1,000 followers who love Maisie's strapline: 'If you can't come to Scilly, let a piece of Scilly come to you'.
In the first week The Island Makers site made 50 sales – from barnacle rings by Silver Sapling of St Mary's, to hand-woven scarves by Twisted Bobbins on St Agnes, to pottery by Lou Simmonds, whose seaside studio is also on St Agnes – with products whizzing out to the four corners of the UK. 'The beauty of the site is that customers can buy several things but make just one transaction, and with free postage – it makes shopping for gifts and treats so much easier for them,' explains Maisie. 'We have small items, such as badges for under £5, up to paintings that cost £600, with lots of items between £10 and £20. The first two months were manic, while June and July were a little calmer.' By midsummer 500 sales had been made on the website, and 90% of the makers featured had sold things; some, like The Little Island Chocolate Company of St Agnes, had made more than 100 sales.
For Lucy Gerrard of Silver Sapling jewellery, based on St Mary's, being part of The Island Makers website has been an uplifting experience. 'It was a struggle at the beginning of lockdown to get materials for our jewellery business as the suppliers had shut down. Cash flow was also a problem and we certainly missed the visitors. But we had a fantastic response to the new website – people who visit Scilly and Cornwall love to take a bit of the county home with them and our customers have been incredibly kind and supportive. Maisie helped bring us all together.'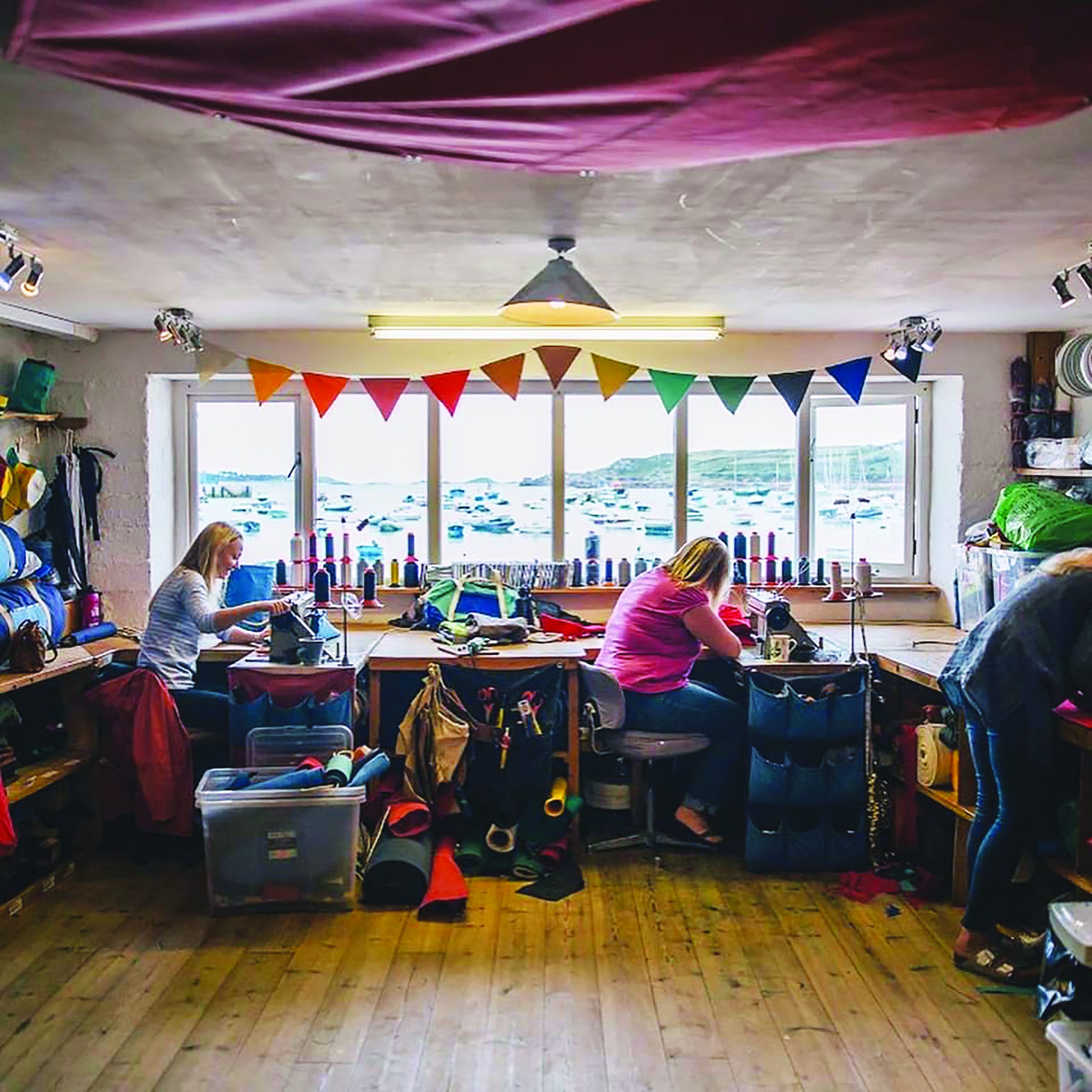 COMMUNITY STRENGTH
As Lucy intimates, the success of The Island Makers stems in part from the strong sense of community on Scilly. It's a feeling that Maisie and her family fell in love with during annual family holidays spent here, leading to the life-changing decision to move from North Yorkshire to St Mary's. 'There's a wonderful sense of community here and it's across the generations, a lot of my circle of friends are older than me,' Maisie remarks. 'Everyone knows everyone. As a family we've reinvented ourselves and we live a lot more freely and with less stress. Here, you don't have a car, but you do have a boat and people spend lots of time on the water.'
The islands have their own rhythm – busy in the summer and much quieter over the winter when fewer visitors are present. 'In winter you have the time to experiment and come up with new ideas,' says Maisie. And now there's The Island Makers website to maintain and nurture too. Oriel adds: 'Sales through the site have grown and it looks set for the long haul – very useful come the long winter months. I'm not sure why there are so many talented makers and artists on Scilly, but I would guess it's hard to live somewhere so beautiful and not absorb some of that magic into your creative soul. We are very lucky.'
For more inspiring coastal stories, go to our Coastal People section or pick up a copy of Coast magazine!