With its bucket-and-spade beaches, great-value property and high-speed rail, this Kent town has heaps of appeal.
Words: Lesley Gillilan Illustration: Tom Jay
Of the three towns on Kent's Isle of Thanet, Ramsgate is often seen as the underdog: somewhat over-shadowed by the time-warped charms of genteel Broadstairs or the gaudy glory of artsy Margate. But now it's Ramsgate's turn for a bit of the limelight. And if its regeneration continues at its current pace, this historic Cinque Port could easily outshine its neighbours.
By reputation, it's a bit rough, a bit run-down, but Ramsgate used to be posh. After George IV granted the harbour marina royal status in 1821, the flinty old port was transformed into a fashionable resort attracting a long list of well-heeled down-from-Londoners.
Rows of elegant Georgian and Victorian townhouses sprung up on south Thanet's white chalk cliffs, alongside pleasure gardens, promenades and posh hotels. And though parts of Ramsgate look a little neglected these days, its historic legacy is largely intact: note the Italianate Greenhouse tucked away among woodland in the George IV Memorial Park, the Sailors Church on the harbour, and The Grange, the Grade I-listed house built by Gothic Revivalist Augustus Pugin (who also designed the interior of the Houses of Parliament). The compact little town boasts around 1000 listed buildings.
MAKE THE MOVE
The quality and variety of the buildings was one of the many things that inspired Naomi Grady, her architect husband, Scott and their two young daughters to move from London to Ramsgate in 2012. 'We spent a weekend here in sunny weather,' remembers Naomi. 'And we were sold on the place – the beach, the architecture, the harbour, it all looked so lovely.'
When they revisited – on a gloomy wet day – they thought it looked just as good in the rain. And they have since had time to discover the town's quirky back-streets, coast walks and 'continental vibe'.
The high-speed rail service was another attraction (Scott does a daily commute to London), but it was the 'potential for projects' that really swung it for the Gradys. 'We wanted to have an opportunity to be part of the town's regeneration,' says Naomi. And in December, she opened Archive, a classy 'homestore and kitchen', designed by Scott's London practice and housed in a converted maritime archway on the harbour-front. 'It's an incredibly friendly town,' adds Naomi. 'And we've been struck by the strong sense of community and the number of passionate people who help to make Ramsgate as good as it used to be – or better.'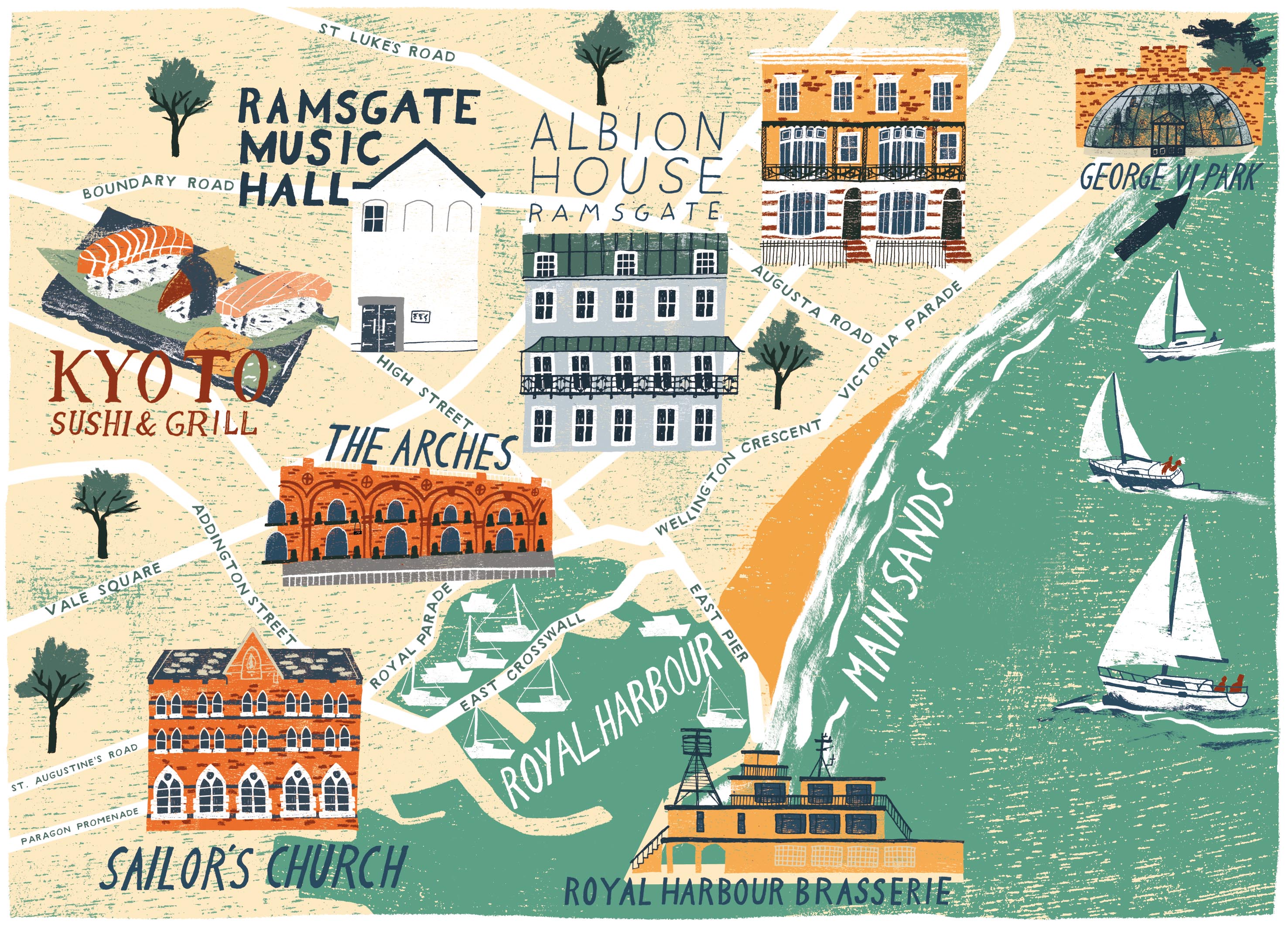 You may also like Move to Lowestoft
WHERE TO BUY
Explore the town's harbour conservation area which extends inland from the seafront to encompass rows of Grade II- listed villas and townhouses, many of them in Regency crescents and garden squares – all bow windows and frilly cast-iron balconies. Some are tucked away down narrow streets; others gaze across the Channel from cliff-top terraces (classics include Vale and Spencer Square, Paragon Promenade, Wellington Crescent, Augusta Road and quirky Addington Street). With an abundance of neglected houses, Ramsgate is a great place to find a project (tall, roomy townhouses from £300-£550,000). For seaside escapees on a budget, three-bedroom Victorians sell for around £175,000.
TIME OUT
For beach lovers, Ramsgate's south-facing Main Sands is one of the best in east Kent – big, beautiful and stretching all the way to Broadstairs' Viking Bay (a two-mile walk via the 'Sea it All' trail). Cycle the 32-mile Viking Coastal Trail, see a film at the Granville Theatre on East Cliff, sup a Kentish pint in one of the town's old-time boozers (the Falstaff or the Ravensgate) or watch the boats on the marina from a waterfront café. Ramsgate has some great places to eat: on the harbour arm, the Royal Harbour Brasserie offers fresh seafood, al fresco dining and the best views in Ramsgate; in town, little Kyoto serves stunningly authentic Japanese cuisine. See visitthanet.co.uk.
JOBS & COMMUTING
The closure of the ferry port in 2013, hit Ramsgate where it hurts, but the town is in slow recovery thanks to its language schools and lively marina, a growth in tourism and a rising tide of house-buying commuters – on the HS1 rail service you can do Ramsgate to St Pancras in 75 minutes. The 78-mile journey to London by car takes around two hours, roughly the same time as the slow train to Charing Cross via Ashford. And there are good transport links to Broadstairs (two miles), Margate (five miles) and Canterbury (17 miles). The nearest international airport is Gatwick.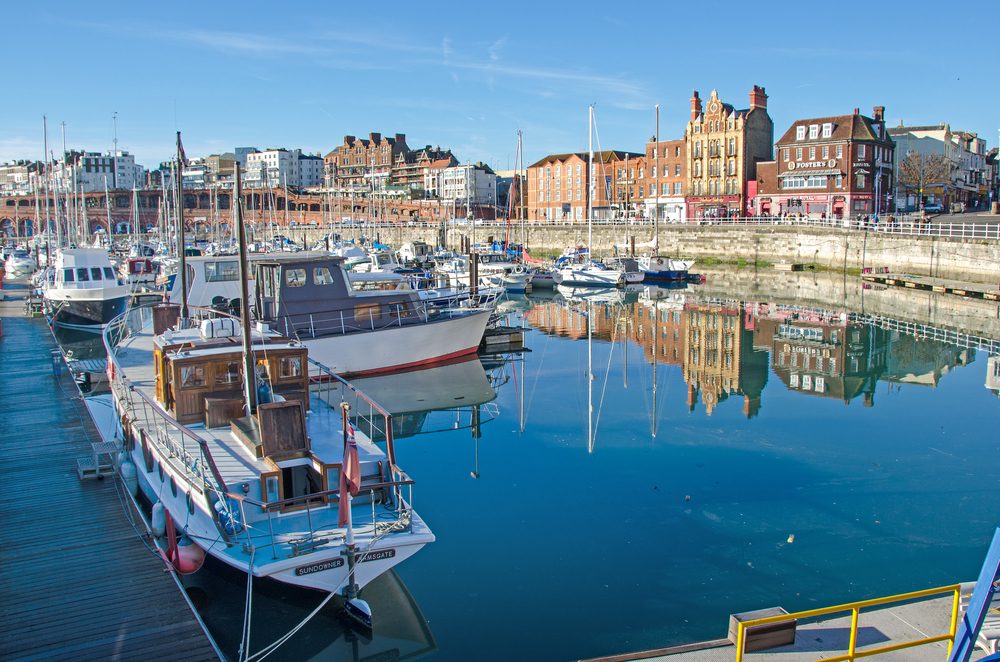 Ramsgate. Photo: Paul J Martin/Shutterstock
SCHOOLS
Like the rest of Kent, Ramsgate offers a selective grammar school system with Chatham and Clarendon Grammar school (rated by Ofsted as Good) being the better of two local secondaries (the other is Royal Harbour Academy). St Lawrence College is a leading co-ed, day and boarding school with sprawling, ivy-clad grounds in the centre of Ramsgate.
REALITY CHECK
The town's high street is a little tatty in places, with too many chains and charity shops. On the plus side, there are butchers and bakers – and a Waitrose.
PAY A VISIT
Albion House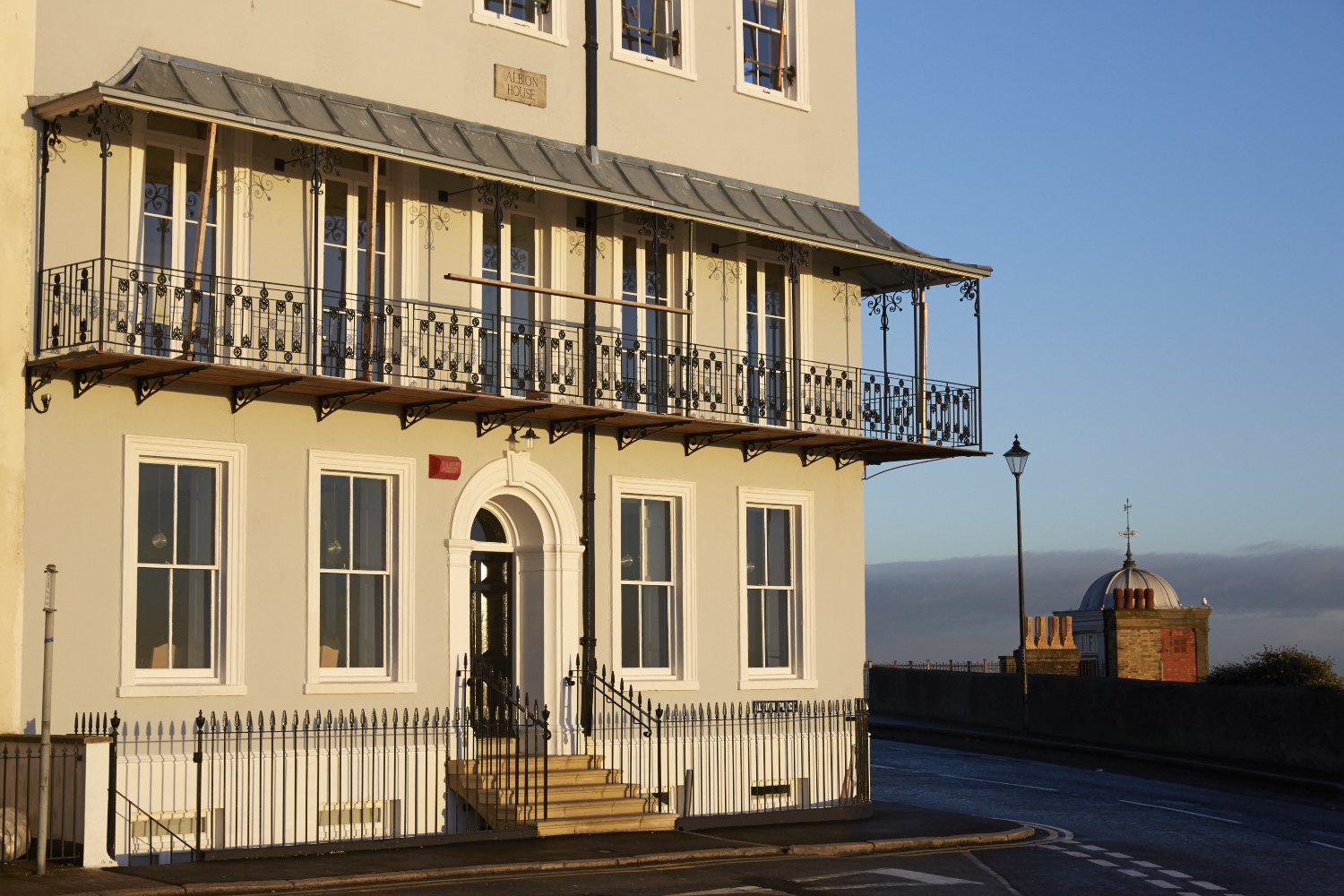 Overlooking a garden square from the corner of Albion Place, this new boutique hotel is Ramsgate's finest. A Grade II-listed villa, it's done up in rich heritage colours and ornate modern-vintage décor which pays homage to the original Regency architecture. Gorgeous beds, Carrera marble bathrooms and fabulous views of the Royal Harbour, make up for smallish rooms. There's a relaxed sea-view bar and brasserie; and a seaweed spa in the cellar is planned for later this year. Doubles from around £146.
Subscribe to Coast Magazine
For more inspiration on moving to the coast, click here or subscribe to Coast Magazine
What Rachel likes about… RAMSGATE
The coast walk to Broadstairs, following the cliff-path through the Memorial Park, or along the sea-wall promenade right on the beach (the two routes are connected by steps and zigzag paths). For Naomi and her family, it's a regular weekly dog walk.
The stunning view of the Royal Harbour marina (the only royal harbour in the UK) as you drive down the hill into Ramsgate. 'You could be anywhere – the south of France maybe.'
Voted Britain's Best Small Venue by NME in 2015, the two-year-old Ramsgate Music Hall in Turner Street has, says Naomi, 'really helped put Ramsgate on the map' (01843 591815, ramsgatemusichall.com).
WHO'S WHO?
Ramsgate's trail of Blue Plaques commemorate a host of illustrious people who loved or lived in the town: among them Vincent Van Gogh (Spencer Square), Queen Victoria (Albion Place) and the poet Samuel Coleridge (Wellington Crescent).
CAN YOU AFFORD IT?
Ramsgate: £269,583
Broadstairs: £402,916
Kent: £408,539
UK: £256,405
Average house prices: [August 2021]. Source: Rightmove