Living in a fishing village in North Devon, Emma Cocker and Neil Randall have turned their coastal cottage into a modern home and feel very lucky to have the sea on their doorstep. Words and photographs: Caroline Rees
'In summer, with the window open, it's calming to hear the tide sloshing against the sea wall,' says Emma Cocker of her new home in Appledore, North Devon. 'We said recently that we should never take the view for granted because so many people aren't lucky enough to live so close to the sea.'
Emma and her fiancé Neil Randall live in a 200-year-old, cob-and-stone cottage tucked down a 'drang' – local dialect for passageway – in one of the village's hidden courts. Their door is just five metres from the sea wall. The house is tiny but doesn't feel hemmed in or cluttered, thanks to the couple's clever use of space and careful choice of decorative retro finds.
'I never thought I'd live here, but I love it,' says Emma, a textile artist who grew up on the other, more beachy side of the Taw-Torridge estuary. 'The village is quirky and creative, with brightly coloured old houses and little alleyways. You get the openness of being by the sea, but you also have a community that's alive all year round.'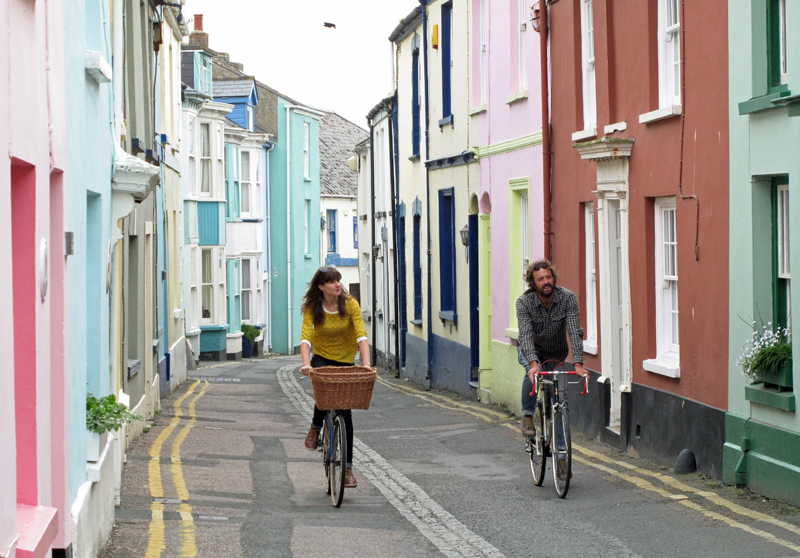 Neil, who works for his friend's design-and-build company, bought the cottage as his first renovation project in 2012 a few months before he and Emma started dating. He knew parts of North Devon through his love of surfing but had never been to Appledore prior to spotting the property in the local paper.
He had recently returned from five years making surfboards in Australia and was keen to put down roots. 'I wanted somewhere with character as a home but also as a project for all my design ideas,' he says. 'It was dated, with Artex everywhere, three layers of lino in the kitchen and a mouldy, pink bathroom, but I could see instantly how light, yet cosy, it could be.'
Neil spent the next two years living in what he describes as a 'pigsty' as he transformed the house into a modern space that still retains its historic characteristics. Neil did all the work in his spare time, getting electrical and plumbing help from workmates. 'The most "interesting" period was when I dug up the floor to damp-proof it and got down to sand and pebbles,' he recalls. 'I found animal bones and fragments of inky-blue glass, and it was like standing on a beach doing the cooking with my boots on.'
INTERIOR DESIGNS
The affordability of the cottage was due to the fact that there was no private waterside garden or window overlooking the sea. But Neil's scheme got a boost when he secured planning permission to put in an upstairs window – provided it was sympathetic to the style of the property. He was happy to comply with planning regulations: 'I wanted the house to look as if it had always been that way. It was so exciting, peeling off the render inside, picking out the pebbles, then looking through the hole and seeing the water.'
Neil designed the interior on computer first – 'Pages and pages of inspiration and ideas,' he says. Downstairs is open plan, with materials and textures defining different functional areas. 'The lounge has carpet so that it feels warmer, and the hallway needs to be durable so it's got a slate floor,' he explains. Old and new sit stylishly side by side: some period beams and stonework have been retained, while new cladding adds texture and echoes the original décor, but, as a deliberate contrast, there are high-gloss kitchen units and a luxurious, contemporary shower room.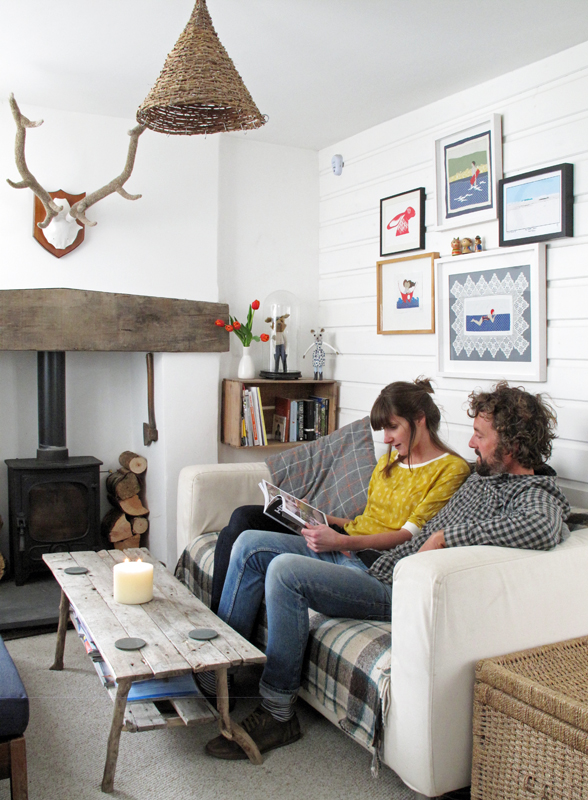 'Since studying furniture design, my interest has been in making small spaces feel bigger and how you can adapt things for multiple uses,' says Neil. For instance, a glass roof and sliding doors between the kitchen and the enclosed mini courtyard create the illusion of more outdoor space while actually enlarging the indoors. 'On a warm summer evening, we'll have dinner out there. In winter, you can sit inside and feel warm but look up at the sky.' Upstairs, he opened the bedroom ceiling to the rafters and built in cupboards above the bed to avoid the clutter of a wardrobe, creating a more airy feel.
DRIFTWOOD DÉCOR
All the walls are white, for brightness and to offset the couple's accessories – they love trawling charity shops and car-boot sales for collectables. But Neil felt his canvas was too blank until Emma moved in: 'It was only when she brought her stuff and put her pictures up that it became homely.'
As a subtle nod to their nautical surroundings, nearly all the bare wood in the house is either driftwood – which Neil has fashioned into a coffee table, work desk, dressing table and bedposts – or recycled florists' crates, which are perfect for shelf units and storage boxes.
Emma and Neil can't resist staggering home from their walks along sections of the rugged coastline with pieces of flotsam. 'Driftwood is beautifully aged, with amazing colours in it such as the rust where nails were,' says Emma.
Beachcombing trips are also a must for Emma's exhibition stands, where she displays and sells her craft work. 'On one occasion, we had backpacks full and two tree trunks. It was a steep walk and my shoulders ached, but it was worth it.' Neil has discovered a new interest in the past since buying the property and investigating how buildings have changed usage over time. He suspects their home was once a barn or boat-store as he uncovered an extra-long lintel down the side and there are no structural internal walls.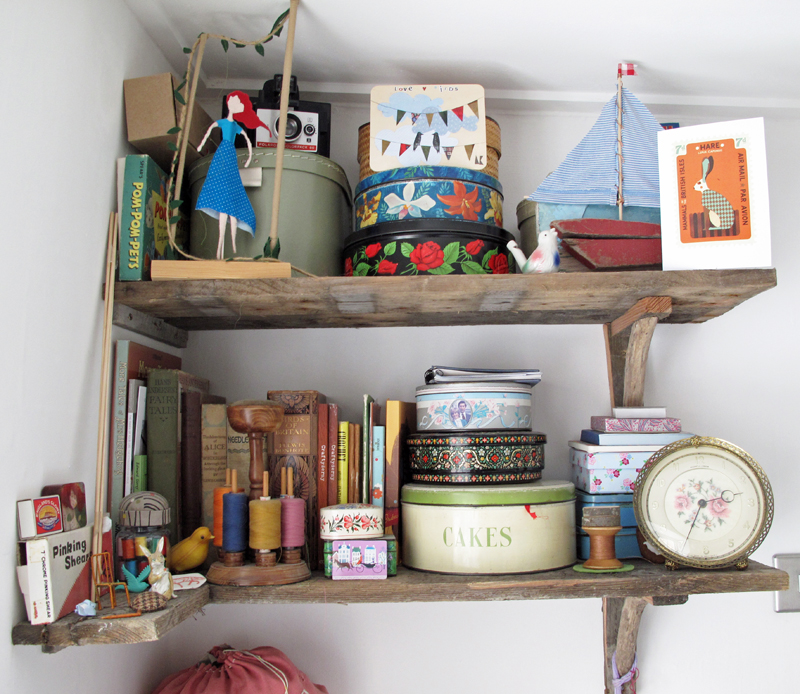 'It's interesting to read about how poor this street used to be compared with now. I often bore my friends when we walk round by explaining how places have changed. I love the fact we live somewhere with a history that's still got strong ties to the sea.' Although the village has evolved into a second-home hotspot with a lively artistic community, the shipbuilders and a small fishing fleet survive as a link to the past.
'I love the change between living here in summer and in winter,' adds Neil. 'I prefer the sun, and there are more people in summer, but the first winter was when I got to know people here.'
CRAFT CREATIONS
Appledore has also fed into Emma's work making fabric animal characters, such as her 'salty seadog' range, and knitted maritime motifs. 'I'd already begun the nautical theme, but there's more visual inspiration here. I made a knitted anchor after I saw one just like I'd visualised.'
In summer, she swims before work when the tide is high, near the lifeboat station along the road. 'It's beautiful and clear and I love the light in the mornings. There's only once been anyone else in the water.' Neil, meanwhile, is forever seeking the perfect wave away from the obvious big beaches such as Woolacombe and Croyde. 'I go to quite guarded spots that only have a wave at rare times. It's all about the search and anticipation, putting on a woolly hat and walking across fields to tiny coves to find a superior wave.'
The couple feel 'ridiculously lucky' to have the sea on their doorstep. 'Whether it's the Lundy ferry going past, or a boat with red sails – or the annoying jet-skiers again! – we're constantly commenting on it,' says Emma. And although Neil dreams of another design project at some stage, they're in no hurry. 'That would mean selling the cottage,' she says, 'and that would be very hard to do.'
To see Emma Cocker's crafts, visit her website emmacocker.co.uk. More of Neil's work can be found at innerspaceindevon.wordpress.com.
For more stories about coastal life and homes, click here or pick up a copy of the magazine.
EMMA AND NEIL'S FAVOURITE PLACES:
CAFE: The Coffee Cabin, Appledore. 'The view is beautiful and the guys who run it are lovely.'
PUB: The Champ, Appledore. 'This is really cosy, like sitting in your living room but with beer and live music. They have blues and jazz nights, and it doesn't matter how good or bad they are; it's just a great atmosphere.'
WALK: Peppercombe. 'We discovered this walk together, down a quiet wooded valley, then either along the coast path or the beach, where you can do some foraging.'
ARTS CENTRE: The Plough, Great Torrington (theploughartscentre.org.uk). 'We go here mainly to see independent films, but they also have interesting workshops, live folk music and comedy shows.'
JOURNEY: The Appledore-Instow ferry. 'It's run by volunteers and we normally go over to Instow to get the evening sun, walk on the beach, for dinner or drinks, or Hocking's ice cream.'
SWIMMING LOCATION: Hartland Quay. 'A phenomenal place to swim at high tide. You think of Hartland as a wreckers' coastline but it's often sheltered. You can jump off the rocks, look up at the cliffs and it's like swimming in a cathedral.'