Thinking about leaving the bright city lights? Relocating to the Isle of Wight brings a gentler pace of life, with time to focus on wellbeing and the freedom to adopt an outdoors lifestyle, in a community embracing yoga, SUP and watersports.
WORDS BY CAROLINE WHEATER
Three years ago, when Jenny Stewart was still living and working in London, she couldn't have imagined how much a decision to relocate would reshape her life. She'd been working in marketing for 10 years, while her husband Alex was a pilot for British Airways, flying in and out of Heathrow, but both of them grew up on the coast – Jenny in Dorset and Alex in Devon – and yearned for the sea and the watersports they loved to do. 'I was coming up to 30 and living the city life – everyone thought we were crazy when we started to look for properties in the south west, but we felt that we needed the sea nearby,' Jenny explains.
CAPTIVATING SPOT
Initially, they looked at Bournemouth and Poole, but places kept cropping up that were really near the beach and a lot more affordable – all of them on the Isle of Wight. 'We got on a ferry one day to see the island and fell in love with a house near Yarmouth,' says Jenny. It was close to Freshwater Bay, where the waters are crystal clear against the chalk rock and wildflowers clothe the downs. They were smitten, and with such a short crossing to the mainland (30 minutes from Yarmouth to Lymington), Alex felt he could cope with the commute (and has subsequently discovered a community of pilots living on the island). Jenny decided to put her energy into teaching yoga, having already completed her training.
It was a random move, but it felt full of promise. 'There's a sense when you get onto the Isle of Wight ferry that you're leaving the crazy world behind – there's more space here, it's a very outdoorsy lifestyle and there's a huge community of young people, many of whom are watersports enthusiasts. Not many of them have "normal" jobs – they are professional sailors and sports people, they run cafés and restaurants – it's an entrepreneurial place to be,' says Jenny.
STARTING ANEW
Although it was never part of her career plan to start her own business, Jenny felt inspired to set up a retreats company with local friend and fitness instructor Evelyn Joyce, who had also relocated from the mainland and lives in Cowes. Balance + Glo began by offering yoga, fitness and wellness retreats, which quickly led to setting up an online yoga and fitness studio that now has 300 members from around the world. During the summer they team up with local paddleboard provider iSurf to run SUP yoga classes down on the River Yar, which have gone down a storm.
With a change in occupation and lifestyle, Jenny's days have taken on a new energy – that of being out in nature, whether that is the 15-minute walk to beautiful Colwell Bay from her home, or cycling around the island, or taking her paddleboard to Compton Bay for some SUP surfing. 'The sea has always been a place of calm for me, and it gives me a sense of perspective if I'm feeling stressed.' Contrasted with the vibrancy of island life, the city imprint is fading fast.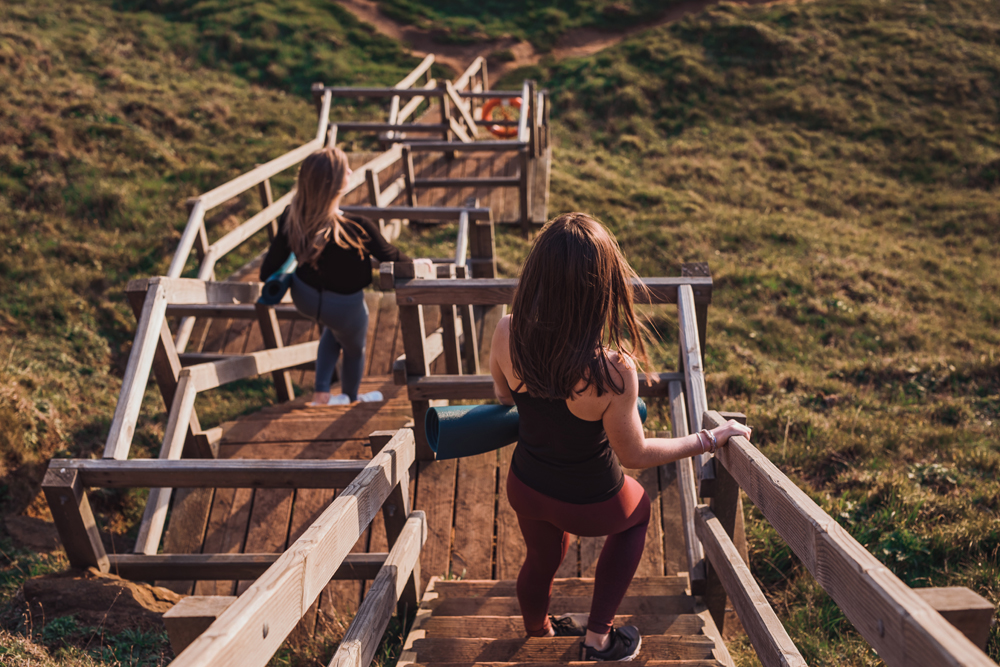 Find out more about Jenny and Evelyn's Isle of Wight wellness retreats and online yoga and fitness classes at balanceandglo.com.
Travel to the Isle of Wight from Portsmouth, Southampton and Lymington. Red Funnel (redfunnel.co.uk) operates the service between Southampton and East Cowes.
For more information about visiting the island, browse visitisleofwight.co.uk.
Captivated by the Isle of Wight? Learn more about moving to Cowes on the Isle or Wight or for more coastal living inspiration, pick up the latest copy of coast magazine.