LIZ HOLLIS discovers why there's never been a better time to make your home in the up-and-coming seaside town known as 'the gem of the Norfolk coast'.
In its heyday it was one of the most popular 19th century seaside destinations in Britain attracting the rich, the stylish and the most influential people of the day. The likes of Albert Einstein, Alfred Lord Tennyson, Oscar Wilde and explorer Ernest Shackleton headed to Cromer to stay at the lavish Hotel de Paris, promenade along the clifftop or sample the famous local crab.
Cromer proclaimed itself to be 'the gem of the Norfolk coast' and in 1815 even Jane Austen praised the town in her novel Emma: 'You should have gone to Cromer…the best of all the sea bathing places. A fine open sea…and very pure air.'
Although the resort remained popular up to the First World War, visitor numbers dwindled with the growth of foreign holidays. Many grand buildings fell into disrepair and the saucy postcards and amusement arcades moved in.
Its heyday is admittedly long gone and its glory somewhat faded. But now, after years of gradual decline, the town is having a renaissance.
With a plethora of new bars, cafes and shops as well as a new surfing crowd and an arty vibe, Cromer is fast becoming the coolest spot on the Norfolk coast. The up-and-coming resort is attracting a younger crowd – many leaving urban life in Norwich or London behind them to live by the sea.
There's a vibrant Brighton feel to Cromer which is increasingly home to artists, galleries and independent shops as well as award-winning eateries attracted by the affordable property prices. It's also one of the most dog-friendly towns in East Anglia.
Another huge appeal is that this crab-famous place is still a year-round working fishing town. Boats fish daily for crabs and lobsters and the town is chock-full of stalls selling incredible-tasting fresh product. This contrasts with many of the coastal resorts in North Norfolk where the holiday industry and gentrification have taken over and pushed out local industry.
Meanwhile, the town is still a favourite with families looking for a traditional bucket and spade seaside holiday. Visitors love the sandy beaches, pier, and the UK's last remaining traditional end of pier variety show staged in summer and at Christmas.
But the biggest appeal is that property is affordable – often half the cost of other north Norfolk towns such as Holkham and Blakeney. These towns attract an affluent sailing crowd and second homeowners from south west London, leading to a 'Chelsea-on-Sea' moniker. Cromer is less gentrified and it's a living, working town.
But developers are beginning to regenerate many of the old streets and flats in Cromer – and charging a premium for some of the picture-perfect streets – especially with a sea view.
For the moment you can still find a relatively affordable seaside home in Cromer, but word is spreading fast about this up-and-coming resort. Prices look set to soar in coming years so there has never been a better time to move to the town if you're seeking a new life by the sea.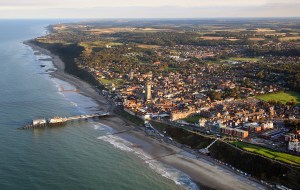 WHERE TO BUY
Town centre flats with a sea view and highly prized brick and local flint cottages command a premium. Sought after areas include Cliff Avenue and Cliff Drive where you can find some impressive Victorian and Edwardian houses. The area round Cabbell Road is also a hot spot for regeneration. Further afield look in nearby Sheringham or the villages of East and West Runton.
HOW MUCH?
Property is more affordable than in the upmarket towns further along the coast. Estate agents Savills says that the average price in Brancaster is £815,896 compared to £282,515 in Cromer. You can buy a decent three-bedroom detached house from around £450,000. At the top end, a six-bedroom property with gardens and four reception rooms in a sought-after area such as Cliff Avenue will set you back around £700,000.
TRAVEL LINKS
A train journey to Norwich takes around 45 minutes and there are around 18 departures a day from Cromer station. It takes around the same time by car, although get stuck behind a slow vehicle on the single carriage A140 and it can take a lot longer. It takes 70 minutes to drive to King's Lynn and three hours to London.
SCHOOLS
Cromer Junior, Suffield Park Infant and The Belfry in nearby Overstrand are rated good by Ofsted. For secondary school, children attend Cromer Academy or nearby Sheringham High School – both rated good. Just inland at Holt is the private school Greshams whose famous alumni include award-winning actor Olivia Colman and inventor James Dyson.
FACILITIES
A hospital with a walk-in minor injuries unit. A library, museum, cinema, end of pier theatre, Royal Cromer Golf Club and two nearby Parkruns. Cromer Sports Centre offers gym and sports or head to the newly-built Reef Leisure Centre, in Sheringham. Opened recently, it has a six-lane 25m pool and gym and state of the art accessibility.
REALITY CHECK
Cromer is affordable – but it's also a long way from anywhere so works best for people who are happy to stay put rather than commute for miles. Coastal erosion is a problem so choose your new home wisely. It can be packed with tourists in the summer and bleak and windy in the winter as the North Sea weather batters the coastline.
TIME OUT
Walk the mile-long promenade along the seafront with its ornate iron railings and rain shelters – taking either the cliff-top or beach level route. Enjoy watching the sea from the iconic Cromer Pier – amusement free with a theatre that stages Britain's last remaining seaside special variety show.
Award-winning Cromer Beach has miles of pebbled and sandy shore – backed by cliffs. Swimming is good and there's a designated surfing area. During the summer a cool crowd head to the nearby promenade for the open-air event North Sea Nights with DJs, food and dancing.
An analysis of TripAdvisor data recently named Cromer beach as among the best in England to visit. It was rated highly on its water quality, how many visitors ranked it 'excellent', number of cafes and restaurants and safety.
Try the fish and chips at No1 Cromer, run by Michelin-starred chef Galton Blackiston. It offers a 'posh version of a seafront fish and chip shop,' according to BBC Good Food.
Cromer is home to some of the best pubs and cafes in the country, including The Red Lion, recently awarded a coveted AA rosette for its high-quality food. The Gangway is a micropub with a huge range of craft beers.
Must-visit independent cafes include North Sea Coffee on the seafront and Whitewater Cromer. Hatters Tea Shop serves a tasty afternoon tea, including a vegan version.
Just outside town you can sample the famous Cromer crab and locally-caught lobster at Rocky Bottoms, a celebrated seafood restaurant. Or try local, seasonal produce, including venison and mussels at The Gunton Arms, set in an historic park near Cromer.
Play a round of golf on the links course at Royal Cromer Golf Club, visit Cromer Museum and don't miss the annual summer Cromer Crab and Lobster Festival which showcases the locally caught delicacies with stalls, cookery demonstrations, live music and crab sandwiches.
Cromer is also a great base to explore North Norfolk, a bird watching hotspot designated an Area of Outstanding Natural Beauty. It is known for its coastline, wildlife and hinterland of rolling countryside, picturesque market towns and villages and National Trust estates. Take a trip to see the sea colony at nearby Blakeney Point
PAY A VISIT
Stay at the elegant Edwardian hotel The Cliftonville which has luxury boutique rooms and a modern, comfortable and dog-friendly vibe. It serves fresh, locally sourced food and rooms at the front and the terrace bar have an incredible view along the coastline. A double with breakfast costs from around £99 per room (thecliftonville.com).
The Grove offers every kind of accommodation from family rooms and self-catering cottages to glamping, from £120 per room for a small double (thegrovecromer.co.uk). On the seafront, The Red Lion is pet-friendly and has sea view rooms. Around £300 for a room with minimum two-night stay (redlioncromer.co.uk)
WHAT YOU CAN GET FOR YOUR MONEY
Here are some of our favourite houses for sale in Cromer:
SEA VIEW APARTMENT (GUIDE PRICE £200,000)
A two-bedroom, second floor apartment with sea views close to the town centre. henleysea.co.uk
RENOVATION OPPORTUNITY (GUIDE PRICE £625,000)
A 1950s detached property in a highly sought after area of Cromer with stunning sea views. Needs refurbishment but set in a massive plot with huge potential. Spacious entrance hall, three reception rooms and three double bedrooms. henleysea.co.uk
VICTORIAN TERRACE (GUIDE PRICE £230,000)
A two-bedroom terraced house in a popular location with no onward chain. Original fireplaces and a short walk to town and the beach. Master bedroom has en-suite. Williambrown.co.uk
THREE-BEDROOM TOWN HOUSE (GUIDE PRICE £550,000)
An impressive chapel conversion with extensive history on Cromer High Street. A stone's throw from the beach, this is a truly unique and rare property. sowerbys.com