Set on the Jurassic Coast, with its iconic Cobb Harbour, Lyme Regis is a popular destination for property hunters looking for a welcoming coastal community, surrounded by history. Words by Helen Heyns.
The magical and historical town of Lyme Regis is nestled on the stunning Jurassic Coast, hugged by the magnificent cliffs, rich in fossils. The oldest fossils found here are 195 million years old.
To arrive in Lyme Regis into Dorset from the north one passes through Uplyme, which is a pretty village in East Devon; despite the two being in different counties, they are only a short walk apart and very much connected with their community and schools.
Descending into Lyme Regis, the Georgian architecture, independent shops and ancient Cobb Harbour glow against the sublime sea water and golden sand. For beach lovers, you will find a mix of sand and shingle along the coastline with cafes, restaurants, and pubs dotted along the sea front.
Lyme Regis is set on the South West Coastal Path – people come to the area all year round to enjoy the coastal walks in the mild climate and people move here to appreciate the sea air and the charm of the town which must be explored to find retail gems in the back streets off the beaten track.
WHERE TO BUY
Georgian properties are desirable throughout the town, and sea front cottages in pastel shades are popular. Properties in Somers Road have some of the best views of the sea in their elevated position; there are a selection of houses and bungalows, with good parking. Ware Lane on the west side of town provides seclusion and countryside surroundings while being a short drive to the town and Rhode Lane in Uplyme is a beautiful mix of countryside and coastal views, within a 30-minute walk into Lyme Regis along the River Lim.
Michelle Wilkins from Jackson Stops tells me: "Lyme Regis is a very beautiful seaside town made up of Regency buildings, cosy cottages, seafront apartments and '60s bungalows ripe for conversion and remodelling.
"Its excellent location on the Jurassic coastline has always inspired great creativity, which has undoubtably added to its appeal in recent years, with many independent artisan retailers, cafes and restaurants popping up, making it a very desirable place to both live and work."
HOW MUCH?
Properties in Lyme Regis had an overall average price of £430,130 over the last year. The majority of sales in Lyme Regis during the last year were detached properties, selling for an average price of £647,653. Flats sold for an average of £264,750, with semi-detached properties fetching £361,143.
TRAVEL LINKS
With high-speed rail links to London from Axminster station six miles from Lyme Regis, you can reach London Waterloo within three hours, or by car in three-and-a-half hours. With access to the A303 and the M5 in 45 minutes, you are connected to many towns and cities, such as Exeter, which is 50 minutes from Lyme Regis. If you are looking for more local connections, then the drive along the coast in either direction is worth an explore to experience the beauty of the area.
SCHOOLS
Uplyme Pre-school and Mrs Ethelston's CofE Primary Academy in Uplyme are rated Good by Ofsted. St Michaels CofE in Lyme Regis requires improvement.
Secondary Schools, The Woodroffe in Lyme Regis and the high-achieving Colyton Grammar, 12 minutes' drive from Lyme Regis, are both Ofsted rated Outstanding.
Independent Perrott Hill Prep is about 13 miles north, around a 40-minute drive, just outside of Crewkerne.
REALITY CHECK
Lyme Regis is on a hill so if you park or live at the top then expect to enjoy a leisurely walk down the hill and make extra time for your steep walk back up.
Parking is limited during the summer months so do arrive early to secure a space in one of the car parks. Parking with a property near the sea front is also rare.
Like many coastal towns, outside space is limited with property, however, the coastline is your garden.
TIME OUT
Enjoy a walk along the beautiful Cobb Harbour, where you will find a small Marine Aquarium, for a small fee you can enjoy the marine life up very close. One of the best walks is the one-and-a-half miles along the stunning River Lim path from Lyme Regis to Uplyme; where you can visit the Town Mill Brewery, and independent shops at the start of the route in Coombe Street. The walk is full of history, nature and woodland; one section is a path between the stream which is a lovely experience.
There are a range of independent galleries, boutique, and gift shops to browse around. For an art, craft and home décor inspired visit Coombe Street Gallery, Molesworth and Bird next door to the Town Mill and Ryder & Hope, in Broad Street.
Lyme Regis is the birthplace of Mary Anning, a famous fossil collector and palaeontologist. You can visit Annings Fossils shop in the town and learn more about Mary Anning at Lyme Regis Museum, which is located on the site of her family's home. The museum holds exhibitions and fossil walks. There is also a Dinosaur and Fossil Museum in Coombe Street.
For food and drink, you are spoilt for choice; some of the favourites are The Whole Hog, which is a great example of a hog roast takeaway with superb coffee. Poco Pizza is a wood-fired pizza restaurant with a fantastic view of the bay, and The Oyster and Fish House is a contemporary restaurant run by renowned Chef Mark Hix. Grab a coffee at The Kiosk on the beach – some say it is the best coffee in Lyme Regis.
The friendly community in Lyme Regis enjoys its annual events. The Regatta and Carnival week is in August, where they have fireworks in the evening. There are Candles on the Cobb when thousands of tea light candles illuminate the harbour and you can sponsor a candle in memory of a loved one to raise money for local charities. Lifeboat Week is held in July where the fire crew take on the lifeboat crew in tug of war to raise money for the RNLI. The week is full of events, food and drink, water sports and the popular duck race.
PAY A VISIT
Dorset House B&B 
01297 442055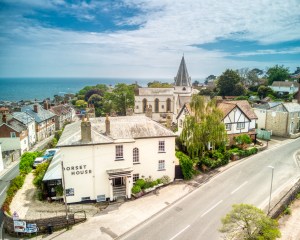 This award-winning B&B is run by Jason and Lyn Martin, located in the town centre, and a short walk to the Cobb. Dorset House is more than a B&B, it is an experience with local food and drink, warm hospitality, and the assurance of a relaxing stay.
The bedrooms in this Georgian property are exquisite, with sea views in many, you can rest well knowing you have a four-course breakfast in the morning. With an ethos of sustainability, the environment is very important to them, as are local suppliers and products for an authentic stay.
You will not be short of ideas for things to do, and places to eat and drink during your visit, all passionately supplied by the owners, who will provide information to help you explore the area.
Double rooms start from £125.
WHAT CAN YOU GET FOR YOUR MONEY?
GATESFIELD HOUSE, SIDMOUTH ROAD, LYME REGIS (£525,000)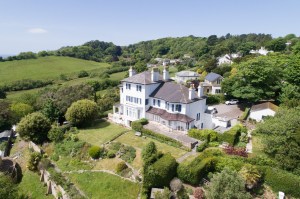 A superb two-bed Grade II listed apartment in a Regency building is just one of seven, with superb panoramic sea views and just a ten-minute walk to Lyme Regis town and beach. (jackson-stops.co.uk, Jackson Stops – 01308 423133)
MONMOUTH PARK, LYME REGIS (£725,000)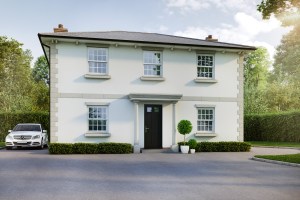 Brand new four-bed detached property with two parking spaces, garden, a 15-minute walk to the shops and beach and beautiful countryside and coastal views and walks. (martindiplock.co.uk, Martin Diplock – 01297 445500)
COOMBE STREET, LYME REGIS (£395,000)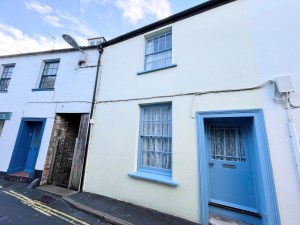 Coombe Street, Lyme Regis – 2 bed 1 bath – £395,000 Guide
This Grade II listed two-bed cottage is in the old town and a short walk to the shops and beach. Full of character, it is on the picturesque river walk that passes the historic Town Mill. (fsb4homes.com, Fortnum Smith & Banwell – 01297 445666)
CORAM COURT, LYME REGIS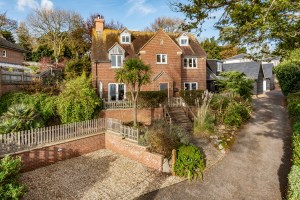 Maroc House, Coram Court, Lyme Regis – 6 bed 3 bath – £1.2m
This detached six-bed home is in an elevated position with spectacular sea views of the Jurassic Coast. Arranged over three floors, over 3,000 sq ft and landscaped gardens. (stags.co.uk, Stags – 01308 428000)
To discover more coastal areas, check out our ranking of affordable seaside locations to move to here.