With its waterfront regeneration schemes, lively Barbican harbour and location on the Tamar Estuary, this naval 'Ocean City' has far-reaching appeal. Words: Lesley Gillilan Illustration: Tom Jay
This is Devon's 'Ocean City' and it's a worthy title. From the Pilgrim Fathers' Mayflower to the Royal Navy's HMS Albion, Plymouth has sea-faring in its DNA. With nearly ten miles of urban waterfront – a line of marinas, docklands and seaside promenades, stretching from the mouth of the River Plym to the Tamar Estuary – it's a haven for all things ship-shaped, from yachts and fishing boats to frigates and cross-channel ferries. Plymouth Sound is one of the world's finest natural harbours.
Life in this city-on-sea hasn't all been plain sailing. Since the War, which wiped out much of its original centre, it has struggled with confidence, identity and, in some areas, poverty. But now this historic English port is beginning to find its feet.
Gearing up for the Mayflower 400 celebrations in 2020, the city spent millions on improving the waterfront. TheRoyal William Yard, a vast 19th-century Naval victualling yard, has been transformed into a maritime, live-work destination. Run-down parts of Devonport were getting a facelift. 'There is an energy and positivity in the city that wasn't there before,' says newcomer Leigh Mason, who noticed 'a massive sea change in the way Plymouth delivers culture'.
Leigh is the Business Development Director of Ocean Studios – a complex of waterside galleries and workspaces for artists based in Royal William Yard – but although she had been the driving force behind the scheme long before it opened last summer, she was reluctant to leave her former home in Cornwall. 'I didn't think I'd enjoy living in Plymouth,' she says. But after falling for a Georgian townhouse close to the centre, she changed her mind. 'I love it here now,' she says. 'If you are willing to make the best of this city, you can have a great quality of life.'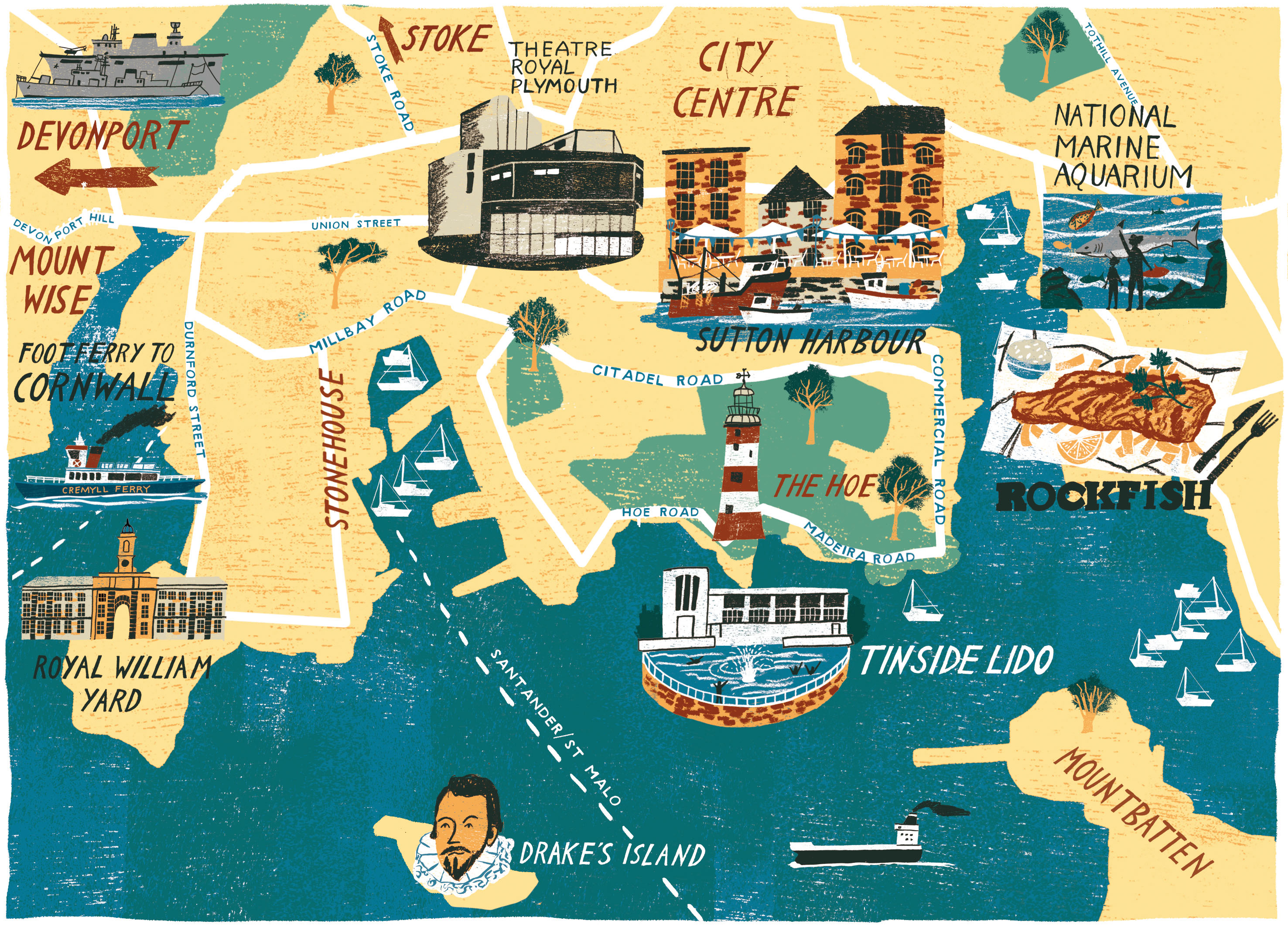 Map of Plymouth. Illustration: Tom Jay
Aside from its vibrant arts scene, busy university, and the lively Barbican harbour (a surviving corner of Elizabethan Plymouth), the city's geography is truly spectacular – it's on the doorstep of Dartmoor and the Tamar Valley within waving distance of Cornwall. The Hoe, with its mesmerising views across Plymouth Sound, is just a short walk from the city centre.
'The Hoe is beautiful,' agrees Leigh. 'I love the fact that you can walk there from the Barbican – and just keep going along endless waterfront. There are very few cities where you can do that.'
WHERE TO BUY
Best bets for sea views are the magnificent Regency terraces on the frontline of the Hoe, a waterfront apartment in Royal William Yard or the Barbican's Sutton Harbour (from around £185,000), or one of the prime properties in the Mount Wise development. For Georgian townhouses and Victorian terraces, explore the streets that slope up to the Hoe from the centre, or around Durnford Street in Stonehouse (where a little foot ferry runs across to Mount Edgcumbe Park on the Cornish side of the Estuary). A popular place for families is the leafy, Victorian conservation area in Stoke Damerel (good for schools, gardens and green spaces).
TIME OUT
Aside from watersports and world-class sailing, Plymouth is well served with entertainment venues, including the Barbican Theatre, the excellent Theatre Royal and the Pavilions (for live bands). On the Hoe, with its landscaped gardens and promenades, there's the seaside Tinside Lido. The Barbican harbour is home to Mitch Tonks' posh chippy, Rockfish (therockfish.co.uk), right next door to the National Marine Aquarium. Royal William Yard boasts a French-style restaurant Le Bistrot Pierre (lebistrotpierre.co.uk) and a new branch of Wildwood (wildwoodrestaurants.co.uk), all housed in lofty, listed buildings. For beaches, head for beautiful Whitsand Bay on the other side of the Tamar. For details see visitdevon.co.uk.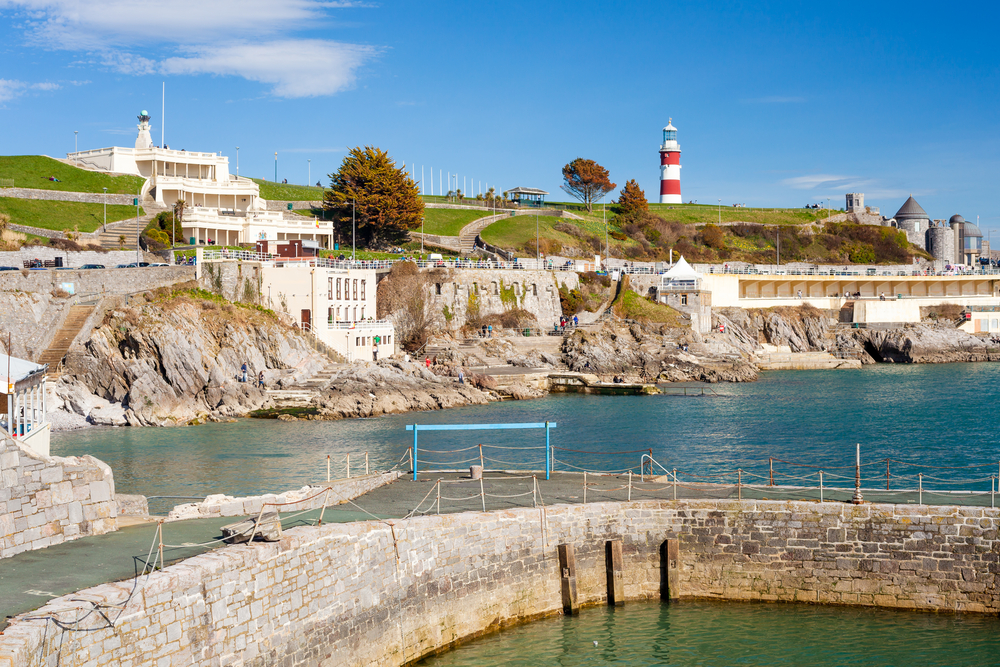 The Hoe, Plymouth. Photo: Ian Woolcock/Shutterstock
JOBS AND COMMUTING
The majority of jobs are related to Devonport's Naval dockyard (the largest in western Europe) or Plymouth University, plus retailing, the public sector and the arts. Many of the city's workforce commute in from South Devon villages or across the Tamar from Cornwall, and there are good transport routes: as well as local rail services, Plymouth is on the mainline Paddington to Penzance route. The nearest international airport is Exeter.
SCHOOLS
The best of Plymouth's 27 secondary schools include Devonport High School for Boys (rated Outstanding by Ofsted ), Devonport High School for Girls (Good) and Stoke Damerel Community College (Good).
REALITY CHECK
The heart of Plymouth was reduced to rubble during the bombing raids of World War II, and the reconstructed shopping centre lacks soul. Broad avenues of 1950s architecture are not to everyone's taste, but for those who like retro modernism, the city was recently branded a '20th Century City' with more post-war buildings than anywhere in the UK outside London.
COMING UP
A string of regeneration schemes is reinventing run-down corners of Plymouth: the once-seedy Millbay docks area is now the live-work 'Coastal Quarter' (a futuristic waterfront building is planned as the centrepiece of a revamped marina). There are plans for a new boutique hotel in Royal William Yard; and pioneering developer Urban Splash has acquired the council's redundant Civic Centre, a listed 1960s tower block in the centre. Plymouth really is a case of 'watch this space'.
PAY A VISIT
72 Mills Bakery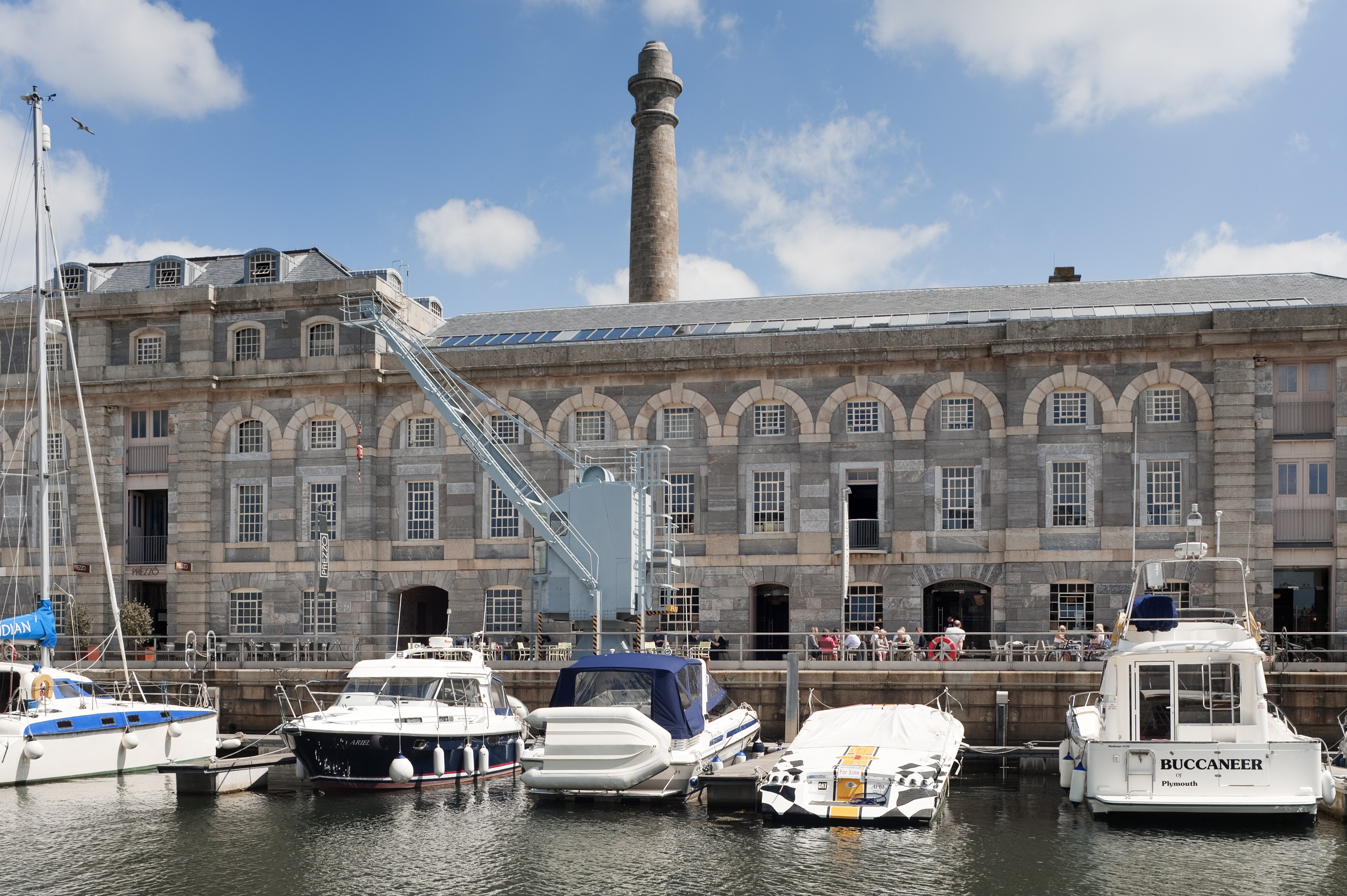 One of a family of four self-catering apartments, all within the Grade I-listed Royal William Yard, this two-bedroom, two-bathroom duplex combines a contemporary interior with restored original features – chunky granite walls and hefty beams – and views of Stonehouse Pool and Mayflower Marina. Step outside and you are right on the Yard's harbour, with its bars and restaurants, a water taxi ride from the Barbican and the city. From £99 per night (minimum two nights).
For more inspiration on moving to the coast, click here. Keep up to date with our monthly 'Move To…' articles in the magazine.
WHO'S WHO?
Plymouth's well-known 'janners' (as the locals call the locals) include Elizabethan mariner Sir Francis Drake and the artist Sir Joshua Reynolds. The late Beryl Cook (whose humorous paintings depicted life in Plymouth) spent most of her life in the city.
CAN YOU AFFORD IT?
Plymouth: £233,147
Devonport: £145,311
Devon: £325,290
UK: £329,407
Average house prices: [March 2022]. Source: Zoopla (zoopla.co.uk).
WHAT LEIGH MASON LIKES ABOUT… PLYMOUTH
Bread and Roses is an 'arts hub' in a free-house pub on Ebrington Street: 'A cool, multi-cultural, micro community within the city centre.'
Cycling specialist Rockets and Rascals not only rents bikes ('pick one up from their café on the Barbican'), they also offer paddle-board hire from their waterfront outlet, Little Rascals at Royal William Yard (available March to September).
The Barbican with its 'quirky vibe', galleries, shops and harbourside restaurants is a great place to hang out in the summer. A favourite place to eat is The Stable (stablepizza.com) 'for gourmet pizzas'.