This small, friendly seaside town in North Cornwall offers glorious beaches, stylish seafront restaurants and walks along a wild coastline. Words: Lesley Gillilan Illustration: Tom Jay
The Victorians called it the 'Brighton of the West', and it's fair to say that Bude was Cornwall's first proper tourist destination: a fashionable watering hole with magnificent beaches, soaring cliffs and views that make the heart sing. Alfred Lord Tennyson was one of many captivated visitors.
Things went downhill when the railway closed in 1966, leaving the town stranded, way up on the north coast – so close to the Devon border that some say it's not even proper Cornwall. It's still a bit off the beaten track, but Bude has enjoyed a slow revival over the last 25 years and since it was voted 'Best Coast Resort' at the 2015 British Travel Awards, now seems a good time to take a look.
First impressions are of a rather haphazard town; almost as though its buildings have been thrown at the landscape and left to fall wherever they fancy – straggling around the edges of a clifftop golf course, on the banks of the River Neet or straying into surrounding downland. But where else in Cornwall has a canal sea-lock, a mock castle built on sand, and a beach called 'Summerleaze'? And, says local resident Rachel Barton Coates, 'Life in Bude is all about the beaches.'
Rachel, who runs her own design company, wasn't keen on the idea when her husband's work prompted a move to Bude in 2004. 'I had no connections there at all,' she says. At first they searched the countryside for somewhere to match the Cotswold village they'd come from, but in the end, Bude won them over. 'The location is brilliant,' she says. 'We love the wildness of the coast, its surfy beaches and outcrops of rock.'
Since they moved, the town has changed for the better. 'It's got a bit more style – with more places to eat and more independent shops. But it's still quiet and not too touristy. Bude is very much a family resort – for people who love the outdoors.'
The small, friendly town, has also proved the perfect place for Rachel's two girls, Daisy and Millie, to grow up in. 'I can go to work and let the kids whizz off to the beach and meet their friends – along with all the other families in Bude.'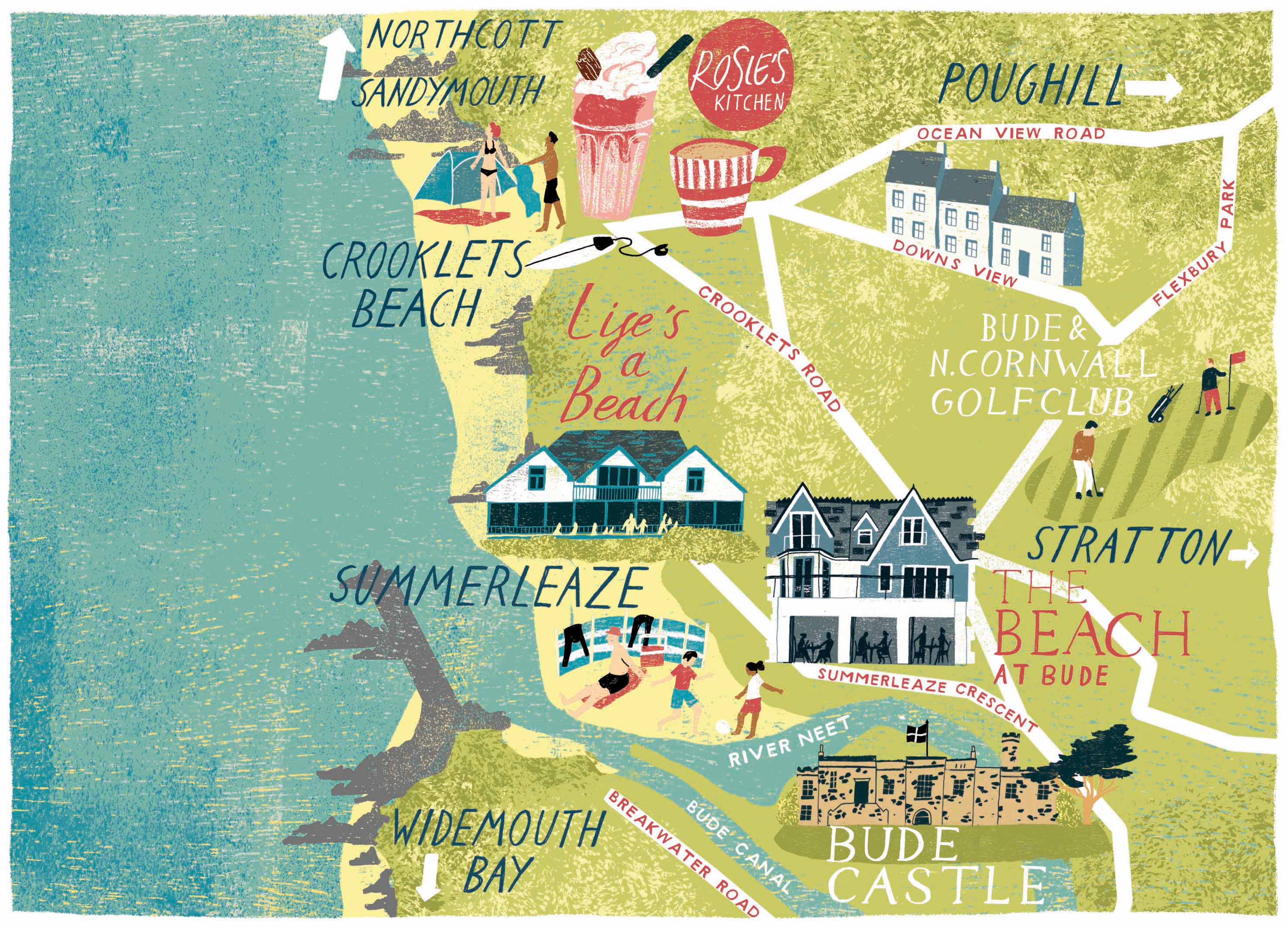 Map of Bude. Illustration: Tom Jay
WHERE TO BUY
Some of the prettiest (and priciest) properties in Bude are on Breakwater Road, a line of Victorian houses that overlook the canal. Other lovely spots are the streets around Crooklets Beach and the golf course (Flexbury Park or Downs View); in these areas, expect to pay up to £500,000 for a Victorian townhouse. Properties with sea views are rare, even on Ocean View Road. A better bet is to head south towards Upton and Widemouth Bay. For pretty cottages and Cornish thatch, go north to Morwenstow or inland to neighbouring Stratton.
TIME OUT
Bude is big on adventure tourism – surfing, canoeing, coasteering and other outdoor activities that make the most of this wild Atlantic coastline (and the highest cliffs in Cornwall). Its town beaches, Summerleaze and Crooklets, extend south to Widemouth Bay and north to the National Trust's Sandymouth. For serious surfers, it doesn't get much better than this. And it's paradise for walkers, too: the clifftop footpaths either side of the town are spectacular. A night out might feature cocktails on the deck at The Beach, or a seafood supper at Life's a Beach on Summerleaze. Annual events include a Jazz Festival in August; the Bude for Food Festival in September.
JOBS & COMMUTING
The futuristic dishes of the GCHQ listening station, on the cliffs to the north of Bude, provides jobs and boosts the local economy but tourism is its mainstay. Bude's out-of the-way location means that home-grown businesses, such as shops and restaurants, can survive on local custom, even out of season – Rachel successfully located her design business from the Cotswolds to Bude. But forget commuting: Bude has the rather dubious reputation of being further from a railway network than any other town in England. And the nearest cities – Exeter, Plymouth and Truro – are at least an hour away. London takes five hours by car. The nearest airport is Newquay.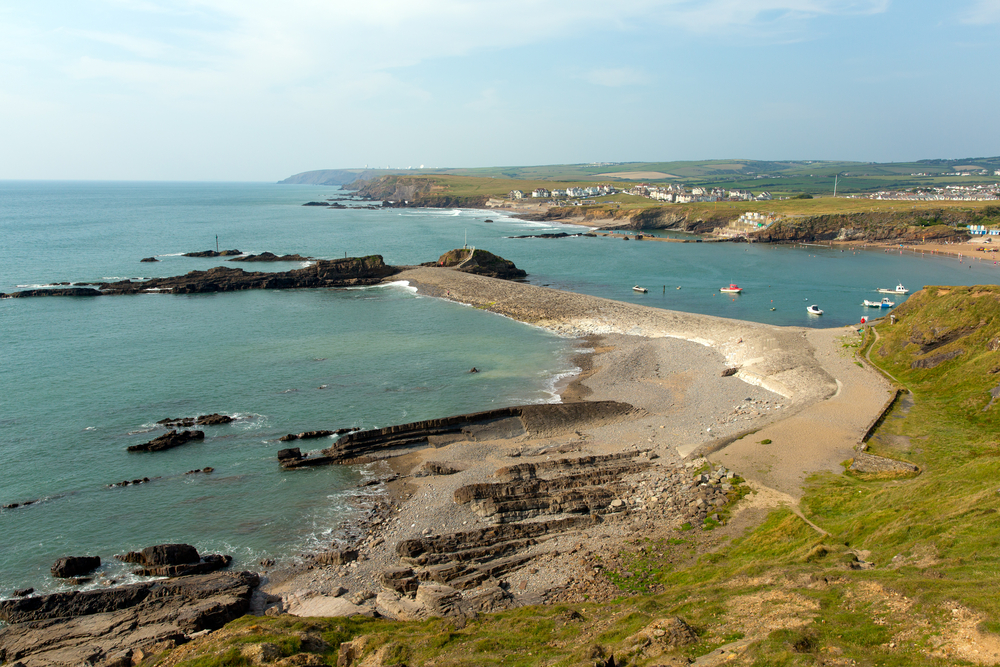 Bude between Tintagel and Clovelly. Photo: Mike Charles/Shutterstock
SCHOOLS
Bude's only secondary is Budehaven Community School; it's rated by Ofsted as 'Good' and Rachel's girls, Daisy and Millie, are happy there.
WHO'S WHO?
Bude's most famous son is Goldsworthy Gurney, the Victorian inventor behind early steam carriages and the 'Bude-Light', an oxygenated oil lamp first used in the House of Commons in 1839. His former home, Bude Castle, is now a museum.
REALITY CHECK
Town planning is not Bude's strongest point. One of the best spots on the seafront is occupied by a Sainsbury's supermarket. And other than the small, independent Rebel cinema (rebelcinema.co.uk) at Poundstock, there is no theatre or arts centre (the nearest is an hour's drive away).
PAY A VISIT
The Beach (01288 389800, thebeachatbude.co.uk)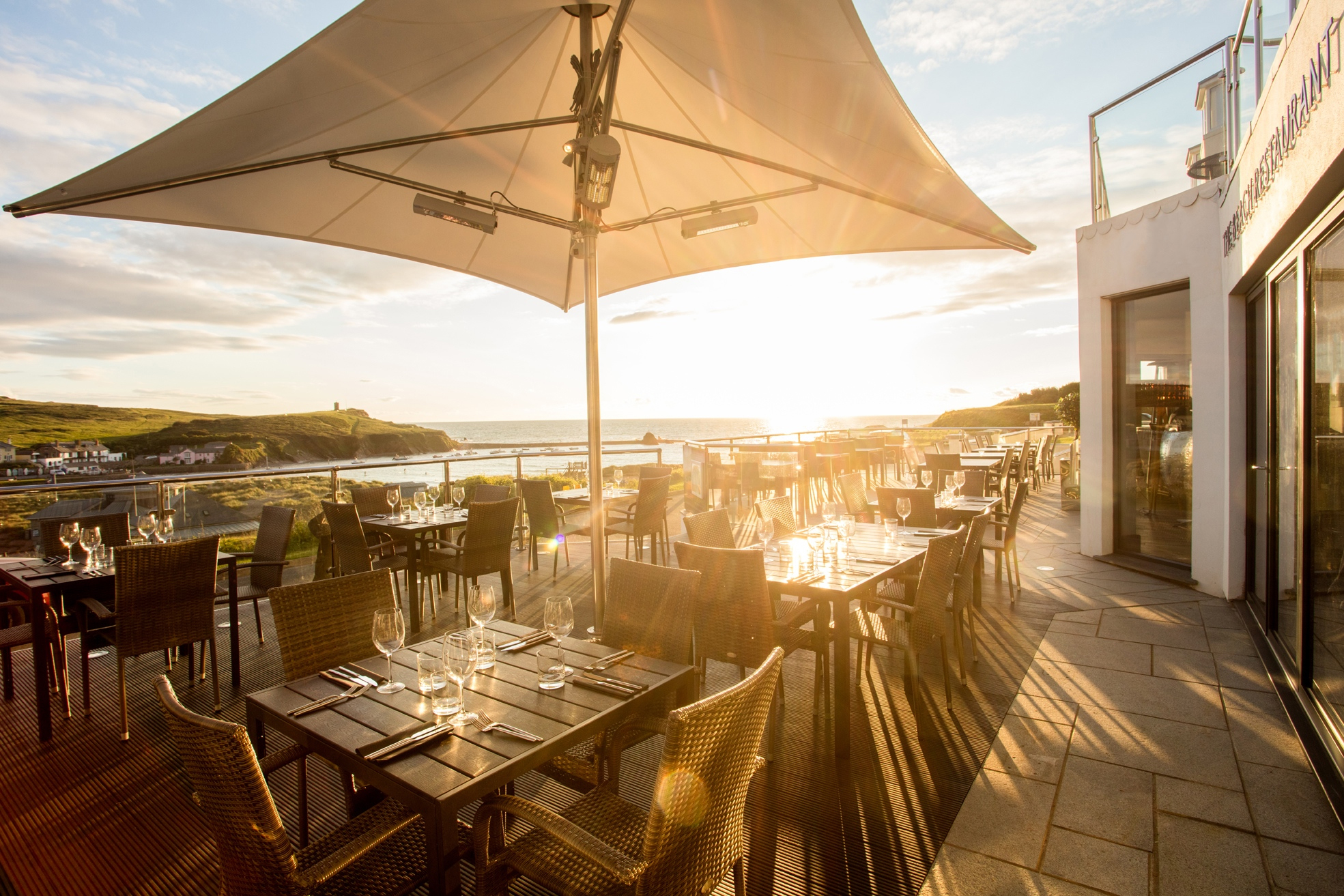 Overlooking Summerleaze Beach, this cool, classy boutique hotel brought a high-note of fresh New England-style to Bude's seafront when it opened in 2011. Rooms are light and spacious (three have terraces, and most have ocean views); the restaurant spills out on to a deck; the chef has an impressive CV and the food is heavenly. Without a doubt, this is the best place in town.
For more inspiration on moving to the coast, click here. Keep up to date with our monthly 'Move To…' articles in the magazine.
WHAT RACHEL LIKES ABOUT BUDE
The coast-path walk from BUDE TO SANDYMOUTH, stopping off at Northcott Beach, and ending up with teas and ice creams at Sandymouth Café. 'If you time it right with the tide, you can walk back to Bude along the beach.'
The 1930s TIDAL SEA POOL on Summerleaze Beach (budeseapool.org) – the 90-metre, semi-natural swimming pool provides safe bathing and, says Rachel, 'a brilliant place for kids to hang out in the summer'.
CROOKLETS: Rachel's family has a beach hut there, five minutes' walk from their house, and they love Rosie's Kitchen (rosieskitchen.co.uk) and the rocky corners of the beach where you can hide from the crowds.
CAN YOU AFFORD IT?
Bude: £351,751
Stratton: £313,025
Cornwall: £306,394
Average house prices: [April 2020]. Source: RightMove