This friendly town in Northern Ireland's Co Down offers beaches, sailing and affordable seafront homes within an easy commute of Belfast.
Words: Lesley Gillilan Illustration: Tom Jay
A cheery harbour town, stretched out along the shores of Belfast Lough, Bangor used to be one of Northern Ireland's favourite seaside resorts. The place has lost a little of its shine since its Victorian heyday, but although it's not exactly fashionable as a tourist destination, 21st-century Bangor is fast becoming a favourite place to live. And it's not hard to see why.
Wrapped around a sailing marina – one of the largest in Ireland – the town's hilly streets slope down to the shoreline, with its wharfs and quays, rocky beaches, marine gardens and views across the Lough towards the Irish Sea (where Olympic, Britannic, and Titanic sailed out of Belfast's shipyards a century or so ago). Bangor is the seat of an ancient abbey; there is a castle with a walled garden; and the rows of handsome Victorian townhouses that line the seafront are attracting buyers from Belfast (the city is only 13 miles away). But this is not just commuter belt – many of Bangor's new settlers are coming from much further afield.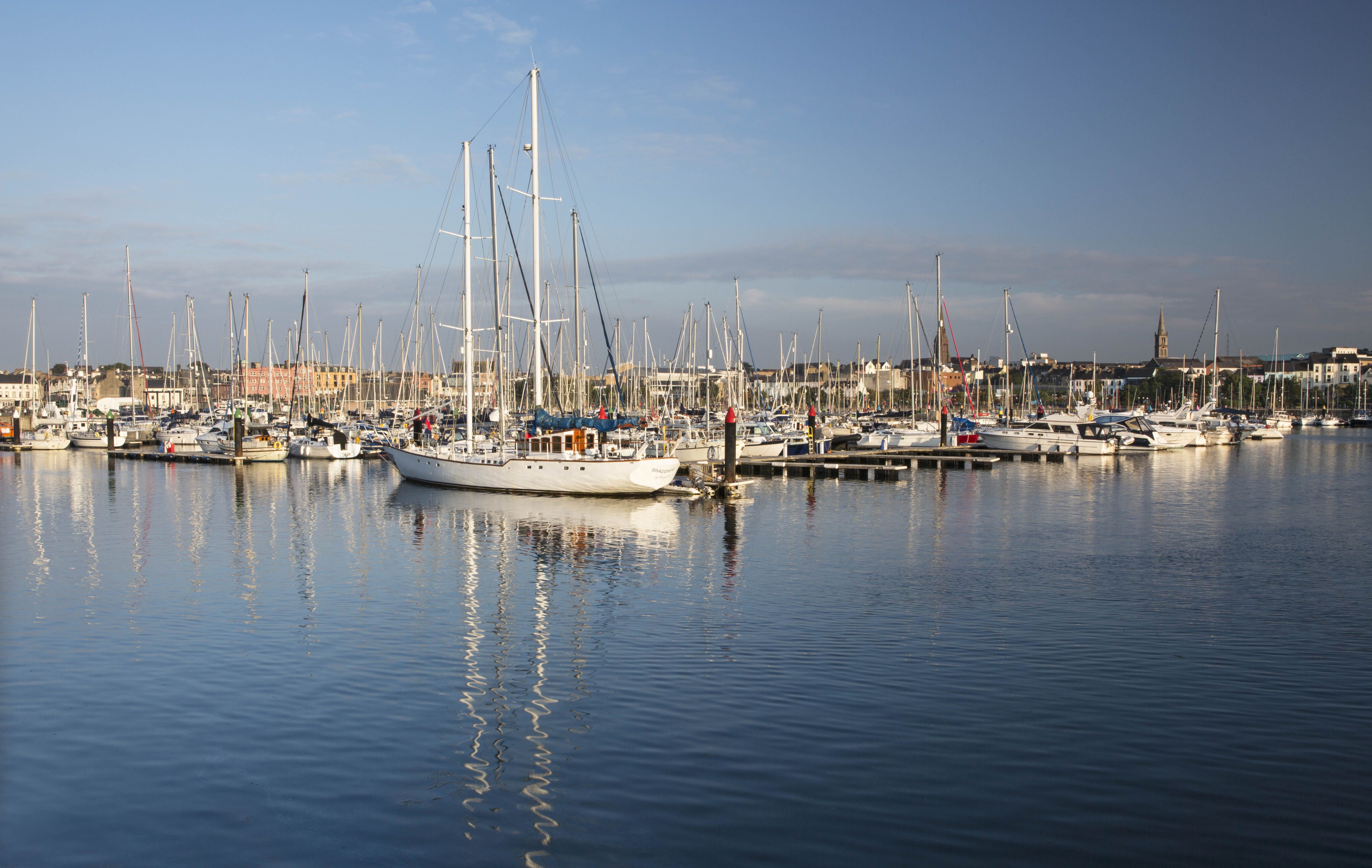 Bangor Marina. Photo: Bernie Brown/Failte Ireland
History teacher Lindsay Doulton moved to Bangor from Kent (via teacher training at Ulster University) five years ago, though she and her husband, Dermot – originally from Northern Ireland – were actually looking for a home in Belfast at the time. 'A friend who had just moved to Bangor suggested we take a look,' says Lindsay. They'd never been there before, but they liked it so much, they decided to stay.
The location helped – Bangor sits between the city and beautiful North Down countryside – but the main attraction was the sea. 'Our home is a 10-second walk to the beach,' says Lindsay.
At the gateway to the peaceful Ards Peninsula, a long finger of land which runs south along Strangford Lough, Bangor gives easy access to a string of pretty towns and villages (Donaghadee, Greyabbey or Portaferry) as well as the peninsula's long east-coast beaches. And Hollywood is just down the road (here's it spelt Holywood, but the Belfast suburb is pronounced the LA way).
With a small child in tow, the Doultons tend to stay closer to home, but there is plenty to keep them in Bangor. They like to walk along the coast, swim off the beach at Ballyholme, and join the locals in the town's lively pubs. 'Bangor is incredibly friendly and, despite us being "blow-ins" with no family here, we've been made to feel very welcome,' says Lindsay.
WHERE TO BUY
Best buys are the stucco-fronted, Victorian terraces on either side of Bangor Marina: to the west, on Queen's Parade and Pickie Terrace, or to the east, on Seacliff Road and Ballyholme Esplanade, a four- or five-bedroom waterfront townhouse sells for around £350-£400,000. A few streets inland, the same kind of money will buy you a rambling detached villa with sea glimpses and a large garden. There are more attractive period properties around Helen's Bay, and on the leafy hillside streets of upper Holywood – although prices tend to be higher; you get a lot more house for your money in Bangor (Victorian townhouses for as little as £170,000 and two-bedroom terraces from £65,000).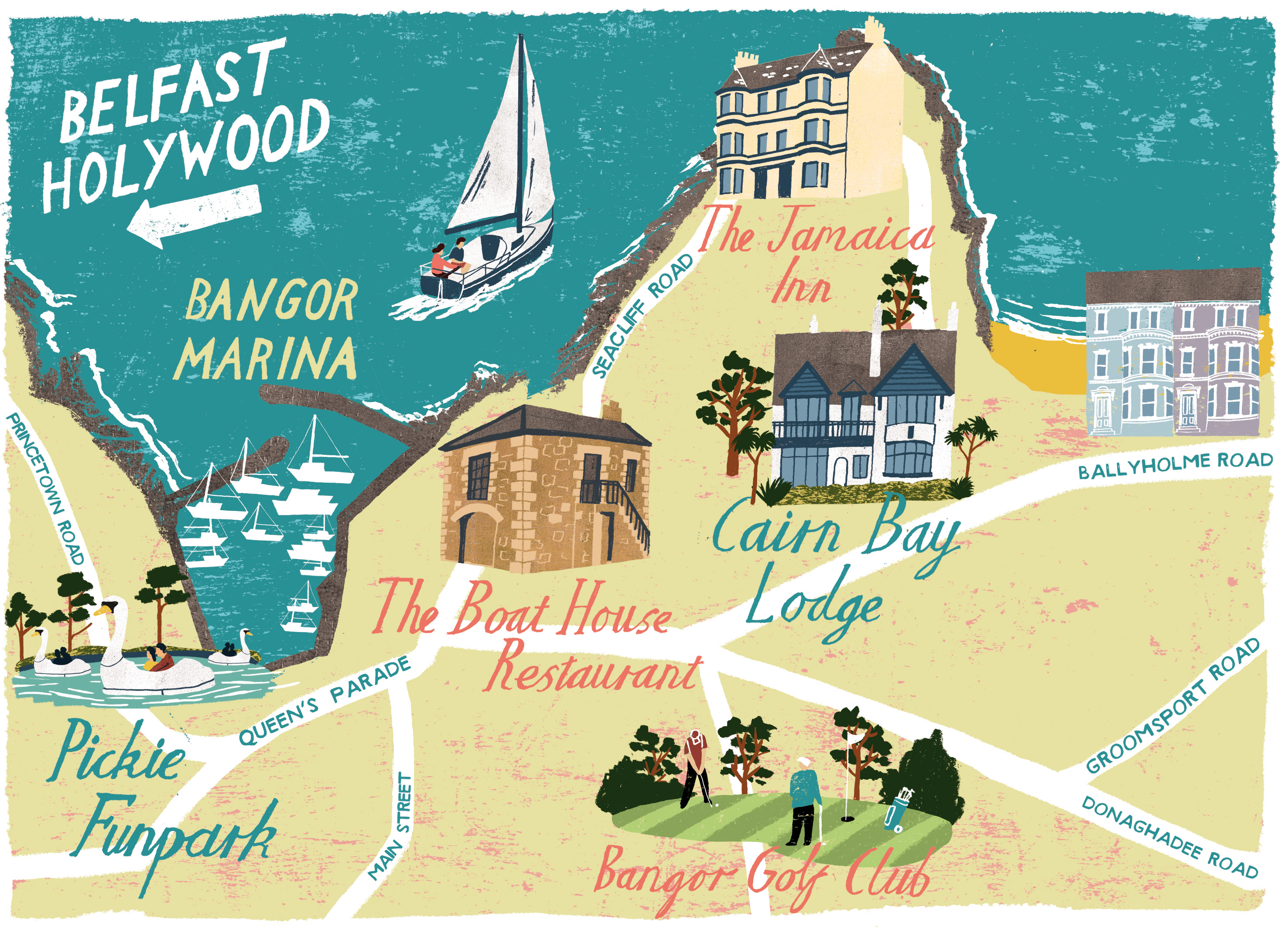 Illustration: Tom Jay
TIME OUT
As one of Ireland's premier sailing centres, Bangor has two yacht clubs (Royal Ulster and Ballyholme). There are six golf courses in the area, as well as good local beaches (Helen's Bay, among others) and excellent facilities for children: Pickie Funpark (an outdoor playground with mini boating lake and swan-shaped paddle boats) and Aurora Aquatic (the town's £38-million leisure centre). Local attractions include the former home of Lady Londonderry, Mount Stewart house, said to have the most unusual and inspiring gardens in the National Trust ownership, the impressive new Titanic Belfast visitor centre, right on the slipway where the doomed ship was built, as well as the beautiful coastline of the Ards Peninsula. Good local restaurants include The Boat House on Bangor Marina (boathousebangor.com) and Starfish Café run by the owners of Bangor guest house Cairn Bay Lodge in Ballyholme (cairnbaylodge.com). More information can be found at ireland.com.
JOBS & COMMUTING
There are limited opportunities in tourism, the service industries and the public sector, though many locals commute to jobs in the city. Bangor to Belfast by car takes about half an hour via the speedy A2. By train, the journey to Belfast Central takes about 40 minutes (calling at 10 stations en route, including Bangor West, Helen's Bay and Holywood). The nearest airports to the town are George Best Belfast City (10 miles) and Belfast International (46 miles).
SCHOOLS
Local secondaries include Bangor Academy and Sixth Form College, the all-boys Bangor Grammar School and Holywood's Priory Integrated College (for both Protestant and Catholic pupils). The Northern Ireland equivalent to Ofsted is Etini.
REALITY CHECK
For this largely Protestant town, Northern Ireland's troubles are firmly in the past. 'It feels very safe here,' says Lindsay. It's also very old-fashioned, she adds, and parts of the waterfront are a little 'faded' and run-down. And despite the growth of Bangor's three-year-old Open House Festival of music and the arts (which runs throughout August), Lindsay would also like to see more cultural activities taking place in the town.
COMING UP
The huge popularity of Game of Thrones (filmed in and around Belfast) and the Titanic visitor centre has helped bring more visitors to the region, property prices are rising in some areas (including Co Down) and there's a real sense of confidence in Northern Ireland's future. In Bangor, North Down Borough Council has approved a major regeneration proposal to transform the Queen's Parade area of the marina. The scheme, which proposes new housing, a multi-storey car park, shops, cafés, a waterfront plaza and a theatre-performance space, aims to restore the town's reputation as 'a key tourist destination'.
PAY A VISIT


Culloden Estate and Spa
A castle-like mansion set in parkland between Bangor and Holywood, this is one of Northern Ireland's finest five-star hotels. It's pricey but posh, with a sweeping drive, manicured lawns and liveried porters at the grand entrance. Many rooms and suites have Belfast Lough views, and there are two restaurants: the fine-dining Mitre or the more casual Cultra Inn in the grounds. Cocktails in the Crozier Lounge are a treat. Doubles with breakfast start from around £150 per night.
If you're interested in the potential of places nearby, try the Isle of Arran or Newcastle, Co Down. Keep up to date with our latest 'Move To…' features in the magazine.
WHAT LINDSAY DOULTON LIKES ABOUT BANGOR
The best pub is The Jamaica Inn (thejamaicainn.co.uk) on Seacliff Road, for good Guinness, sea views and a great menu ('famous' seafood chowder, seabass, scallops and Strangford Lough mussels).
A good day out is to the Wildfowl & Wetland Trust centre Castle Espie on Strangford Lough (wwt.org.uk) 'As well as geese, swans and a duckery, there is a natural play area for children, interesting architecture and a café.'
Lindsay and her family are keen walkers, and a favourite route is to head west along the Belfast Lough coast path from Ballyholme and around Bangor Marina to Crawfordsburn country park (discovernorthernireland.com) which has woodland paths, meadows, glens, a waterfall and two lovely beaches.'
WHO'S WHO?
Former Lib Dem MP, Lembit Öpik, comedian Eddie Izzard, and four members of the band Snow Patrol, were all born or brought up in Bangor. Racing driver Eddie Irvine, who grew up in the area, runs the town's indoor race-track and karting venue, Eddie Irvine Sports.
CAN YOU AFFORD IT?
Bangor: £184,163
Holywood: £264,125
Belfast: £159,454
UK: £254,624
Average house prices: [September 2021]. Source: Zoopla and Rightmove